A new campaign by the current city administration to clean up Puerto Vallarta will change how the garbage is picked up in five different colonials, going from daily corner trash pickup to daily house trash pickup. You are to take your trash to meet the truck when you hear the bell ring.
This isn't a new process – it happened as late as 2018 – but officials say the current system leaves trash at the curbs at all hours of the day, and isn't working.
The municipal government of Puerto Vallarta begins the new process today, Monday, February 14, with the objective to respect garbage collection schedules in order to have a clean city and prevent waste from ending up in streets, vacant lots and channels.
The director of Municipal Public Services, Jose Ascencion Gil Calleja, reported that as of today, Monday, February 14, the bell will be implemented on five routes in the municipality. These are: three in the morning shift, Ixtapa/Llanitos (6am), La Floresta (6am) and Emiliano Zapata/Zona Romántica (6.30am); and two at night, Bobadilla/Loma Bonita and Coapinole (8pm), in which the bell will start ringing half an hour before the garbage truck passes to allow people to take out their garbage on time.
"The intention of this awareness campaign is to join efforts to have a clean city, for this reason we will go out into the streets and implement an action that allows us to monitor the behavior of people, verify that they respect the collection schedule and do not leave the garbage outside. from their house. Obviously in the ringing we will handle prudent schedules, for example, we will not do it at midnight so as not to cause discomfort to the people.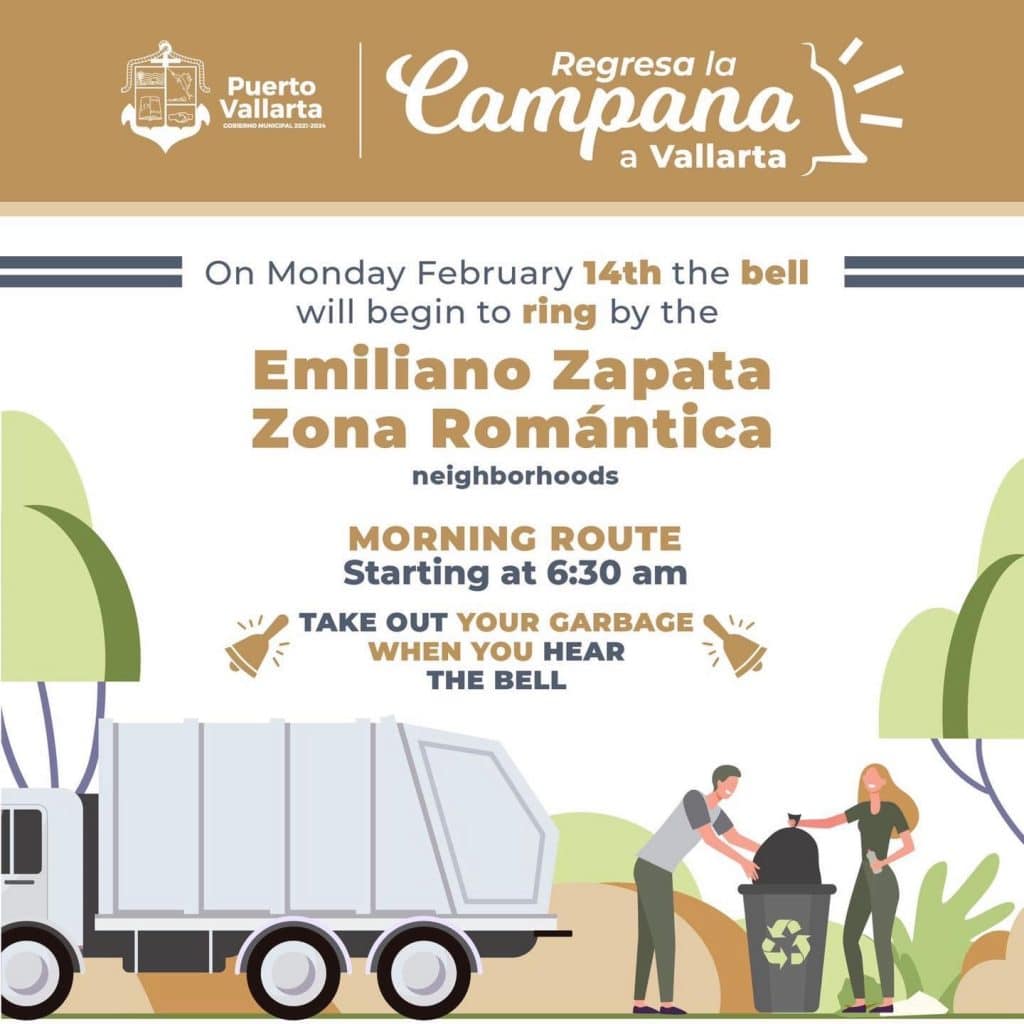 He added that this action will be monitored for approximately one month and later it would be implemented in the other routes and neighborhoods of the municipality.
"We hope that this project gives good results, we go hand in hand in a joint effort with the hotel community, restaurant community, coordinators of the sectors, delegates, municipal agents, that is, it is not only a job of the municipal government, but with people and the different sectors of the Puerto Vallarta community, be it business, social, sports, of all kinds," he says.
The issue of garbage collection must be accompanied by the participation of people, who must support taking out the garbage at the right time and also keeping their spaces clean, since effective waste management is essential to achieve healthy cities. and competitive.
The main idea is that we do not leave our garbage on the corners, outside our houses or in empty lots and thus begin to have a cleaner Vallarta for everyone.