Esta publicación también está disponible en:

Español
Mitchell Isaác Guzmán Rivadeneyra arrived at Juicy Drags for our interview dressed like the fashion diva that he is – a custom made crop top, sunglasses and a sharp black hat that instantly told you that this man is ready for business.
Mitchell isn't your typical 28-year-old. Born in Mexico City, he has traveled the world, lived in several countries, and has the maturity of any seasoned traveler. He speaks perfect English and Spanish – the result of having a Mexican mother, but also having lived for ten years in the United States and attending more than 27 different schools over the years as his mother moved the family from place to place, following work.
Since he was four-years-old he knew he was gay. He loved to play with dolls and play dress up.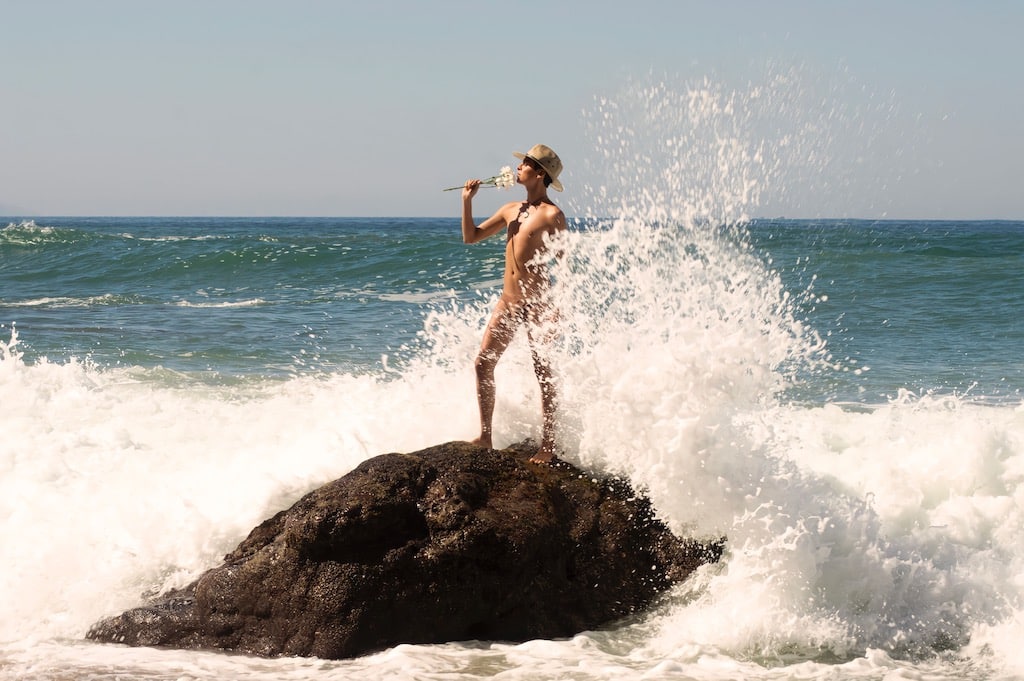 He started work to help support the family when he was 8 years old – teaching English to different neighbors. At the age of 13 he started as a cook at the local Mister Burger. He's actually done a little bit of everything – English teacher in China to Dolphin trainer – yes, you read that correct.
"Yes," he explained with a laugh. "In 2017 I did work as a dolphin trainer for a brief period of time. I love animals, I have the greatest respect for them."
His family moved to Puerto Vallarta, and that's where his life took an interesting turn. It was in Puerto Vallarta that he met a tourist who invited him to China to teach English.
"I was like, ok, why not," he said. "It was a culture shock for this gay Mexican. Very conservative. But I learned alot about myself during the eight-months that I was there.I'm glad I did it"
An accident with a motorcycle left him with a broken foot and sent him back home to Puerto Vallarta. He came back to Mexico with a new drive and focus for his future career.
"I had performed my first drag at Casa cupula before I had left for China," he said. "It was something I loved and I knew I wanted to do it. So when I returned home I knew I needed to focus on what I needed to do to become a performer."
He said his first performance was horrible. He looked great, but…..he said, that was about all he could say for his first time on stage.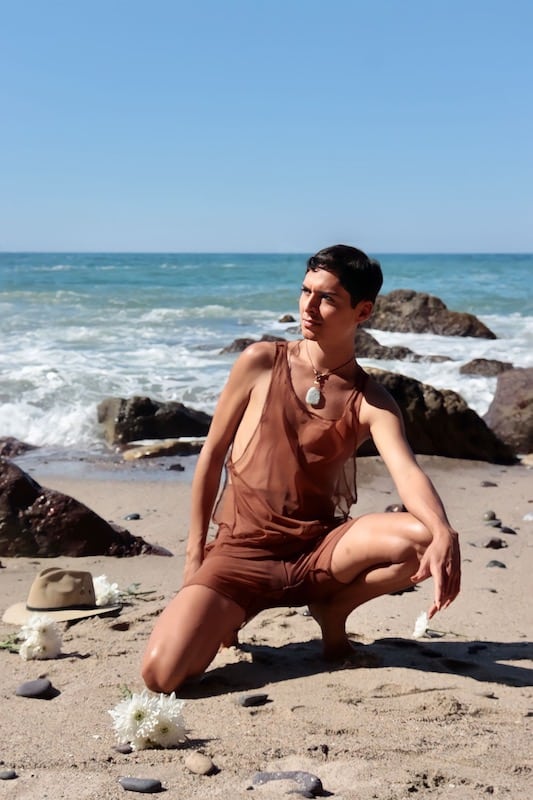 He is completely self taught and one of the top performers in Puerto Vallarta that can sing, act, perform in drag, and dance. He learned how to do drag – from sewing (he makes many of his own clothes), makeup to performances – by watching YouTube. His talent comes naturally, but he's diligent about constantly improving, practicing, and has a strict routine that he follows everyday.
His high sense of fashion was something he inherited from his mother's side of the family, especially his grandmother. That, along with inspiration from the TV show, "The Nanny" has made him the fashion diva he is today.
"My mom was like a barbie doll and my grandmother looked like a Chanel model," he explained. "I was surrounded by fashion and beauty all of my life."
When he returned from China and recovered from the accident, he tried out and secured a spot in the production "Naked Boys Singing", which had a seven month run at Incanto. He performed as Mitchell (naked of course) and as his drag persona, Karma.
From there he went on to perform as Karma La Perra in bars and cantinas throughout Puerto Vallarta. He "paid his dues" so to speak, and felt like he was learning and on his way to success. Then Covid hit and the shutdown began.
"I sold wigs, clothes, shoes and other items that Karma used in order to survive during the pandemic," he said. "But we did survive and have come back stronger."
Now Mitchell, aka Karma La Perra, is performing in no less than seven shows, including:
Cher at Act2PV
Tony Bennett and Lady Gaga at Act2PV
Miss Bibi & The Brothel Girls at Act2PV
Hotel Mercurio's Beers, Boys and Burgers
Casa Cupula
La Cantina Cantina
La Noche Bar
That heavy schedule leaves no personal time, and while this single good looking man would love to date, that's not possible now.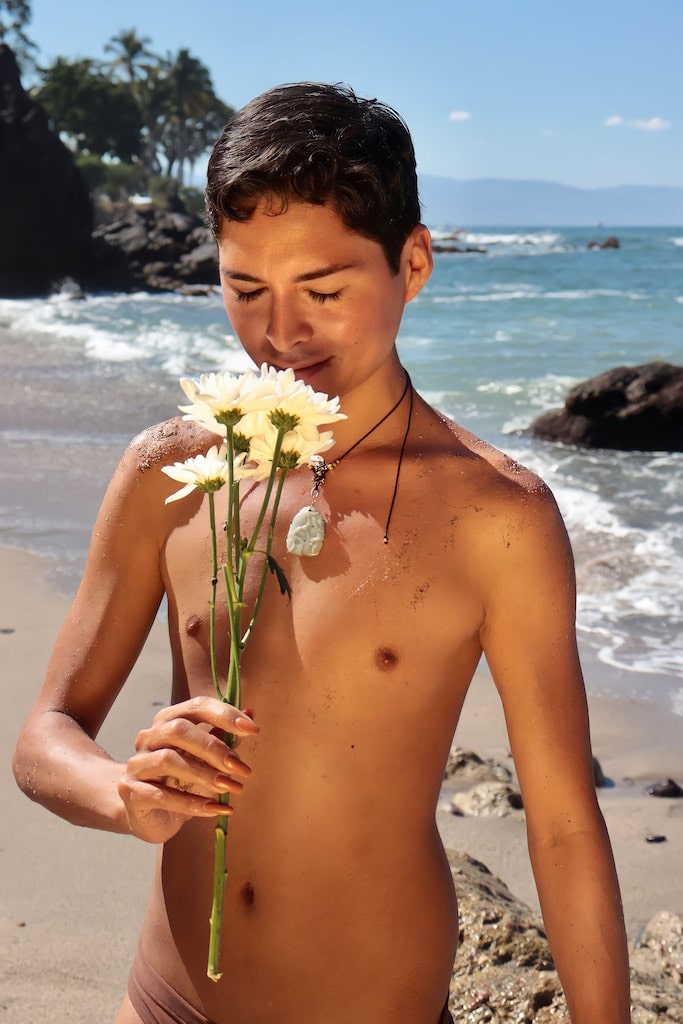 "I am single and have been for quite some time," he said. "My longest relationship was when I was 18 and it lasted six months. I just don't have time for BS and drama, and I'm so focused on my present and future that it leaves no time for dating."
Making people laugh is a goal that Mitchell and Karma La Perra share – and while some may not always get her quirky sense of humor, he is an entertainer because he wants Karma La Perra to share her life.
But this may very well be her last season as a drag artist. He's looking to reinvent herself on some of the digital platforms as an internet artist.
"I want to explore more of my kinky side," he said. "I'm working on a monologue about "How Cruising Ruined My Life."
He went on to explain that he, at one time in his life, was into cruising until it almost got him killed. He was robbed and beaten, and to this day it has left him shaken and scared.
"I want to take that experience and share it," he said. "It'll be funny, and yet based on some true events from my life."
But don't expect those wigs to be sold anytime too soon. Karma has tried out for some international drag TV shows, including Queens of the Word (a live singing performance of drag queen set in the UK); and RuPaul's Drag Race.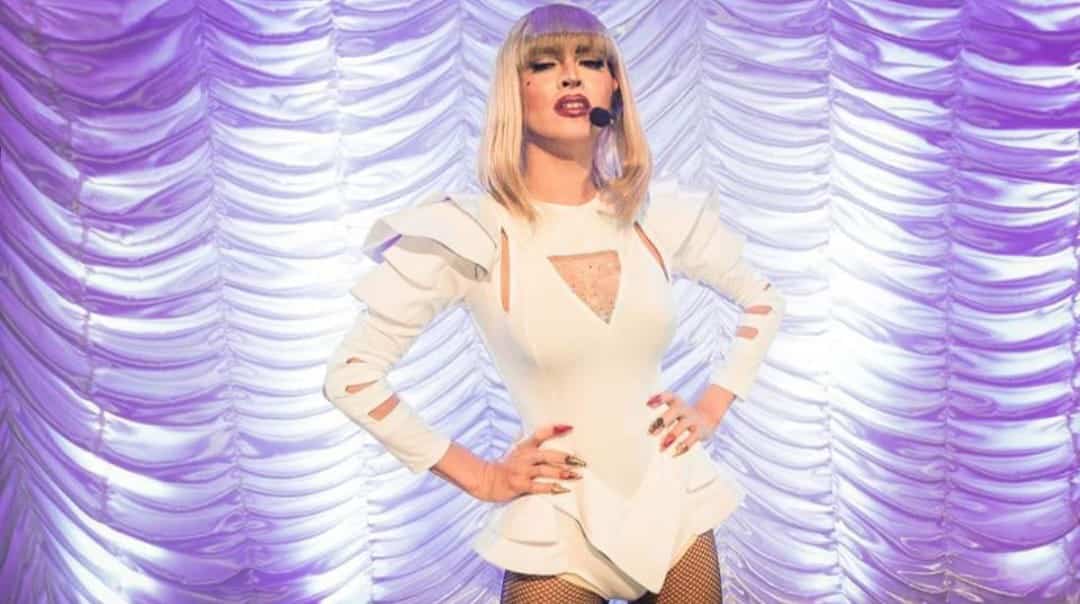 "I've applied enough now with the audition tapes that I think I know what they are looking for," he said. "It's a lot of work and careful planning to be able to shine for the producers. I'll continue to apply for the shows so that I can connect and showcase my combined talents."
Information to Know:
Mitchell's Instagram
Mitchell's Facebook
Karma La Perra's YouTube
Karma La Perra's Facebook
Karma La Perra's Instagram

Related: