Esta publicación también está disponible en:

Español
If you're looking for a quick and easy way to sample the best of what the city has to offer, look no further than Vallarta Food Tours. I opted for the tantalizing trio of tequila, tacos, and Mexican cocktails of the "Mex-ology Tour", though there are several others to choose from, depending on your needs.
These are walking tours, so you need to be agile enough to maneuver the cobblestoned streets of Centro, but the establishments are near enough to one another that most people should be able to partake with no issues. I admit, I am always a bit leery about tours—especially when I'm travelling solo, but I figured the tequila would help to lessen my anxiety.
I meet my fellow Mexologists at our first stop, Joe Jack's Fish Shack. I sit and chat with a few guys from San Jose who are vacationing for one of their bachelor parties. It's the second of what will likely be three bachelor parties for the threesome. This is their first food tour—though they talk about ATV tours and other outings they've experienced from their previous visits—one of which involved questionable driving skills and a hospital visit. I am already at ease laughing with the guys as our guide for the afternoon greets us and gives us a map with details of our excursion. We are then treated to a mini version of Joe Jack's Ancho Mezcal Martini and Baja-style fish taco. It's the perfect representation of what Vallarta has to offer and is a great start to the day. (One of the guys had a portabello mushroom taco—they cater to all of your allergy/dietary needs if you let them know in advance.) Other than the eye-watering from one of the guy's indulging in too much hot sauce, everyone was raving about the food and drink and hoping the rest of the afternoon would live up to the high bar set at Joe Jack's.
Our second stop is a short walk away at Zapata Antojeria y Bar where we learn about Mezcal and sample the Unión brand. (Though the tour touts tequila, you learn about and try mezcal and raicilla as well.) We are also handed a traveller of Paloma, the tequila-based cocktail mixed with grapefruit flavored soda. This refreshment helps to wash down the dried, salted grasshoppers we ate.  It is Mexico, after all.
Next stop is Mariscos Cisneros for a soft shell crab enchilada. Here, we are exposed to Raicilla, the moonshine-type drink from the hills outside of town. The history and distilling methods are thoroughly explained, so the tour is as informative as it is filling.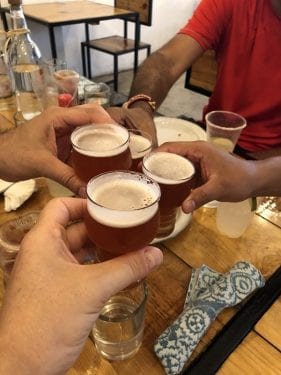 Continuing along to Monzón Brewing Company (a relatively new addition to Vallarta), we are greeted with samples of their Belgian-style Trappist Ale, Hibiscus IPA, & Chile Cinnamon Porter and their already legendary hand-battered onion rings. Instagram-worthy pics are taken and posted. More stories are shared by the Silicon Valley guys. Our guide is friendly, fun, and knowledgeable. All is right in the world.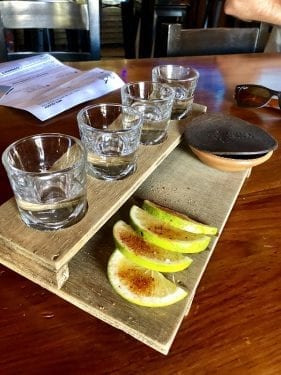 And we continue on to Bar La Playa for some tequila and Watermelon Jello Shots (in a real watermelon!!!) All is even better in the world.  I had heard the cocktails were great here and I can certainly attest that the cucumber margarita was one of the most refreshing drinks I've ever had. Group photos begin to be had at this point. The tour, while not near to becoming a blur, is certainly veering toward the "if this is a dream, I don't want to wake up" category.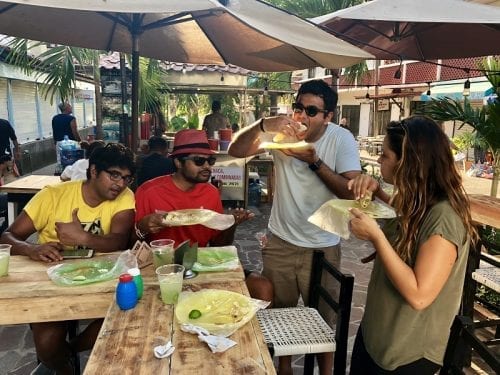 We stroll towards the pier for some tacos at El Cuñado—one of the oldest taco trucks in town. Notable for their flavorful variety of sauces and sautéed onions as a topping, El Cuñado serves some of the best tacos in town.
A short promenade on the Malecón brings us to our final stop on the tour, El Dorado Restaurant and Bar. A mini dessert platter is the perfect finish to our day. As the sun literally begins to set on our excursion, we toast to new friendships with our specialty coffees. Gratuities are given to our guide for her incredible ability to pre-order our drinks and corral the group through the city streets, always smiling. Vallarta Food Tours deserves its consistent five-star status from all of the major sites. Needless to say, it is highly recommended. Now to find my way back to those Jello shots…