Esta publicación también está disponible en:

Español
Brenda debuted this fine tribute show at the beginning of the year but suffered bodily damage from a car accident, survived to regain her strength and hobbled on stage with a cane. Such a trooper. Her voice and beautiful face were not affected, and she sang for crowds' night after night.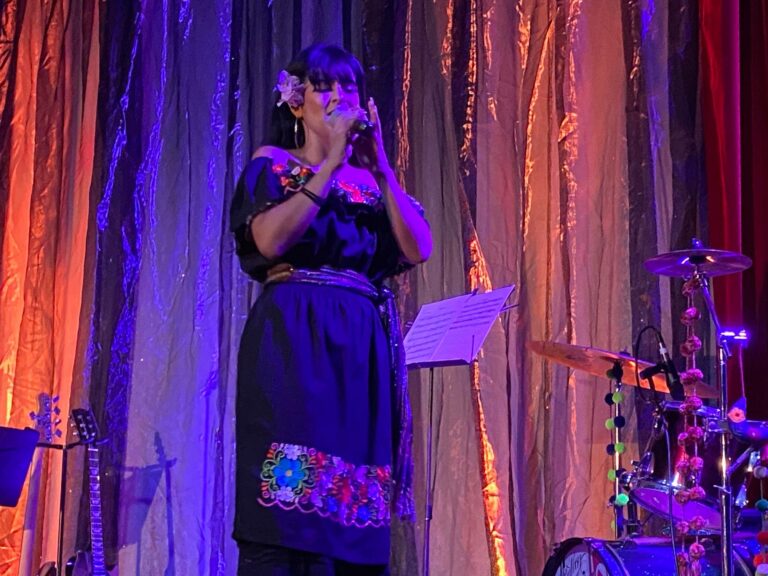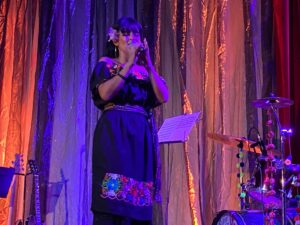 Now, she returns. Linda is described as the top female pop singer of the 1970s, having been awarded ten Grammy awards. Experiencing five decades on the stage and in the recording studio, she now cannot sing due to illness, but her recordings of many fine tunes remain.
Our lady appeared dressed beautifully in shimmering blue which reflected the spotlights in various colors. Beginning with her first hit, "Different Drum" portrayed the very fine vocals of Brenda and her eerie likeness to Linda's voice and inflections. The song has emerged as a pop classic.
Since last season, she has assembled a band of top established Mexican musicians: Jared García, Alexis Mena, Ivan Villavicencio and Fernando Uribe. Each man is renown in his field. Solos were plentiful while Brenda danced across the stage. Continuing the aching heart syndrome, she burst into the jumpy "Poor, Poor, Pitiful Me". The lovely but sad "It Doesn't Matter Anymore" was delivered with deep emotion and possibly a tear flowing down her cheek. "It's So Easy" thumped across the room, a definite top memory of Linda's as we traveled down the road of the 1970s and 1980s, reminiscing with joy.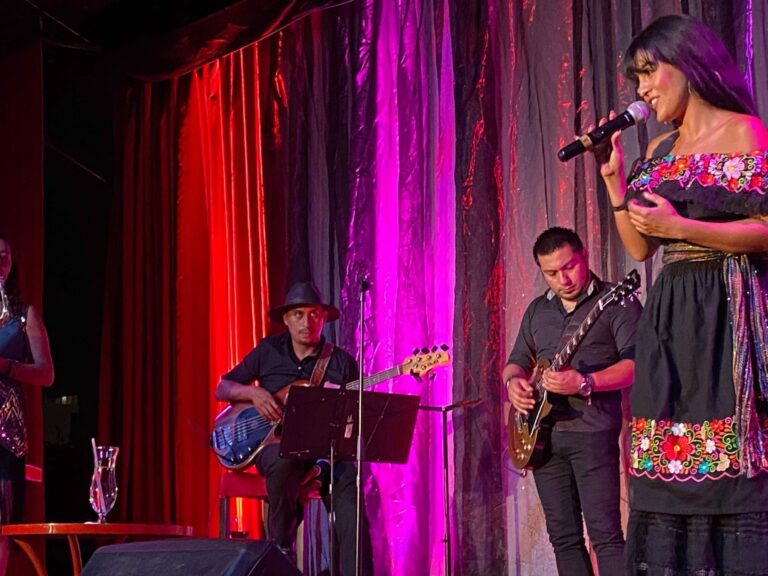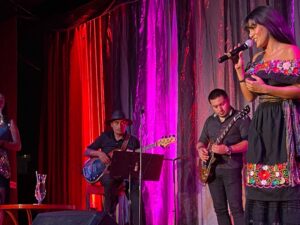 Brenda warbled "Willin'" and "When Will I Be Loved" targeting right-on. Song after song was presented remarkably sounding as when Linda was recording or on stage. Brenda's song selection differed immensely from last season's run and understandably since Linda has a very large folio of great songs. Danny notes that the show is in a ever-growing period and each show will be different, so repeat visits are in order to hear this lovely beauty.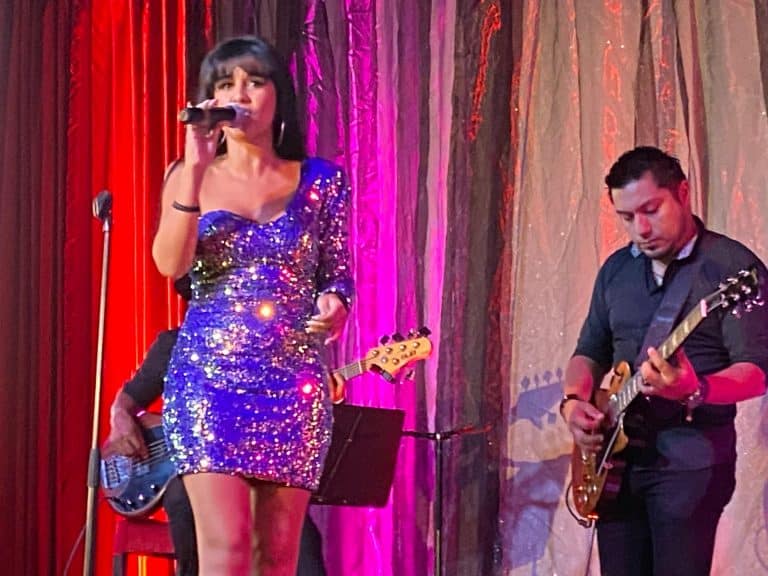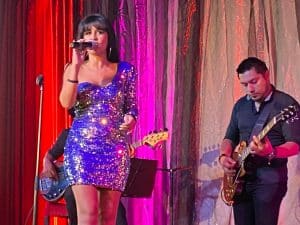 Two ballads followed and were difficult to top. From Lil Anthony came "Hurt So Bad" which brought emotions to an even higher level. She enclosed herself in the lyrics and melody resulting in a fabulous stunner. She introduced "Long Long Time" as her favorite and she looked immersed in the tune as it slowly meandered its path. Then it was time for a mood break and she jumped into Motown's "Heat Wave", the band blasting with smooth beats. Audience members were caught in the fervor even though the showroom atmosphere was cool with a slight breeze. The openness of the room leads to immense comfort.
Linda hails from a Mexican family in Sonora although she was born in Tucson, Arizona. She learned traditional Mexican folk songs with her singer aunt, father and grandfather. She found international success when she insisted on recording a full album of this music of her heritage.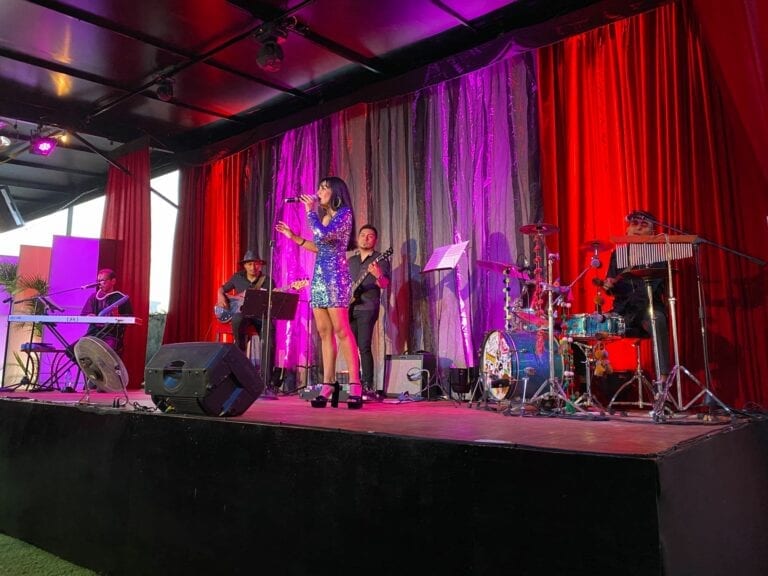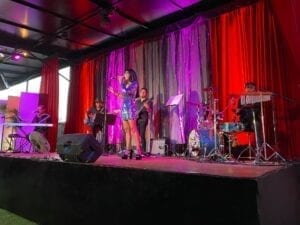 The result was "Canciones de mi Padre". She brought on stage Diana Ivonne Luna who played her saxophone during several songs, adding a soft beauty to Brenda's vocals and the strongly striking band. "La Cigarra" [The Cicada] was a highlight of Brenda's exploring Latin songs which Linda sang and included in her releases. Her notes soared higher and higher. Both Linda's and Brenda's heritage shown forth with "Y Tu", a classic traditional folk song.
Starting her career with the Stone Poneys in 1967, the group scored major hits with its soft, dreamy pop songs as "Different Drum". Linda ventured off into her solo career and recorded a myriad of compositions in the musical fields of rock 'n' roll, country, folk, jazz, opera, Broadway standards, Afro-Cuban and Mexican influences. After whisking offstage, she reappeared in a classic Linda Ronstadt look, a white shoulder-less blouse and blue jeans. She swayed into "Ooo Baby Baby" in a luscious portrayal of love.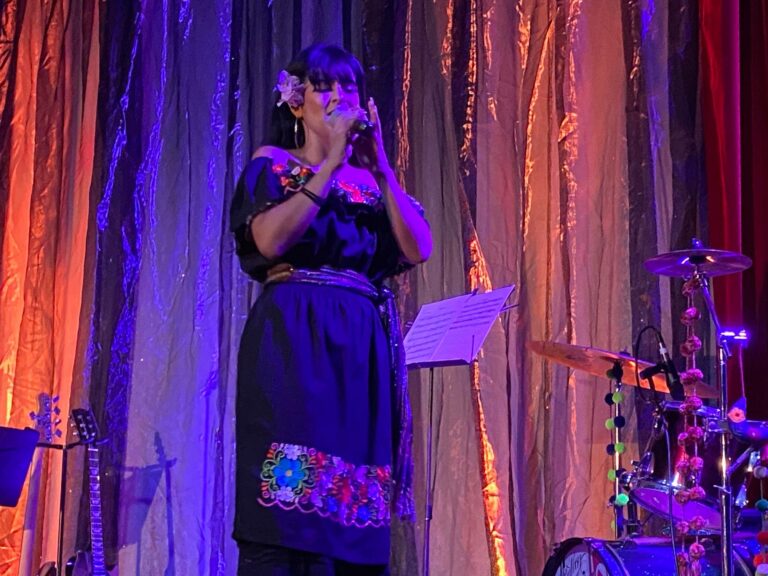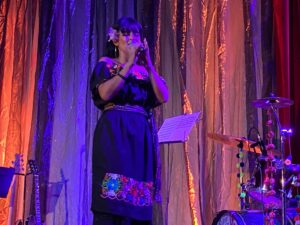 She eased into "Desperado" from The Eagles – "Why don't you come to your senses". The tune has a Latin edge so it fit right into Brenda's program. Approaching the end of the evening, she exclaimed "You're No Good" and the crowd adored her rocking performance. Brenda has a very high level of energy which flows into the air. Encore? Otra! No tribute to Linda Ronstadt is complete without "Blue Bayou" and Brenda grasped the sadness with an emotional longing.
Her voice is so clear and exact that everyone present knew that this woman was a professional fine addition to our theatrical community.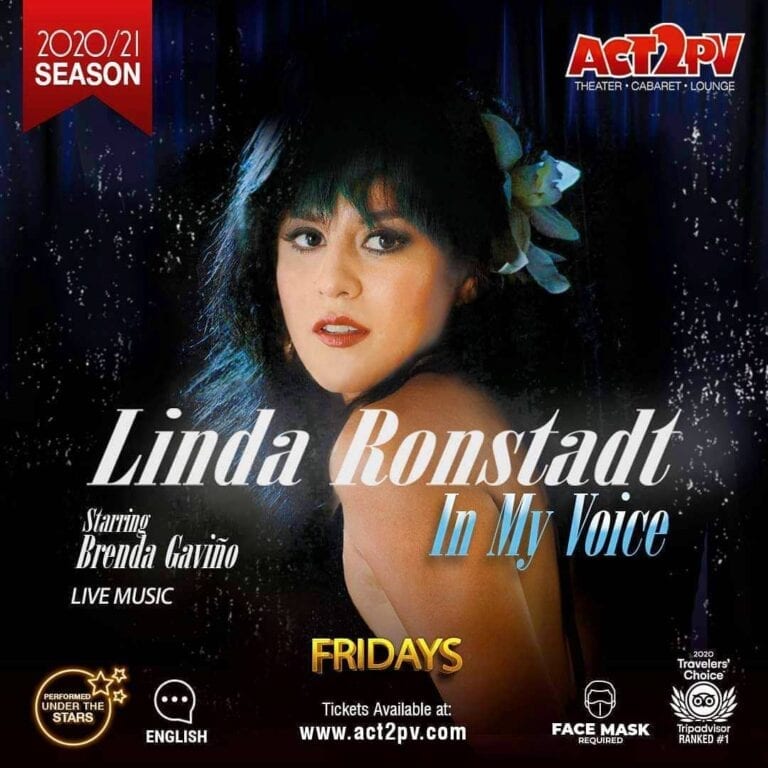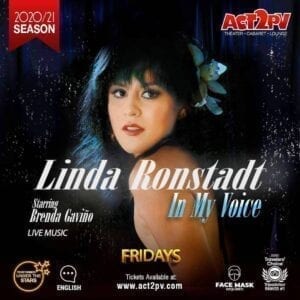 Starlight Cabaret
Act2PV
Insurgentes 330, Colonia Emiliano Zapata, Zona Romántica, SouthSide, Puerto Vallarta.
322-222-1512
Gary R. Beck
Puerto Vallarta, JAL.
https://www.facebook.com/groups/PuertoVallartaShows
A Note from the management of Act2PV:
THE ONLY OUTDOOR THEATER IN PUERTO VALLARTA.
Have you heard the news? Live entertainment is back and better than ever in PV, with an all-new space created just for you, an open air and socially distanced venue following every protocol to ensure your safety.
As the world navigates its way through the changes that have occurred recently, Act2PV is very serious about protecting our clients, our staff and our entertainers!
In addition to observing all governmental requirements (masks required, hand sanitizers, feet sanitizers, temperatures taken, etc.), Act2PV has implemented extra safety measures in our Main Stage theater, including ozone purifiers, ozone disinfectors, air purifiers and heppa filters.
We will also be operating at 25% capacity, with some seats blocked off in order to follow governmental social distancing requirements. Your well-being is our #1 priority!
Come, and enjoy our wonderful shows UNDER THE STARS.
Danny Mininni, managing partner.
Related: ACT II Expands and Adds Outdoor Theater(Opens in a new browser tab)