This post is also available in:

Español
When I first learned about Branden & James' deeply moving story, I knew I had to have it featured and share this wonderful tale. From the way they met, to their reconciliation with their families and their wedding in Puerto Vallarta, it is all very touching and inspiring.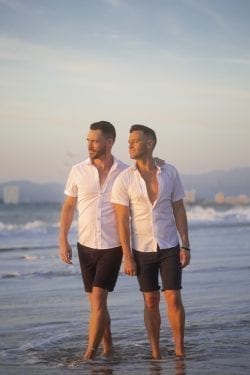 This handsome couple met about five years ago in Los Angeles, in a place that it is not usually known for creating lasting relationships – a gay phone application. The very next day after connecting in the app, they met in person and sat in James' couch and just chatted for a while. Branden had to leave town for six weeks for work, so they got to know each other through messages in that lapse. During that process, they discovered that both were professional musicians, so Branden hired James to play in a gig with him in Palm Springs as his musical director, as James is an arranger and a pianist. The audience in Palm Springs really felt their connection and their sound moved and delighted them so much – to Branden & James' surprise – that they thought: Hey?? We got something here, so they decided to team up and give it a go. This would also give them the opportunity to spend more time together.
They went on to form the now internationally recognized musical duo 'Branden & James', which has really taken off. They have played in many venues across the globe and are currently on a tour which has brought them to Puerto Vallarta for their third season with their new show called The Phantom of the Greatest Showman.
As if being in a committed relationship in today's environment wasn't hard enough, Branden & James have managed to survive four years of living, working and traveling together. This is only a testament that if you are truly committed and love each other, then one can fight against all the odds.
"They always say don't work with your partner, that's death to a relationship. Now, after four years together, we have had an argument or two that weren't consequential. And never about our work! We promised not to ever go there. People notice our crazy chemistry with each other on and off stage and remark on it at every concert. We quip and tease about spending too much time together, but the truth is, we're one in the same and it comes from our similar upbringing, our love for one another, and the sometimes unfortunate reality that we share a brain!"
The duo arrived in Puerto Vallarta on January 13th, 2019, exactly one year later of their paradise wedding. They are celebrating their anniversary here with the new show and also recalling how special and nostalgic that occasion was.
"I grew up in the church and my parents abandoned me. We had rocky years through my 20's and 30's. It wasn't until they saw the process of me from start to finish as a finalist on America's Got Talent in 2013, that they began to see I was normal and should be loved as their son. It was a huge reconciliation. Because of our distance, I wasn't able to tell them that I was HIV positive until 11 years after my diagnosis." Says Branden.
Their wedding was very nostalgic in part because Branden & James' mothers walked them down the aisle. "It was a dream come true. I never thought that would ever happen. I cried for like three days from our wedding day" Says Branden. "It was pretty special. Our dads were involved. My dad did a reading and his dad did a prayer" James adds.
During Branden's time in America's Got Talent – where he was a finalist – he says "Aside from all the amazing professional things that happened in my experience [in the show], there was a lot of healing in my family between me and my siblings and me and my parents because we were able to watch these problems that we had for years on television and we could all see things through a different lens and it really helped healing. It was very beautiful."
The couple simply fell in love with Puerto Vallarta on their first season and that is why they picked this place as their wedding destination. "When we decided in 2017 that we were ready to marry one another, Puerto Vallarta was the first and only suggestion out of our mouths."
"I was here in port for one day only on a cruise ship back in December 2016 when I mistakenly wandered by The Palm. The name rang a bell because I knew that my friend, Spencer Day had played shows there in the past. Shortly after sending an email with promotional materials, I received a phone call from Amy Armstrong who was entertainment director at the time. She took a chance and brought us down to Puerto Vallarta without knowing us or ever seeing us live. Our career has grown so much because of Amy and others such as Kim Kuzma. We fell in love with the energy at The Palm the moment we walked through the door."
"That love continued to spread outside the music venues as we explored the tattered streets of Zona Romantica and then further South to Yelapa and North to Bucerias. James and I both understood how incredibly special this place was."
"We never wanted to be "one of those couples" who had a ridiculously expensive destination wedding. Luckily, it is easy and relatively inexpensive to get to Puerto Vallarta from the USA. Our Australian guests definitely win accolades for making the trek all the way from OZ. Not to mention, it is just such a beautiful region of the world to be in, there is no question our guests would enjoy their time here."
"We implored the help of Traci King, a manager of The Swedes restaurant in Puerto Vallarta. With her extensive background in wedding and event planning, she had all of the expertise to make our day feel authentic and elegant at a very reasonable cost."
Branden was recently asked to write a memoir about his life, which will be published in November 2019. "It's going to be called Lyrics of my Life. It's the story of growing up gay in a Christian family – and some stories from my time in America's Got Talent and my journey of being HIV positive for the last thirteen years."
This powerhouse cello and vocal duo are not stopping anytime soon, in fact, they're just getting started. Apart from their current world tour and a memoir in the works and all previous accomplishments, they just recorded a new album with Decca Records producer, Patrick Hamilton. In addition, they recently signed with 98 Degrees' manager, David Britz. As if that wasn't enough, they also signed with major representation at ICM in NYC & LA.
The future for Branden & James only seems bright and promising. If you've had the privilege to meet these wonderful human beings and know their story, you'll feel truly humbled. Follow them. Go and see their show. They will take your breath away.