Esta publicación también está disponible en:

Español
Nestled away on a small street towards the end of Zona Romantica, the exterior painted in a vibrant and welcoming blue, you'll find one of Puerto Vallarta's newest restaurants/bars and entertainment venues.
Awaysis – its name a play on it being away from the main areas and it serving as an oasis for the neighborhood – is offering food you can't find anywhere else in Puerto Vallarta. 
With its grand opening on Wednesday, October 19, (7 p.m.), owners Gavin Garner, David Diza Garner and Adam McRoberts want O&APV readers to drop by for sample tasting of food and drinks that are unique to Puerto Vallarta.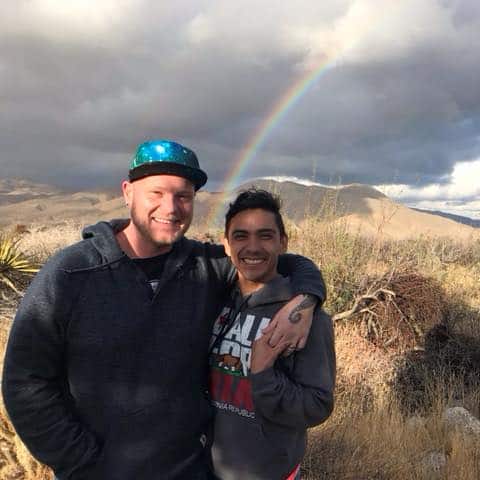 "Many of the food recipes come straight from my mother's kitchen," explained Gavin. "I learned how to cook from my mom and so you'll enjoy food that has been tried and tested in our family's Idaho kitchen."
From candied Jalapenos to fried BBQ "shotgun shells", you'll find a unique menu offering American dishes, with daily Mexican specials. Add some signature cocktails to the list (including a cosmo martini made with tequila), and you'll be transported to your own island oasis.
Awaysis is open Noon to Midnight (Monday to Friday), with the kitchen closing at 10 p.m. A special Saturday Drag Brunch – featuring three American classic dishes and three Mexican classic dishes – will be served beginning on Oct. 29 (from 10 a.m. to 2 p.m.), focused on a Halloween theme. Saturday brunch is only $140 pesos and includes an entree and coffee. Drag shows will begin at Noon for brunch crowds.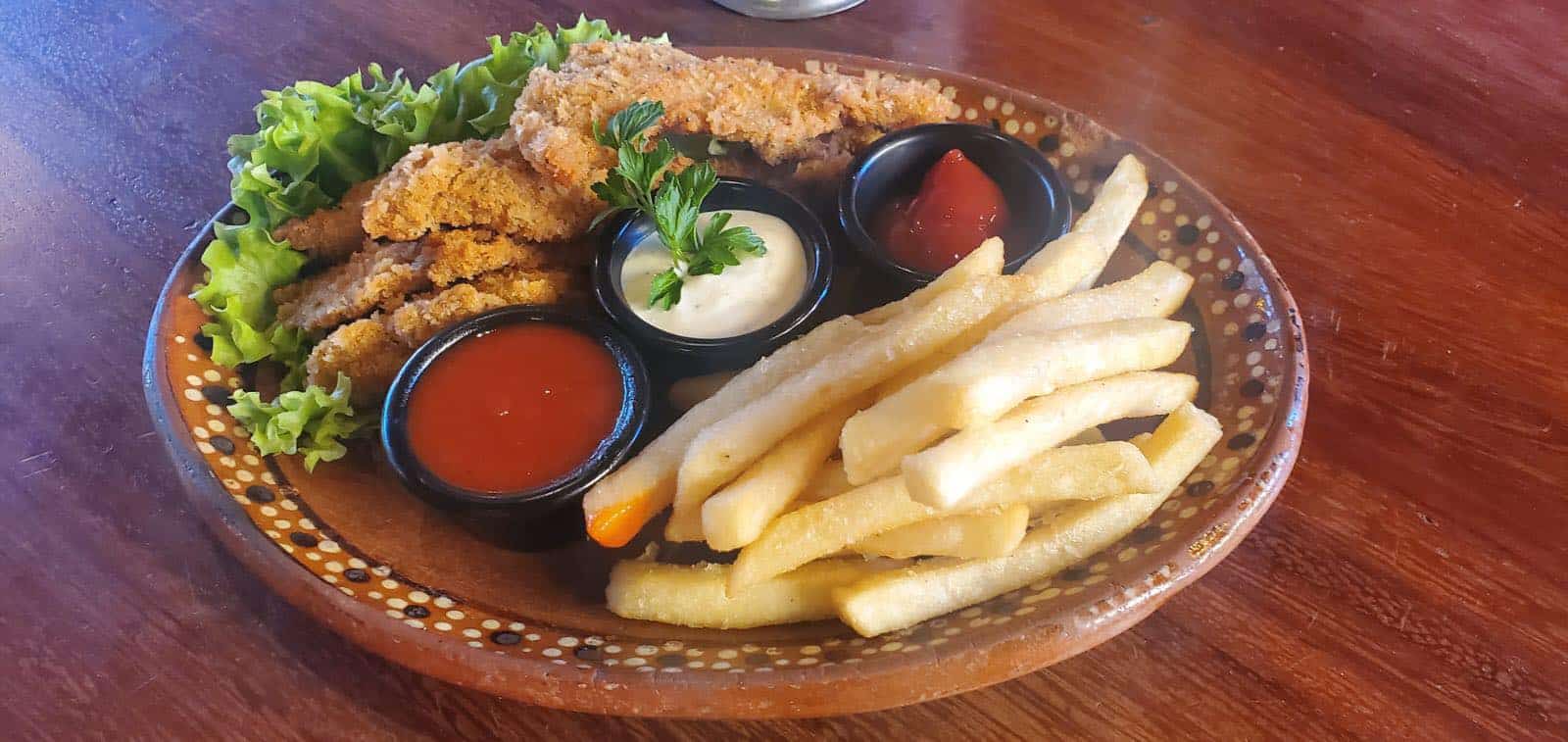 Gavin and his husband David met 8 years ago while vacationing (separately) in Puerto Vallarta. They not only fell in love with each other, but also the city. After five years in the US, and during the beginning of the pandemic, they decided to make Puerto Vallarta their permanent home. Gavin has spent the last 24 years of his life on the West Coast (Seattle and San Diego) running restaurants there, and David is from Mexico City.
"We love Puerto Vallarta and are looking forward to contributing to its unique and fantastic restaurant ambiance," Gavid said. "With my background in restaurant management and operations, and David's background in entertainment, when the opportunity came to purchase what was formerly known as Que Pasa, we saw an opportunity."
Awaysis has a stage at the end of the open air restaurant, which is being offered free of charge to any performer who wants to practice their skills before a live audience.
"We're calling it Backstage at Awaysis," Gavin said. "Entertainers who maybe have a performance coming up but have had limited experience in front of a crowd – or maybe they want to test some new material – they are welcome here free of charge but they do need to schedule the time with David."
Entertainment is a big focus of Awaysis. Friday night will feature Salas night with lessons; Karaoke on Tuesdays and Drag shows on Saturday. And, Gavin says, they will constantly be adding new acts and performances so he suggests you follow their social media for an up-to-date schedule.
And what about happy hour?
"Oh yes, we have a great happy hour," Gavin said with a laugh. "Everyone enjoys a good happy hour. We are featuring 2 x 1 beer, wine, and house cocktails from 3 to 6 p.m. everyday. That includes our fantastic house margarita – which is normally only $70 pesos anyway."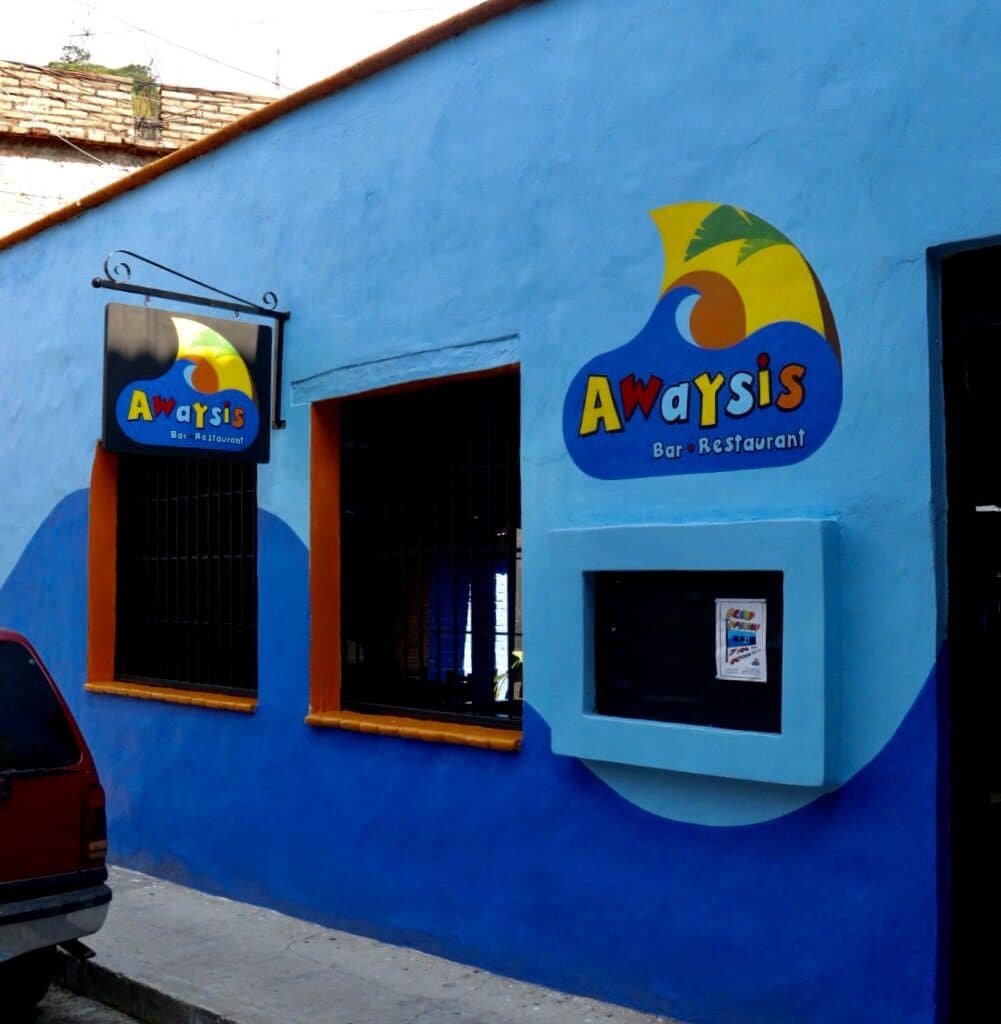 Contact Information:
Awaysis, Aquiles Serdán 625, Zona Romántica, Emiliano Zapata, 48380 Puerto Vallarta, Jal.
Telephone: +52 322 286 9416
Menu: http://places.singleplatform.com/awaysis/menu?ref=google#menu_5413638
Website: https://awaysis.mx/
Facebook: https://www.facebook.com/AwaysisPV
Instagram: https://www.instagram.com/awaysispv/
Related: 2022 Restaurant Gastro Guide