This post is also available in: Español
Puerto Vallarta is known for its friendly people, welcoming atmosphere for the LGBT+ community, and art. You'd be hard pressed to find a thriving gay community without a thriving art community. Art of every description is exhibited, from bohemian to Huichol, expressionistic to figurative.
Which is why you'll find Vallarta home to more than 30+ art galleries, with at least half of those clustered in what is informally called the Art District in Centro.
During the "Art Season" from October to June, an event called ArtWalk is held every Wednesday. Gallery's typically host "open house" type receptions during the walk. You can easily go and visit some 16 galleries over just a few hours.
The participating galleries in Centro Historico exhibit works by important national and international artists. Remarkable paintings, exceptional sculptures, fine ceramics and jewelry are offered. The galleries that are in the Centro (Art District) Art Walk include:

Galería Colectika focuses on the evolution of Mexican Art. New colors, forms and techniques have been adapted from the outside world by well-known native and Mexican folk artists.

Only One are Mexican goldsmiths since 1910. Pieces formed by hand with the best techniques, small art pieces to wear.

Galería Córsica Features Works of Art selected by international collector and curator Jean-Pierre Renucci. All the artists presented are part of important collections all over the world.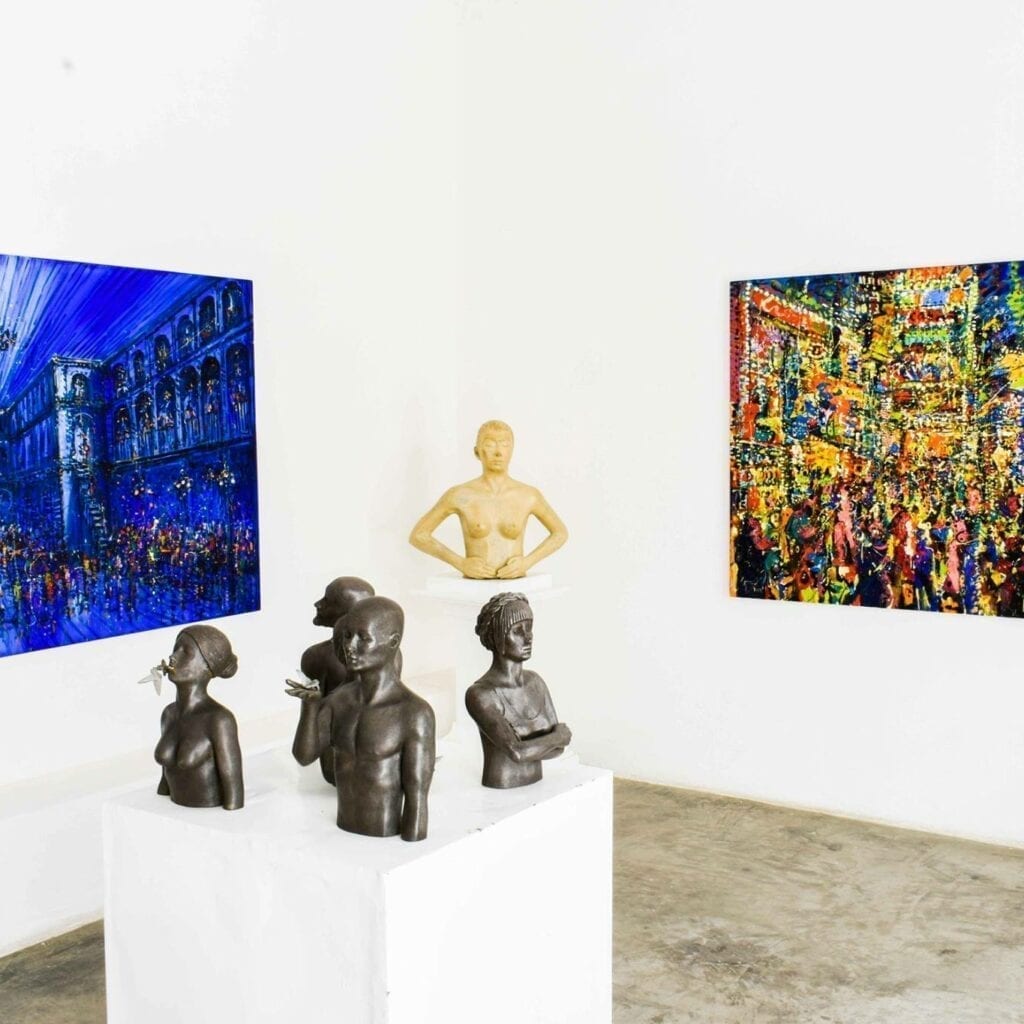 Emotions by Córsica Presents Art by emerging Mexican artists curated by Jean-Pierre Renucci for a younger, more hip audience.

Galeria Pájaro Rojo Pájaro Rojo is a gallery in search of enhancing the talent and creativity of Mexican contemporary artists.

Galeria Browne It is the intense desire of Art Boys David E. Brown and Santiago Redmond to connect the community and the world to the poetry of colors.

Owned by Mexican artist-curator Jovian, known in PV for his open arms man "Lluvia" sculpture on the Malecon. The gallery showcases his works and pieces produced by a selection of invited artists.
Mann Made Mexico A modern design gallery for the home where art is presented in a salon style environment. Puerto Vallarta has long been a center for the arts where culture is created.

Galería Pacifico has presented an eclectic blend of highly talented artists since 1987. Most of the artists represented by this gallery share a diverse contemporary focus.

Galeria UNO was honored and celebrated in 2012 for its contribution to art and culture for the past 42 years. Exhibiting the works of over 30 artists living and working in Mexico.

LOD, opened in 2009, manages gemstones focusing on Colombian emeralds and Mexican opal among others.

The Loft Galería exhibits works of the finest contemporary artists of the Americas, helping individuals and corporations develop interesting valuable collections.

Galería de Ollas is dedicated to showcasing fine pottery from Mata Ortiz México. From the 300 ceramists in this town, this gallery selects the most refined pieces for exhibit.

Zeus Dominico Art Gallery Our gallery is a professional space dedicated to the exhibition and sale of contemporary pictorial, sculptural and graphic works by exclusive artists from Latin American countries, who produce in Mexico or in their contries of origin.

Galeria Robles exhibits the paintings of Michael Tolleson Robles, a globally recognized Autistic Savant Artist, whose works of art are based in powerful color and emotion.
Information to Know:
Held every Wednesday until June 28th. 2023
6 p.m. to 10 p.m.
Website: https://puertovallartaartwalk.com/
Facebook: https://www.facebook.com/vallartaartwalk
Instagram: https://www.instagram.com/vallartaartwalk/