This post is also available in: Español
Arriba Restaurant Bar, Olas Altas 443-A (on the second floor), is preparing for its third season to welcome back local residents and visitors to Puerto Vallarta.
Arriba Restaurant Bar is owned and operated by Paul and Margareta Gomez, who opened in December 2020. Many old timers will remember that it's the same space that was occupied by the Wild Hungry Cougar for many years and before that, Sweeneys and Que Pasa sat in the space.
"The restaurant had fallen into disrepair and was abandoned for eight months while covid shut down many other businesses in town," Paul said. "The place was extensively renovated to bring back the light and brightness of a popular tourist destination in Old Town Puerto Vallarta. Paint, lighting and equipment were enhanced and upgraded before the opening day on December 1, 2020. The restaurant features three large screen televisions for sporting events as well as music videos and other live entertainment."
Paul has been a regular visitor to Mexico for more than 30 years, but the magic of Puerto Vallarta has always brought him back, with him even telling his wife some 25 years ago that he would retire here someday.
"I remember standing on the steps of the Camino Real Hotel (now Hyatt Ziva) waiting for the taxi to take us back to the airport," he said. "It was my first visit here, and I turned and looked at my wife at that time and said 'someday I'm going to retire here.' She looked at me and said "Yeah whatever, get in the taxi, we need to get to the airport." It took me 25 years but here I am."
Paul has long had a dream to open a Reggae bar in Puerto Vallarta – it's something he thought was missing and that people would enjoy. He didn't quite reach that with the opening of Arriba, but he does have a Reggae night every week during high season.
On Saturday nights starting in November you can enjoy local Reggae star, David Bailey, who draws in a large crowd for his evening performances. David was born and raised in Jamaica and sings all your favorite reggae music plus a few original songs he wrote.
Paul and Margareta love meeting new people, and talking with tourists and locals. After retiring in 2019 Paul moved to Puerto Vallarta, purchased investment property and started his own business.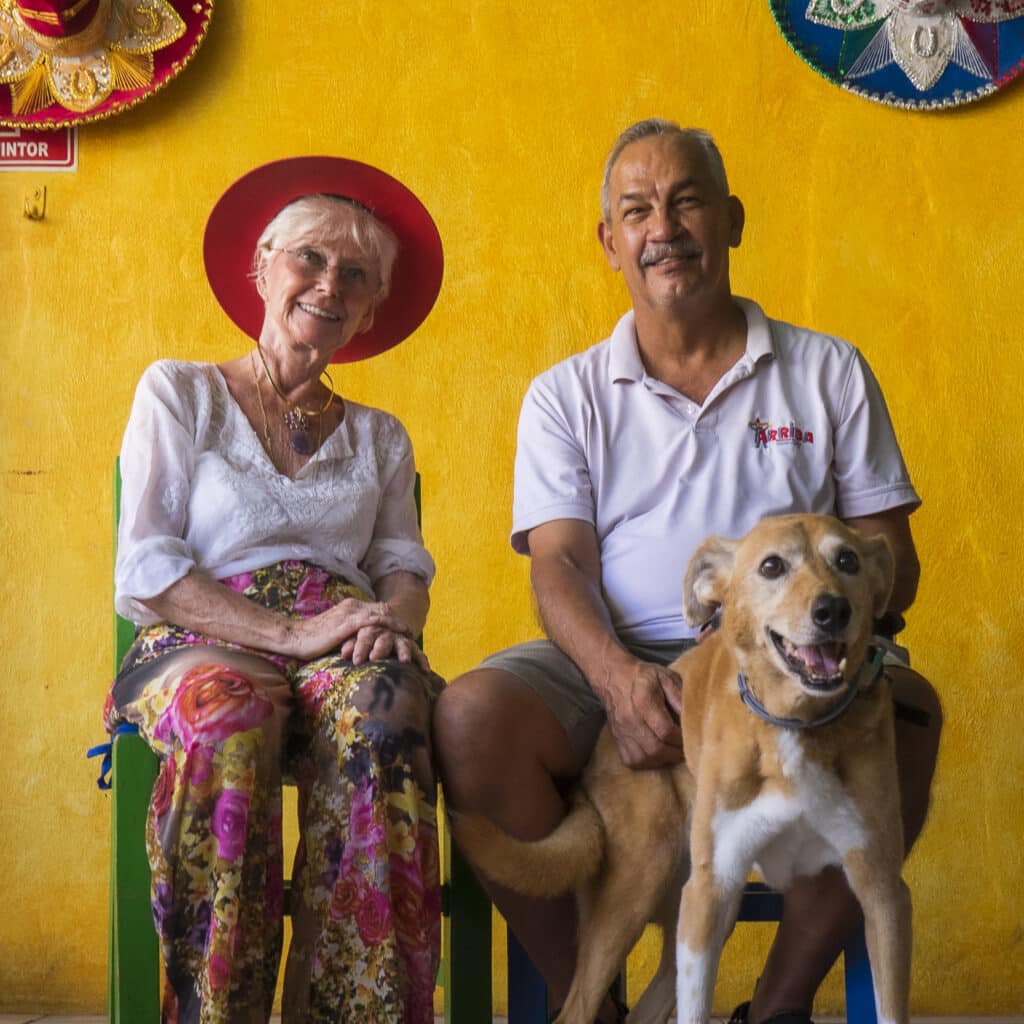 "Most people are here on vacation so they are here to have fun and have a very happy time," he said. "I think it's so interesting to hear all the stories about how they got here."
The menu remains mostly as before with many customer favorites.
You will find a menu that has a mixture of Mexican and American food including meatloaf, pork chops, burgers and their specialty – Arriba Shrimp. It is a very popular bacon wrapped shrimp stuffed with cheese.
"The menu and drinks are fairly priced for the area and Arriba Time (Happy Hour) is very popular from 1 to 6 p.m. every day," Paul said. "The restaurant is open for breakfast, lunch and dinner. We use quality fresh products to offer a better than average experience for the customers who visit the restaurant bar." Fresh meat, fish, seafood, fruits and vegetables arrive daily to ensure quality fresh food is always served.
Running a small restaurant bar can be a challenge to even the most seasoned business owners. But Paul enjoys those challenges, having worked as a chief financial officer for a large company that had more than 300 employees and $30 million in revenue. The company had a large retail operation and real estate portfolio that he managed. He managed human resources, payroll and the retail/warehouse operations.
Paul was born in Iowa City, Iowa, and moved to Colorado when he was 12-years-old. He stayed in Boulder, CO for 47 years where he graduated from the University of Colorado with a degree in accounting.
Arriba (meaning up in Spanish) is on the second floor with great views of Olas Altas and offers a panoramic view of the street activity below – while avoiding the noise and congestion of the street side bar tables.
"We welcome everyone back as we start our third season," Paul said. "Please come visit Arriba Restaurant Bar, Where Fun and Friends Meet!"

Contact Information:
Arriba Restaurant Bar
Olas Altas 443-A
Zona Romantica
Facebook: https://www.facebook.com/ArribaPV
Instagram: https://www.instagram.com/arriba_pv/
Related Story: