Esta publicación también está disponible en:

Español
Saturday, 4:30 p.m. (10/1/22)
Orlene has strengthened some based on an Air Force  Reserve Hurricane Hunter aircraft reported 700-mb flight-level winds of 80 kt in the the northeastern eyewall, and reliable looking surface wind estimates of 69-72 kt from the SFMR.
Orlene might bring heavy rains and high winds to the Pacific coast resort of Puerto Vallarta as it passes offshore, forecasters said. Puerto Vallarta closed its port to ship and boat traffic Saturday as a precaution.
The U.S. National Hurricane Center said Orlene had maximum sustained winds of 80 mph (130 kph) at midafternoon. It was centered about 195 miles (315 kilometers) south-southwest of Cabo Corrientes and moving north at 5 mph (7 kph).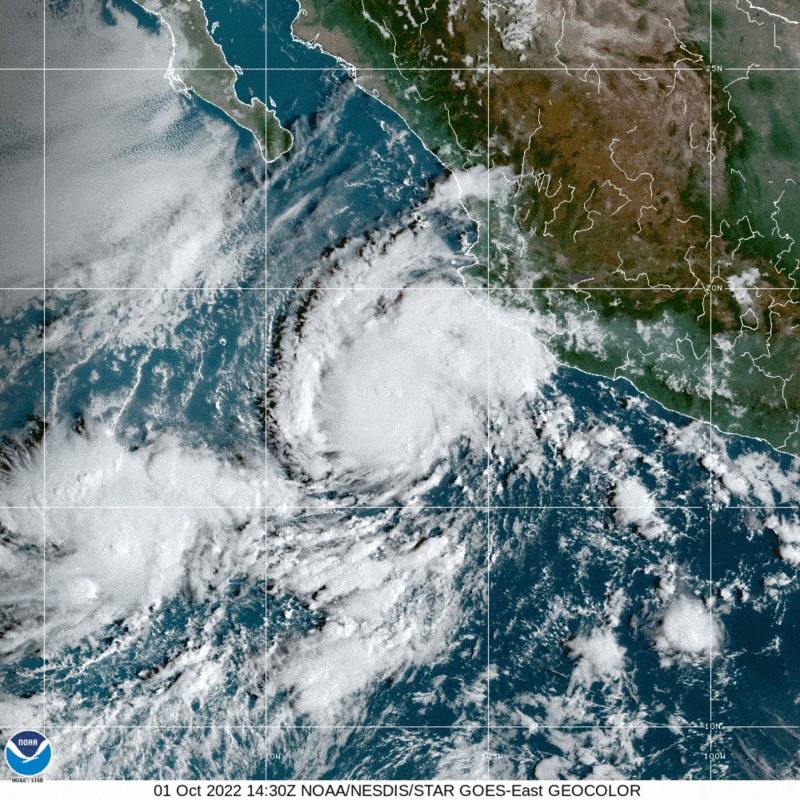 Orlene is generally moving slowly northward, 360/4 kt, to the  west of a mid-level ridge. After about 12 h, the cyclone should turn north-northeastward in the flow between this ridge and an upper- level trough seen in water vapor imagery over northwestern Mexico  and the northern Baja California peninsula.  This motion is forecast  to continue until Orlene dissipates over mainland Mexico.  The track guidance is fairly tightly clustered together, although the GFS remains a bit to the right of the other models after 24 h.  The guidance envelope has shifted a little westward since the previous advisory, and based on this the new forecast track is again nudged a little to the west.  However, the new track lies a little east of the various consensus models, between them and the GFS.
A Hurricane Warning is in effect for…

* Las Islas Marias (Orlene's eye is expected to pass near or over the Islas Marias, a former Mexican penal colony that the government is trying to convert into an ecotourism center).
A Tropical Storm Warning is in effect for…
* The coast of mainland Mexico from Playa Perula to San Blas (including Puerto Vallarta). A Tropical Storm Warning means that tropical storm conditions are expected somewhere within the warning area, generally within 36 hours.
A Hurricane Watch is in effect for…
* The coast of mainland Mexico from San Blas to Bahia Tempehuaya
A Tropical Storm Watch is in effect for…
* The coast of mainland Mexico from Manzanillo to Playa Perula