Esta publicación también está disponible en:

Español
Alejandro Castillo, a local Puerto Vallartian, has been named the top Mexico performer on the popular subscription based social media platform, JustFor.Fans.
Out & About PV reached out to JustForFans.com after reporting on the top performers in the US. Read that story here.
Castillo said he appreciated the support of his fans; whose support help push him to the top.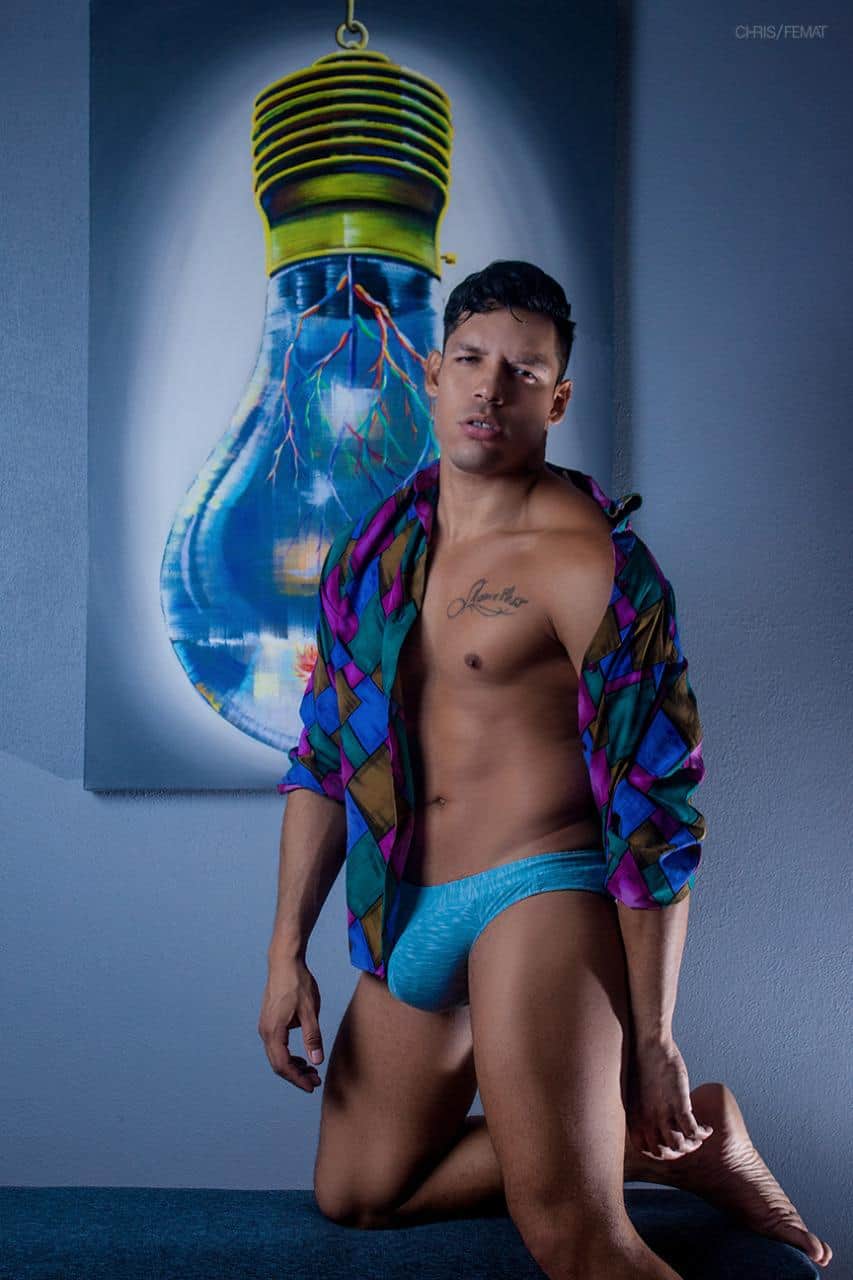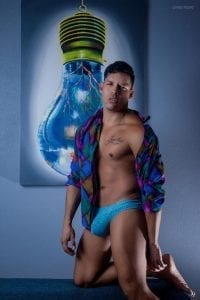 "It feels incredible, I am very grateful to the fans of my work for all the support that I constantly receive," he said. "Being the top performer in a whole country is not something that happens every day; there is definitely a before and after in my career.
I am satisfied with how I have grown as a performer, because today I can see that it is reflected in the 1,100 videos that I have in my profile."
Castillo, who was featured in this Out & About PV story back in 2018, is a 34-year-old performer who also has a passion for HIV education.  He started his career in the adult industry by more than a decade ago – but rose to fame more than two years ago when Lucas Entertainment brought a production to Puerto Vallarta and employed him as a location scout. When a performer canceled at the last moment, the company's founder and CEO Michael Lucas asked the local if he knew of any potential replacements.
"He told me, 'We're looking for another model. Who do you think is the hottest guy in town?' and I said 'well… me!' and he was like, 'No!' and I said, 'Seriously. It's me!' so he told me to send some videos, some pictures."
He explained that he has grown as a performer and developed to help meet the needs of his fans.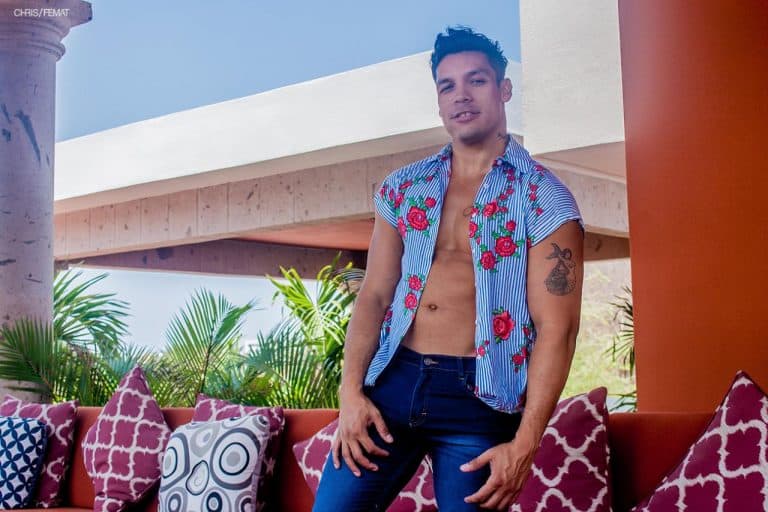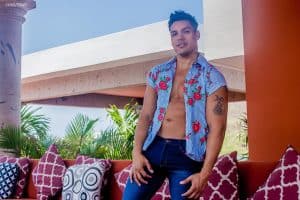 "Throughout my career I have managed to understand my development as a performer and that has helped me grow, thus achieving, as far as I believe, to be able to show something different and unique to each subscriber," he explained.
"I feel that today I have achieved the balance that I wanted as a performer and that I must only thank JustFor.Fans, who has provided me and many others with a very valuable platform in which I can grow in front of my audience.
Today, everyone understands that I am 100% Versatile and they know that I always want to continue experimenting in front of the camera."
With that rise in notoriety, has also come great responsibility Castillo says, to educated people, particularly gay Mexicans, about risks and consequences, sexual liberation and responsible protection. Alejandro feels a responsibility now to bring this enlightenment to as many people as possible.
Castillo has more than 1,115 posts on his JustFor.Fans site, with 1,112 videos and garned more than 3,800 likes. You can subscribe to his site for as little as $5 USD a month.
He has more than 35,000 followers on Instagram.
His future looks bright as he continues to grow and adjust to meet his audience needs.
"The future is made every day and my plan is and will always be to keep generating surprise and satisfaction with my personal content and with my professional work; keep making those who watch my videos stay until the end and witness everything I can offer as a professional entertainer," he said.
"My heart is full of joy to be the Top of my country … Thank you very much!"
Other performers on JustFor.Fans (Which, by the way is gay owned and operated by Dominic Ford) that are from Puerto Vallarta include benjivega (#15), Nicokrakenxxx (#22) and PinataGayHotel (#30), and probably many others that we are not even aware of (if we left you out, let us know and we'll add you to this story).
Dominic Ford, the owner and Founder, has been to Puerto Vallarta and helped host JustFor.Fans parties at the Pinata Gay Hotel.
Benji Vega, who ranks in the top 15 and is based in Puerto Vallarta, talks about breaking the taboo of adult entertainment in this story that O&APV wrote in November 2020.
Here is a full list of the top performers (based on sales) of 2020
Top 15 Mexican Performers:
AlejandroCastX (Puerto Vallarta)
GdeldiabloX
CHAKALESNTRONS3
rodopodprivate
JasonSkarsgard
LaloOaxaca
kv_eduardo
edgaritodf7
iedwardnick
EfrainElder1
sethmunichgmail.com
ivxxxnfdz
erotickles
sant1420
benjivega (Puerto Vallarta)
Other Mexican Performers That Rank in the Top 100
dannymontero_xx
NATGIO_Oficial2
Ready4uNHot
rostorart
BetoAceves
gutk17
Nicokrakenxxx (Puerto Vallarta)
Galaxy_Boy28
hectorzlg
elbuhotatuado
imMorenoXL
SoyUnPlatano
Sexryu4
NoahV
PinataGayHotel (Puerto Vallarta)
PMask2019
CamejoJoss
GuerreroUlises
Dann_Yalatt
cachorrogueromx
ElChicoX2
kryz_xxx
CharlyDiaz69
Eduardomen2112
BrandonolmedoV1
NickKane
EthanHaze
OscOtz
mejicanoBi
chicosNGmx
eddieaguilar
Jhonbg2303
EverestMiguel
PutiCdmx
bahepakito
hepakito
dominantemex
dimerayitoo
nidorino1603gmail.com
leokenmontgmail.com
sebaequis
TURKMXX
0_pato2
BeatLnny
VERGON_SEXUAL
RamonRod
ElChivoXXXVIP
CHRISFEMAT
mexicumpapi
DorianSandova18
MikeHerreraxxx
enrricoromanxxx
ClothesHansel
DomMonterrey
elbuenre
hechosenmexxxico
morboCDMXgay
huilos_xxx
MarceCarraro
Sneca15
htz_hugo
CesarC8101
HeyNikeL
danper22
ohkristoff
Cemilianogs
carlosmbosch4
SoloEriCK_M
O1S5T9
FuckSant
audel_sp
User239795
Bionic
MadAboutMyBoy
fernandoEscort
hugodasein
DiegoReif
ELNEGROWACHO
rotfukxxx
GAELCDMX
twinkxican
ChacalitoRegio
AbrahamIvan
LeoTeenLatino
Falcon833
Alexeiperezxxx