Esta publicación también está disponible en:

Español
Act2PV has announced its special entertainment schedule for pride week, May 24 to May 31 (some of these shows may also be offered outside of pride week, and you're encouraged to check their website for additional information).
Mama Tits will perform Tuesday, May 25 & Sunday, May 30 at 9:30 p.m.
Mama Tits is thrilled to return to Puerto Vallarta for PRIDE WEEK! With only two shows, Mama Tits is giving her audiences one last chance to catch her show. "The Bi*ch is Back" is a poignant show about personal perseverance and strength achieved by ignoring adversity, learning to love yourself, and believing in your power. Mama is a consummate storyteller that uses stories of her life to inspire audiences everywhere. That, coupled with being a passionate entertainer with vocal chops to match, this show is sure to delight and inspire you.
Hedda Lettuce will perform on May 27 at 9:30 p.m.
Hedda is bringing her show, "Tossed Salad 2" for a special pride week performance. Hedda is celebrating her sixth season at Act2PV with her one woman Comedy/Cabaret show, "Tossed Salad 2!" Miss Lettuce is one of New York City's premiere drag queens and keeps the audience screaming with laughter for the entire show. She has appeared in Sex And The City, Rupaul's Drag Race, Betty, Project Runway, HBO, Comedy Central and many independent films, as well as many off-broadway productions.
Steven Retchless will perform his show "Stevie Hart" on May 24 and May 31 at 9:30 p.m.  The show introduces his alter ego,and features live vocals. This stunningly gorgeous, larger-than-life diva will mesmerize you with her sultry voice, sensual dancing, and fiery/heart-warming story-telling that will make you laugh and cry. As she wraps her long legs (and 8-inch heels) around the audience, "Stevie Hart" is a drag show that you will never forget. 
Karma La Perra will perform her show,"Keeping Up with Karma," on May 28 at 9:30 p.m. "Keeping Up with Karma," has it all – from comedy to first-rate professional vocals to incredible costumes to exotic dancing, Karma La Perra takes on the world of trash tabloids, pop stardom and all the juicy headlines. Karma La Perra is a local Puerto Vallarta drag star, and she is not only humble and sincere but definitely a force of talent that all will enjoy.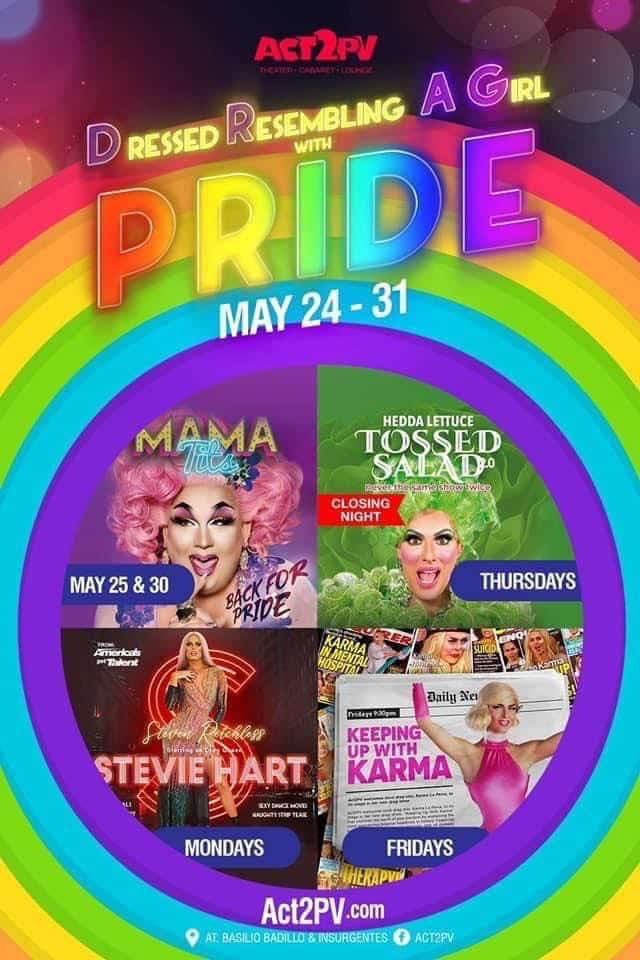 Mama Tits: Living in Puerto Vallarta DOCUMENTARY