This post is also available in: Español
Celebrating gratitude is not strictly a one-country tradition, Thanksgiving is an excellent reason to be with your loved ones and enjoy a delicious dinner, so here are or seven recommendations of places offering unique recipes banquets in Puerto Vallarta for this special date.
Verona Seafood & Bar
If you like it directly from the ocean to your plate, from 7:00 p.m. to 10:00 p.m., Verona Seafood & Bar (Olas Altas #449) will offer fresh and deliciously cooked seafood. Today for Thanksgiving enjoy their famous lobster at $720.00 or a dish of your choice, either rib eye or salmon, at $390.00 each, this last option includes a glass of wine courtesy of the house.
Di Vino Dante
If you are looking for a romantic option surrounded by many of the finest art works in old town, the ideal place is Di Vino Dante (Basilio Badillo #269) in addition to its traditional menu, the restaurant/art gallery will give a free welcome cocktail and an optional Thanksgiving special from 6:00 p.m. to 10:00 p.m.
ALL ACCESS SPORTS BAR
The Sports Bar located just a street away from the beach and the malecon, with terrace sitting and a view to "Plaza Laza", All Access Sports Bar (Lázaro Cárdenas #175) will serve turkey for dinner from 2:00 p.m.
The staff of the place recently shared that a raffle will take place during dinner to celebrate this special date with their customers.
Tony's Please
Located at Lázaro Cárdenas #440 Tony's Please promises to bring an enjoyable Thanksgiving dinner made with Tony's mother's secret recipe. Reservations are made by calling 3221094644 and the place will be open from 4:00 p.m. to 11:00 p.m.
María Tomate
Maria Tomate's menu will feature a first course based on green apple salad, goat cheese and mango jelly. The main course will be turkey stuffed with spinach, nuts and cream cheese accompanied by mashed sweet potato. A creamy pumpkin flan with nuts and spices ice cream will be served for dessert.
The price of the Thanksgiving menu at the restaurant located at Basilio Badillo #180 is $699.00, tips not included.
Frida's Kitchen
Enjoy the taste of the specialties of the renowned chef Alberto Cueva from Tecototlán, Mexico and discover what he has prepared for you by calling 322-197-1635. Frida's Kitchen is located at Insurgentes #301-A Col. Emiliano Zapata. Ask for more information about their next special dinners on December 25 and January 1.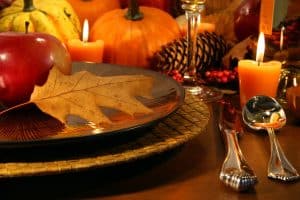 No Way José!
Offering a non-tradidtional alternative, No Way José!'s award-winning Cocina de Amor special menu from Thursday through Sunday is $799.00 per person with a 4-course menu and live entertainment by one of the Zona Romantica's local favorites, Fernando Gonzalez. Make your reservation at +52 322 223-2853.
Thanksgiving is based on gratitude but it is always emotional to get together and share, no matter if it is in a sports bar environment or in a cozy atmosphere. Happy Thanksgiving!