This post is also available in:

Español
For the tenth year, Puerto Vallarta will be ready to welcome guests in 2023 to the most important LGBTQ Pride in the region… Vallarta Pride! Here is a schedule of some of the events.
Many of the events are free and non-profit which showcases our inclusive city and why it's recognized worldwide as an LGBTQ mecca that receives both national and international gay visitors mixed with a sophisticated culture that surrounds a vibrant local community that is constantly evolving.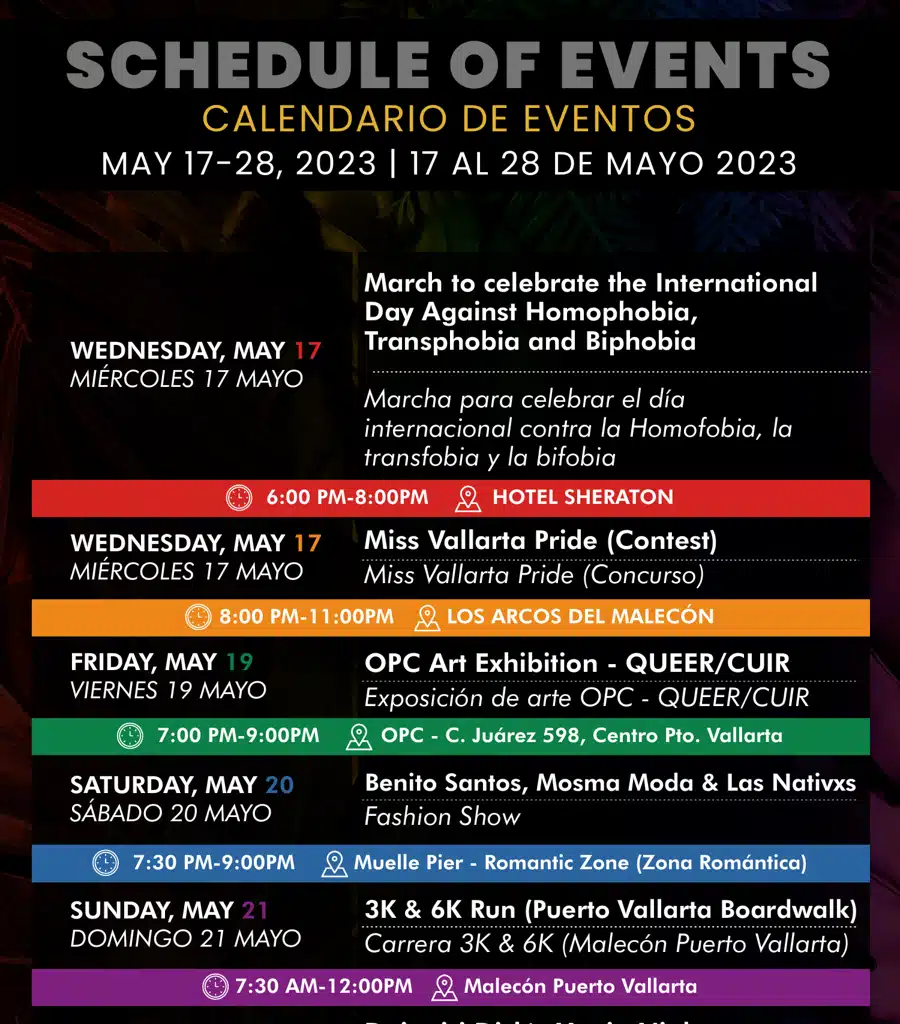 This year, Vallarta Pride is reaching to a whole new level with internationally renowed talent and epic events! Pride will produce captivating and engaging events with influential talent that is an integral part of Pride.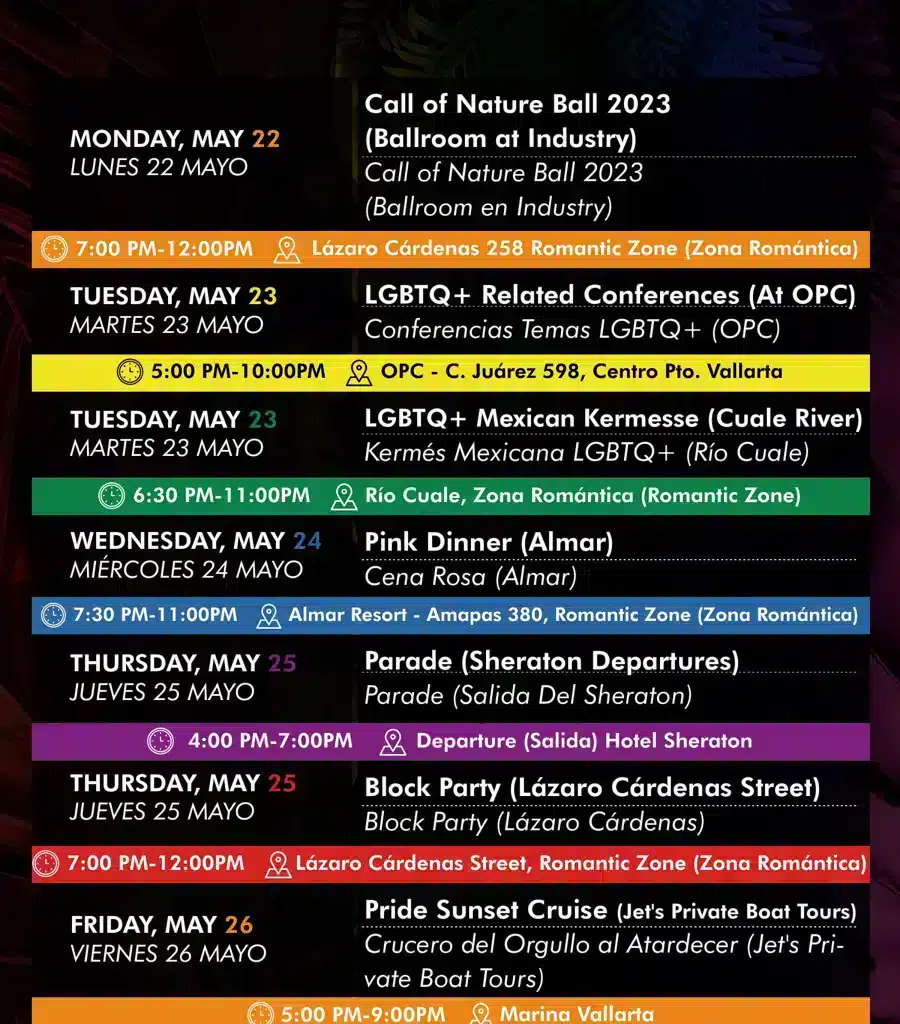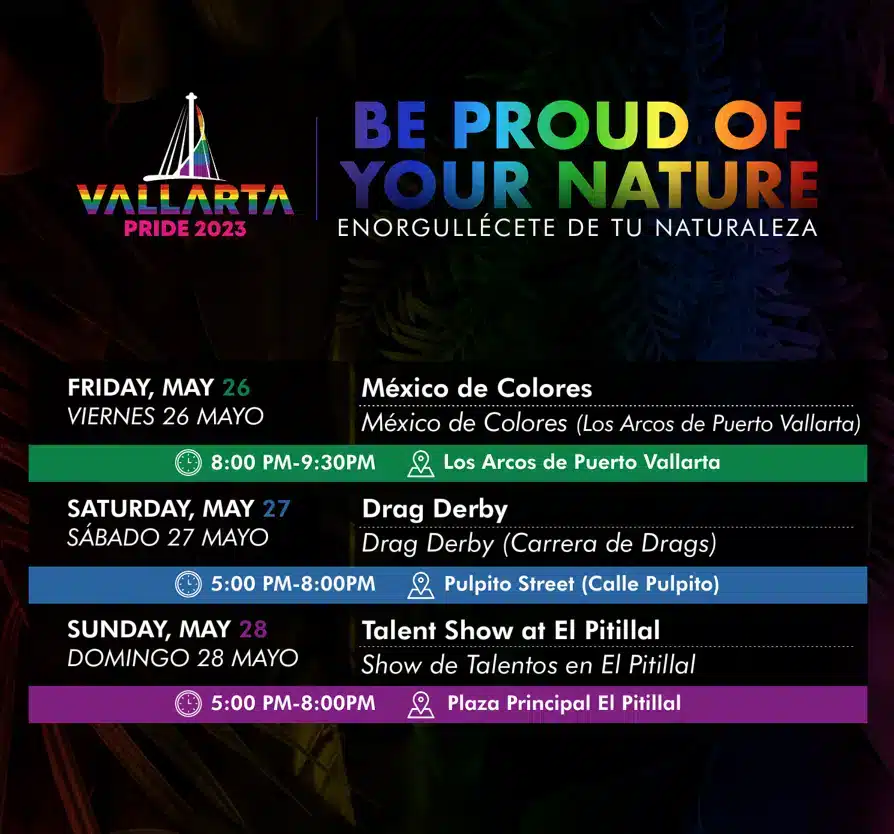 May 17, 2023
20:00:00 Malecón s/n, Centro, 48300 Puerto Vallarta, Jal.
Miss Vallarta Pride Contest
---
May 17, 2023
05:00:00 Olas Altas 314, Zona Romántica, Emiliano Zapata, 48380 Puerto Vallarta, Jal.
Don't miss this interesting game on the beach at Daiquiri Dick's in Olas Altas at sunset and afterwards enjoy a delicious cocktail or dinner with DJ.
---
May 18, 2023
Contemporary Art Exhibition
19:00:00 C. Juárez 598, Centro, 48300 Puerto Vallarta, Jal.
An interesting group of artist, for a unique exhibition at the OPC in favor of diversity and art
---
May 19, 2023
18:30:00 Francisca Rodríguez 121, Zona Romántica, Emiliano Zapata, 48380 Puerto Vallarta, Jal.
A one-of-a-kind fashion show, with a ground level runway at the Piere Pier in Playa Los Muertos with the participation of Benito Santos, MOSMA MODA and the Nativaxs, a true tribute to fashion and DIVERSITY.
---
May 20, 2023
Run race $250
08:00:00 Malecón Puerto Vallarta48300 Centro, Centro, 48300 Puerto Vallarta, Jal.
The first DIVERSITY run race, that unites us for inclusion, empathy and sport.
---
May 21, 2023
16:00:00 Blvd. Francisco Medina Ascencio 999, Zona Hotelera, Las Glorias, 48333 Puerto Vallarta, Jal.
The theme for the PARADE for this year 2023 is Nature, based on the idea of what Mexico has to offer and particularly Puerto Vallarta, sheltered by the Sierra Madre with green tones that contrast with the blue of the sea, its biodiversity, its wildlife and vegetation that inspire us, because Puerto Vallarta is written with colors. Likewise, the PARADE is the most colorful event of VALLARTA PRIDE and for this reason we invite you to let your imagination fly, an opportunity to surprise everyone with this parade that will go through the main streets of Puerto Vallarta.
---