Esta publicación también está disponible en:

Español
Puerto Vallarta marked the National Day against Homophobia, Lesbophobia, Biphobia and Transphobia with hoisting the LGBTIQ+ rainbow flag in different parts of the city.
These events had the outstanding participation of important figures and organizations committed to equality and diversity.

In Plaza Pitillal, an emotional raising of the LGBTIQ+ flag was carried out with the participation of the Citizen Security Commissioner, councilors and councilors. This symbolic act reinforces the commitment to celebrate diversity and build an inclusive and respectful society, declared Paco Arjona, director of SETAC, adding: "we are equals, first class citizens who honor our community. We deserve the same rights and we celebrate diversity with pride."

For her part, Claudia Iñiguez, councilor president of the Justice and Human Rights building commission, said: "This is a small big step to embrace diversity. It is essential that our city show a face of inclusion and respect for all people." .

Later, the Centro Universitario de la Costa was the scene of another important raising of the LGBTIQ+ flag, with the active participation of the rector Jorge Téllez and the assistance of MOVii and COMUSIDA. Together, they reaffirmed the commitment of the university community to promote equality and fight against discrimination in all its forms.

Itzel Arias, representative of the Diverso UdG collective, highlighted the importance of this event and stated that "we are glad to officially be a university collective. We will fight against stigma, rejection and discrimination in the classrooms and in the corridors of the CUC."

In his speech, the rector highlighted the importance of celebrating diversity and respect in society. He reaffirmed the commitment of the university community in defending LGBTIQ+ rights and in building an inclusive environment free of prejudice.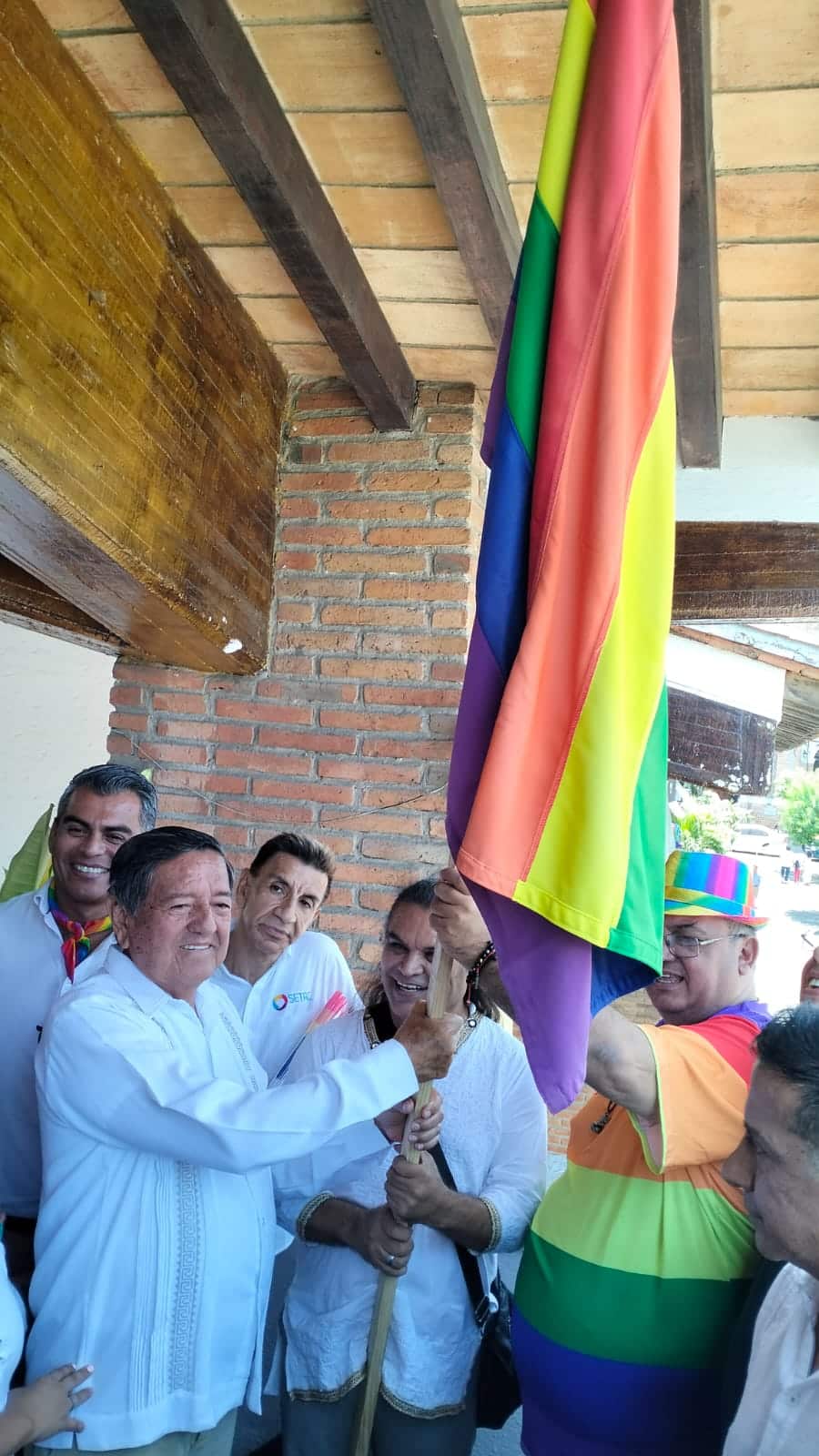 City Hall
At noon, the Balcony of the Presidency witnessed a symbolic gesture of inclusion and respect, with the presence of Edgar Treviño, Colectivo Vallarta LGBT, MOVii, SETAC and Vallarta Pride. The Mayor, Luis Alberto Michel, the Trustee, the Director of Tourism and councilors joined in the raising of the flag of diversity.
The event also featured inspiring words from leading figures committed to equality and diversity. Edgar Treviño, who participated in the first diversity marches in the city, emphasized: "Less snobbery and more activism, the fight continues. Administrations come and go, but the LGBTIQ+ community is still here, resisting and demanding equality."
Hector Betancourt, a member of the Vallarta LGBT Collective, recalled: "I remember the people who fought years ago, who were in jail, who were imprisoned for daring to be different and loving those they loved. Their courage inspires us to continue forward in our fight for equality".
Later, at Parque Lázaro Cárdenas, Roberto Ramos, Director of DIF, and Javier Jiménez, business representative and president of Vallarta Pride, gathered to express their support for the LGBTIQ+ community and reaffirm their commitment to equal rights and opportunities.
"I congratulate councilor Claudia Íñiguez for her courage in defending an initiative that has generated controversy and rejection. We call for unity and non-discrimination, even within our own community," said Roberto Ramos.
Miguel Hidalgo Park
Finally, in Parque Hidalgo, Colectivo Vallarta Trans, Lesbian Pride, Festival Ella and other important figures from the LGBTIQ+ community made an appearance. This uprising, led by MOVii, was a show of unity and solidarity in the fight against homophobia, lesbophobia, biphobia and transphobia.
In the words of Karla Macedo, president of the Vallarta Trans Collective, "trans people are the most visible and also the most vulnerable. We fight for education, health and employment. Our identity is just the first step."
For his part, Víctor Espíndola, coordinator of MOVii, highlighted the importance of these events and declared: "Nothing to cure, homosexuality is not a disease; people's gender identity and expression cannot be corrected. We must be brave and confront fear to achieve equality."
"These hoistings of the LGBTIQ+ flag represent a great step towards a more inclusive society free of discrimination in Puerto Vallarta. We thank all the people, organizations and entities that joined this important celebration and we reaffirm our commitment to continue fighting for equality and diversity in our community, he concluded.
Organized civil society
MOVii is an organization committed to equality and the rights of the LGBTIQ+ community. We work to promote inclusion, diversity and non-discrimination in all its forms. For more information about our activities and events, visit our website www.moviimexico.org.
Colectivo Vallarta Trans is an organization that fights for the rights and visibility of trans people in Puerto Vallarta. Our mission is to promote equal opportunity, respect, and dignity for all transgender people in our community.
Vallarta Pride is an annual festival that celebrates diversity and promotes equal rights for the LGBTIQ+ community in Puerto Vallarta. Our objective is to create spaces of visibility, inclusion and respect, as well as promote LGBTIQ+ tourism in our city.
SETAC is a civil association committed to promoting the rights and health of the LGBTIQ+ community in Puerto Vallarta. We work in collaboration with other organizations and entities to raise awareness, provide support and promote inclusion in our society.
Diverso UdeG Puerto Vallarta is a group of students and academics from the University Center of the Coast of the University of Guadalajara in Puerto Vallarta. Our goal is to foster diversity, respect, and inclusion in the university community, as well as promote equal opportunities for all students.
Colectivo Vallarta LGBT, an organization dedicated to defending the rights and inclusion of the LGBTIQ+ community in Puerto Vallarta. This group, made up of people committed to equality and diversity, has been a pillar in the fight for LGBTIQ+ rights in the region.