How long have you been active with Broadway Cares/Equity Fights AIDS?
I've been a part of Broadway Cares/Equity Fights AIDS since its inception. In 1988, with many of its own members facing dire circumstances, the Council of Actors' Equity–the union for actors and stage managers–set out to fight HIV and AIDS within its own community. Equity Fights AIDS was created as a committee of Actors' Equity. The group was tasked with mobilizing the unique abilities of the entertainment industry to address the suffering of individuals affected by the epidemic by funding the support offered by the then-new AIDS Initiative program of The Actors Fund. At the same time — shortly after the death of director and choreographer, Michael Bennett, from AIDS — a group of producers joined together to establish Broadway Cares, mobilizing funds and providing grants to then-fledgling and often struggling AIDS service organizations in New York City and other large urban areas – some of the locations that were heaviest hit by the epidemic.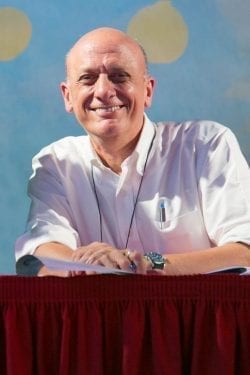 At the insistence of Broadway Cares' then-executive director, Rodger McFarlane, the two organizations chose not to compete. Instead, we traded and shared turf for maximum impact. We worked closely for four years; so closely that by the time Rodger and I proposed a merger in 1992, many people thought we were already one and the same. The organizations merged, officially becoming Broadway Cares/Equity Fights AIDS, and assumed the grant-making missions of both entities: ongoing support for the social service programs of The Actors Fund and allocating resources across the country though the National Grants Program.
We've now been at this for 30 years, since 1988, officially as Broadway Cares/Equity Fights AIDS since 1992.  It's been a long haul and one I am very fortunate and proud of to be a part.
How long have you been the Executive Director?
Since 1996.
What was your professional background before taking on that position?
I was a musical theatre major, graduating from College Conservatory of Music at the University of Cincinnati in 1976.  Like many others who graduate from theatre programs across the country, then and now, New York City was "the promised land" for me. I moved here that summer and never looked back, although I have had all variety of jobs, gigs, wrong paths, semi-careers and professional adventures since then. Waiter, actor, apartment cleaner, freelance writer, cater waiter, agent's assistant (and those are just the legal ones) before landing at Actors' Equity in a "pen for hire" writing job that was supposed to last eight weeks. It extended for more than a year and resulted in my working as the executive assistant for Equity's then President Colleen Dewhurst, a beloved Tony Award-winning actress. Colleen was the heart and emotional energy that lead to the creation of Equity Fights AIDS in 1988. She encouraged me to do all I could to help the organization create a place in the Broadway community. At that time, I really had no idea that she was pushing me onto what would become my life's path. I'm not sure that she really knew it either. Colleen passed away in 1991. I know that even then she could see what we could accomplish, even if she was not going to be there for much of it. Her spirit still motivates so much that we do every day, whether the folks doing it today realize it or not.
 What have been your greatest successes and challenges in that position?
I think my greatest successes actually have been BC/EFA's.  And by that, I mean thatI've been fortunate enough to work in and with a community that dedicates itself to reaching beyond itself to raise resources for others. Those resources have made the difference to hundreds of thousands of men, women and children from all walks of life facing the serious challenges of living with HIV/AIDS and now a variety of other debilitating illnesses and personal issues. No matter what we do each year or at any one event or grant round, the fact that we are still here and operating at the level we do is really a miracle more than thirty years after that initial impulse of "we have to do something." It's a testament to the shared commitment and collaboration of thousands of people who in the last 30 years have made it possible for BC/EFA to award more than $111 million to more than 450 social service organizations across the U.S., as well as another $98 million to The Actors Fund, the employment assistance program of the entertainment industry and performing arts.
How long have you been visiting Puerto Vallarta?
I've been coming to Puerto Vallarta for over twelve years, since 2006, I think. Two of my best friends, Tom Watson and Jay Laudato, were coming down to stay at Casa Cupula, as Tom was a long-time high school friend of Don Pickens, the owner/host. I had such a great time at Casa Cupula, in town and on the various adventures and side trips that I've been coming back each year ever since.
What is your favorite part about being here?
I love the casual relaxed environment that, at the same, offers all variety of excitement, day and night, should you choose to get off the chaise lounge or beach towel and jump in. I love Oscar Frey's whale watching tours with Ocean Friendly. Oscar is truly the Pied Piper of whales and I set aside an afternoon on Banderas Bay every year. The restaurants, the clubs and bars – funky and fancy – are wonderful and often all within walking distance or a quick cab ride in Zona Romantica.  Day trips to the Botanical Gardens, Sayulita and San Pancho and their gorgeous beaches are also a yearly must. I love just wandering around, not quite knowing where the day will lead, depending on the strength of the margaritas. But what I've really come to love best are the friends I've made and how at home in this resort town I've come to feel.
Broadway Cares/Equity Fights AIDS has been a vital sponsor for SETAC in the last several years. Why would you support an organization in a different country?
I think it's important to give back to any community that makes you feel welcome. I have felt very welcomed when in Vallarta. So, when I learned of SETAC several years ago through Don, I made a point of seeking them out and meeting Ed Thomas, Paco Arjona and others. When I saw the important, burgeoning grassroots work that is being done for PV's LGBT and HIV/AIDS communities–since I am a part of both communities in the States–it seemed obvious that we should get to know each other. An initial gift, just a few years ago, has grown to over $10,000 USD in annual support, more than $40,000 over the last five years. BC/EFA makes about $500,000 in international grants each year. Most are to organizations overseas that have some connection to a Broadway show or star who has been very involved in our fundraising in New York City. For instance, since 1998, BC/EFA has awarded over $4.8 million to organizations in South Africa thanks to the incredible fundraising done by THE LION KING, as well as organizations in London and whenever Hugh Jackman comes to town, in Australia.
Over the years, I've seen Vallarta become more and more of a favorite winter destination for the Broadway community, many of whom are a part of BC/EFA's fundraising efforts. It's important that, as we all interact with each other, that we do our best to do so responsibly and in good health. SETAC plays an important role in ensuring that, not only for those of us who visit for a week or so, but most especially for those who call Puerto Vallarta home year 'round.
BC/EFA has raised millions and millions of dollars over the years. What fund-raising strategies could you share with us for a cause and subject matter that many find uncomfortable?
You share your story. But you also create events that folks would want to be a part of, no matter the specific cause. You lead with a commitment to good work on behalf of and for the community that you serve and that supports you. Take nothing for granted and always make sure that people feel appreciated for what they've done for you, large and small. Fundraising is a lot like dating. You can get just about anyone to do anything for you…once. But folks don't come back unless you've made them feel good, not only about you but about themselves. The "mission" or the "cause" is almost secondary. So, you show up, lead with commitment and always close with gratitude.
Have you noticed any difference in attitudes and conversations in the theater community with the availability of PrEP?
I think PrEP has been an important game-changer, especially for a younger generation fortunate enough to have access to it, and not necessarily just in the theatre community. I congratulate SETAC on bringing it to all there in Puerto Vallarta with the support of the United Nations But even with this critical advancement we must remain vigilant. Testing is still our most important prevention. Knowing your status – negative or positive – allows you to take care of yourself, your family and your partners. Stigma is the greatest accelerant of HIV/AIDS. It kills the honest conversations that can save lives.   PrEP is a new, important tool in staying healthy and fighting the advance of infection.
You're sending us two amazing performers for this year's Red Ribbon Gala. How did you choose them, and why?
I've known Seth Rudetsky and Gavin Creel for what feels like a happy forever. Both are extraordinarily talented artists, very generous men, champions of BC/EFA and longtime Broadway favorites. They exemplify the best of the thousands of theatre professionals on and off stage who have made BC/EFA's work possible. I'm thrilled that they were available for the Red Ribbon Gala and know they'll have a great time there in Puerto Vallarta. I fully expect that, like me, this will just be a first visit for them and that they will return again and again.
You can read more about the event and chefs participating in the event here.
Tickets are available here.