This post is also available in:

Español
"Hola my friend" was the warm welcome I received from the cordial waiter upon my arrival at Swell. I was shown to a comfortable chaise lounge chair, covered by a thick cushion, with a white towel placed on top.
Adjusting to my surroundings, an immediate feeling of refined elegance enveloped me. Earthen toned umbrellas with a smattering of yellow interposed amongst them provided a pleasant almost Mediterranean feel. Sturdy ebony wooden tables are at just the right height for drinking, or dining. Standing silver wine buckets are placed throughout, and I noticed many quests enjoying a shared bottle of their favorite vino. Well behaved, smartly groomed dogs enjoyed the pet friendly atmosphere. Waiters in white shirts moved gracefully amongst the crowd. Brightly colored pom poms hung in suspension from varied palapas, swaying slowly with the breeze. I later learned guests bring the adornments themselves and waiters then assist with decorating the space. Wow, that is customer service, I thought to myself. Two waiters, whose shirts read "no straws please" walked by. Straws are actually available upon request, though they are natural and biodegradable. This is just one way Swell is doing their part to respect our planet.
One of the many ways Swell stands apart is the incredible selection of dining options offered on the full menu.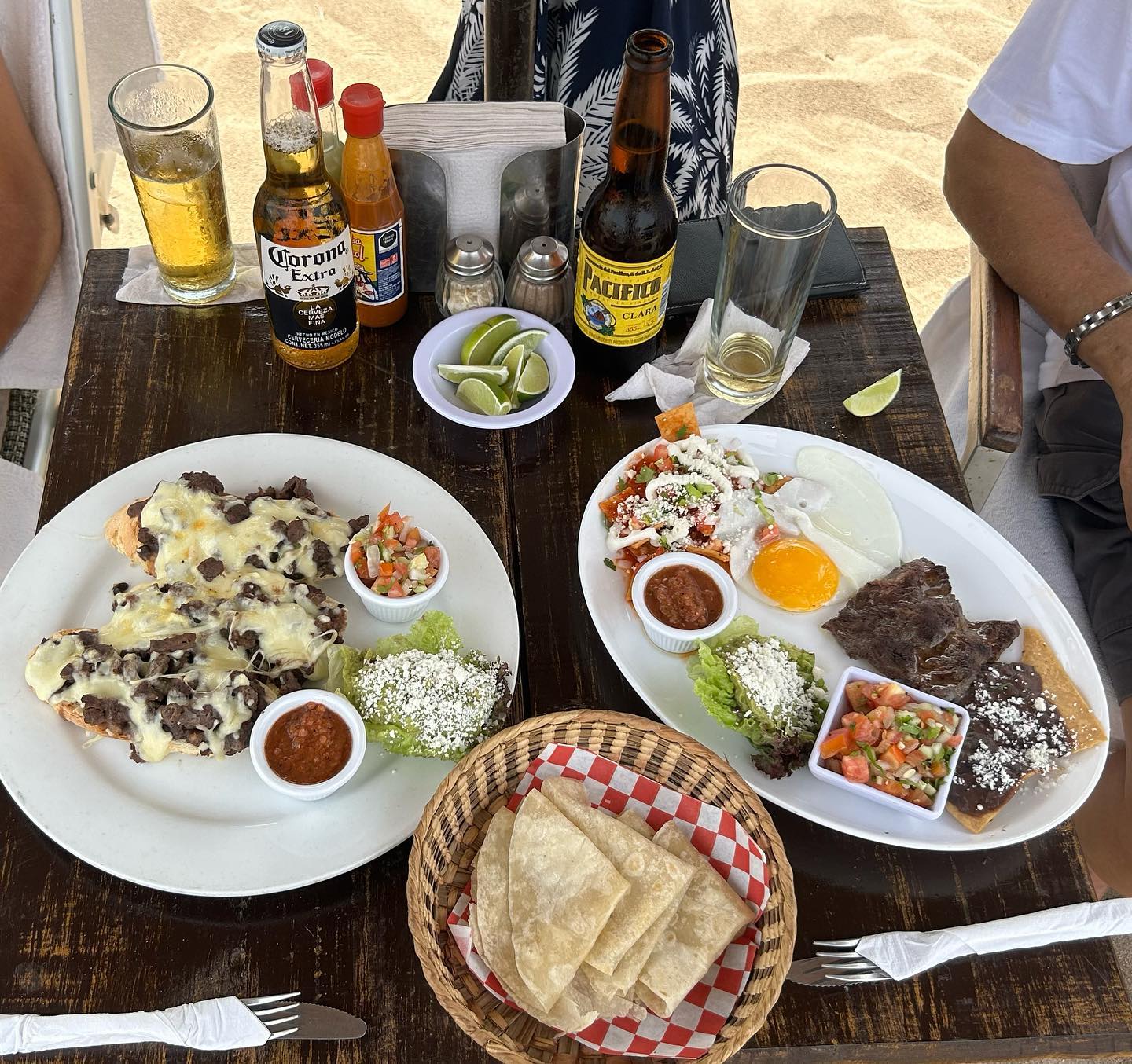 To begin the day, Breakfast is served from 9 a.m. until 11:30 a.m. The coffee is strong, and the orange juice is sweet and freshly squeezed. A breeze blew in from the Pacific, adding a freshness to the morning that was invigorating. Some of the most popular breakfast items include a Fried egg bagel with ham and cheese, accompanied by hash browns or beans. The Swell special is a tangy chilaquiles option with an egg, beef or chicken. The wonderfully tasty Avocado toast with a poached egg and hash browns or beans is a favorite. Moving onto the drink menu, the Bloody Mary or Bloody Cesar is the perfect cure for that hangover from the night before! The uplifting and bubbly Mimosa sparkles, and is a morning crowd pleaser. The passionate Passion Fruit Margarita pleases throughout the day. It is available with a single or double shot. The incredible smokiness of the Mezcalita Limon is a relaxing specialty perfect for the sunset hour. It is also available in a single or double shot.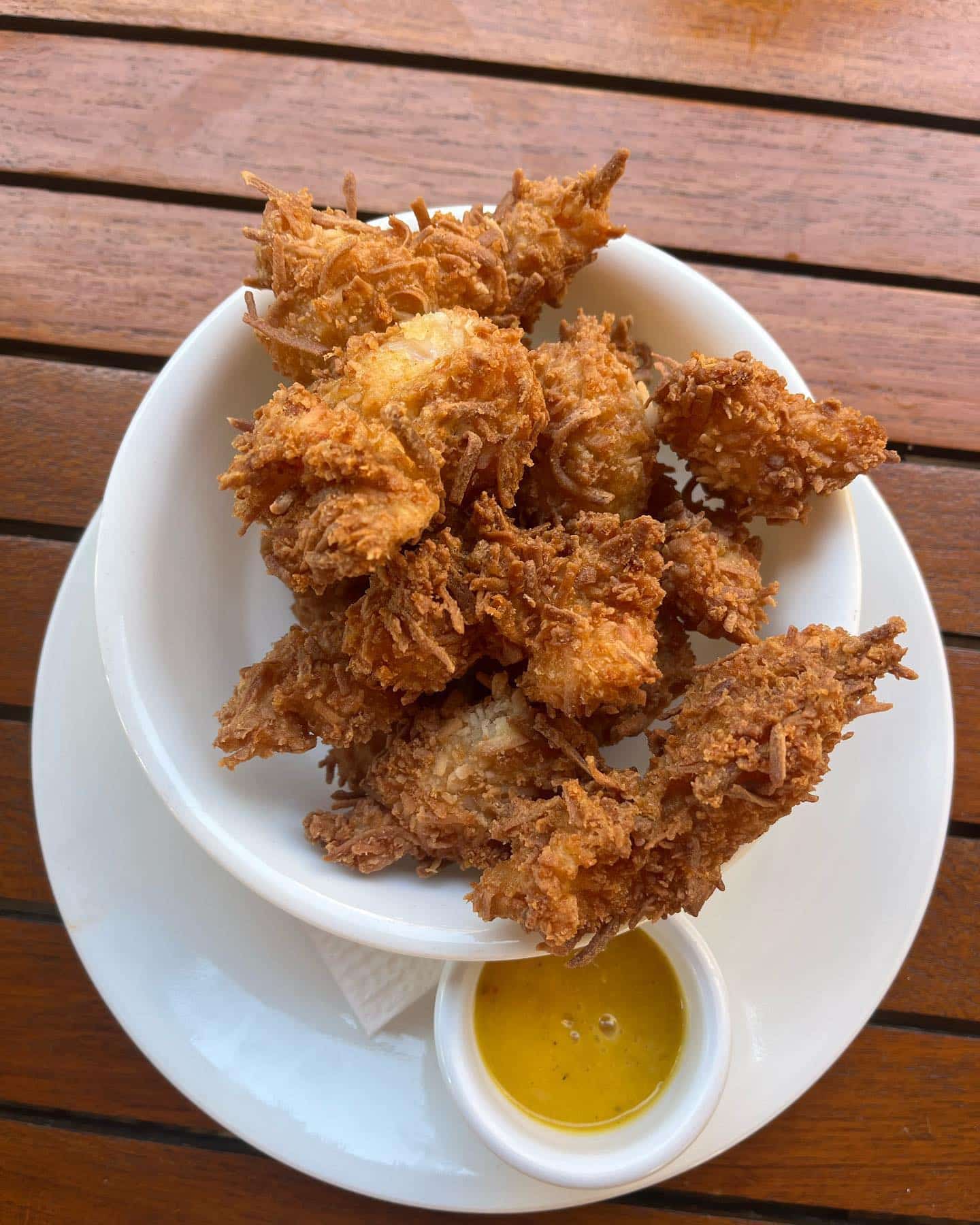 Some of the most favored options that keep customers coming back are on the daytime menu. A popular appetizer is the Coconut Crusted Popcorn Shrimp. The Cheese Chicharron with shrimp or beef is a taco that comes with a blue corn tortilla and homemade coleslaw. The order of three is filling, without being heavy. The succulent Fish Filet Stuffed with Seafood (octopus, shrimp and scallop), is bathed in a creamy red bell pepper sauce. It is truly unbeatable. On the lighter side, the Cobb Salad is a refreshing combination of mixed lettuce with corn, bacon, ham, egg, and tomato. Served with a mustard dressing and blue cheese, a small and large option is offered, and is always a go to.
Deciding to explore the "other side" of Swell, I proceeded to cross over the wooden walkway that runs north toward the Los Muertos Pier.
Here, tables abound under swaying palm trees. Friendly card games were in progress, while other guests chatted and enjoyed the tranquil setting. As I approached the palapa covered circular bar, I spotted a familiar face. The owner of Swell, Marco Antonio Pena Gonzalez was standing, working alongside his staff.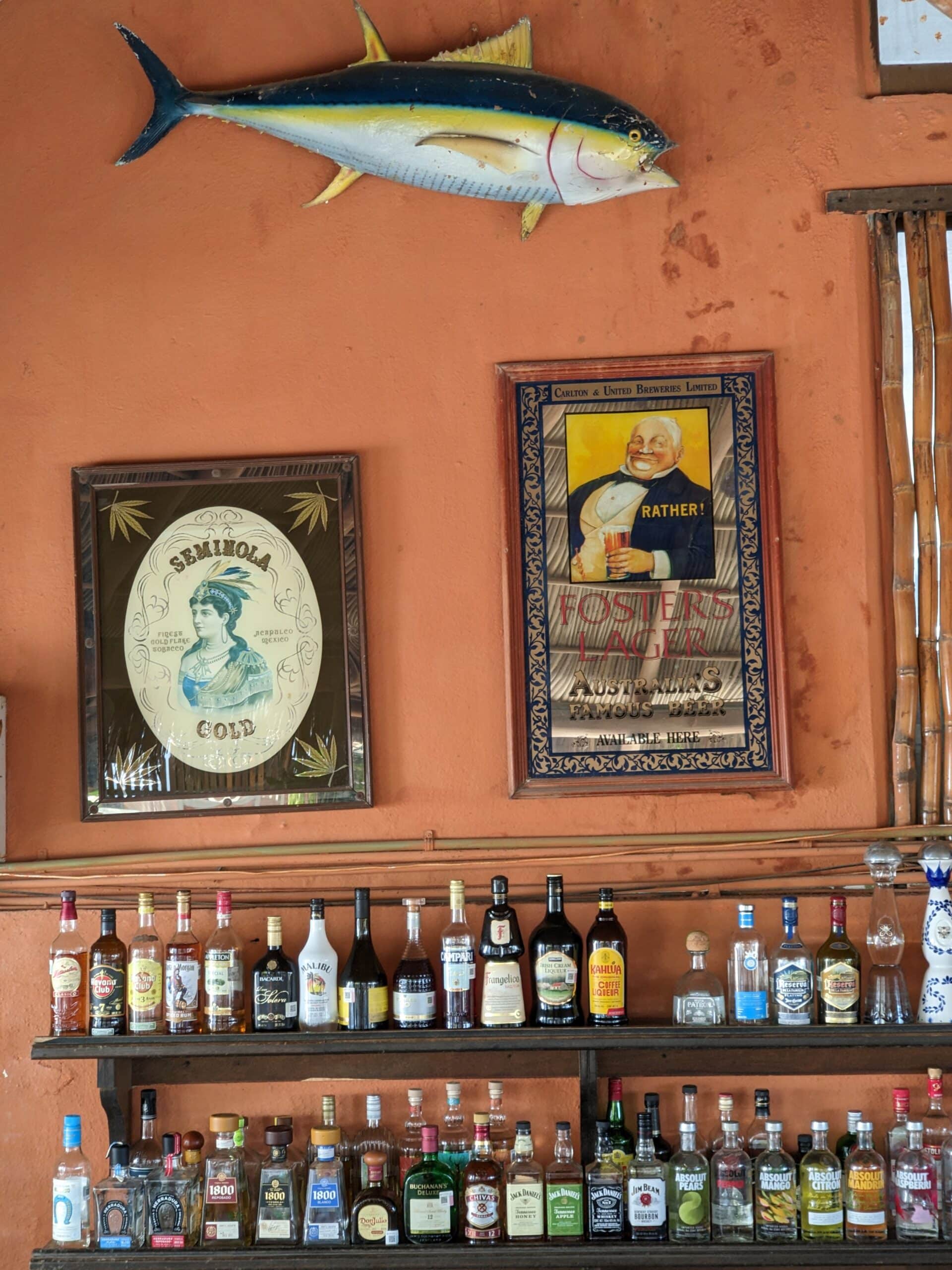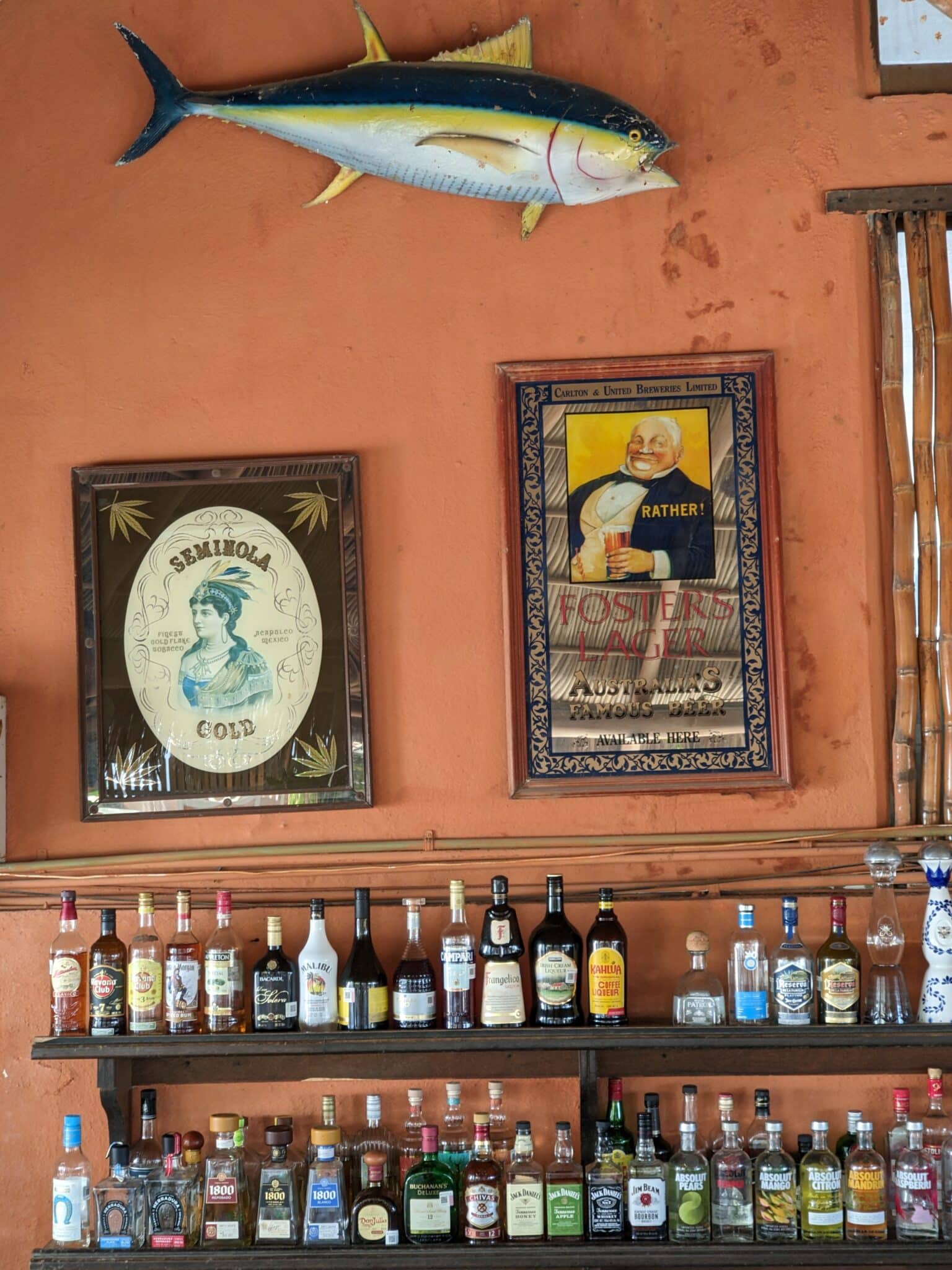 Popularly known as Marco, he is a lawyer by trade. I pointed to the large Carlos O' Brian's sign hanging to his left, and we briefly reminisced about this legendary, now defunct Vallarta bar, formerly located on the Malecon. Marco worked there for 19 years, and he fondly described Carlos O' Brian's as his school, his university, where he learned the business end of bartending that would culminate many years later in the creation of the Swell Beach Bar in 2010.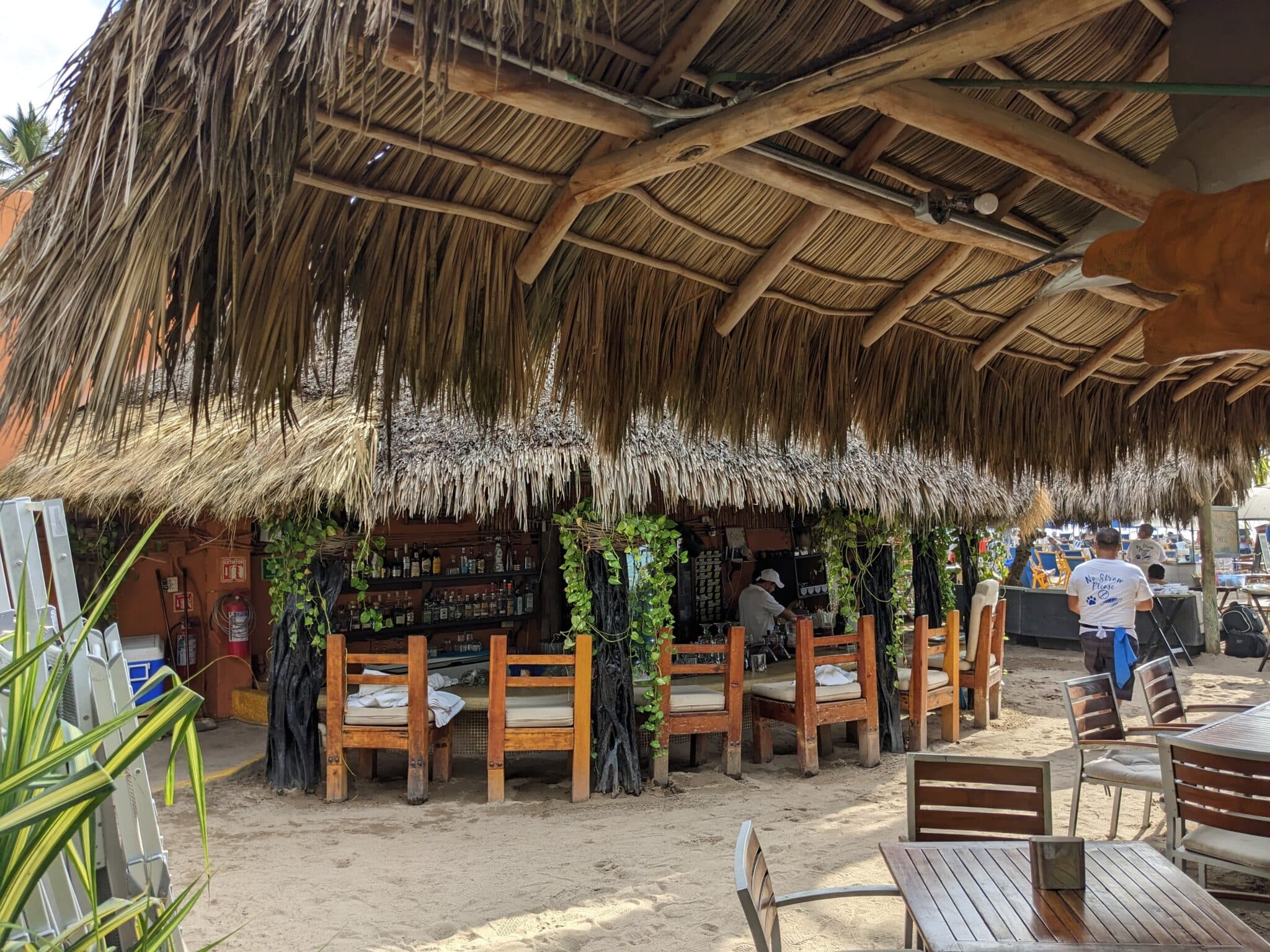 As songs of the early 90's played on the radio, I asked Marco why Swell is so unique, and what makes it so successful?
He responded thoughtfully, "it's the service, the quality of our drinks and food" adding to this, he shared with me that the aforementioned Coconut Crusted Popcorn Shrimp is his favorite menu option!
He continued, "The waiters are amazing, we have a really good time together, we have a great team." Summing it up he stated "the quality is the difference here, the quality." Come any day, and enjoy this amazingly different experience for yourself.
Information to Know:
Amapas 182, Zona Romantica 48380
Telephone 52 322 223 0497
Hours 9:00am – 6:30pm Daily