This post is also available in: Español
Celebrate the summer of Pride with our advertisers – support those businesses who support you!
Support the following advertisers who are supporting your local LGBTQ+ magazine.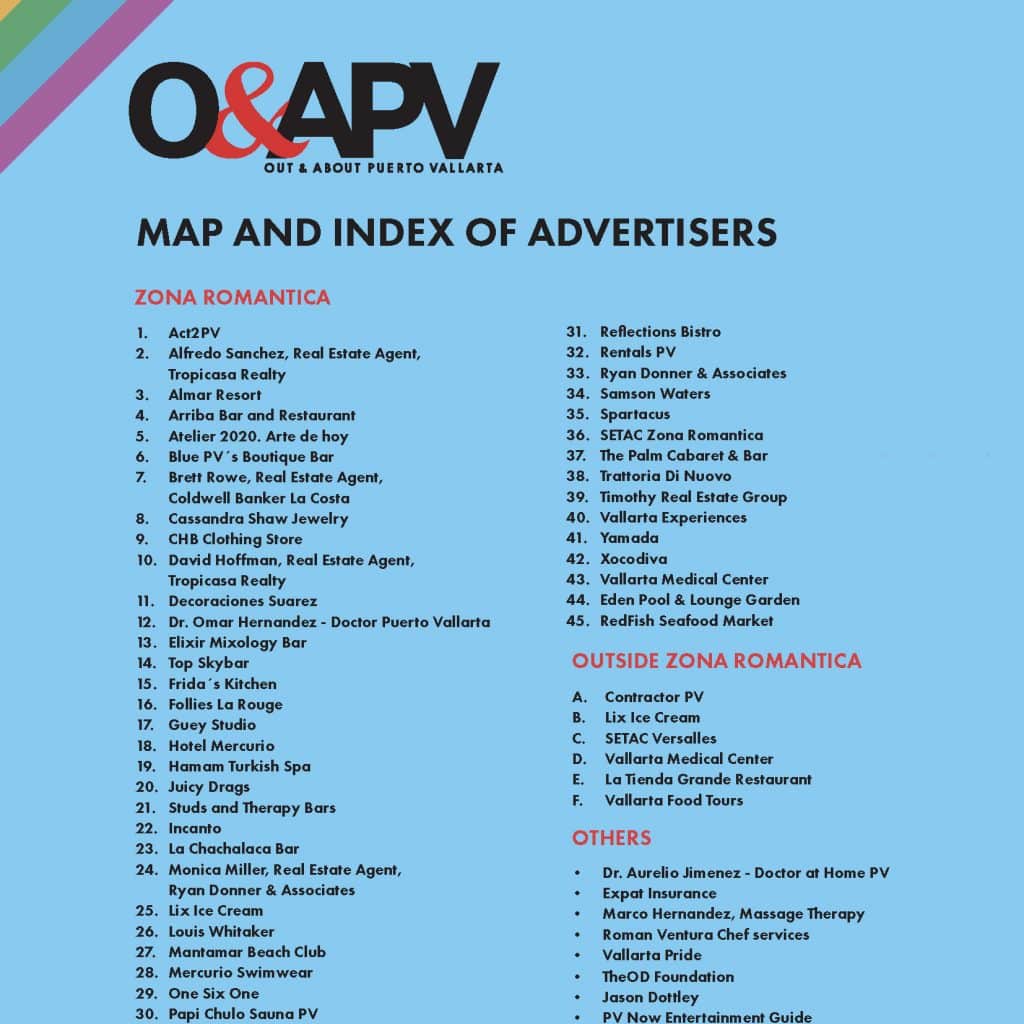 Art Gallery
Atelier 2020 – arte de hoy
A refreshing breeze to Vallarta's artistic venues, Atelier 2020 – arte de hoy, fulfills the need for a space focussing on contemporary abstract art
Furniture/Interior Design/Building
Contractor PV
ContractorPV is a construction, and design firm with a focus of Implementation of new development in Puerto Vallarta.
Decoracion Suarez
With more than 20 years of experience, Decoracion Suarez can help you with blinds and curtains, custom made to fit your new home or condo. Installation provided.
Guey Design Studio
Are you looking to build your dream home in Puerto Vallarta and not sure where to start? The team at Guey Design Studio can help!
Real Estate

Alfredo Sanchez, Real Estate Agent
Tropicasa Realty
Alfredo has more than 14 years of experience with Tropicasa Realty, and is passionate to help you find your Puerto Vallarta or Riviera Nayarit dream home.
Brett Rowe, Real Estate Agent
Coldwell Banker La Costa
Brett manages his own properties in Chicago and New York, Brett is excited to be living and working in Puerto Vallarta creating relationships to help people find their dream property.
David MacLean
International Property Specialist
Living in Puerto Vallarta Real Estate Representative
David MacLean began his real estate career over a decade ago. He has worked with sellers, buyers and investors in both Canada and Mexico.
David Hoffman, Real Estate Agent
Tropicasa Realty
David is a world traveler, but his heart and home is in Puerto Vallarta. He loves Mexico and its people. He's bought and sold real estate for many years – his own homes, rental properties, and his then-Puerto Vallarta vacation home.
Francisco Salazar, Real Estate Agent
Ron Morgan Realty
Francisco is ready to find your best investment. "Let me do the work and you can relax in paradise. I will provide all my expertise in the real estate market here in Mexico."
Monica Miller, Real Estate Agent
Ryan Donner & Associates
Monica was born in the San Francisco bay area and raised two sons in the Napa Valley. Monica's background is personal and business finance.
Ryan Donner & Associates
Ryan Donner quickly climbed the ranks of the real estate business in Puerto Vallarta. In 2018 he began forming his team of agents that work under him while he worked as a realtor himself.
Timothy Real Estate Group
Timothy Real Estate Group is a locally-owned and operated real estate brokerage with strategic sales office locations throughout the Bay of Banderas from the Romantic Zone to Sayulita.
Entertainment

Act2PV
The performers are top-notch and there is also a fully equipped bar where you can relax before and after a show.

FOLLIES LaROUGE
Main Stage at ACT2PV
A professionally choreographed Broadway/Vaudeville/Burlesque show, presented by Kimberly LaRue. SUNDAYS – 7:00 PM.
Incanto
Incanto specializes in bringing together different forms of art in one place, music, theater, comedy, and literary events.
Louis Whitaker
Louis Whitaker performs 7 days a week in Puerto Vallarta Mexico. Find out more about his shows and where to buy tickets online.
PV Now Entertainment Guide
Can't keep up with all of the great shows and entertainment in Puerto Vallarta? Let us do the work for you! Download this App from the Apple or Play store! For more information https://www.pvnow.mx
The Palm Cabaret & Bar
The Palm has been a part of Puerto Vallart's entertainment scene for more than 21 years. It is Puerto Vallarta's oldest live entertainment venue in Old Town.
Vallarta Pride
Vallarta Pride is a week-long annual event that pays tribute to the LGBTQ community.
Healthcare
Dr. Aurelio Jimenez – Doctor at Home PV
Dr. Jimenez makes house calls! Yes, if you're feeling ill and need medical assistance, Dr. Jimenze and his associates offer a home consultation service.
Dr. Omar Hernández – Doctor Puerto Vallarta
Doctor Puerto Vallarta
(MSc Public Health – King's College London) offers a wide range of professional services, including medical consultation, physical examinations, check-ups, vaccinations, and more!
Expat Insurance
Got insurance? Don´t become a GoFundMe campaign and make sure you have insurance. Brett LaMar is an insurance agent who represents multiple insurance companies.
SETAC
SETAC provides health services programs for LGBTQ residents of Puerto Vallarta.
Vallarta Medical Center
With modern facilities and cutting-edge medical equipment, Vallarta Medical Center's healthcare staff is ready to provide medical, surgical and hospital care.

Restaurants and Bars
Arriba Bar and Restaurant
Arriba has this unusual and delicious American Classic, Fried pickles! Found only in Arriba Puerto Vallarta.
Blue – PV's Boutique Bar
Daily Specials and great music with a DJ are waiting for you at BLUE. Open from 7 p.m. to 3 a.m. Follow our social media for daily specials.
Elixer Mixology Bar
Elixir Mixology Bar predominant meeting and gathering spot for the lesbian and queer women in the community.
Frida's Kitchen
Join us at Frida's Kitchen with Chef Alberto Cuvea. Open 10 a.m. to 11 p.m. Check social media for specials.
Juicy Drags/Nosh Turkish Bites
Offering all day breakfast, vegetarian, vegan and fun options for food and drinks. Juice bar, smoothies and snacks all served with either a Turkish or Mexican flavor.

La ChaChalaca Bar
Located just a few minutes from the Los Muertos Pier and a few blocks from the gay beach area, La ChaChalaca Bar has an open-air patio and air conditioned bar.
La Tienda Grande Restaurant
Creative Cuisine Exalting Mexican Food by Chef Salvador Carrillo, the concept of La Tienda Grande restaurant consists of offering creative Mexican cuisine, where the flavors and aromas are mixed with a decoration that stands out for the small details recalling the ancient Mexico.
Lix Ice Cream
Lix has multiple locations in Puerto Vallarta and they offer delivery service. This homemade ice cream is some of the best, and with unique flavors sure to capture your taste buds.
One Six One
An upscale environment with a 'living room lounge' ambience, One Six One offers live DJ'd house music, craft cocktails, an outside patio and a rooftop.
Reflections Bistro
Its menu is a mixture of fast food-gourmet-Mexican, you can order from the mini pepperoni or cheese pizza to the cheese, spinach and tomato panini or the serrano ham.
Studs Bar
Touting itself as the city's first bear and leather bar, Studs bar offers popular DJs playing the best in House & dance beats, nice leather couches, incredible lighting design and a very private area where the leather community can feel free and comfortable.
Therapy Bar
From brunch to dancing, this unique craft cocktail bar with house beats, has an atmosphere that changes as the day progresses.
Trattoria Di Nuovo
New location! Francisco I. Madero 441, Col. Emiliano Zapata 48380 , Traditional Italian Trattoria located in the heart of the romantic zone of Puerto Vallarta.
Yamada
This Japanese Restaurant welcomes you to enjoy fresh sushi rolls or a hibachi meal.
Spas and Fun
Hamam Turkish Spa
By appointment only Hamam Turkish Spa is a boutique authentic hamam spa that provides an oasis of tranquility and revitalization.
Papi Chulo Sauna PV
Puerto Vallart's newest (and second) sauna. Lockers, steam room, showers, video room, play room and more!
Spartacus
With more than 4,000 square feet, Spartacus is a men's only gay sauna/bath house located in the gay district of Puerto Vallarta, Zona Romantica.
Tours
Vallarta Food Tours
Vallarta's number ONE tour with more than 2,600 five-star TripAdvisor reviews.
Retail Stores
Cassandra Shaw Jewelry
Cassandra Shaw Jewelry carries over twelve Mexican and international designers who live and design in various regions of Mexico.
CHB Clothing Store
CHB Clothing Store offers men's clothing inspired by beach wear. Owned by Christian H Banderas, the collection of clothing offers a fresh look including shirts, shorts, swimwear and so much more.
Mercurio Swimwear
Mercurio Swim provides men's swimwear of high quality, excellent fit, and limited production for local guys and tourists. At Mercurio Swim, we're very serious about quality and quality control.
Xocodiva
Handmade right here in beautiful Puerto Vallarta, these custom chocolate treats start with the finest Belgian chocolate and the freshest local ingredients.
Places to Stay/Rentals
Alamar Resort
From luxury suites to sexy suites, fabulous pool parties, and spectacular sunsets, makes us a unique LGBT Resort and one of the world's best party venues in the very famous Zona Romantica of Puerto Vallarta, better known as the Gayborhood of Puerto Vallarta.
Hotel Mercurio
Hotel Mercurio has been 'home' for LGBTQ guests for nearly two decades. Arriving for your stay with them, you'll feel the warm and welcoming embrace of greeting beloved friends.
Rentals PV
Offering apartment rentals in Puerto Vallarta, in the heart of the Romantic Zone, Old Town, just one block from the beach Playa Los Muertos.
Samson Waters
Samson Waters offers vacation rentals, concierge services, and property management. With a staff that prides themselves on an ability to understand its guests needs and provide an experience that will surpass all expectations.
Specialized Services
Roman Ventura Chef Services
Professional Chef in your Home
Professional Chef serving globally-inspired, Mexican-influenced cuisine. Dinners and events for 2-30 people in Puerto Vallarta and surrounding area.
Jason Dottley's Collaboration Connection
Adult content creators' ultimate site to connect with collaborators. Dottley offers studio and promo services: directing, editing, producing.
Jason Dottley Big Gay PV
www.JasonsPV.com
The only link needed to stay up-to-date on all of Jason Dottley's events this summer. Full-service LGBTQ concierge plus reviews, interviews and all things fabulously gay in PV.
Marco Hernandez
Massage Therapy
Offering sensual, erotic and therapeautic massages, Marco brings massage to a new level to help your body and mind heal emotionally.
Mantamar Beach Club
Mantamar, best beach club in Puerto Vallarta, offering the friendliest atmosphere in the greatest location.
TheOD Foundation
TheOD Foundation is 501(c)(3) that provides counseling and emotional support to currently and formerly incarcerated LGBTQ individuals, as well as those serving alternate forms of criminal supervision.
Vallarta Experiences
Offering Off the Path Tours & Photo Shoot. Join Ezeqkiel as your guide and photographer. Discover little gem towns, not far from Vallarta with a totally different atmosphere than the Vallarta you think or know.