Esta publicación también está disponible en:

Español
Publicity has called this show "A Concert in a Cabaret".  Tributing this classic creative musical group are Roy Gomez-Cruz as singer/dancer/pianist Freddie Mercury, guitarist Alejandro [Alex] Carrera as Brian May, Christian Gómez as Roger Taylor on drums and Danny Figueroa bassist as John Deacon.
Roy offers a respectful appreciation of this complex man's persona and creativity by sharing the legendary music he has left the world.
Many of us had the pleasure of seeing Roy and band at the end of last season abruptly cut short. He wowed the audience with his energy, dancing, jumping, swinging and just plain entertaining. Remarkably, even people who did not particularly care for the music of rock band Queen were bowled over by this production. Music and theater lovers know talent and many attendees agree that this is a show which must be seen.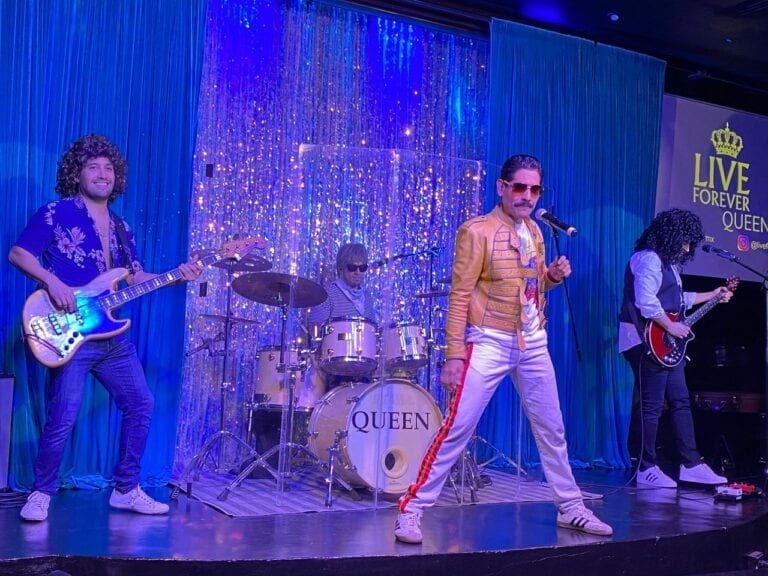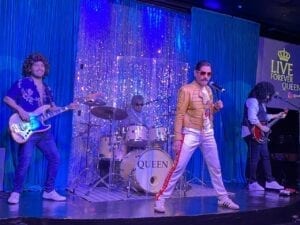 Sutton Lee Seymour appeared on the two video screens describing the safety protocols acquired by The Palm Cabaret. She traversed the space including the outside bar, masks, mouth shields, an opened-up ceiling area for fresh flowing air and the plexiglass separations between parties. She discussed all these precautions for entertaining guests in a safe environment.
The band entered the floor, taking their places and Roy rushed in calling the audience to order. "Another One Bites The Dust" he exclaimed. Roy literally flies from one side to the other carrying his mic attached to a short stick. It enables him to lay down on the floor and point high up to the ceiling, unleashing a wild entertainer emulating Freddie Mercury's antics on stage. Roy absorbs Freddie's essence into his own being. They are one.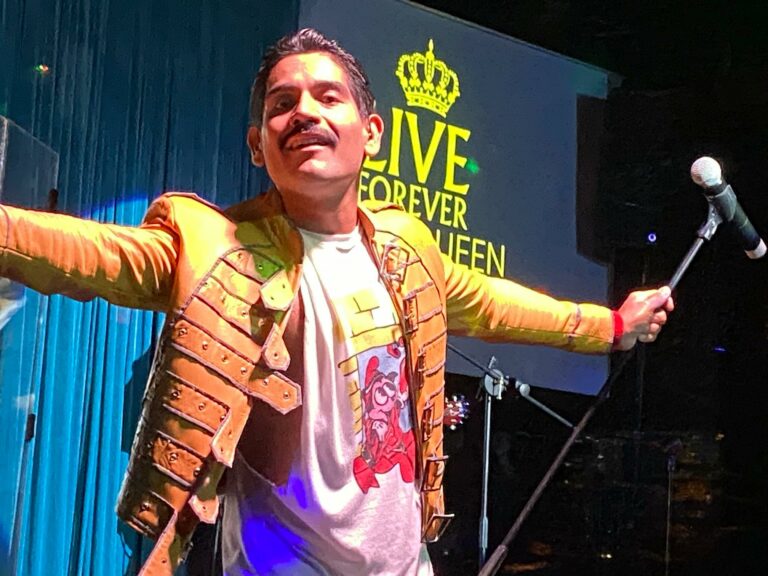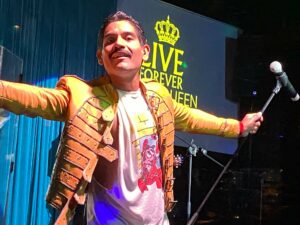 Freddie met a woman with a pretentious attitude in "Killer Queen": "Gunpowder, gelatine. Dynamite with a laser beam. Guaranteed to blow your mind." Roy exhibited respect but possibly a little fear of this female. "Under Pressure" was a duet recorded with David Bowie and ran up the charts for good reason. The drum and guitars mirrored the pressure involved in this song.
All the band members departed leaving Alex who performed a stirring guitar solo. Everyone united for "Bohemian Rhapsody", a fine hit for the group. All three men supplied backing vocals when dictated. They flew into "I Want to Break Free", crashing any air spaces in the venue. Roy rendered a dynamite performance with his constant moving and spinning.
Roy took to the piano and sang with the band "Someone to Love".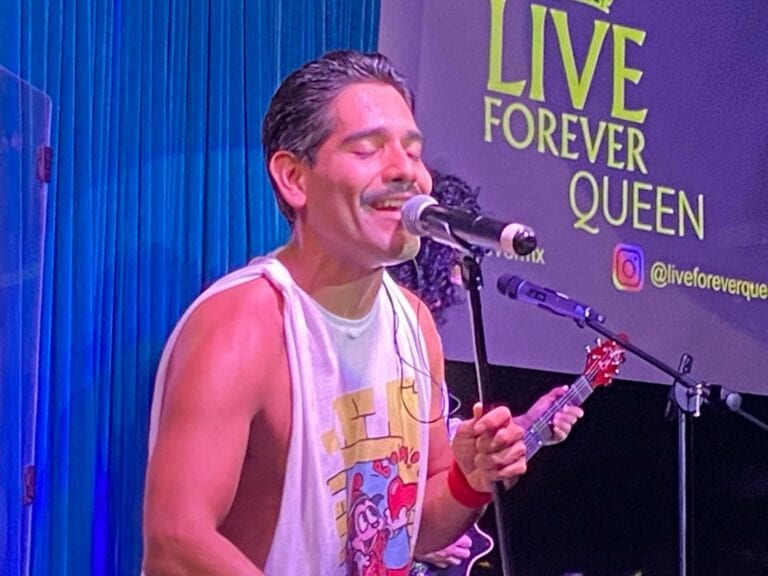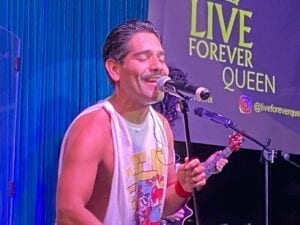 He is an accomplished musician and returned to the keyboard often. The audience yelled "Otra!" It was Christian's solo turn and he delivered a nonstop drum fest. The crowd was ecstatic. The room went choral as they sang along with Roy's "Radio Ga Ga". The ballad "Love of My Life" played with soft compassion thus breaking the Queen forte of beat-strong rock.
Danny took over all ears with his bass solo which seemed to be arising from his mind working those strings at his whim, all stunningly remarkable. All three members of this band are at the peak of their field, surpassing normalcy and growing into sheer excellence.
What better way to end this rousing night than "We Are the Champions" for which Queen is most well-known. It segued into "We Will Rock You" and the room was full of thunderous stomps. The foursome returned for bows and Roy was bedecked in a red and white robe and sparkly red crown hat.
The Palm Cabaret
The box office is open from 10 am – 10 pm.
Note from The Palm Cabaret management:
SAFETY FIRST, ENTERTAINMENT ALWAYS
* A new retractable roof for fresh air
* 5 new air filtration systems providing fresh cool air
* Seated 3 meters from the stage
* Private plexiglass booths in front of you and to the side
* Very limited seating available
Sterilization infrared lights at night. Sterilized between each show. Plexiglass between groups, open air roof. 100% cooled fresh air blown in continuously, temps taken at door, hand gel and sterile matts at door, mask worn to seat. Waiters masked and shielded. Service bar moved outside. Closest seat to stage is 3 meters and behind plexiglass. Maximum occupancy less than 50%. Approx. 6 meters per client.(Regulation is 4). Pop in and visit any day to see for yourself.