This post is also available in: Español
Puerto Vallarta is under a Hurricane Watch as Tropical storm Roslyn is forecast to be a hurricane when it passes near and makes landfall along the west-central coast of Mexico late Saturday and Sunday.
The weather system is accompanied by strong winds and a potentially dangerous storm surge. A Hurricane Warning is now in effect for a portion of the west-central coast of Mexico and will likely be extended northward later today.
Heavy rainfall could lead to flash flooding and possible landslides in areas of rugged terrain over coastal southwestern and west-central Mexico.
Hurricane conditions could hit the coast between San Blas, on Mexico's Nayarit Riviera, down to Perula beach in Jalisco state, home to the resort city of Puerto Vallarta, the Miami-based weather forecaster said on Thursday.
Predictions by the NHC show the storm could have winds as high as 100 miles per hour (160 kph) by late on Saturday in the ocean off the coast from Jalisco's Puerto Vallarta, making Roslyn a Category 2 hurricane.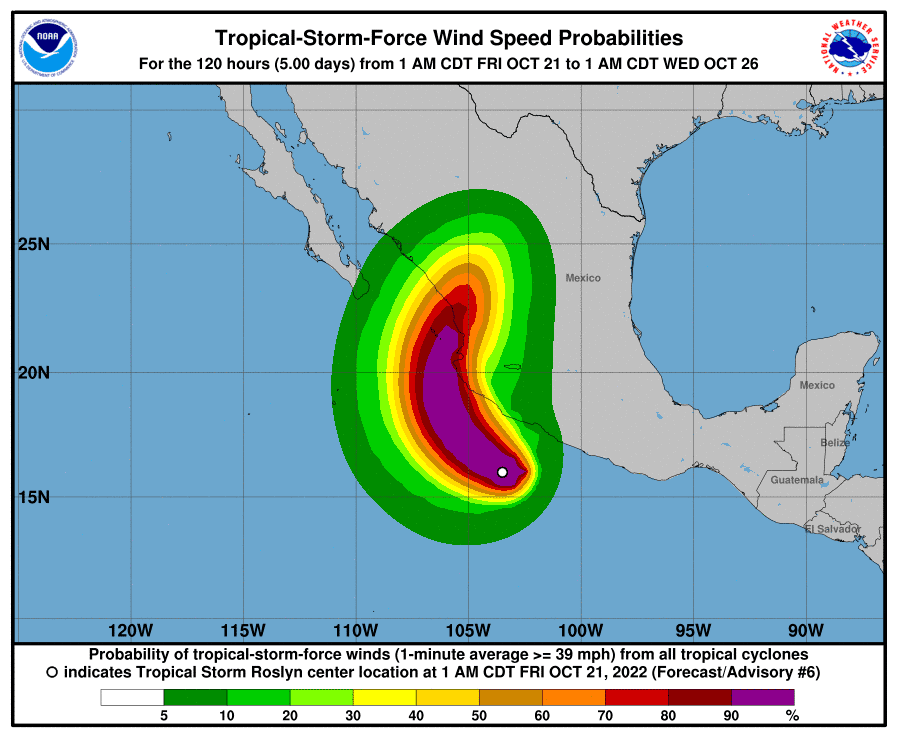 The government in the state of Jalisco said that tourism on the coast and mountainous areas had been restricted during the weekend.
People have been urged to stay away from the beaches.
A total of 300 civil protection officials were also on standby, authorities said.
The country's National Water Commission cautioned that rains from Roslyn could lead to mudslides and flooding.
Related: