Esta publicación también está disponible en:

Español
You can also read Marcia's column "From Here" each week in the Puerto Vallarta publication The Mirror. You can view their online PDF of this weeks issue here. (First published online in the PV Mirror, by Marcia Blondin, September 22, 2023)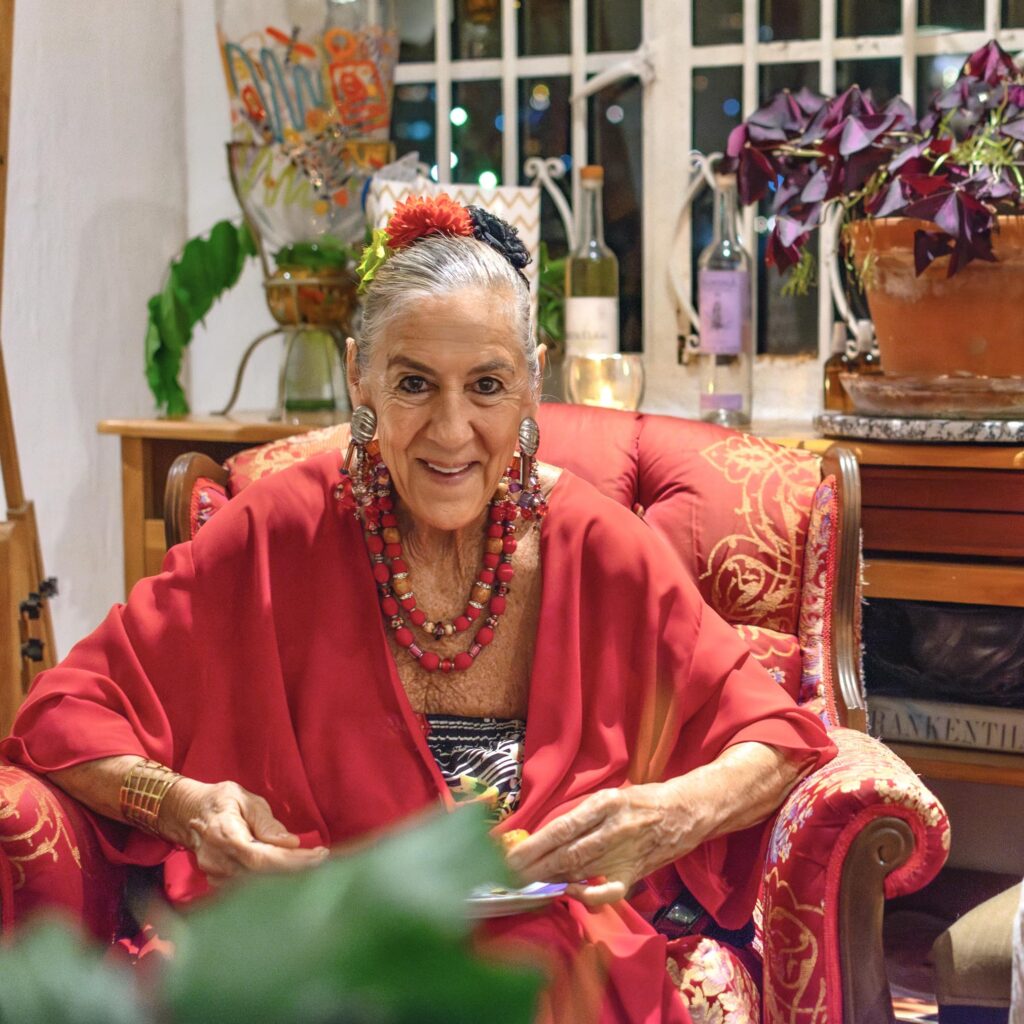 It is officially Fall, and time to start thinking about your winter trip to Vallarta and what to pack. My buddy Guy Weeks requests supplies for the kids' art program that kicks off on November 4 and will continue every Saturday morning on the Isla Cuale. Think acrylic paints and brushes, colored pencils and Sharpies, bond paper and glue. Many thanks for considering this request!
The weekly Greatest Show at Act2PV continues to impress me with the caliber of talent. A young man from Guadalajara sat next to me last week and confided it was his first time at Act2. I found myself filling in the blank spaces with conversations like, "Tonny is from Panama," "Luis is going to Panama in November," "She's Canadian, from Vancouver," and "They were both born in Costa Rica."
He graciously thanked me for sharing two hours later; I know he truly enjoyed himself, and I would bet money he was happily surprised by the talent here in Vallarta coming from Mexico's second-most-populated city. I do hope I didn't impose.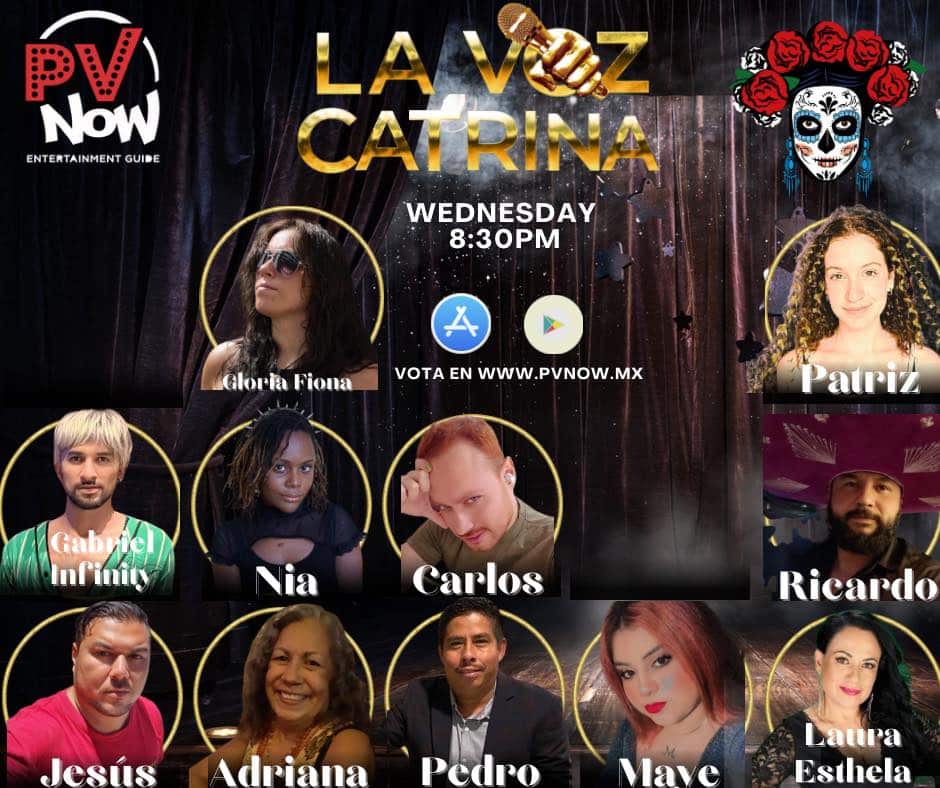 A quick walk from Act2PV to La Catrina Cantina for La Voz, Round Two. Nice to see a packed house, mid-week, mid-September!
Two days before Independence Day, Paco Ojeda shared Viva Mexico – Music, Stories, Culture, Legacy, with a full house at Joint Coworking Hotel's event space. He surprised me (as always) with information delivered in a brand-new way. How many times in three decades have I heard Cielito Lindo?
And yet Paco found the sweetest version recorded as a lullaby that I will forever hold softly in my heart. Friends of Paco's brought good tequila, and Gina Hendrix from Whiskey Kitchen provided sangrita that she makes for her restaurant. Worth a trip to Versalles just for that! ¡Viva!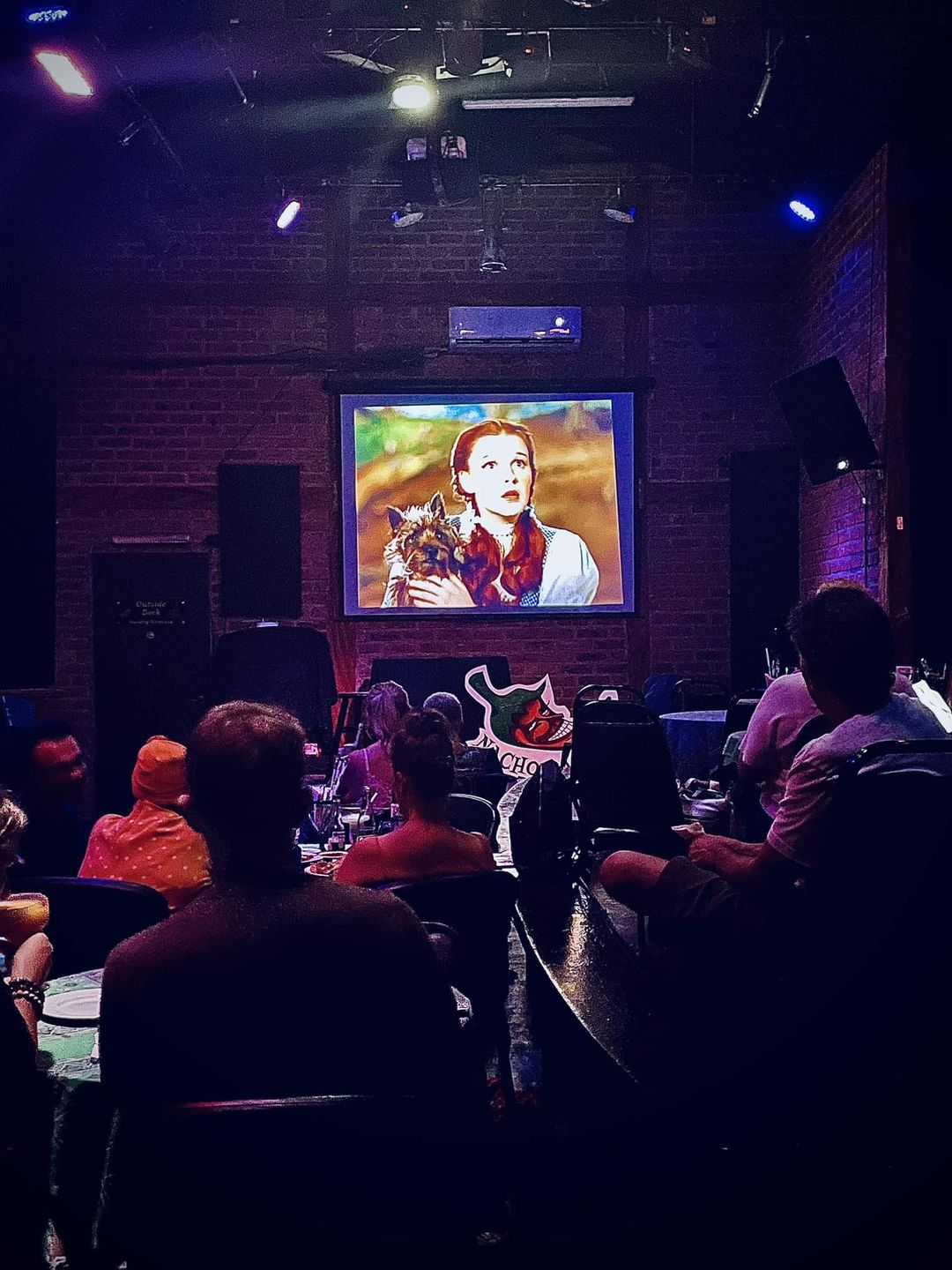 Nacho Daddy has reopened its doors on Basilio Badillo and held a launch party upstairs last week. Introduced by Selena Luna, Michael Funk and Aaron Davison, creators of Vallarta Social on Facebook, talked about their new page and first event. Michael and Aaron invite everyone in Vallarta to post upcoming events on their new page promptly. It might be the salvation we've been waiting for in the city! Their event was the coolest thing I have ever heard of, and more will be upcoming. The Dark Side of Oz blended the movie The Wizard of Oz, released in 1939, with the completely unrelated (hmmmm) 1973 album by Pink Floyd, The Dark Side of the Moon. Here I am in Mexico, watching an 84-year-old movie, listening to a fifty-year-old favorite piece of music, drinking ice water and getting high as a kite. All over again. Nacho Daddy will be showing more of these "blended movies," I will keep you posted!
La Catrina Cantina pulled out all the Mexican stops the night of the 15th, with the performers and wait staff showing off their heritage in clothes and sombreros. Georgia D and I listened to Victor do Espirito and Stela Rosas until we made our way to the Presidencia for El Grito.
I have missed only a few Los Grito in the past 30+ years in Vallarta. It is my favorite tradition to celebrate. To stand shoulder to shoulder with people I don't know and scream VIVA, cheer the fireworks that this year were unsurpassed, clap like crazy after the National Hymn, and publically thank the Universe for all my Mexican blessings. I hope you went and shared some of that fervent, loving energy.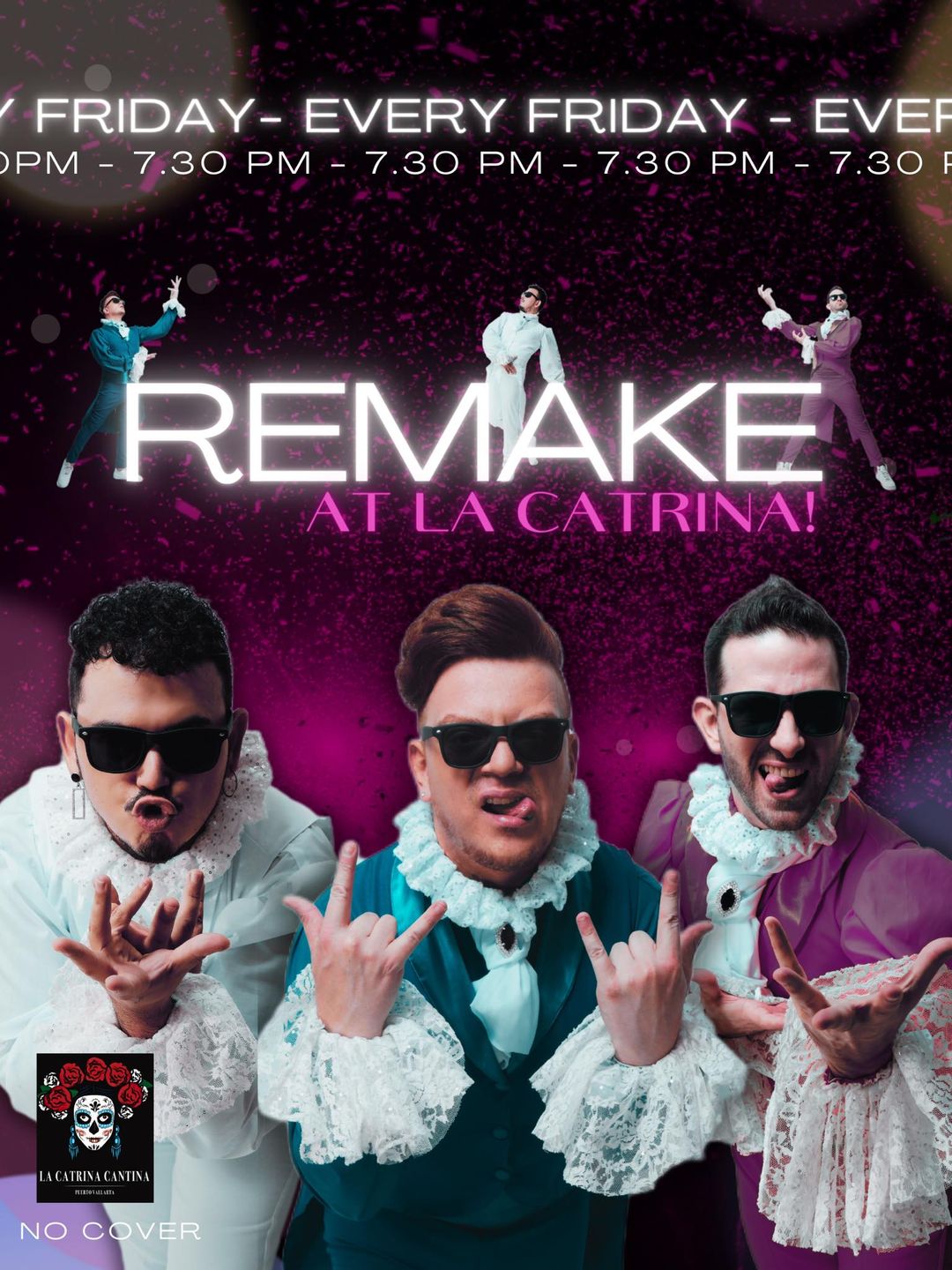 Selena and I donned our Statler and Waldorf Muppet hats and mulled over the arts scene in Vallarta with a pair of mango smoothies to add some sweetness to the conversation. The happiest news: Chris Lopez is back in town working on a myriad of upcoming shows at The Palm and will be singing with his lovely mates, Max Prado and Nacho Granados, on Fridays at 7:30 at La CC.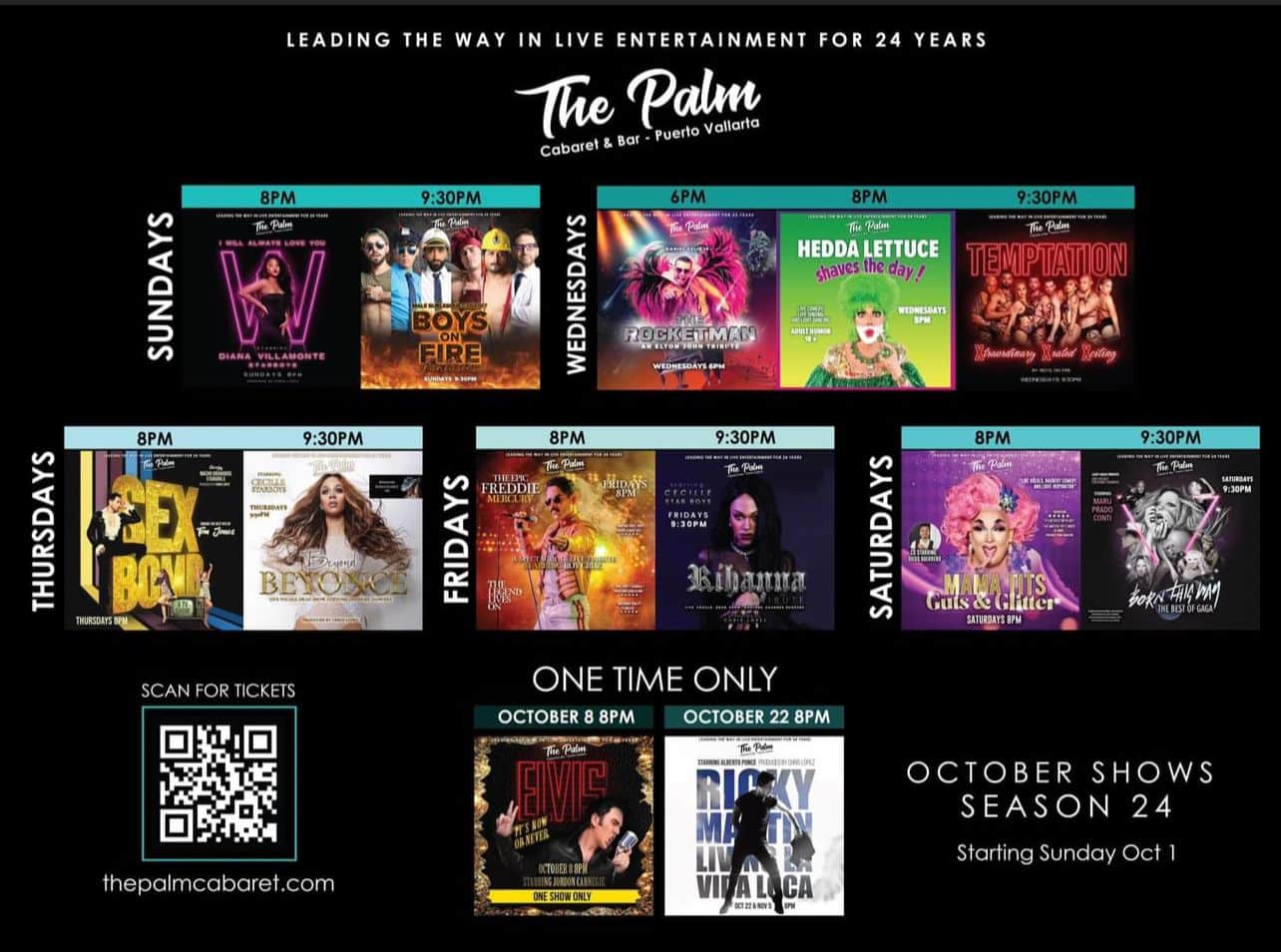 Coming up:
September 22, Friday, 7:30 pm, La Catrina Cantina. Remake re-adds Chris Lopez!
September 27, Wednesday, 7 pm, Marsha's Red Room, Act2PV. The Greatest Show on Earth – it's free, so GO!
8:30 pm, La Catrina Cantina. La Voz Catrina Round Four (of Five!)
September 28, Thursday, 5 pm, Joint Coworking Hotel. Paco Ojeda on Music presents Sondheim's Wit – A Celebration of the Late Stephen Sondheim's Lyrics.
6:30 pm, La Catrina Cantina. Fundraiser for singer Luis Villanueva.
October 4, Wednesday, 1 pm, Qulture. Scrabble Tournament
4 pm, Nacho Daddy, Bingo fundraiser for Colina Spay & Neuter Clinic.
7 pm, Marsha's Red Room, Act2PV. The Greatest Show on Earth.
8:30 pm, La CC. The finals for Voz de Catrina!
I have had a quiet and lazy week trying to be like my cat: sleep, eat, then repeat. I needed that From Here!
Marcia BlondinCell 322 159 9675