This post is also available in: Español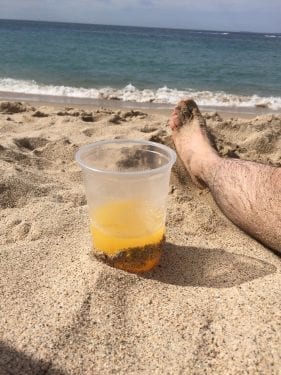 New year's resolutions… A lot of people say that they hate making them, and I get it, but it is also important to know that it gives us an opportunity to start over, accomplish a goal, or just improve something about ourselves. But there is a catch, we just gotta actually follow up with whatever our resolution is. I personally did not make one per se, but I tend to be shy on certain social occasions and I want to improve this about myself.
Let's be real. The reason that many of us drink alcohol is to loosen up and make our inhibitions and insecurities fade away. Most of us are shy by nature, so we think that the only way we could be relaxed at a social gathering is to drink our worries away. After all, we don't go to a bar or club to drink orange juice or coffee, right? So how do we go about doing this whole going to bars thing and not over drinking to loosen up? Here are some tips to loosen up and not get wasted while trying:
Stop worrying about you and your insecurities
We, or at least some of us worry about what other people think about us, we feel like everyone's judging us. It is not a nice feeling to have, that is why we turn to alcohol. Let's try to not think about that. Let's try to live in the moment, focus on your friends, the people. I know it's easier said than done, but we just have to try. Next time you go out, don't get anxious, don't mind what other people think.
Talk about exciting topics
Engage people with topics that would excite them. This all depends on the environment you are in and the type of crowd, so figure out what people in your group would enjoy talking about. Sex and relationships? Maybe. Everyone enjoys sex and most of us have complicated relationships that we just love to talk to others about. Remember that entertaining conversation is the equivalent to loosening up, and if the other party puts in the same effort as you in the conversation, there is always a catalyst.
Use humor
Everyone likes to laugh, so be funny! Try to poke fun at yourself too. This way, one looks more confident and humility itself is admirable because everyone has insecurities and imperfections, that's what makes us humans. We have to remain true to ourselves and accept who we are and our flaws. They say that self-acceptance is the key to self-confidence, and as RuPaul always says, if you can't love yourself how in the hell are you going to love somebody else?
"If you would not be laughed at, be the first to laugh at yourself." – Benjamin Franklin
Exercise!
Have you ever felt so tired that you didn't feel like going to the gym but after your workout you were more energized than before? I have and let me tell you, a good workout leaves you vitalized and ready for action! This is good for introverts because higher energy levels means less anxiety around people and could even boost your confidence. Let's recall that exercise releases dopamine, and dopamine means happy, and happy means confidence. So there you go, now you have another good reason to hit the gym.
Now, don't get me wrong. I am not saying stop drinking by any means. The last thing I want to do is lecture you about drinking. All I'm saying is that if you only drink in order to loosen up, and specially if you drink a lot to achieve that, then you might want to give these simple things a try.