This post is also available in:

Español
His bright colors and amazing designed murals have graced the sides of many buildings in Puerto Vallarta and catapulted this street artist to new heights. You may not know him by name, but his art, you will remember seeing.
Misael Ivan Lopez is a Mexican street artist living in Puerto Vallarta, and born in Nuevo Laredo, Mexico in 1987. In 1990 his parents emigrated to Minnesota, United States where he grew up with three brothers and a passion for painting, unusually attracted from a very young age by color and creativity.
In 2010 he was deported to Mexico. While deportation can be devastating for many young immigrants, Misael used this as a time to return to his roots.
Misael tells OAPV how this unexpected return opened a door to a world full of opportunities.
What was the first thing that came across your mind when you were sent to Mexico?
Nuevo Laredo, the city where I was sent to, is well known for being a dangerous place. To be honest, I didn't think about anything, I just didn't know what to expect at that time. Then I was recommended to go to Puerto Vallarta as a safer place to move, I think that was the best thing that could happen to me, here I discovered an emerging art scene, I found not only a home but a community that solidified my personal style. The vibrant color of the Mexican coast and its culture rich in mixed narratives really captured my full attention and fascination.
How was the beginning of your career in art?
I left my house when I was 15 years old and due to my addiction problem I lived on the street for four years, that made me able to work a lot, I didn't limit myself, I was everywhere, taking inspiration from other artists and getting to know more and more about street art.
When living in Minneapolis, I had an obsession writing my name in graffiti on the streets, I thought I could become really famous if people got to see my name everywhere so I started doing graffiti but I was a child living in the street so I don't consider that as the beginning of my professional career, however, when I started doing legal graffiti must have been in 1997 or 1998. Later, in 2003 I began to discover urban graffiti as an art and also as a way to express myself.
In 2003 I started to catch the wave. Although I like painting since I was four years old and I have always known that this is what I want to do, the early 2000's was when I realized that I could actually be a professional artist.
I come from a very artistic family, my mom was a mariachi singer and she did very well, she was very famous and that really helped me to believe that I could make it.
Now I feel like I'm in the business, I gained self-confidence and realized that I was not giving importance or paying attention to many aspects when it came to sell my art, now I think as an entrepreneur.
Where did you get the strength to turn your mind around and start building a career?
I love the work and life of Andy Warhol, he said his favorite type of art was business, that made me think a lot, that phrase, how to capitalize, you can have an idea of what business is like but business, triumph and the money are the same thing and they are very jealous, you have to follow most or all the rules and many people know all the rules but they only follow the ones that makes them feel comfortable or that keep them in their own bubble and if you want to succeed in life you have to get out of that bubble and be flexible.
So, I started to apply all the rules I've known, and I already started to have a professional career. For the last four years I have been eating well, paying my rent on time, investing, saving money, I cannot say arrived that I'm already there but I have reached a point in my life where if I continue working I will be able to take a leap internationally.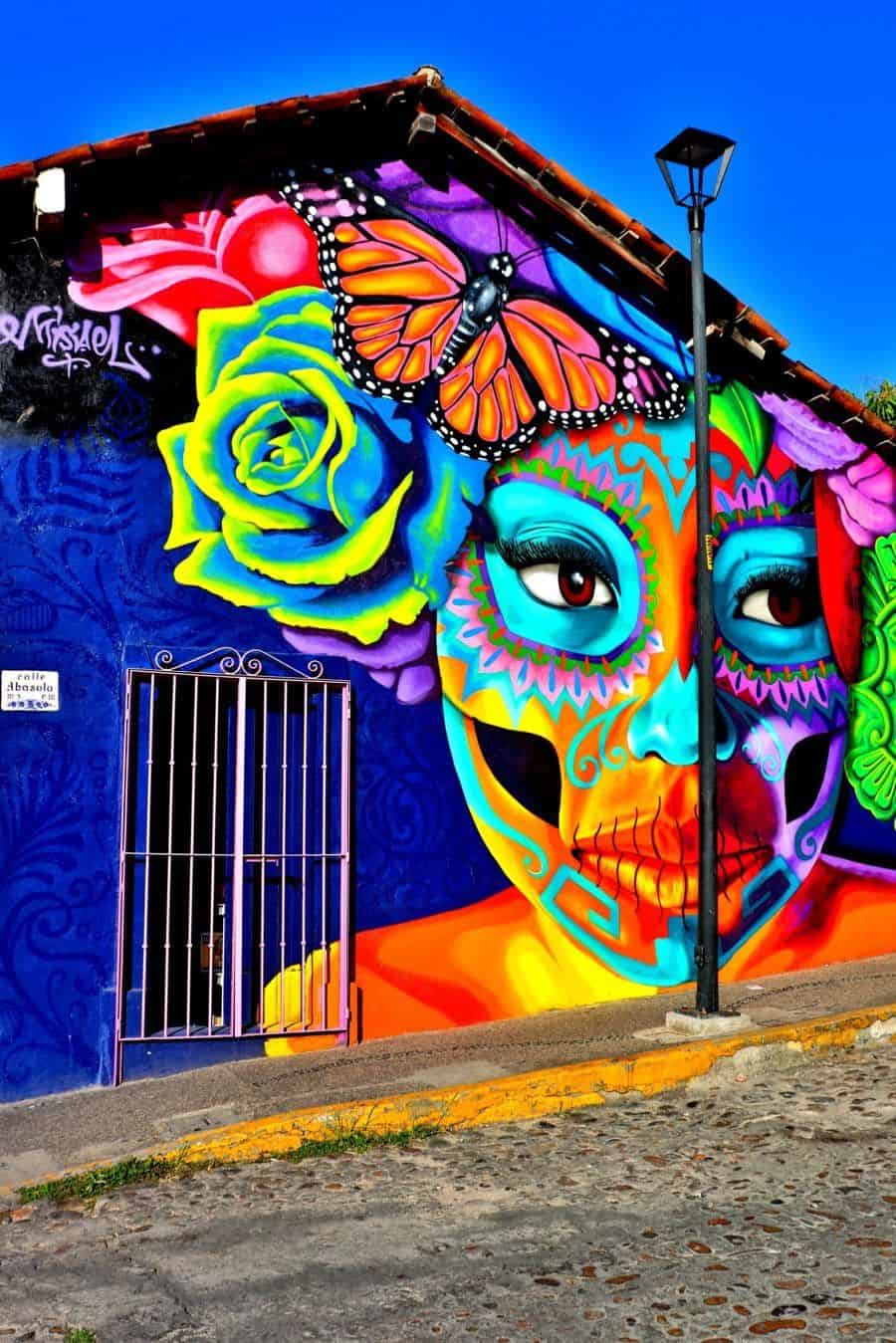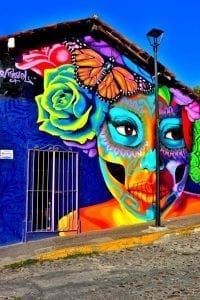 Have you thought about returning to the United States?
Everything has its time and I always went against the grain. First of all, I want to be able to fix my papers, I have been living in Mexico for nine years and I think it is time to put myself in order. This is the first year that I pay taxes so it is a matter of time before I can start fixing my visa and make up for lost time going to the United States and then going to Europe or Japan to paint a mural.
One of your murals is inspired by the life and work of Francine Peters, one of the best-known local artists in Puerto Vallarta. How does it feel to have painted a mural that was engraved on the streets of the Romantic Zone?
I love Francine Peters' work because it is pure art, it is very impulsive and everything comes out very naturally, all artists know that when you think about it too much, you take away the purity in it.
Francine's outline in the way she composed her colors looked very fluid, it was real art and I admire people who have that style because it only expresses what they know, that is being real with you and with others and Francine painted very fluidly, her work was incredible.
For a long time, Vallarta was in diapers in the sense of music, theater and everything, at this moment there is a wave of artists that are coming from many parts of the world and we can say that currently we already have a competitive level unlike five years ago and Francine used to represent one of those artists. It would be interesting to ask where we are going from here in terms of art and culture.
How do you define your style?
My style is Neo Mexican, is a variety of things that belong to the traditional Mexico mixed with contemporary or futuristic styles, my style is different from other artists who do what we call "Mexicanismo" with spray here in Mexico. I really like the style of Los Angeles and New York, the "cholo" or "chicano" and also the New York style, so it ends up being very American too which fits in Vallarta for being an International destination.
I love world music and I've always found inspiration in it, for example: a head of an Egyptian sphinx but with a catrina face, a lot of Mexican colors and maybe an African background, things like that.
What has been your biggest mission as an artist?
My mission as an artist is education, art is the best tool for education because education becomes entertaining, it is like children, when you teach them and it is fun, they do not even realize that they are learning, it is a matter of serotonin.
Since Misael's arrival, he has helped build a collaborative community around the mural scene in Puerto Vallarta, alongside other local artists and pvstreetart.com, a site dedicated to locating, documenting, and creating murals in and around Puerto Vallarta.
If you're in the area, be sure to check out some of the many public works of art that Misael has created, visit Misael at misaelpaints.com