Esta publicación también está disponible en:

Español
Paul Crist is well known throughout Puerto Vallarta as the gracious owner of Hotel Mercurio, which he has now operated for 18 years (since 2002).  But it might surprise you to know that he's also the brainchild and owner of a unique line of men's swimwear, with a shop in Puerto Vallarta and an online store.
For many years, Crist bought swimsuits from a Guadalajara vendor, to sell in a small retail space off the lobby at Hotel Mercurio. But he wasn't very impressed with the quality of the fabric or the sewing of the product. He wanted a higher quality product, but still at reasonable prices. Having always had an interest in the arts and design, he decided to develop and manufacture his own line, designed and produced in his own workshop in Puerto Vallarta.
Paul has degrees in architecture and political science and a Master of Arts in International Economics from Johns Hopkins School of Advanced International Studies. He is a native of Washington D.C., where he owned a construction business as a young man, and later worked in in the US Senate and in public policy and politics.  He first visited Puerto Vallarta in 1993. When he moved to Vallarta in 2002, he met Luis Tello, a Vallarta native, and they married in 2007 in the US.
His plan for a new and exclusive swimwear company came together quickly. In February 2018 he made the decision to move forward with design and manufacture of his line of men's swimwear called Mercurio Swim. In May 2018 the store opened –  just in time for the annual Puerto Vallarta Pride Festival. The store is located on Lazaro Cardenas, in the very popular "gay strip" where many of the gay bars and clubs are located.
As we celebrate summer 2020, we talked with Paul about his swimwear and how O&APV readers can choose their perfect fit.  The following are Paul's own words, describing the different swimsuits that Mercurio Swim carries.
PEPE Design

Our "Pepe" design is our sexiest, most revealing swimsuit. It's a classic bikini style, but with our unique design that helps to gently lift and accentuate the wearer's ummm… assets.
Some swimwear and underwear that is designed to accentuate the package can be uncomfortable to wear all day, especially if you're having an active day at the beach or poolside. Some designs can chafe the delicate skin in that area. Our design achieves this while being super comfortable to wear and really sexy to look at.
There's a lot of rigid thinking among men about what style of swimwear, or what cut, is "right" for guys with one or another "body type," or what is "appropriate" based on age. I follow a "body positive" attitude about all fashion, including swimwear. I say, "wear what makes you feel good, feel confident, feel comfortable" and don't be so afraid to try a style that maybe you hadn't considered before. As they say, "there's a first time for everything." How do you know you won't like it if you're afraid to try it the first time? That applies to so much in life, don't you think?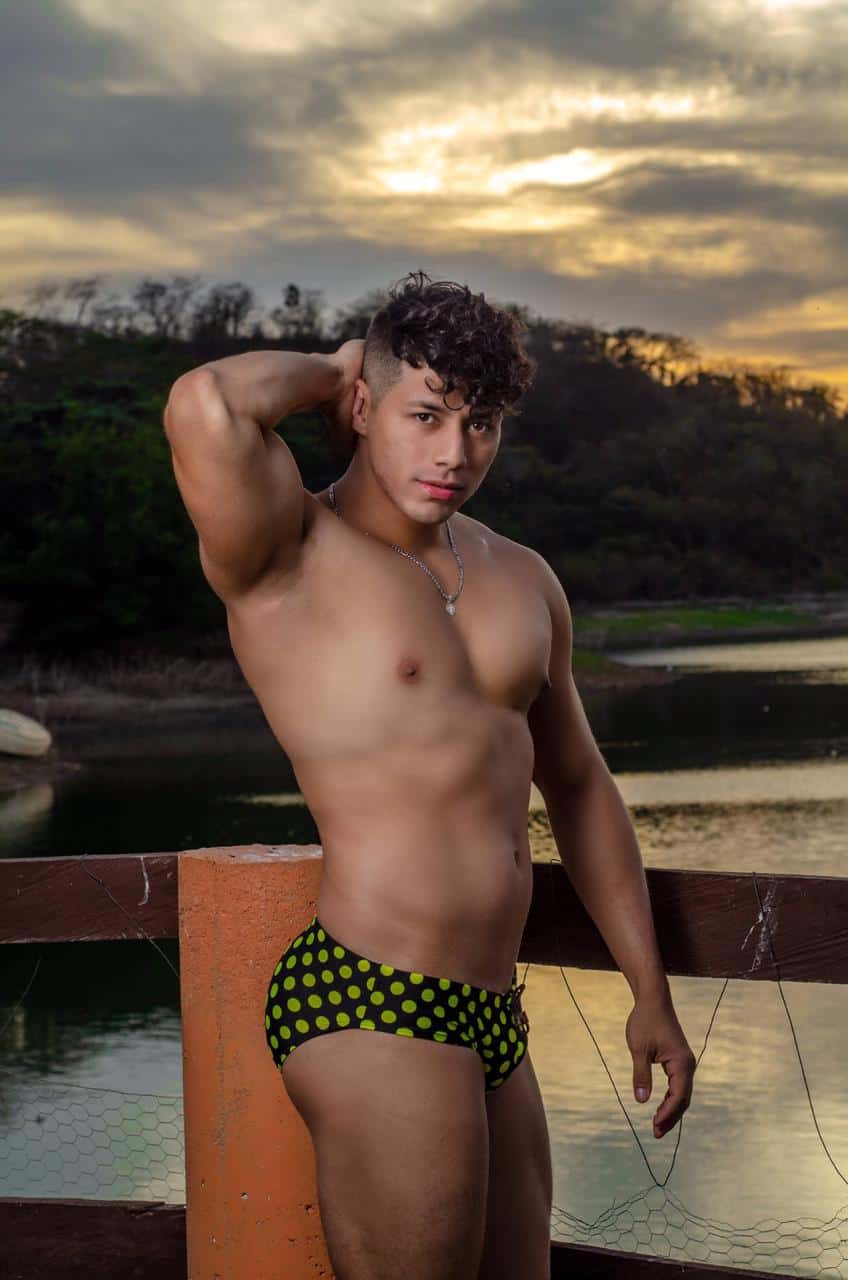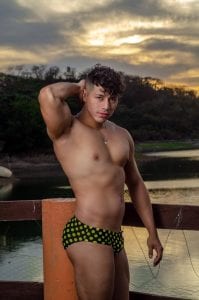 "Pepe" is a great cut for anyone, but especially for shorter guys. Here's why. The waist on all classic men's bikinis fall at about the same place on the hips. Where bikini cut swimsuits differ is how high they are cut on the side of the leg. "Pepe" is cut high on the side of the leg, with just about one inch (2.5 cm) of fabric on the side of the leg. For shorter guys, that high cut makes the leg look longer so the wearer looks taller.  
PEDRO Design

Our "Pedro" swimsuit is still a sexy bikini style, bit just a bit wider on the side of the leg, about 1.5 inches (4 cm). This gives us enough fabric to incorporate a separate waistband, often in a contrasting color or pattern from the rest of the swimsuit. So it gives us more creativity to combine different colors or patterns, and that's lots of fun from a design perspective. This style also incorporates our "package accentuating" design in the front, like "Pepe" does. 
We also have a variation from most bikini cuts in the back of this design. If you look at the typical men's bikini, you'll see that the cut from the side of the leg and across the butt, it's a straight line cut. A thong-cut is something else – that cut is designed to show even more of the butt. Our "Pedro" has a slightly rounded cut, following the shape of the gluteus muscle. It has the effect of making the butt look more rounded – more of a bubble butt look that everyone loves! 
"Pedro" is a great style for shorter to medium height guys, with a slim to medium build, whether muscular or not so much.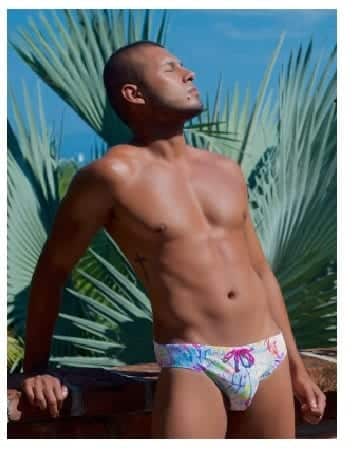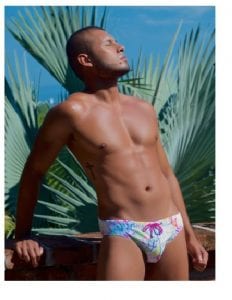 When people ask me "which famous artist would I like to see wearing this swimsuit", I'd have to say Maluma. Actually, I'd like to see Maluma without any swimsuit. But he's got a great body, not super muscular, not super slim. He's medium height at 5 feet 10 inches (1.78 cm). So he's got just the right body for this style.
DIEGO Design
The "Diego" swimsuit is what I would call a "modified square cut." It's basically a boxer style, slightly higher on the waist and wider on the side of the leg than a bikini. A "square cut" or "boxer style" is literally just that. If you look at it from the front, it's square across the waist, and square cut across the upper thighs. Diego is cut just a little higher on the leg than a square cut. It's just a little sexier than the square, without being "too much" for a guy that's not comfortable in a bikini. This is a sexy swimsuit, but it wouldn't shock your mother if you showed up wearing it at the family pool party on Sunday afternoon.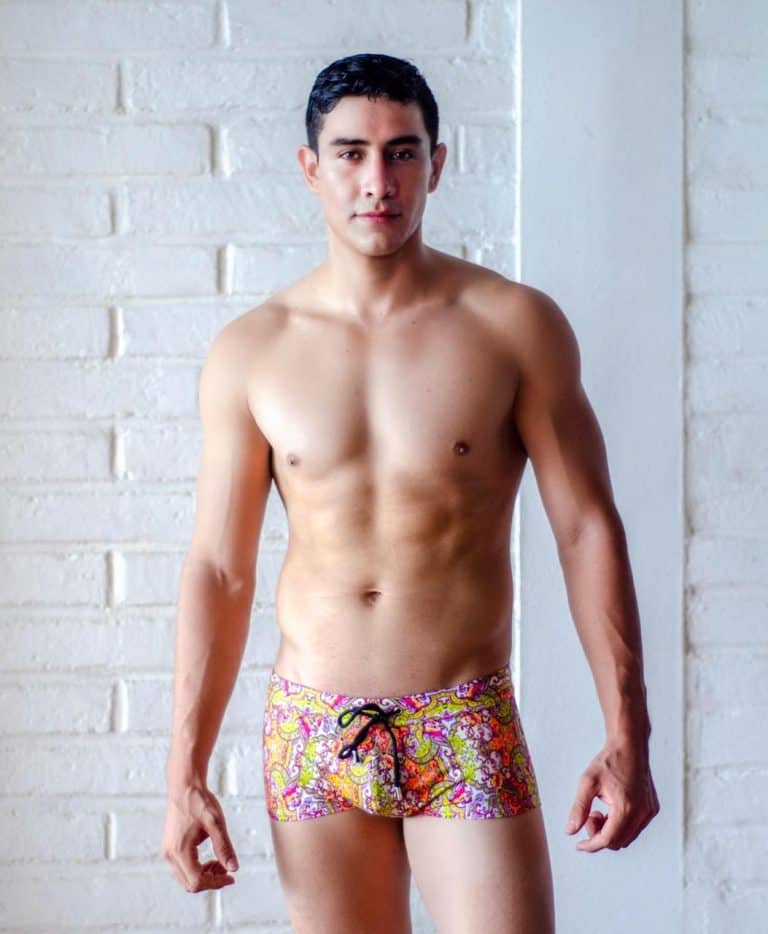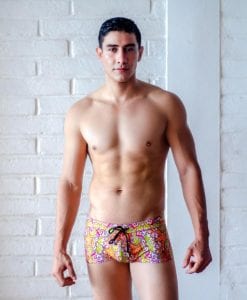 Diego, because it covers more of the leg, isn't a great style for shorter guys. Medium to tall guys look great in this swimsuit. I also think this is a good option for guys who are mesomorphs – guys who are thicker, whether that's because they're a little chubby (llenito) or very muscular. When I see this style on a really slim guy, I always recommend they try one of the bikini styles, "Pepe" or "Pedro."
JUAN Design
Finally, among our lycra (stretchy) swimsuits, there is "Juan." It's a classic "square cut" or "boxer" style, that incorporates our "package-accentuating" design at the front. It's perfect for taller men of any body type. Stocky, compact or muscular guys look great in this style, but shorter guys will look better in a bikini style. The "Juan" cut is high enough to make legs look long and adds dimension in the torso and thigh area. This style, in deeper colors, smaller prints and vertical stripes can make most body types appear slimmer.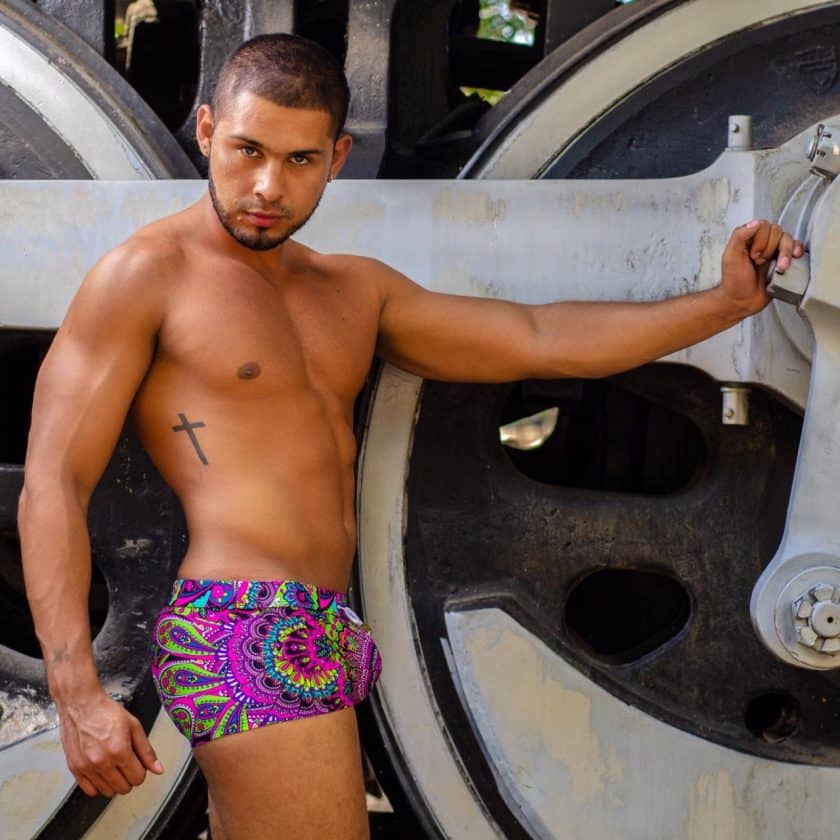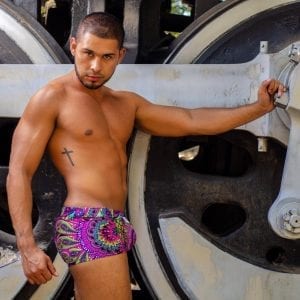 Swim Shorts Design
In addition to our fitted swimwear, made with lycra fabric, we also make swim shorts. These are shorter than the "board shorts" that unfortunately some men are still wearing since the 1980s. Board shorts come down close to the knee. "At the knee" is no place to have a tan line, so guys, just burn those board shorts, OK? 
Our swim shorts are made with a super-soft, quick-drying polyester and come in both solid colors and patterns. Side pockets and a mesh liner make them great for everyday wear and as a "cover up" if you don't feel comfortable walking back from the beach to your hotel in your bikini. More mature men, who often aren't comfortable in the very fitted swimwear styles, love these because they're comfortable, yet sexier and more youthful looking than the old board-short styles of the past. 
Available online, official store, and Hotel Mercurio Lobby
Mercurio swimsuits are now available at the flagship store on Lazaro Cardenas street and also at Hotel Mercurio. Mercurio Swim's mission is to create men's swimwear of high quality, excellent fit, and limited production for local guys and tourists in Puerto Vallarta, Mexico. Paul personally selects the fabrics for Mercurio Swim, from suppliers in Colombia, Brazil, New York, Guadalajara and Mexico City. The elastics used are imported from Italy, where the best elastics are manufactured to withstand the harsh pool chemicals, salt water and sunlight that break down the stretch of cheaper elastics. Paul says even the thread used in the sewing matters, and he tried threads from various manufacturers before finding one he was satisfied with. The Mercurio Swim line has proven to be very popular, enjoying excellent in-store and online sales. Shipping is available to guys in cities all over Mexico, the US and Canada.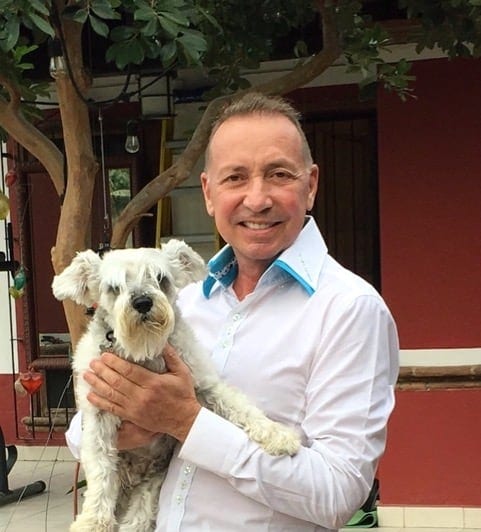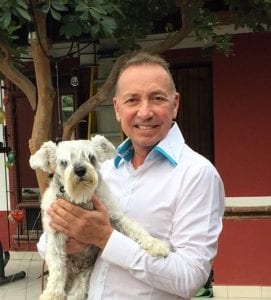 Special message from Paul Christ, owner at Hotel Mercurio and Mercurio Swim
I know we would all love to be at the beach, swimming, partying and showing off our sexy Mercurio Swim swimsuits. It has been a difficult time for all of us. Even when the danger of contracting the COVID-19 virus diminishes later in the summer (we hope), many people who have lost employment will not have the resources to vacation at our wonderful town. The global pandemic is creating unprecedented stress among millions of people in every country. But we will survive this. And when this has passed, and we can begin to live normal lives again, we hope you will support all the locally owned and operated businesses of Vallarta. 
As I send this message in April 2020, everything is closed down in Vallarta. Visitors are not being allowed on the beaches and the Malecon. Hotels, stores, bars, and restaurants are mostly all closed. Workers at thousands of small, locally owned businesses in Vallarta are without work. Some are still receiving salary, many are not.
All these businesses will need your support as we are able to reopen and try to get back to normal activities. At this moment, our Hotel Mercurio and our Mercurio Swim retail store are closed. We hope to be opened by the time you are reading this.
As of now, in April, at the Mercurio Swim workshop, we have set aside the lycra fabric, and are making masks and disposable hospital gowns for patients and healthcare professionals at the local public hospitals and clinics. These essential medical items are in extremely short supply, and we are proud to be part of a community wide effort to make sure the doctors, nurses, care-givers and patients have what they need to protect themselves and others from the virus. I am confident that we will be back to making swimsuits very soon – we've got some fabulous new fabrics that you are going to love! We'll see you soon!