This post is also available in: Español
Local yoga instructor Collin Wynter will soon start teaching two new yoga classes – one that is unique in that it will be one of the few – if only – men's nude yoga classes around.
Wynter, who has more than 16 years practicing yoga and health coaching, has partnered with Out & About PV Magazine, and Joint Cowork Hotel Growth Series to offer a twice weekly yoga class for the LGBT+ community at the hotel's event center space, GROW.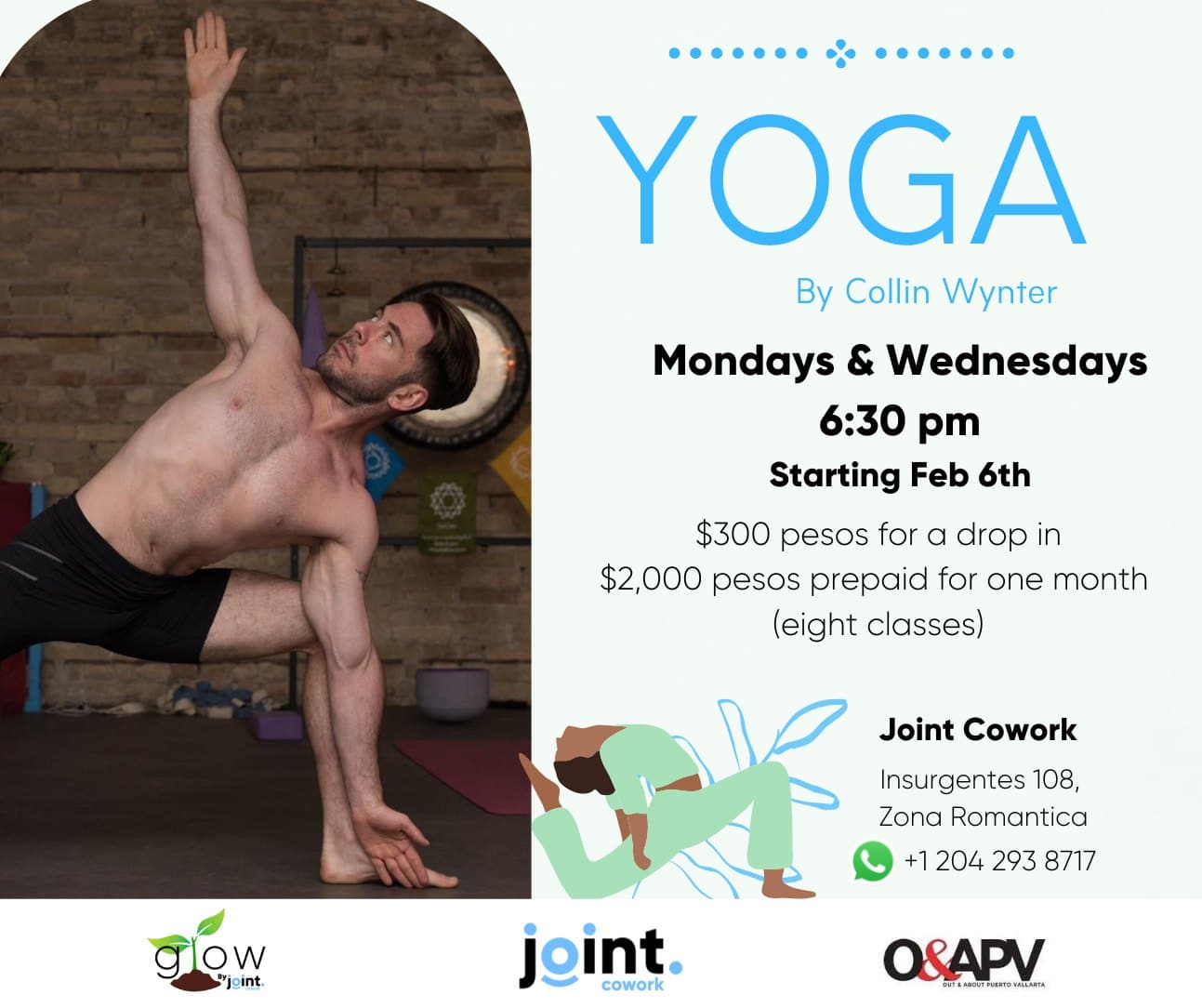 And he's partnered with Pinata Hotel (pinatapv.com) to offer a men's only nude yoga session that will be held on Thursday, from 9:30 to 10:30 a.m. That class is $300 pesos, and a yoga matt and towel will be provided. You can reserve space in that class by emailing Collin at info@collinwynter.org or via WhatsApp at 1-204-293-8717.
Yoga classes that will be held at the Joint Co-Work Hotel Grow Conference Facility will start on Feb. 6, and will be held every Monday and Wednesday from 6:30 p.m. to 7:30 p.m. Prices for those sessions are $300 pesos per person per session for drop-ins, or you can prepay for eight sessions (one month) for a discounted rate of $2,000 pesos.
"I am blessed to be teaching yoga here in this beautiful community of Puerto Vallarta," Wynter said.
Both sessions offer limited spots so be sure to book your spot early.
Instagram: @sasquatchdancingman
Venustiano Carranza 322
Zona Romantica
pinatapvhotel@gmail.com
Pinatapv.com
Joint Cowork Hotel Event Center
Insurgentes 108, Puerto Vallarta
+52 (322) 100-3133 whatsapp
+52 (322) 308-0142 telephone