This post is also available in: Español
Tonight's show puts a whole new twist on your favorite Broadway show tunes. In this highly entertaining show, the handsome and talented Louis Whitaker, member of "Mamma Mia", "Follies Vallarta" and "Reveal" sings your favorite Broadway show tunes that were originally written for a woman. Accompanied on the piano by Brett Rowe, a Broadway artist, these Broadway hits take on an entirely new meaning when a man sings them.
The presentation tonight is designed as a story of the life path of Louis from his youngster days dancing to the music of his mother's piano. She guided and taught him how to be himself and that brought Broadway into his young life. Louis shares his personal journey through great songs of musical theater. From his early days, he was drawn to Broadway and its marvelous songs written by many terrific composers as Stephen Sondheim and Cole Porter. The audience was sent floating through his Life Story. Often, he credited the support of his extended family, even his father ("Papa Don't Preach"), enabling him to stand up, be proud of who he was and find his desired singing success.
Strands of Broadway songs were skillfully played on the piano by Brett as Louis set the evening's tone with "It's Not Where You Start" from 1973's "Seasaw": "It's where you finish. It's not how you go, it's how you land." The he flowed into "I Have Confidence" from the first musical he fell in love as a child, "The Sound of Music". Cleverly taking the basis of "Liza With a Z", director and co-writer Jan Dorland turned the lyrics into "Louis with an IS", since Louis chatted about here in Mexico, many people mispronounced his name, as Louie, Luis and others.Another very fun presentation was "Do Re Mi" which became an audience participation with one side singing a line then the other half singing the next one.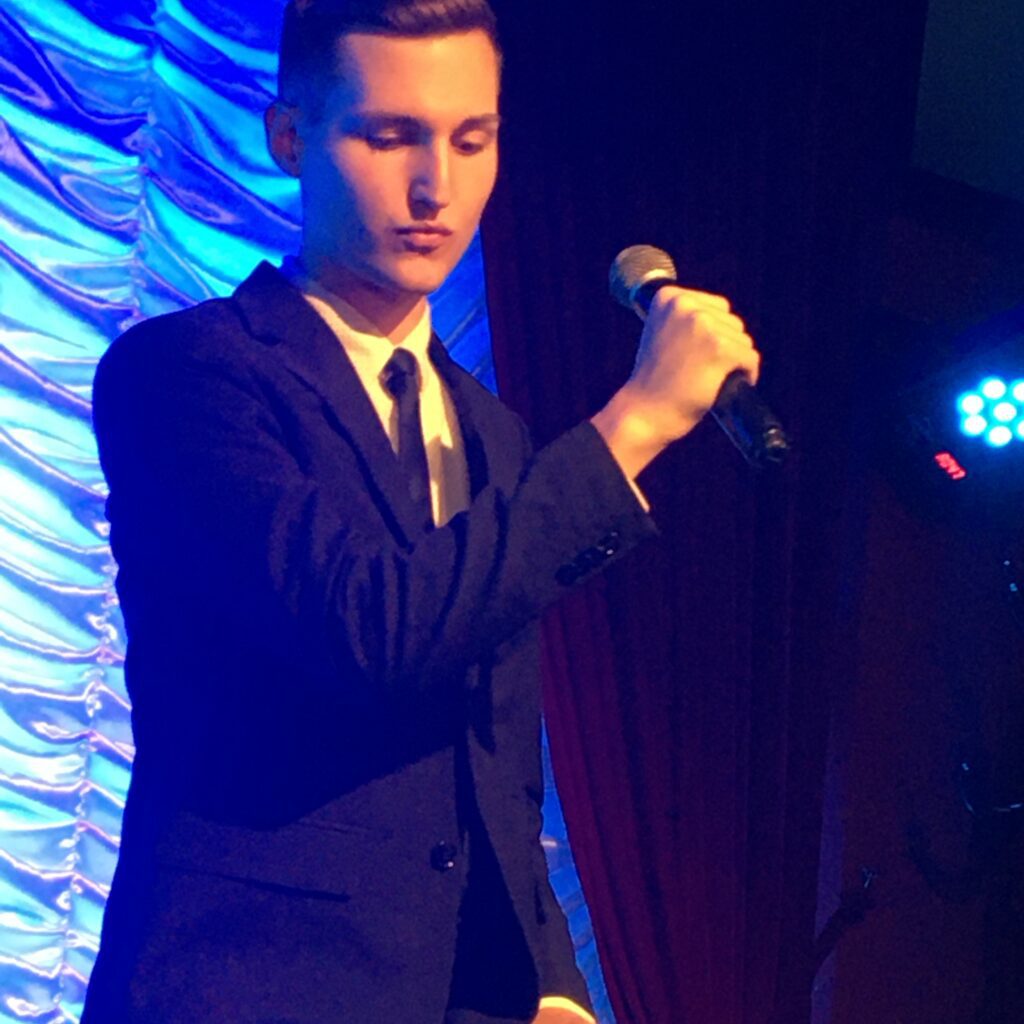 Tonight's group musical and thoughtful creation was splendid in that as Louis grew year by year, he discussed what was happening and affecting his life and growth into a confident artist. The words he sang of each song related to what he was being speaking. Each song choice belonged in the scheme as he proceeded. One event in life would lead him into the next tune, an example being "Tomorrow" from "Annie". Louis lamented he was too old to play Annie now and way too young to be Daddy Warbucks.
So, he designed a new show called "Andy", the gay Annie including his Sugar Daddy Warbucks. His personal dreams lie in the lyrics: "The sun'll come out tomorrow. So you gotta hang on 'til tomorrow."Louis is the perpetual "Cockeyed Optimist", "South Pacific", hoping for at least some of his dreams coming true. He reminisces about his first love whom he mistreated, segueing into "Could I Leave You" from "Follies". His eternal lifelong dream is for success in love and career: "Maybe This Time" from "Cabaret". His love of cabaret shone forth in the songs from that musical venue where he is most comfortable.After a short break, Brett returned to his piano and rendered a touching overture of Broadway tunes. Then Louis reappeared to talk about his intense desire to Make It on Broadway by singing "Broadway Baby". This segment was a definite crowd-pleaser. But he knew he needed a gimmick to stand out from other artists by filling a niche with singular appeal.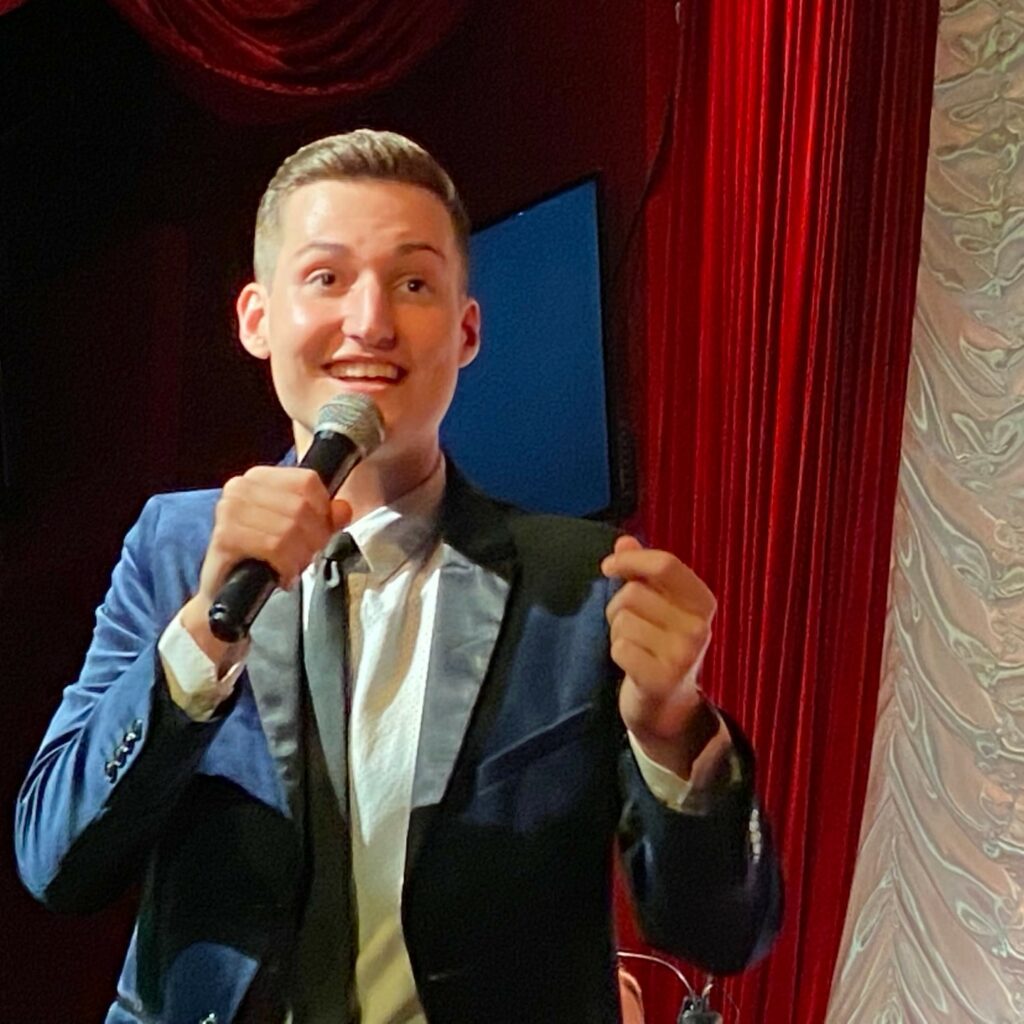 Singing "Gypsy"'s "Gotta Get a Gimmick", he brought out a huge old trombone which he could not play so figured he needed something else for his dreams to succeed. He discussed trying this method then another and "Some worked and some didn't." He said, doing what he is doing right now, at the ripe age of twenty-two, on stage singing and making people happy, there is where his happiness lies currently.Bringing back the early days of jazz music permeating the country, Louis broke into "All That Jazz". He moved from side to side smoothly with each step measured yet personal. He has a casual appeal to the audience and emits it in his deep eyes. Appropriately, since Louis is quite comfortable in a "Cabaret", he sang "What good is sitting all alone in you room? Come hear the music play. Life is a Cabaret."
Cole Porter must be summoned up and he declared the way he feels about his life as of today with "Anything Goes". He hoped everyone would be themselves proudly, not what others want. The total package was a top highlight of the evening.He burst into "New York, New York", then admitting that he had to include this song since Broadway is his aim, his forever dream. "I'll make it anywhere." After all the years of working to climb that ladder, he declared "Don't Rain On My Parade" from "Funny Girl". Loud calls brought Louis back for one more tune. He thrilled those gathered when he sat on the piano bench with Brett and released "Somewhere Over The Rainbow", one of the most spectacular Broadway songs and for that matter any genre. He soared and confidently displayed his vocal talents
Producer: Louis Whitaker.Director: Jan Dorland.Creators: Jan Dorland and Louis Whitaker.Piano and Musical Director: Brett Rowe. Lighting: Patti Macias.Sound: Patti Macias and Brett Rowe.
Act II Entertainment – Act2PV – Red RoomNinth Season 2021-2022 Insurgentes 300 (corner of Basilio Badillo and Insurgentes), second floor Romantic Zone/SouthSide, Puerto Vallarta, Jalisco.322-222-1512 Show information: www.act2pv.com E-mail: act2entertainmentproductions@gmail.com The box office is open from 10 am – 10 pm.