This post is also available in: Español
Richard Lucas Talks Vallarta Drag Culture, and Gouda's Long Career
Drag is an important part of the culture in any thriving gay city – especially one like Puerto Vallarta. In Puerto Vallarta you'll find two different "drag scenes". Theater drag queens who sing live, and club queens who lip synch. The unique drag culture in PV allows performers of both types to be supportive of each other.
Richard Lucas is one of those theater queens. He's known around the world as the founder of Lucas Talent, – the largest talent and literary agency in Canada – but he's known in Puerto Vallarta as its very own Gouda Gabor.
He's an old queen – while he won't tell you his age, he does admit that he's had work done and has worked in show business for at least 55 years. As part of the older queen establishment, he represents a thriving part of Puerto Vallarta's drag queen scene – those queens who can sing and perform and not just lip sync. These include Hedda Lettuce, Stevie Hart, Karma La Perra, Mama Tits, Miss Conception, Sutton Lee Seymour, to name just a few.
He got his start booking entertainments in 1986 and established Lucas Talent, Inc. but it wasn't until he decided that he wanted to sing that a friend suggested he create a character and do it in drag.
"I developed this drag persona so I could sing," explained Lucas. "When I started I felt like, who wanted to hear me sing? I wanted to do something different than me. And that's when Gouda Gabor was born."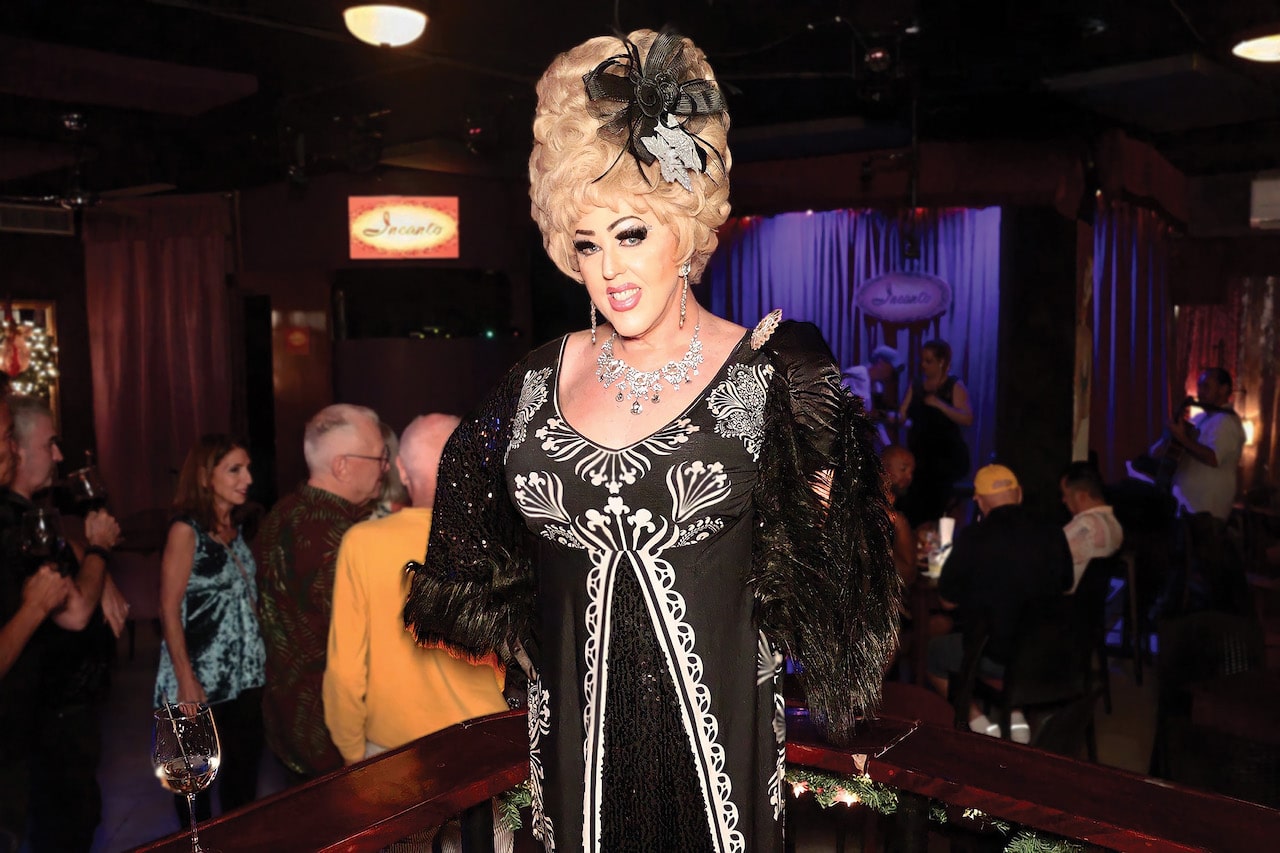 Gabor is the lost Gabor sister, he explained with a smile. And for those who may not remember, the Gabor sisters – Eva, Magda and Zsa Zsa Gabor, were Hungarian-American socialites and actresses.

"I decided I was the lost Gabor sister," Lucas explained. "I was the one who didn't marry a rich man and didn't have a TV series. I got stuck doing dinner theater. And I had a chip on my shoulder because I never got to be rich or as famous as the other Gabor sisters."

One of his first gigs as Gouda was at a Gastown club, a neighborhood in Vancouver, Canada. Many years ago a very nervous Gouda Gabor sang a four-song set that included "Zing! Went the Strings of My Heart." Many years later, and many refinements to the character, and you'll still find the same sassy Gouda slinging one-liners out to the audiences.
Lucas now splits his time between Puerto Vallarta and Victoria, British Columbia. Born in Nova Scotia, Canada, he spent his childhood in North Saanich,B.C.. He purchased a home in Puerto Vallarta five years ago, and loves getting away from the rainy Victoria winters.
Lucas is a true performer. In addition to having a BFA Acting from the University of Alberta and later receiving various graduate degrees, he's worked as a professional actor, director and producer (he even toured for a few years opposite Gale Gordon (from The Lucy Show). He professionally sang as a young actor (he was in the Canadian premiere of Joseph & the Amazing Technicolor Dreamcoat) but did not sing professionally after he opened the agency in 1986 – he didn't want to compete with the clients that his agency represented. Its only a persona that comes out when Gouda Gabor shows up.
Not only is Gouda Gabor a big personality on stage, she's got a big voice to match it. Her shows are fun, and can be unpredictable. Often her zingy one liners are unscripted and just happen as she watches life unfold before her.
"I may stop in the middle of a song to throw out a witty sassy one-liner," he said with a smile. "Gouda can be a bitch sometimes."
It takes Gouda probably close to two hours to get ready for a show. There's a lot of tucking to do, the right gown to select and of course the right wig.
"I think the art of drag has definitely changed over the years," he said. "Drag mothers use to teach how to do makeup, how to dress, how to perform. Now people learn all of that from the internet."
Which is just one part of the drag culture he sees changing, that he wants to see preserved. He explained that the "old school cabaret" presentation of drag was so important to its history.
"Yes, definitely we see the culture changing, the rise in how people look, their fashion," he said. "But we also see a decline in the art of performance. The art form is definitely raised by what I call the 'look queens' but you can easily watch an episode of RuPaul's Drag Race and see those that don't understand how to perform."
Gouda has performed at every show venue in Zona Romantica – Act2PV, The Palm Cabaret and Incanto. She calls Incanto her home now (her fifth season there), and performs just one night a week. She just finished up a show in December 2022 called "Glitter and Gold" (Michael Ferreri joined her on the piano) and opened up "Whine and Cheese" in January 2023. Joining her show on the piano is the very talented Mark Hartman.
You can catch her show at Incanto in the Piano Bar, every Monday at 7:30 p.m. at Incanto. Tickets are available here.
Related: