Esta publicación también está disponible en: Español (Spanish)
Karma da Bitch is a force to reckon with in the Puerto Vallarta drag scene. She's an incredible singer, witty, beautiful and all around great performer.
Mitchell Rivadeneyra is Karma da Bitch, and has been a part of the creative scene in Puerto Vallarta. He appeared in the long running show at Incanto, Naked Boys Singing in 2020. That show focused on six talented young Latino actors as they sung and danced their way into the audiences hearts.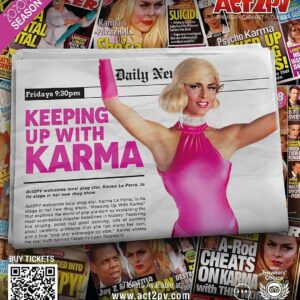 He created Karma more than more than eight years and just two years ago he decided to focus on it and become the drag performer he is today.
"The stage saved my life, since I went up I knew I belonged there"
The name is extremely interesting and everything has a story, fortunately karma told us hers and the reason for her stage name:
"Karma da bitch comes from the fierce, bad bitches in life who can overcome whatever circumstance the universe puts up. Like the strongest bitches in my family, like my mom or my grandmother. All strong women who can overcome any situation. When people hear "Karma the bitch" or "Karma da bitch" they get scared, but now they know the story. "
We proceeded to speak about one of the hardest blows and circumstances that we have all suffered in the past year and in recent months; the covid. It is not news that it has affected us all and each person has a different story and that of karma during these times was difficult:
"During the covid, I was literally dead. I had to sell most of my drag wardrobe, like my shoes, my dresses. It was very difficult for me, because I thought it was over. That I was never going to return, so I had to sell everything to survive, I needed to pay my rent and my food. Fortunately, here I am, very grateful to ACT2PV, to my family, to my co-workers for supporting me "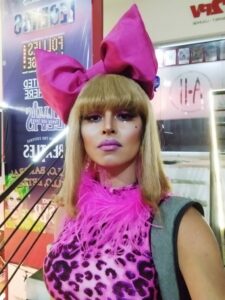 Without a doubt, Karma is a great person, with a very interesting story, but above all with a spectacular show. If you want to know more about her and know about all her dates in the future. You can follow her on her Instagram by clicking here.
For my part, I hope you have enjoyed the interview, if you want to see it on video, follow us on our social networks by clicking here. Since it will be published the following days.
Read more about ACT2PV by clicking here.