Esta publicación también está disponible en:

Español
Luis Guzman has known since he can remember that his hands and heart were meant to paint. 
This mostly self-taught artist thinks he probably inherited the ability from his father, who would often draw in front of him. It wasn't until he was 19 though, six years after he moved to the United States, that he went to his first art show and fell in love with art. It also sparked his curiosity to explore the artist in him that was begging to be let out.
19 was an important age for Luis. Not only was the artist in him struggling to get out, he was also coming out to his family as gay. It was a year of changes in the young artist's life. He made the important decision to leave Mexico and head to the United States to work and send money back home to help support his mother, father and five siblings.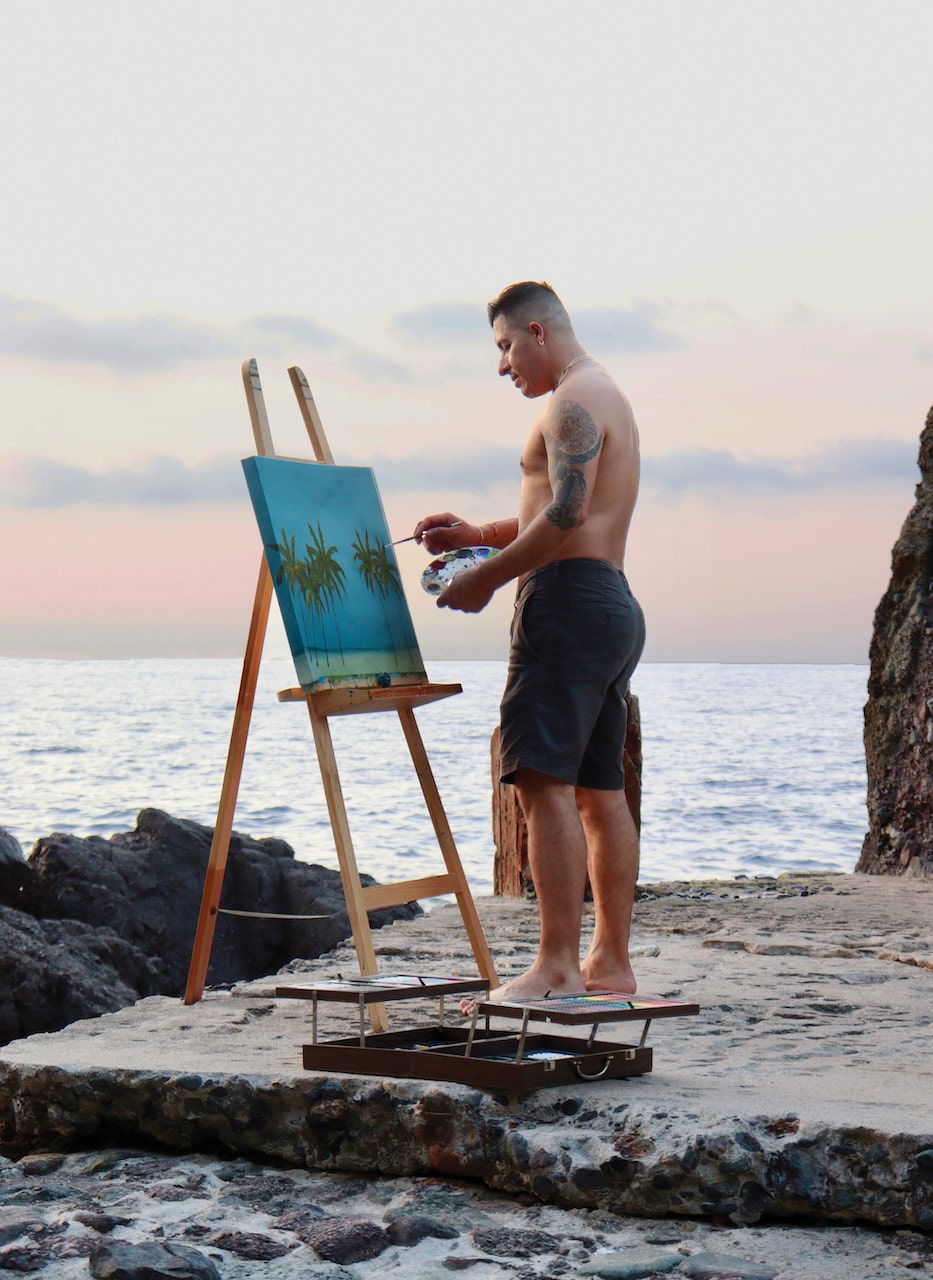 "I first left our small village near Guanajuato, Mexico and found work in Michoacán, Mexico. But it didn't pay enough to support my family and pay my bills," Guzman explained. "So I headed to California where I worked for 15 years, sending money back to help support my family."
He attended his first art show when he was 25. He knew when he saw the art that he wanted to create, and learn. He started watching Youtube videos and taking classes at a local arts and crafts store.
"I wasn't even sure what brushes to use," he said. "I had a few people that helped mentor me along the way, show me some techniques, and allowed me to explore the art word and ask questions on how to do certain things."
His first art was done on the walls of his first home that he had just moved into. The murals that he put on those walls prompted questions by visitors who encouraged him to do more.
"But," he said. "My first art show was a disaster. I was very unprepared. Very unfocused on the art. I was more concerned with how I looked. I've learned so much since then. In my second show I sold six paintings. I learned as I went."
He said his art is influenced by the things he sees, feels and experiences.
"But I've always loved nature, like butterflies, trees, flowers, the moon," he said. "I particularly like red and black colors."
He decided to leave his career as a CNA (certified nursing assistant) and focus on his art. But his love for his family drew him back to Mexico, and in 2015 – some 14 years without seeing his family – he moved back to Guanajuato and then to Michocan. In 2017 he moved to Puerto Vallarta to take a position as an assistant with Rainbow Realty.
"I love Puerto Vallarta," he said. "I love being close to the ocean. I love the people. I love the food. I love the way it feels for my soul, being so close to the ocean and nature."
You'll find him now working full time as a real estate agent with Tropicasa Realty. He's close to finishing up his work to become AMPI certified. But he continues to follow his real passion, art.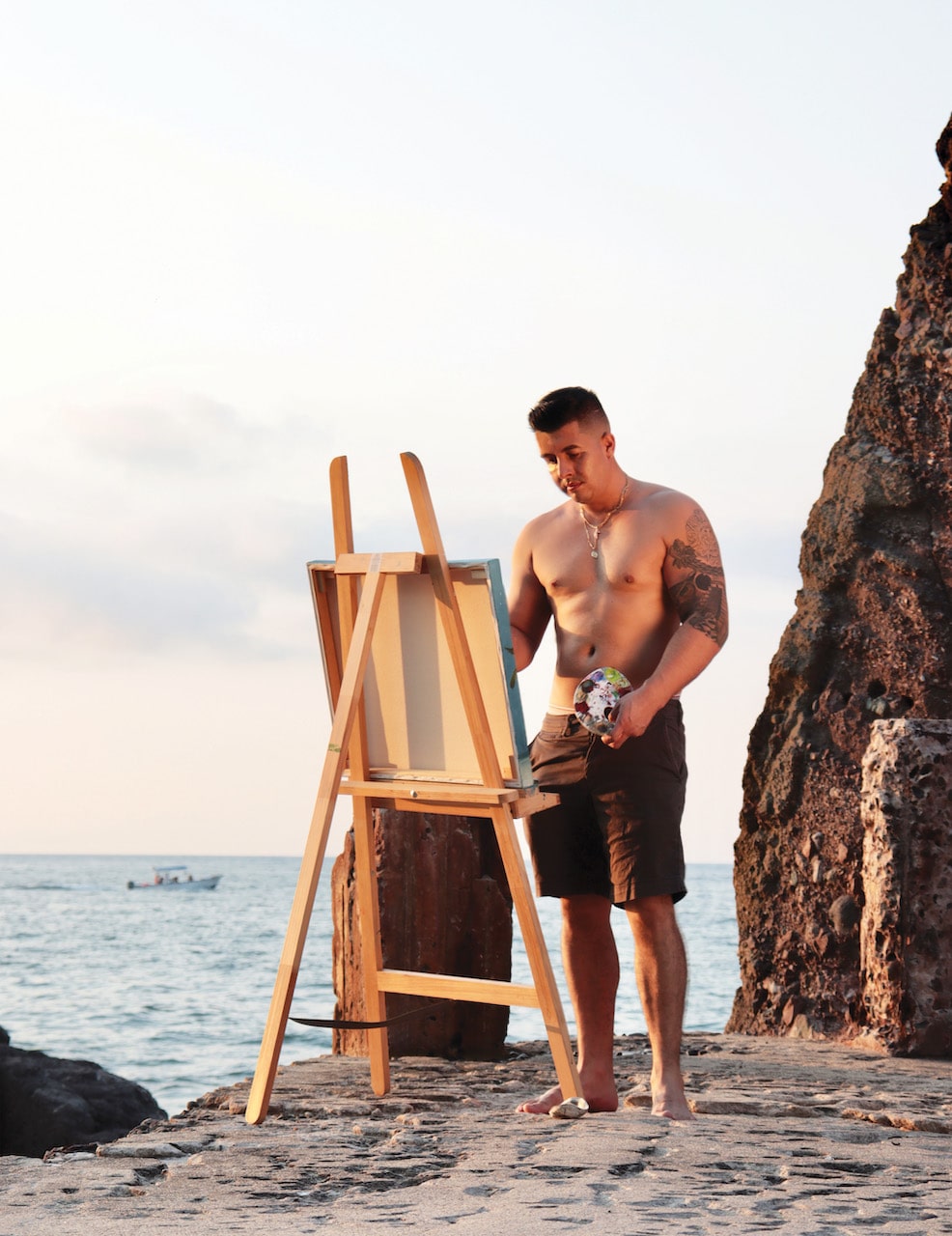 "I am mainly focused on commission-only paintings now," he said. "I do quite a few commissioned landscape paintings and I also do murals inside and outside homes."
One of his first murals in Puerto Vallarta is in a building called The Loft, which he titled, "run'.
His prices are reasonable – his art starts around $300 USD for a small painting and depending on the size and complexity of the art, into the thousands for a large wall mural.
Luis is currently single and a romantic at heart. He's been single now for five years, and looks for a simple life with a future partner. He's also looking to grow his art business and opening his own gallery. A place he can display not only his art but those of other artists that he admires.
"I take a lot of my inspiration from Artist Ricardo Manzo, and the amazing detail and hidden elements in their paintings," he said. "It's amazing and beautiful."
Contact Information:
WhatsApp: +52-322-174-1111
Facebook: https://www.facebook.com/profile.php?id=100069831043257
Instagram: https://www.instagram.com/luisartguzman
Related: