This post is also available in: Español
If this is your first visit to Puerto Vallarta (or you're reading this from home before you leave), here are some tips that we've complied to help make your visit as fun as possible.
First, you'll be given a form to fill out on the plane that you will present at the immigration check point. Immigration officers will review and stamp this. Put this with your passport. Take a photo and carry it with you. It is a very important piece of paper as it documents your name, flight number, date of entry, and method of entry. This paper will be needed to board the return flight home to the US along with your boarding pass that the gate agent will collect.
When leaving the P.V. airport to get to your accommodations make sure to get a taxi from the booth by baggage claim. You will need to know the zone you are staying in for the rate. Try your best to deflect the many, many drivers that will try to give you a ride as you pass through the airport. If you want to take an Uber, you will have to leave airport property (turn left out of the front door, go to the end of the building, turn left and cross the bridge to the other side of the highway. Call for your Uber there.)
I stayed in the "gay district" Romantica Zone (or Zona Romantica). So in the taxi, it was about a 30 minute ride south through the hotel zone, the ocean front, and into the Romantica Zone. Think of the Romantica Zone as a neighborhood in the larger city of PV. It is about an 8 x 8 city block area and still shows it roots as a fishing village. This route was a beautiful welcome to the area.
The gay district is very walkable, but be forwarned! Keep an eye where your feet are going, as many of the sidewalks are uneven and the streets are made from cobblestones. Wear comfortable shoes or walking sandals (But….a word of caution: Flip flops are not great for walking around the city as the sidewalks are uneven and the roads are paved with various sized rocks with cement filling in the cracks).
I encourage you to take time during to walk around and experience all the colors and textures of the buildings, the hidden courtyards, the colors of blooming trees and bushes on the sidewalks, the many murals and tile works.  It's a great way to experience the neighborhood food stands and people.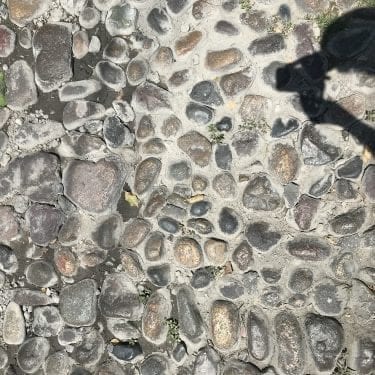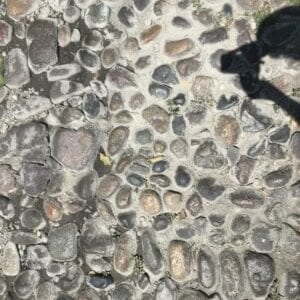 When crossing streets, there are no walk signs to signal when it is safe to walk across the street. So, it's a little like frogger, you need to gauge how fast the oncoming traffic is going, find an opening and scoot across as the drivers don't typically slow down. Luckily, with cobblestone streets, vehicular traffic cannot go very fast.
There are a lot of stores that will accept Visa and Mastercard with a minimum purchase (500 pesos and up). Check with your financial institutions on foreign transaction fees. Some of these are up to 3%. Also, if you purchase anything by credit card it automatically includes a 16% government tax. I wouldn't plan on card transactions being the method of purchasing goods. There are a lot of street vendors for food (You can get a decent meal for under $100 pesos) and merchandise (that you can barter with on price) that will not have access to a credit card machine.
Tip: When there is someone bagging your purchases, it is customary to tip 1 or 2 pesos.
If you need additional pesos there is a Banorte ATM on Olas Altas, just a block east off the beach and Malecon (the equivalent of the boardwalk) by A Taste Of Italy. Three air-conditioned lockable stalls help to give you safe access to cash. This ATM dispenses pesos and your bank does the currency conversion. Be prepared to wait a little bit as this is a popular ATM. Always look for skimmers on ATMs and monitor your credit card and bank accounts for fraud.
If you like the beach, as I do, there are many places that provide umbrellas and chairs to sit in and relax but some do charge for trips to the bathroom. ( On a side note, public bathrooms are available around the city but there is a charge for use, a good way to use your loose peso change.)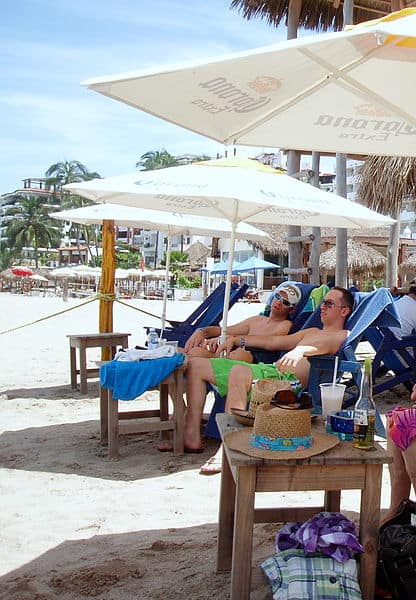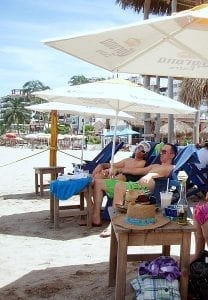 I went to the beach at Blue Chairs on the far south end of town at the Gay Beach. The service is great and they do not charge for trips to the bathroom. You can spend a whole day there splashing around in the water, eating, drinking, people watching, and sunning yourself. While you are there be prepared for the non-stop stream of people selling sunglasses, jewelry, blankets, etc. Also, there are guys who offer massages on the beach. Both will be dressed in all white. Be polite if you do not want anything. These people are selling their wares on the beach in the hot sun all day long. A simple " No, Gracias" (No, thank you) will suffice. This also happens while walking down the Malecon, which is the boardwalk that starts north at Hotel Rosita and goes all the way south to Vallarta Shores.
Protect yourself from the sun, especially if your skin has not seen the sun in a while. Wear at least an SPF of 30 when out during the day or even sitting under an umbrella. You will still get plenty of sun. Don't ruin your vacation with a sunburn. You can purchase sunscreen at the various Farmacia (pharmacy) if you don't have room in your carry-on bag.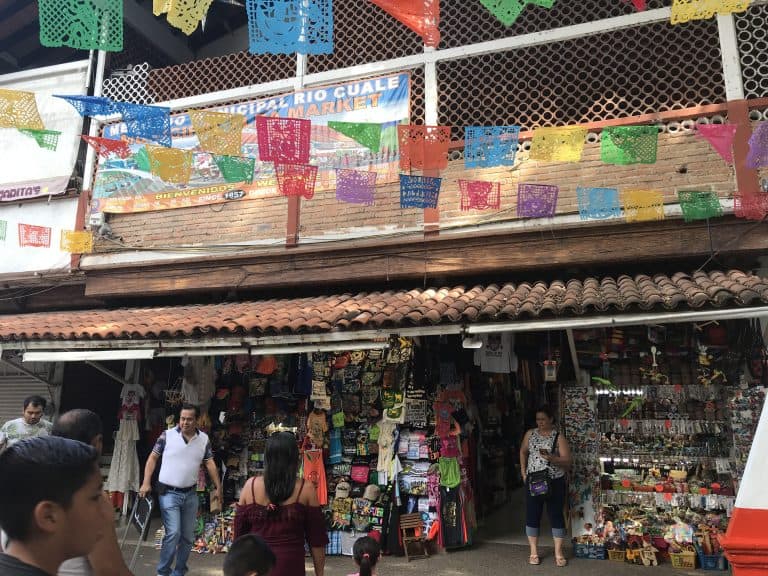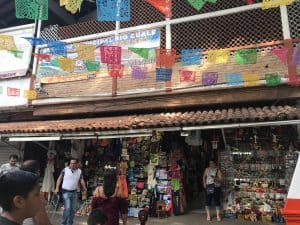 If you are staying in a condo or just want to save money on food, you can get quick snacks and drinks at OXXO markets around the city. They are the equivalent of our Seven Elevens. For more involved cooking stop at the Ollin Market (Mercado Ollin, Puerto Vallarta) at the corner of Pino Suárez and Lázaro Cárdenas. They have a much larger selection of food, drinks, and alcohol. For household needs (laundry detergent, bath soap, shampoo, etc) and other prescription needs, visit the Farmacia Guadalajara on Lázaro Cárdenas, three blocks east of Ollin Market.
I would recommend getting a few Electrolit bottles for your fridge to drink during the day, after a day at the beach, or after a night at the bars.
A few great places that I enjoyed eating at include:
The Swedes
Qulture
La Piazzetta
Langostinos Restaurant and Bar – you can sit ON the beach at night
A few great locations to visit:
Mirador Cera de La Cruz (observation deck on the top of the mountain)
The panoramic view of the city from here is amazing! The easiest way to get to it is to walk the Malecon to the street named Abesolo. Then start to walk up towards the mountain. It is a strenuous hike up the stairs to the top. Take your time, watch your step and bring water. You'll get to see local families on their patios, beautiful architecture and views on the way up. Once at the top you will have 360-degree views of the area. I would highly recommend doing this either in the morning before 10am or in the evening around 8pm. Between the sun and the humidity you will sweat through your clothes. Also, there are no bathrooms at the top, so make sure you go before.
Malecon
Starting north at Hotel Rosita and winding its way down the oceanfront and through the streets, the Malecon goes all the way south to Vallarta Shores. There are plenty of things to do including restaurants, night clubs, amphitheaters, and souvenir shops along with the Naval Museum along its path. In addition, there are many sculptures along the way and the popular tourist spot Puerto Vallarta photo spot. It really comes alive at night with street performers, food, entertainment, and merchandise vendors.
Elizabeth Taylor + Richard Burton's House – on Calle Zaragoza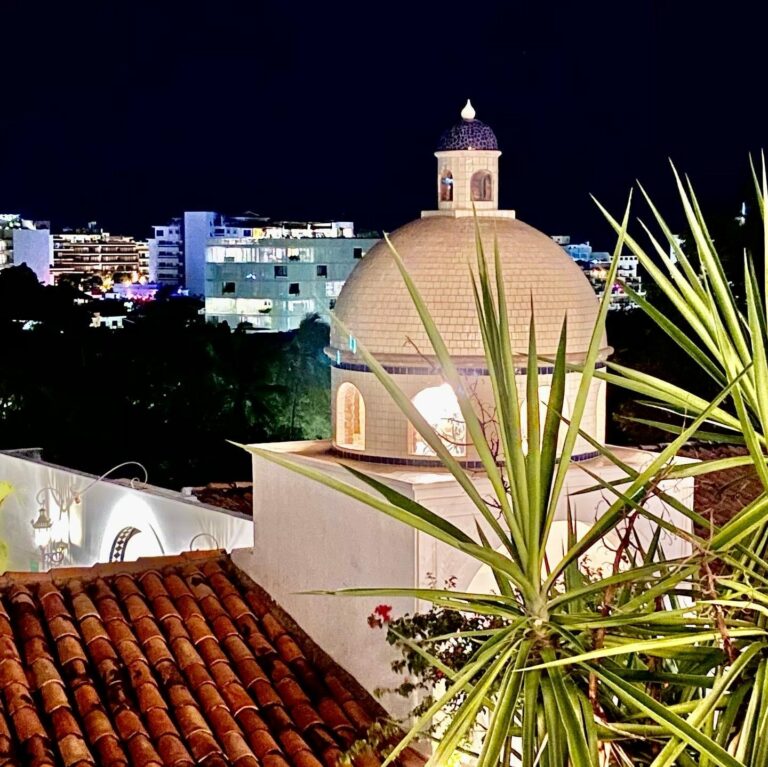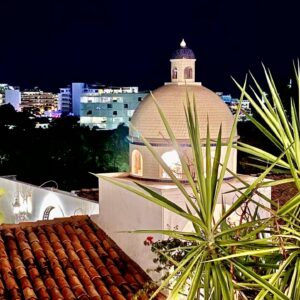 Up in the hills by the Rio Cuale is Elizabeth Taylor and Richard Burton's home which is now a hotel and restaurant. Walking by you can get a quick snap of the bronze statue.
Los Muertos Pier – on the Malecon by Langostino's Restaurant & Bar
This is where you can catch tour boats during the day, sight see, or get a good view of who is on the beach. At night it is illuminated in the colors of the rainbow and is a popular spot to hang out and listen to the waves.
Rebecas – on Olas Altas
My favorite men's clothing store in the area. Just a block off the beach. If you are looking for a swimsuit, clubbing outfit, or underwear the selection is quite large and the staff is quite helpful. They also accept Visa.
Rio Cuale
Explore the Rio Cuale area by by entering over the River Cuale walking river bridge on Aquiles Serdán. The Gringo Gulch Bridge is a great place for photos and will be in front of you but you will need to walk around some buildings to get there. Walking towards the ocean on the Rio Cuale you will pass BabelBar and enter the Isla Cuale Flea Market. Souvenirs, clothing, home furnishings and more are here in this daily market. It's a lot of fun to see all of the different designs and crafts of the area.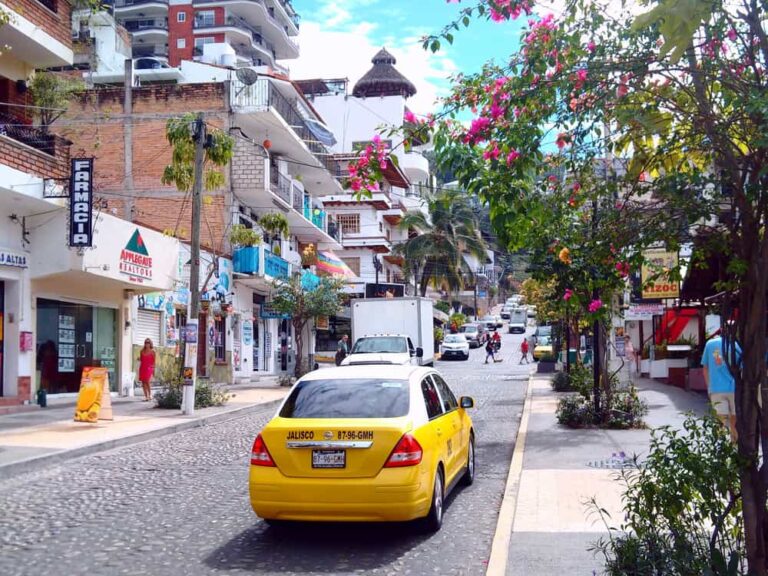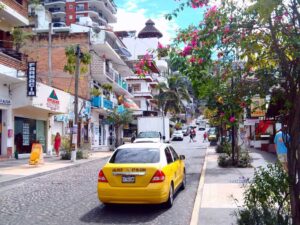 When roaming around P.V. taxi cabs fares are negotiable. Ask the taxi driver how much it will be to your destination and agree on a price before getting in the cab. If you are using Uber, disregard, as those fares are set. However, Uber drivers will still appreciate tips in Pesos.
My week in P.V. consisted of eating, sightseeing, pool time, and parking my butt at the beach. Being immersed in the neighborhood and walking everywhere removed me from my Midwest suburban automobile centric life. Being present and on the street forced me to slow down and interact with people and really notice the environment. I loved walking past a seemingly unfinished villa only to peer through its gates and see an absolute paradise inside complete with gorgeous patterned tile, lush palms and a crystal-clear swimming pool. Every street held a surprise with architecture, patterns, textures, and public art.
I tried my best to greet and speak to people in Spanish when I was out and about and at the store. Google Translate helped a lot here. At night it was refreshing to walk past families and see them playing cards on card tables on the sidewalk. Or seeing an elderly couple chatting on their patio and hearing Buenas Noches as we walked by.
The memories of the warm ocean breeze, the sun glimmering off the surf, and the spectacular views comforted me as I headed to the airport to return home.
Departing from P.V. you will go up to the second floor by the baggage claim area and follow signs to the security checkpoint. There are plenty of duty-free shops to grab last minute souvenirs and alcohol on the way to your gate. It is worth mentioning again, that you will need your boarding pass and the immigration paper to board the plane. Landing in Dallas Fort Worth, I downloaded the Mobile Pass app and submitted my passport information and customs declaration before I even got off the plane. I passed through baggage claim (I did not check any bags) and arrived at customs and border patrol. The Mobile Pass app made the customs and border patrol checks super easy and fast for re-entry to the U.S.
A note: Your bags do not automatically get to your connecting flight. You will have to get them from baggage claim and recheck them with your airline.
I learned that after customs and border patrol you are outside of the secure area and are required to go through security to get to your connecting flight. Luckily, Dallas Fort Worth had multiple security checkpoints with walking and waiting times posted. I would recommend getting in the shortest line possible to get through and use the SkyLink system to get to your specific terminal and gate. Again, schedule a flight with at least a 2-hour layover each way.
Should your flights get delayed or if you will miss a connecting flight use Twitter to get a hold of your airline to reschedule. So, relax, see the sights, eat, drink, and enjoy yourself in Puerto Vallarta. It holds something for everyone.
Neil's Suggestions:
Before departing:
Get $1,000 or more in pesos: can order these from your bank
Check on Health Insurance: can get a policy in Mexico for about $38USD (I bought a policy from Guardian Insurance that would cover emergencies in Mexico. WeExpats is also another great company that many visitors use/
Let your bank know you are traveling internationally
Download Google Translate app + offline translation file
Download Mobile Pass app
Get a Nathan running belt
What to pack:
Swim suits
T-shirts
A hat (ballcap or a large floppy hat for the beach)
Comfortable shoes to walk in
Walking sandals
Sunscreen SPF 30+
Reusable water bottle (Brita filter bottle)
Sunglasses
Tote or shoulder bag
Related Stories:
Pesos, Dollars and More (Opens in a new browser tab)