Esta publicación también está disponible en:

Español
Councilors approve painting pedestrian crossings with the emblematic colors of the LGBTQ+ community
Just in time for Pride, two crosswalks – one in Emilio Zapata (Zona Romantica) and another in Ampas Colonias, will soon sport the LGBTQ+ rainbow colors after approval by the government of Puerto Vallarta.
A unanimous vote by the Public Security and Traffic Commission, in collaboration with the Gender Equality and Integral Human Development, Territorial Planning and Justice and Human Rights, will have crosswalks sporting the gay pride colors at the intersections of Lazaro Cardenas and Ignacio Luis Vallarta (Emiliano Zapata), and Malecon and Almendro streets, (Amapas).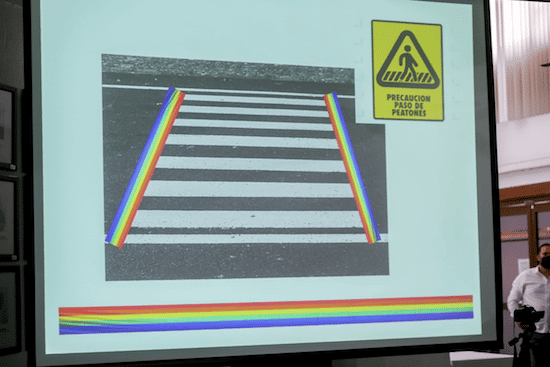 The initiative was presented by the Coordinator of the Vallarta Collective and LGBTQ+ Activist Hector Ramírez Betancourt and approved by the president of the Public Safety and Traffic Commission, Sara Mosqueda Torres.
There had already been street areas that had the colors emblematic gay flag in other parts of the Romantic Zone.
"The painting was done outside the Flamingos bar and the Blue Chairs hotel, the difference now is that they will be permanent and can be repainted whenever needed or unpainted without the need to request permission from the City Hall," said Hector.
The opinion establishes that only the outline or frame of the pedestrian crossing will be painted with the emblematic colors that represent the LGBTQ+ flag, without invading or painting the area corresponding to the pedestrian crossing or the ramp for people with different abilities, in order not to contravene the legal statutes on road matters.
In addition, the painting will be carried out with the material resources and labor of the members of the community.

In the session, it was suggested that these are two emblematic sites where said community has been made visible and where the first LGBTTTIQ+ bar and hotel establishments were created in the destination, respectively, and that today they continue to have a large tourist influx of that segment.
The issue was already duly socialized with neighbors. This is part of the actions in favor of recognition and respect for the community.
In a few weeks these new colors will begin to be made in order to continue giving identity to the characteristic and cheerful gay neighborhood of Puerto Vallarta located in the Romantic Zone.