Esta publicación también está disponible en:

Español
Contributes to Community with Grace, Design, and Art
Jewelry designer Cassandra Shaw's favorite gemstone is Labradorite, so I was awestruck to discover the description for this fantastic stone could also be used to describe Cassandra herself: Discovered in Canada, a very intense and beautiful gemstone with color and allure that are not just on the surface, but deeply embedded in the stone.
23 Years In Puerto Vallarta
Cassandra Shaw is a jewelry designer, painter, and business owner based in Puerto Vallarta, Mexico. Born and raised in Canada, Cassandra moved to Puerto Vallarta in 1999 and after more than two decades here she has not once regretted the move. Her Cassandra Shaw Jewelry store on Basilio Badillo in the heart of the Romantic Zone is a famous "go-to" in Vallarta, and her jewelry designs can be seen as walking displays on her customers here, and around the world.
Imported Gem
Originally from British Columbia, Canada the first time Cassandra came to Vallarta was in 1983 with her sister, when they were just 18 and 20. In Canada Cassandra never had time to pursue her interest in art because she was working long hours at a local pub. The daughter of an RCMP Constable (aka Canadian "Mountie") Cassandra moved to Vancouver as an adult, where she lived from 1986 to 1999.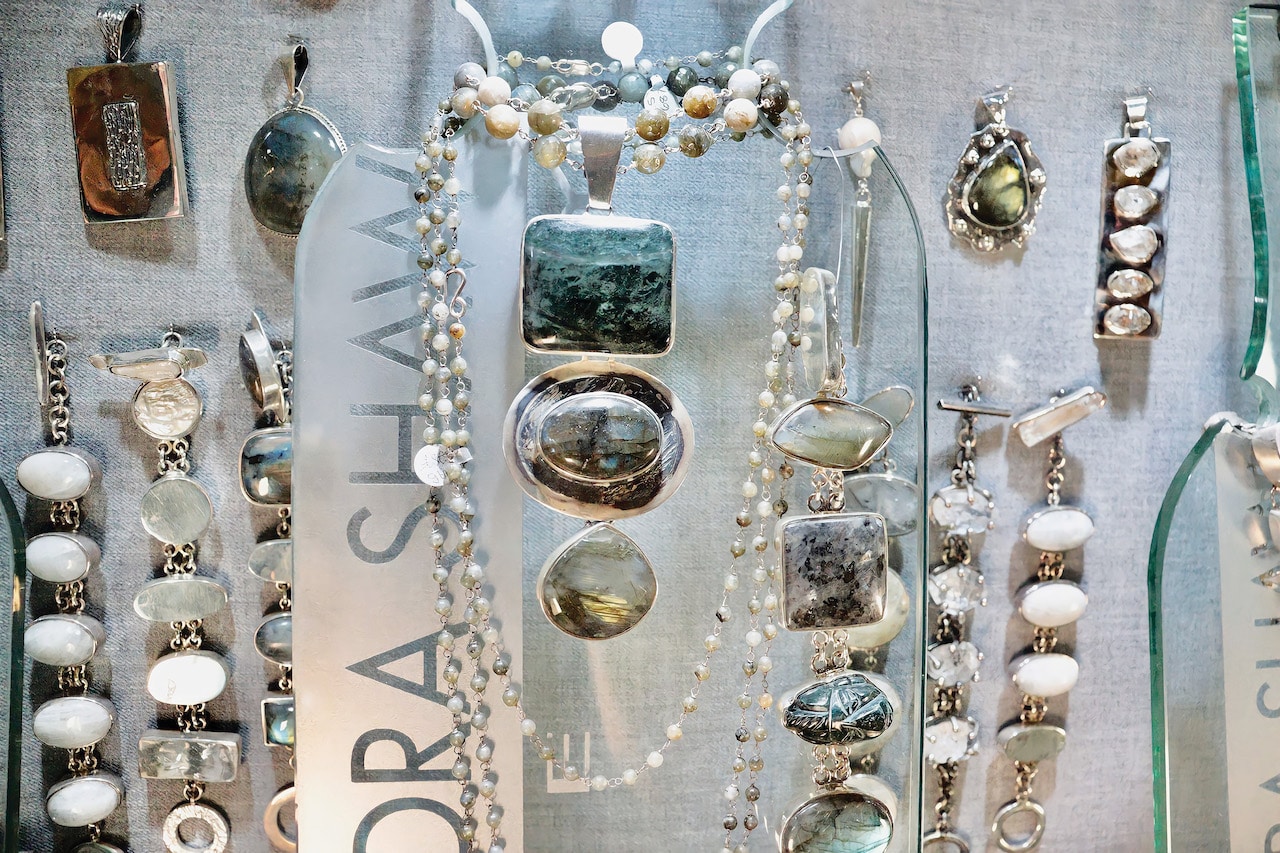 Cassandra worked at the neighborhood pub on Commercial Drive in Vancouver for 14 years, eventually running it. She loved her job managing the pub but when the business sold she lost her job. Luckily the owners gave her a settlement and she happily received the "golden-handshake," and knew exactly what she was going to do with the money. Travel.
Cassandra bought a ticket to see her sister in Puerto Vallarta, who had stayed in Mexico when she fell in love and married there. Cassandra didn't quite morph into a bohemian barefoot artist, but was finally able to focus on painting. Six months later she went back to Vancouver to sell her home and possessions and has lived in PV since 1999. Cassandra has never for one second ever regretted that decision.
Asked about her bold and recognizable signature style, Cassandra confesses she didn't have one design in mind when she started designing jewelry. She knew what she liked.
"I was really attracted to natural, big bold pieces," she said. "Bone pieces were my first love, and I wear that myself, the tone and color go with everything."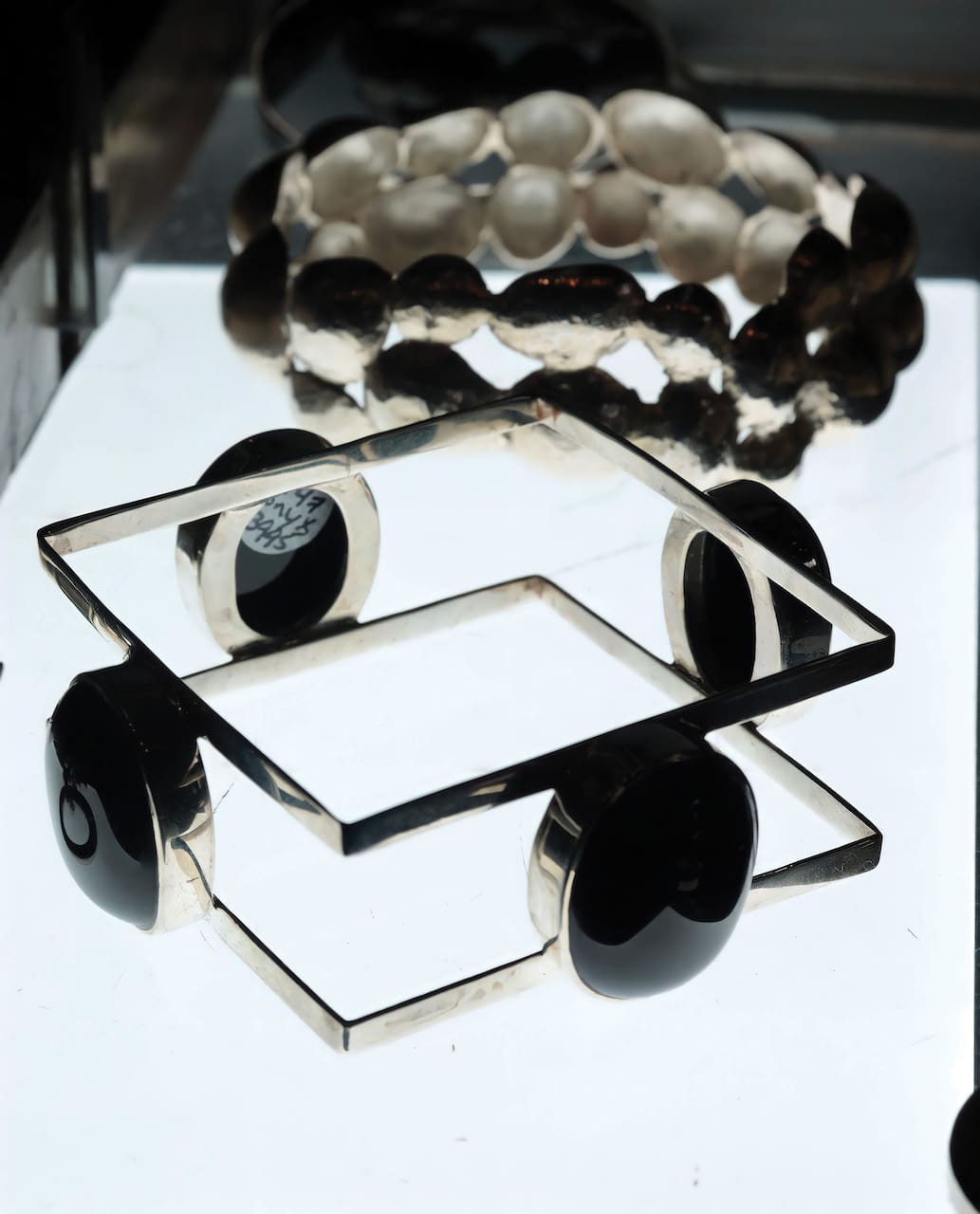 Getting her start working in a Jewelry store in Vallarta, when the owners split up Cassandra began designing her own jewelry and excelled from there. The versatility of her pieces are unique in that they all come apart so you can redesign them as you like. It gives her customers a lot of creativity when they're getting dressed, giving you more control of your own style without having a designer telling you what to do with it or how to wear it.
When the stone sellers come to town Cassandra gets very excited. The labradorite is one of her favorites in that it's a common stone but it's very intense and its beauty comes from color under the surface of the stone.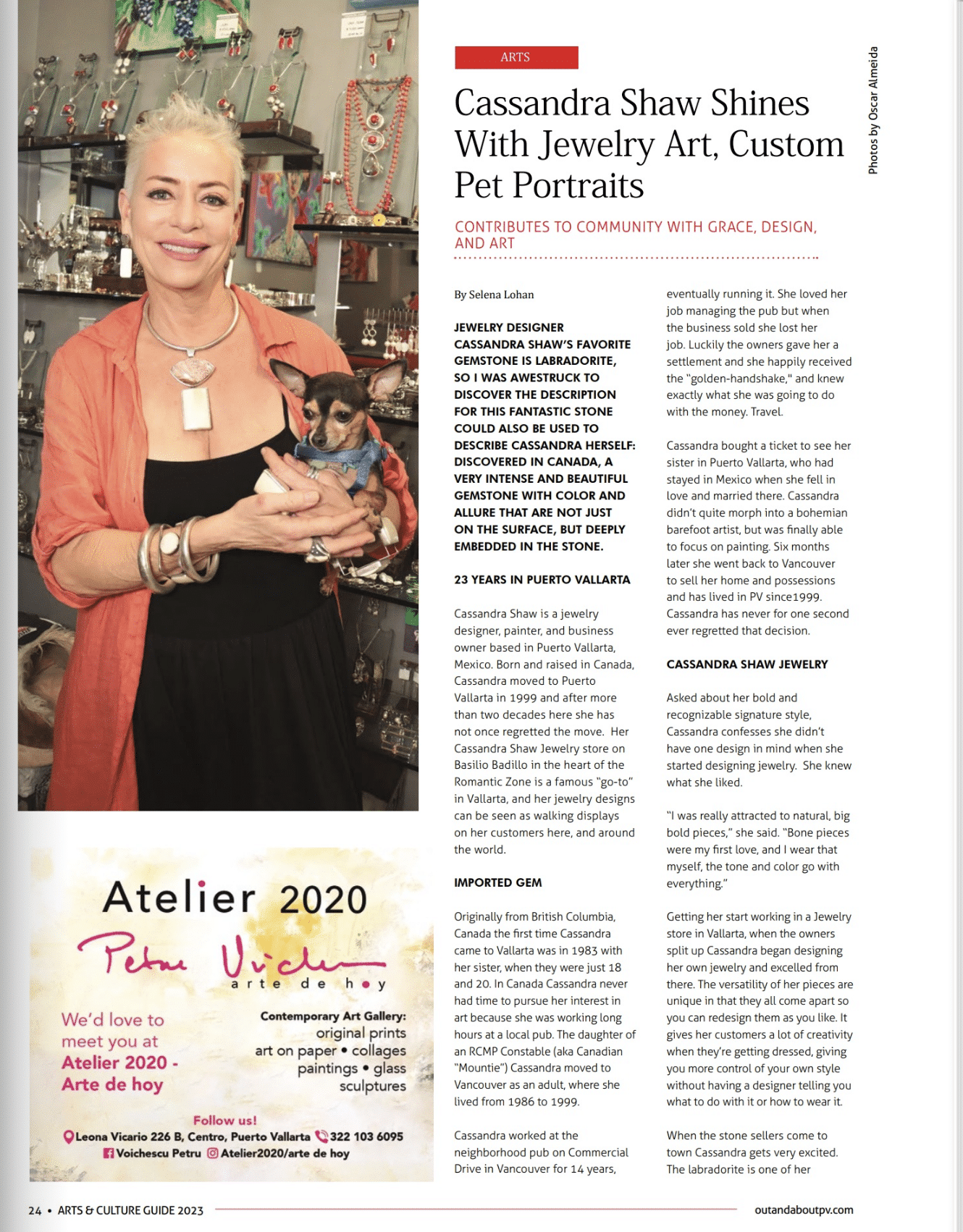 Cassandra feels that her main value to her clients is not just design, but her service. If something breaks or a stone falls out, she will fix that for them without cost. Her clients are her biggest fans because they know that she looks after them.
"That makes me feel confident and worthy of having a successful business," she explained. "Because I'm not gonna turn my back once I make a sale."
Custom Pet Portraits
When Cassandra arrived in Puerto Vallarta in 1999 she made a commitment to art. Allotting a certain amount of time every day to painting and design, Cassandra's skills developed over time. She had dedicated a portion of her day, every single day, towards painting. She recalls working all day and going home and still picking up her paintbrush. She began doing workshops with one of her mentors Lucille Shipley, who has since passed, and painted with her for 20 years.
Cassandra continues to paint, focusing on her custom order Pet Portraits. One of the compelling things about painting is you start with nothing and then, as Cassandra says, it's your job to make it into something. She brings to life the creativity and beauty, and she always likes to add a little something that is not so serious. Something playful. This makes her animal portraits look quirky and cheeky because she brings out the expression in their faces.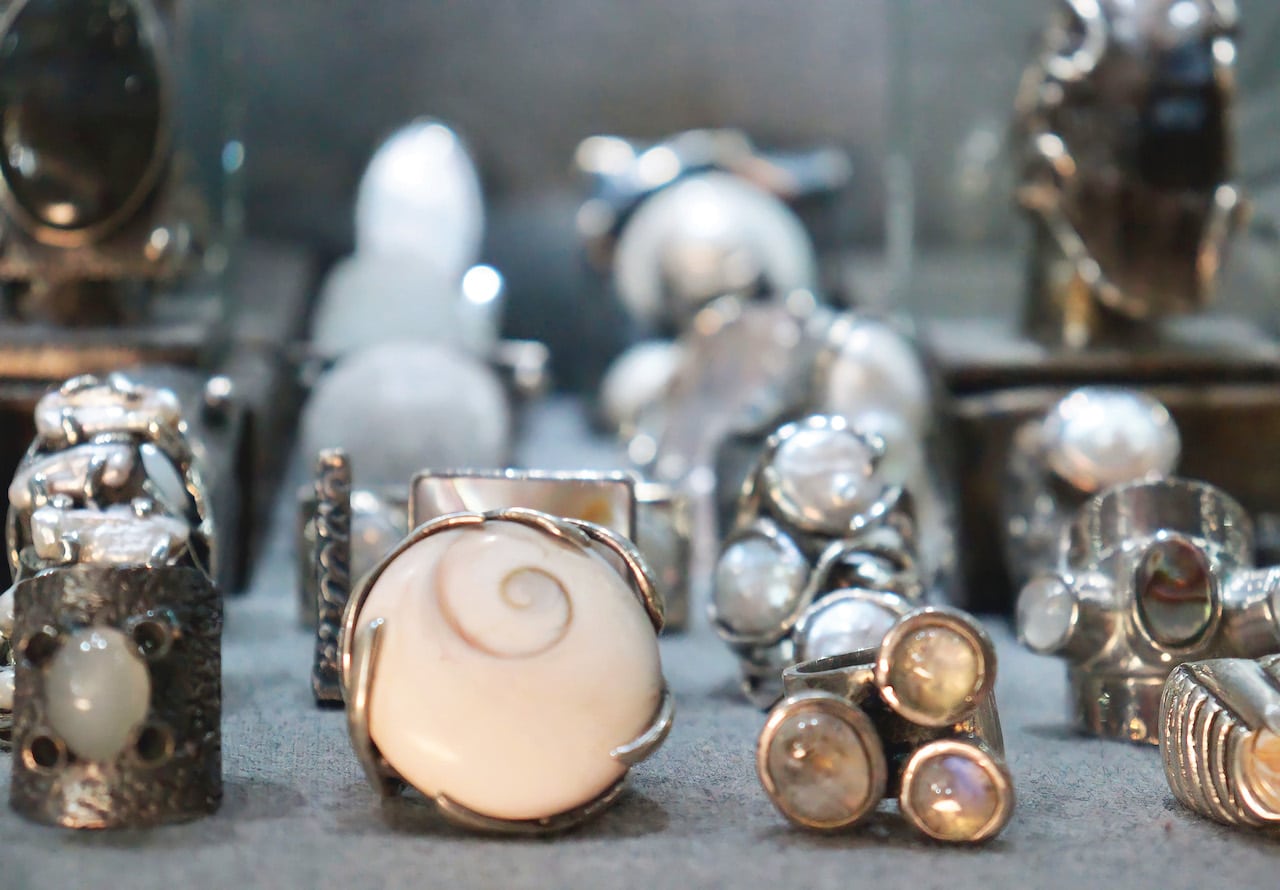 The Cassandra Shaw Starlight Cabaret
On her contribution to the Act2PV Theatre in Puerto Vallarta, inspiring the newly named Cassandra Shaw Starlight Cabaret, Cassandra confided that she's always supported the arts.
She hadn't always contributed in such a big way that she did this year with a substantial donation, but she has always been a patron and promoter of the theatre, and specifically of the more family focused shows. Cassandra stepped up financially because Act2PV really needed help this year and it would have been a tragedy to this town if they were unable to open their doors, not just for the talent, but for the crew and staff it employs.
Not Just Weather & Not Just People
Cassandra makes a great point that obviously many expats who have moved here would agree with, it's more loving here, there really is a community. And that community has your back and makes you feel safe. She believes that there are so many different reasons to be happy here and it's not just the weather, and it's not just the people…but those are the two biggest reasons.
"This next chapter of my life as I go off on my own and move into a new home, I feel more like myself," she said. "I'm free to decide how my days are going to be and that feels good."
It's clear to me that community, grace, design, and art may be the defining words for both Cassandra and Puerto Vallarta.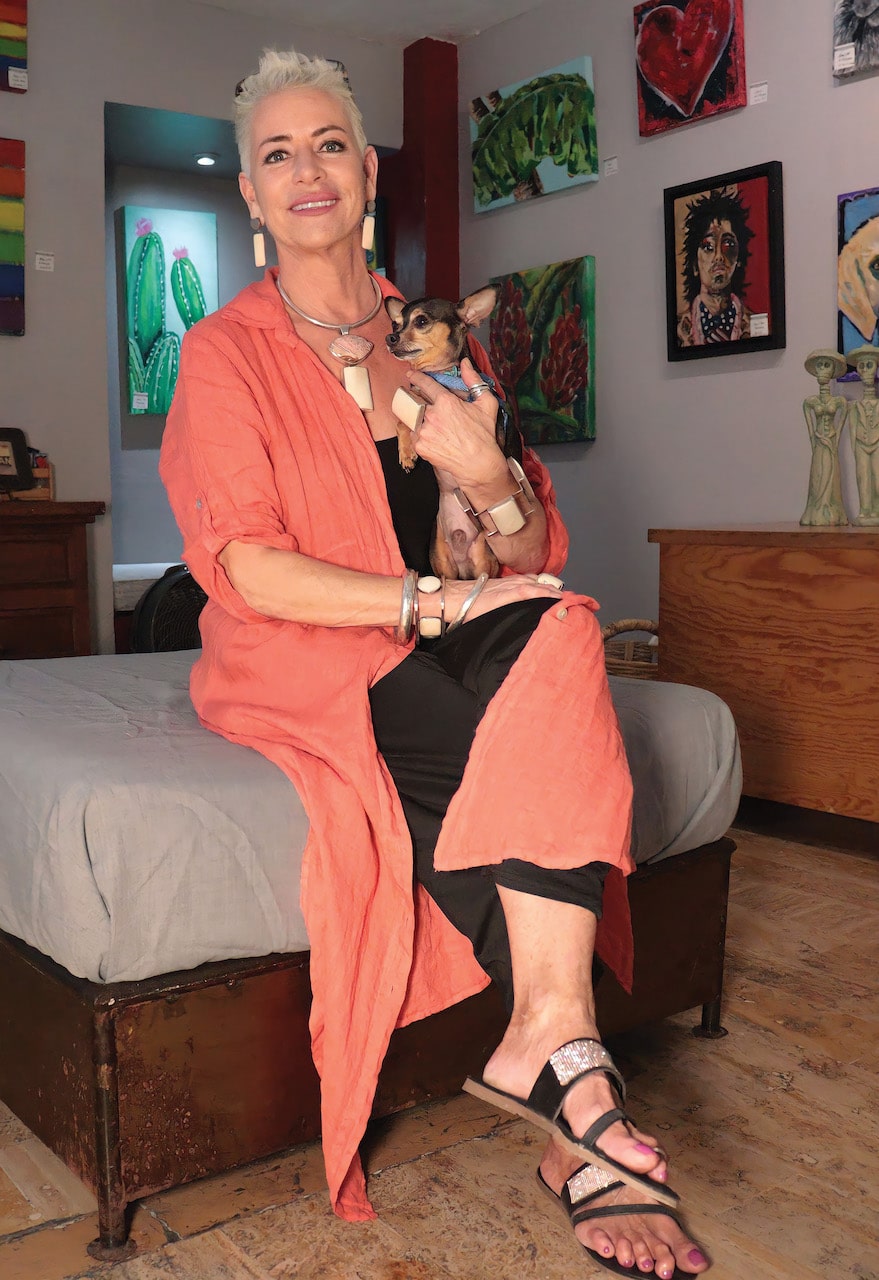 Related: