Esta publicación también está disponible en:

Español
Pandemic Sparks New Career for Roger Josafath
Roger Josafath is a new sculptor, who is rapidly gaining in popularity for his unique works of art that expresses both his love of shapes found in nature while seeking to produce pieces that complement a desire for both form and function.
Roger knew at a very young age – probably around five-years old – that he loved nature, plants and working with his hands.

He grew up in Mazatlán Sinaloa Mexico, as part of a large, traditional family. The 37-years-old artist dreamed of owning a ranch one day – and becoming a botanist to teach people the art of organic farming.

"I am a botanist," explains Roger so the forms found in nature and life, in all its diversity, are my biggest influence.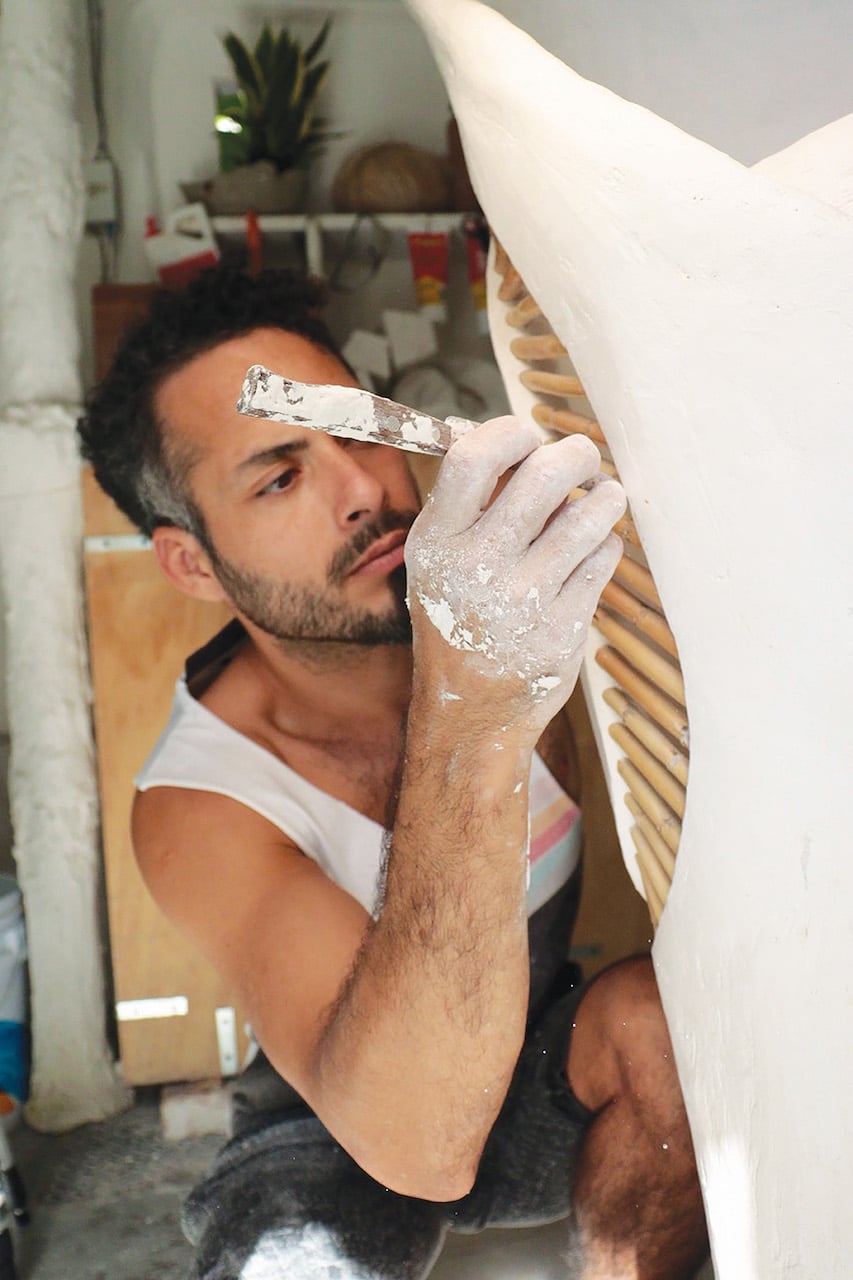 In 2018 Roger moved to Puerto Vallarta and initially worked with the interior design company, HACIENDA:hda. Here, he honed his ability to select pieces and design interiors which reflected his clients' desires, emotions and thoughts, resulting in spaces with a unique sense of belonging.

But little did he know that when the pandemic struck in 2020 how much that would change his life direction and career.

"The pandemic slowed the work and I found myself, like everyone else, with too much time on my hands," he explains. "I initially thought about making beaded jewelry, but was given the opportunity to create a sculpture for HACIENDA:hda".

"I use my love of sculpting to create works of art that speak to a need of forms, textures and structures that are intended to communicate my love for the art I create and my desire to enhance the beauty of the lives of others."
His very first piece came out– in an abstract form of a person running. But like all abstract art, it is what the viewer sees. He sold that sculpture, and it was later given back to him by a grateful client for Christmas in December 2020, saying it reflected the passion he could see in Roger.

Roger, how did you develop your artistic skills?
"My skills evolved organically through experimentation with my own style and techniques and through challenging myself to push the limits of my medium in form and function."

Tell us about your favorite medium?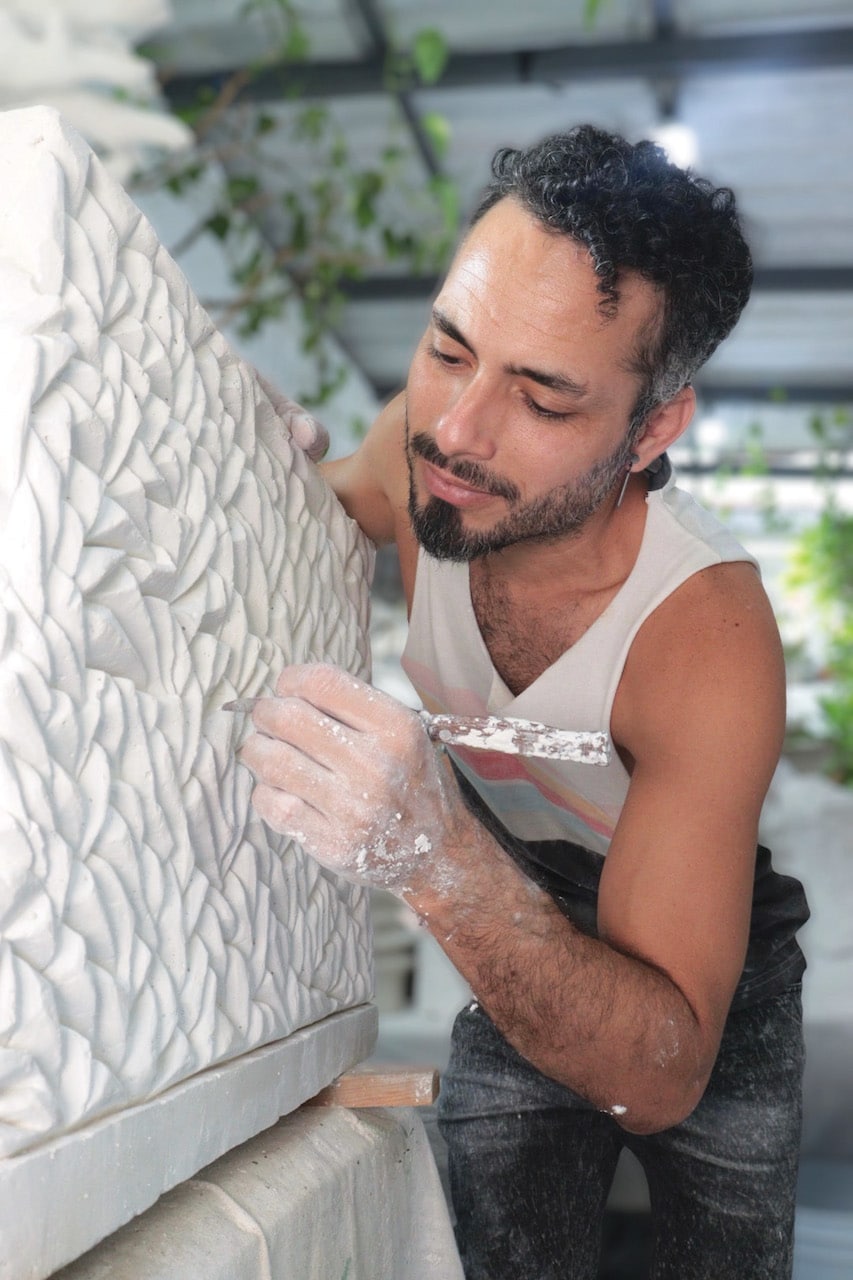 "I love to work in plaster-of-paris because it is easy to manipulate to reflect my vision of the pieces I wish to create and concrete because it is a stronger material when
needed to enhance the functionality of my art."

Describe how art is important to people?
"Art helps people process and visualize their emotions and understand their surroundings. It allows people to see life from a different perspective and it makes one feel alive."

How do you define success as an artist?
"For me success in my ability to inspire people with my artwork and my story, so that
they can find a path to discover their own talent."

Does art help you in other areas of your life?
"It has given me the opportunity to meet many interesting people from all walks of life
and who share the same love of art."

How can your work affect societal issues?
"As a gay artist, I feel that I can be a positive representative for my community while also being able to reach out to a broader diversity of society and find common ground through our shared love of art."

How has your style changed over time?
"When I first started out as an artist, my compositions were more abstract, but now are more functional and natural in form."

Do you have an existing customer base?
"Yes, I have many customers that, after buying one of my works of art, have come back to me with requests to make unique pieces that complement their needs and desires."

How do you manage a work-life balance as an artist?
"My artwork is my passion. When creating, I am only focused on my art and what it will look like when completed, so I lose all track of time. As such, I spend more time in my art studio than at home."

Roger's pieces cost anywhere from $5,000 pesos up to $150,000 pesos. He does custom work based on orders placed by clients. The largest order placed so far has been 18 pieces for a client's home – everything from lamps to tables.

You can visit his studio at Iturbide 365 Centro and see his sculptures and his never-ending love of plants.