This post is also available in: Español
We are one day away from the end of the year! how exciting! And of course Puerto Vallarta will have many events where you can celebrate!
O&APV brings you some of the best spots where you can choose how you want to spend this end of the year.
Bombon PV
If you want to dine in a good atmosphere, Live music and a quiet rooftop Bombon Cocktail Bar & Sea Food is your option.
They will have 2 packages to choose the end of the year dinner.
Package 1: 4 course dinner, complemented with a mixology cocktail and a celebration kit, the cost is $ 1,299 pesos. Package 2: 4-course dinner, mixology cocktail, Open Bar (national) and a celebration kit, the cost is $ 1,999 pesos.
Start at 8.30pm.
Reservations required+52 322 158 1848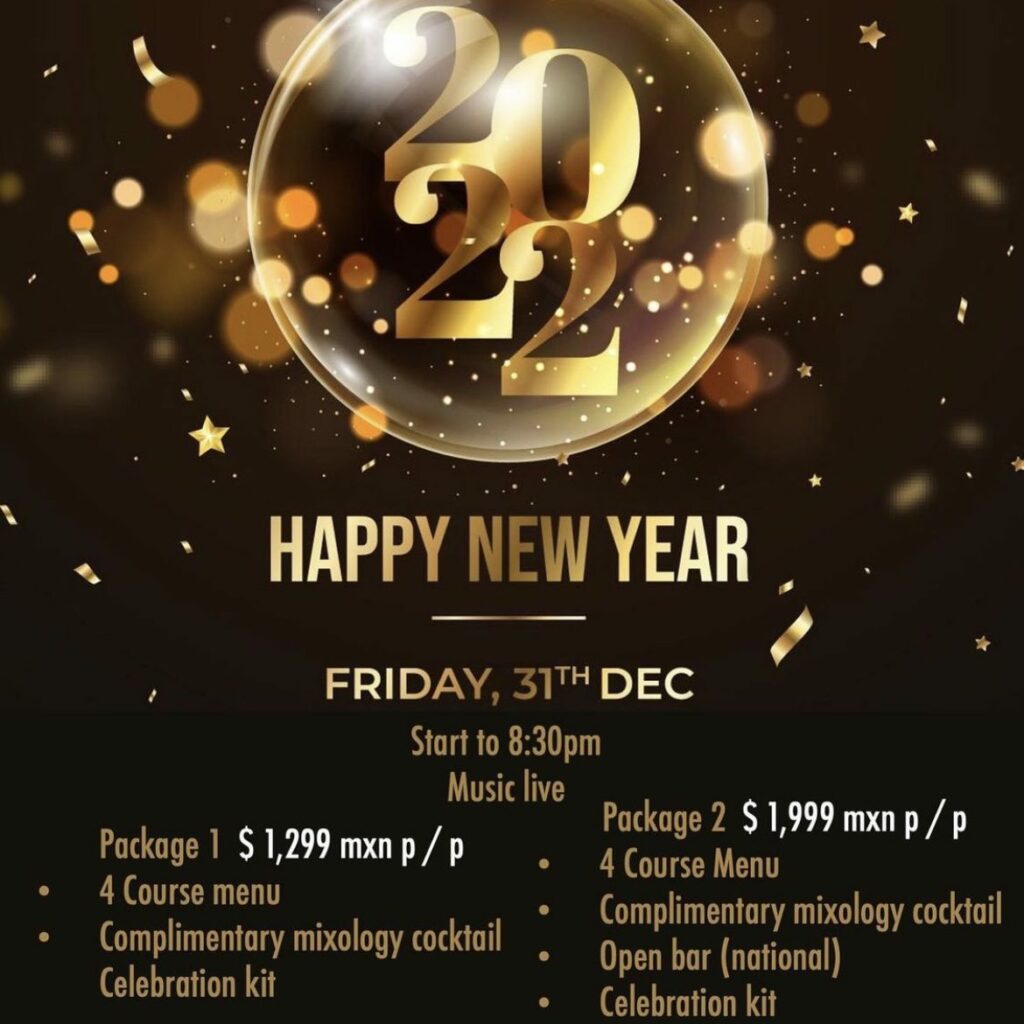 Casa Cupula
If you are one of those who like to start celebrating early at Casa Cupula you will find the best alternative.
They will have their great "New Year Dinner, All you can eat Buffet Including Prime Rib", they will also have special shows by Alison Lo and ranchero singer Alberto Cuevas El Diamante.
Starts 6.30 pm to 9.30 pm
Then walk over to the Fireworks party at Pool Club at Casa Cupula with DJ Leo Hernández and the Fire Dancers. See dozens of fireworks displays!
Stars 10pm-1am
They have a PROMO CODE: 10 off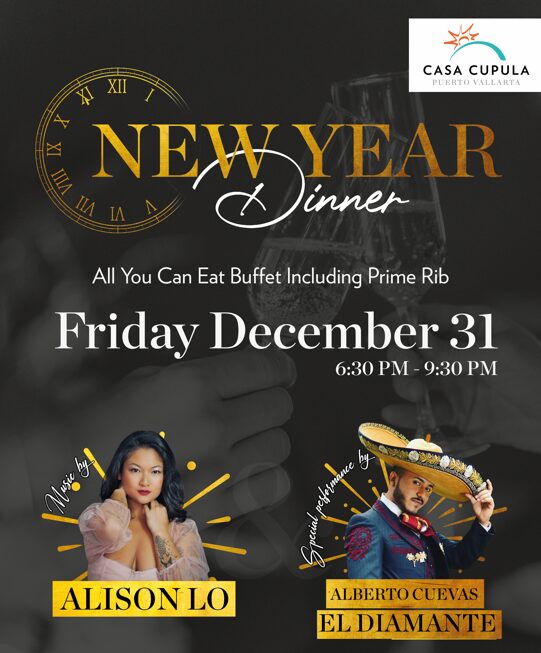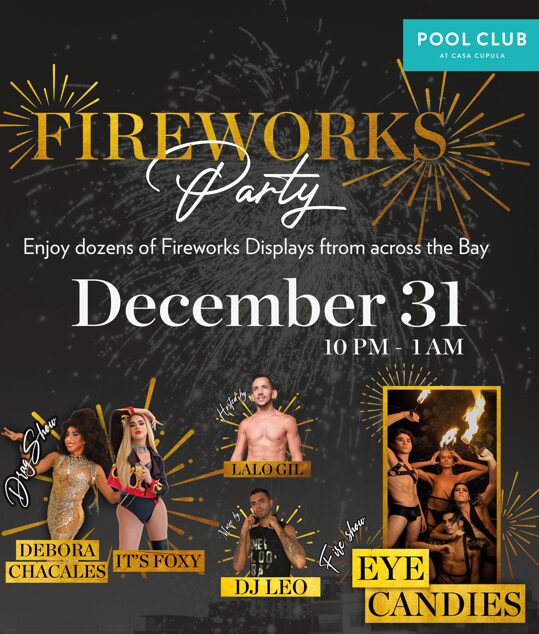 La Tienda Grande
The excellent restaurant La Tienda Grande has prepared an incredible dinner for this end of the year. "The night at seven sins" is an 8 course dinner, Open Bar and Cocktails for 2 hours. If you are one of those who like to celebrate dinner with something very special with charming details, signature cuisine, great wine and a cozy place, you have to book at La Tienda Grande!
The cost of dinner is $ 1,350 pesos p / p and the Open Bar has a cost of $ 950 pesos.
https://www.facebook.com/LaTiendaGrandepv
Reservations: 322 291 7717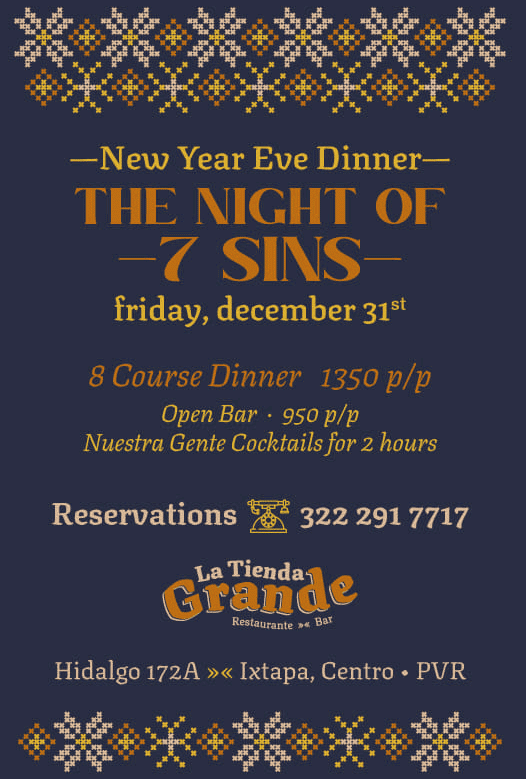 River Cafe PV
A spectacular place full of a pleasant atmosphere and unique location is River Cafe, who will offer their much liked New Year's dinners. An impressive 4-course menu, live music, champagne toast, toast and grapes.
The cost of dinner is $ 2,639 pesos
Reservations: 322 223 0788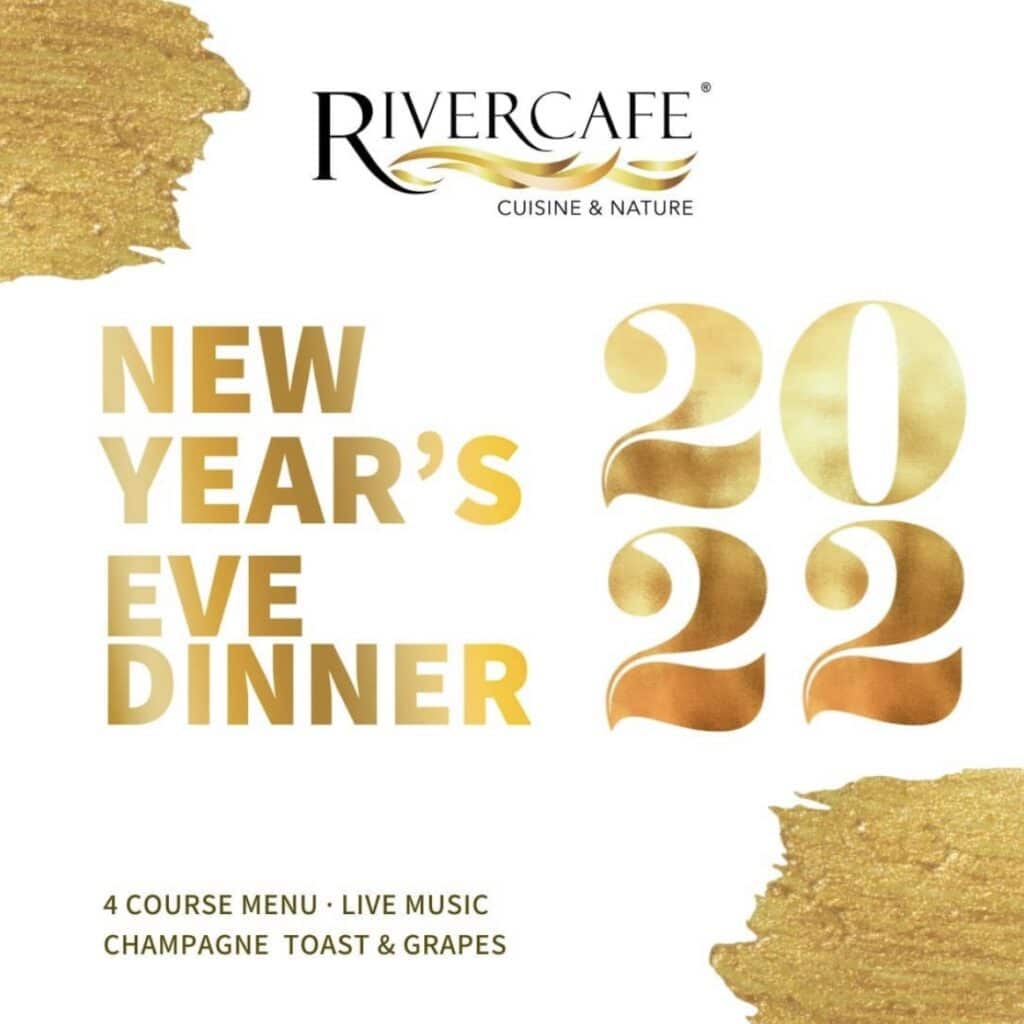 Incanto Vallarta
Join the Incanto Vallarta welcome toast!
At 7 PM they will start celebrating New Years Eve.
At 7:30, singer-songwriter Francesca Bávaro takes the stage with her incredible vocal range, exquisite piano, original pop songs, and opera for a breathtaking evening of beautiful music. A special three-course meal is included with Gina Hendrix's special menu options and her new SoCo Kitchen.
At 9:30 AM, singer-entertainer LOUIS WHITAKER sings on a piano LIVE with a special NYE 'Show Tunes' with no additional cover to take you into the New Years!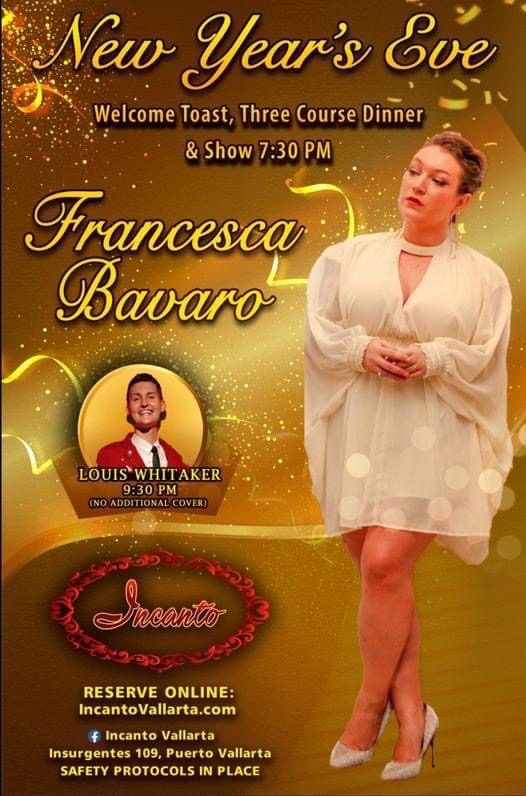 Piñata PV Hotel
Welcome 2022 with Piñata PV Hotel!
This is an option for those who like to welcome the new year full of good vibes, new and sexy friends by the pool and jacuzzi. Piñata´s PV Hotel will have the maximum hot fun to start 2022 with the best!
Hot Jacuzzi, Hot Steam Room, Heated Pool, Private Spaces, Drink Specials, Sexy Piñata Boys and DJs!
They have 2 Nights Event: Friday, December 31 8:00 pm-1:00am and Saturday January 1, 8:00 pm – 1:00 am.
Get your tickets now!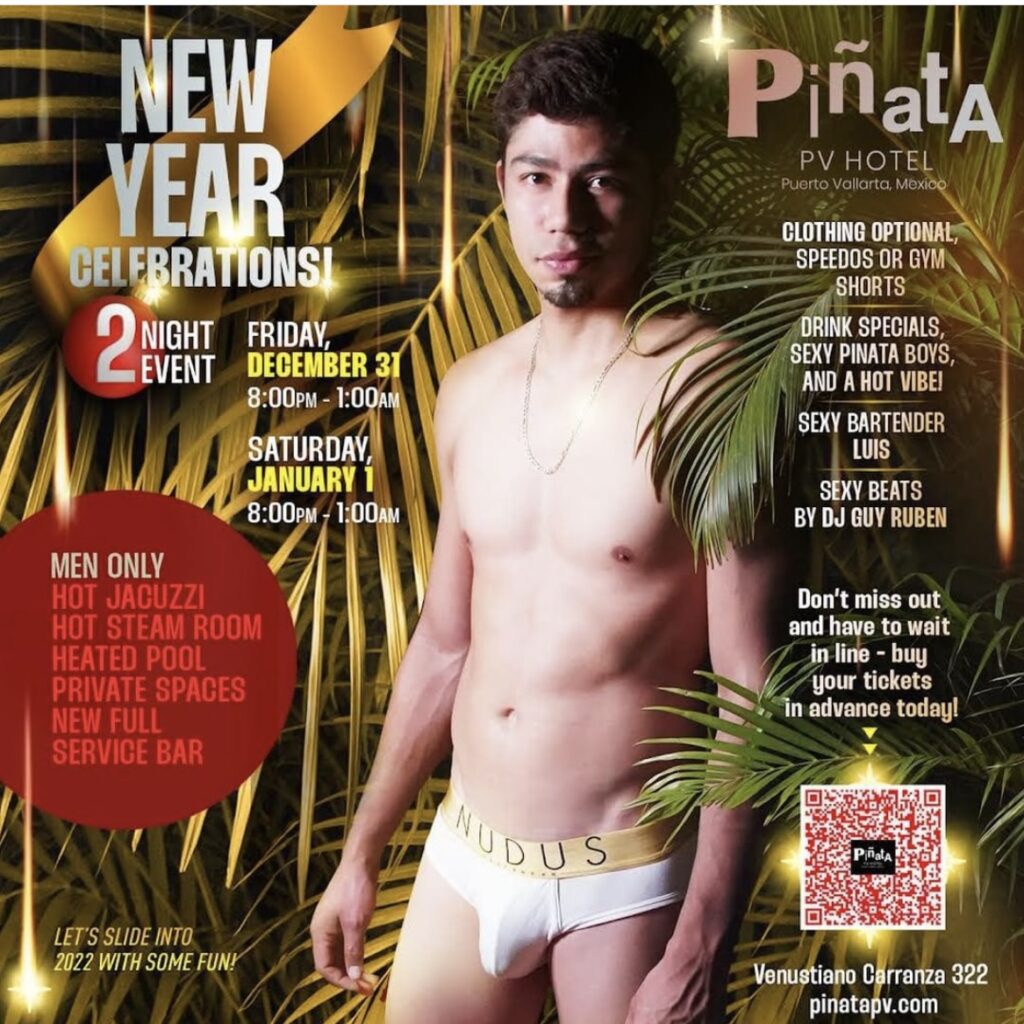 Jubileo´s Parties
To celebrate full of music and handsome men, the Jubileo & Almar Group parties are perfect!
The most recognized djs worldwide together with the most important brands of the electronic circuit with the most impressive production of the year gathered for the first time in Puerto Vallarta New Year 2022 from December 28 to January 4
Aron – Brian Kent – Ben Bakson – Dan Slater – Enrico Meloni – Gabo Montero – Jerac – Joe Gauthreaux – Joe Pacheco – Leomeo – Liza Rodriguez – Micky Friedman -Phil Romano – Shane Marcus – Sr Edu – Taito Tikaro – Thomas Solvert – Adrian Dalera – Angel Rios – Isaac Escalante – Isis Muretech – Juka – Oscar Velazquez – Robincal – Sago.
Their presale has ended! From today until Sunday, they will have his will call from 12:00 PM – 6:00 PM at Mantamar Tower. Save time and claim your accesses in advance. If you still do not have tickets, you can buy them in our will call.
Tickets are cash only in will call.
Call: 322 222 6260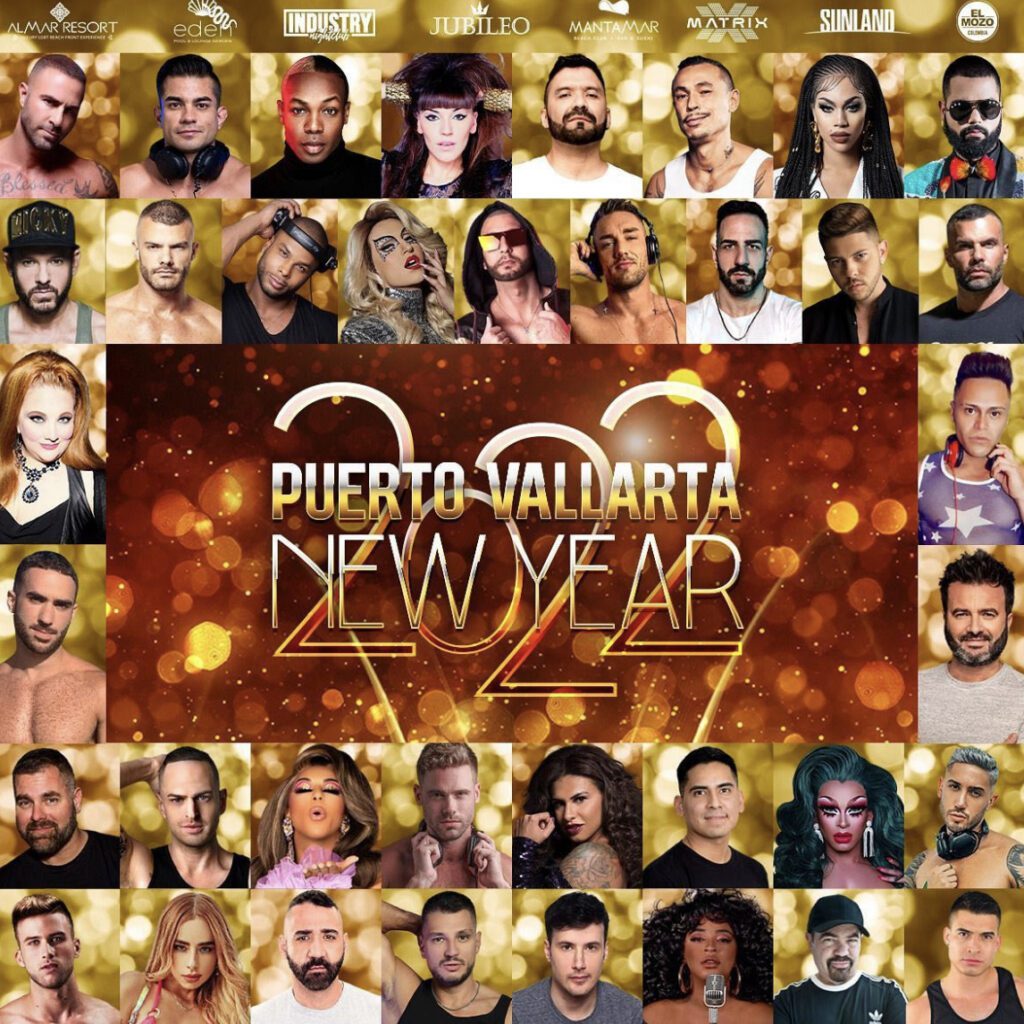 Blue Chairs
Receive New Year with the Best Panoramic View Of The Bay. A very complete event will be the one that Blue Chairs will offer this Friday, December 31, starting at 9pm. They will have dinner-show-fireworks-DJ. 4-course dinner, glass of Champagne, 12 grapes for good luck and New Year's party kit. For your convenience they will have speakers in French, Spanish and English.
For Reservations: 322-222-5040 or reservations@bluechairs.com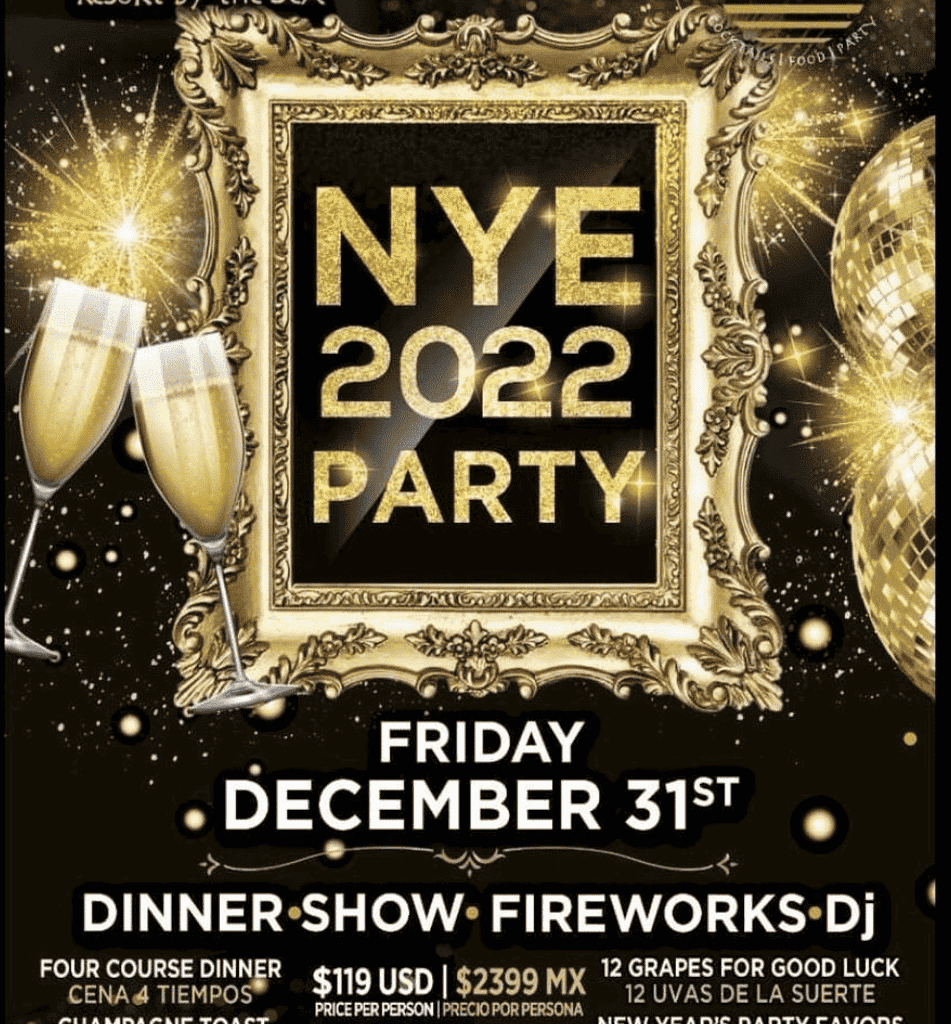 CC Slaughters
If you want to receive the year without stopping dancing, CC Slaughters awaits you !!
They will have a calendar of different DJs from today December 30 until January 2 and of course a main party this Friday December 31.
NEW SHOW WITH Queer Boys Ángel Becerra Ponce
NEW MUSIC SETS BY
Charly BGoo CcSlaughters Martini Lounge (POP)
Marco Guzzi & Alan Pilo Cc Slaughters CLUB SIDE (CIRCUIT)
https://www.facebook.com/CCSlaughtersPV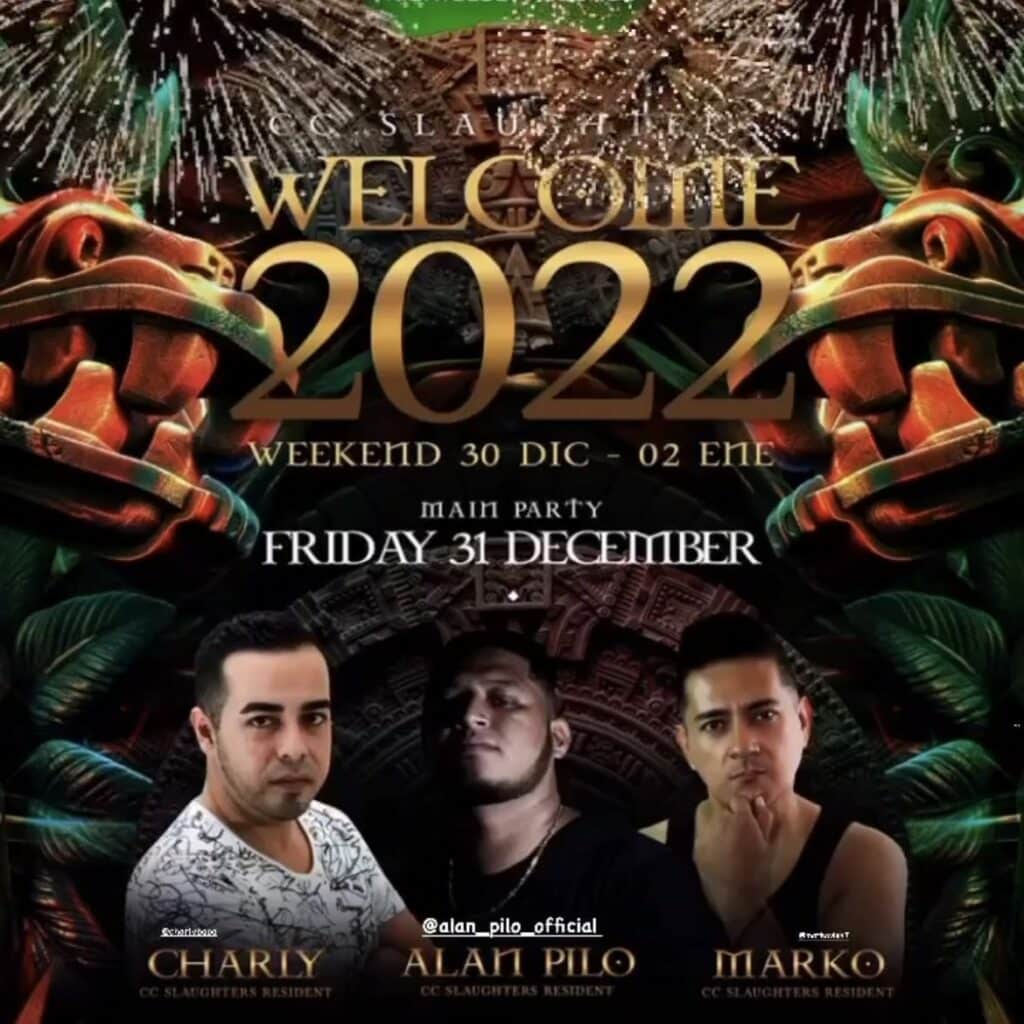 Top Sky Bar
If yours are Show Drags, the Top Sky Bar will be full of glitters, platforms and wigs!
Drag on Top will be your celebration this New Year and you can enjoy all the shows from 8pm to 10pm.
The cast of drags will be an explosion of talent!
Ariel, JobStar, Sirena, Kinary and the gorgeous Star Boys Dancers!
Reservations: 322 222 4911
thetopmanager @ almarresortcom