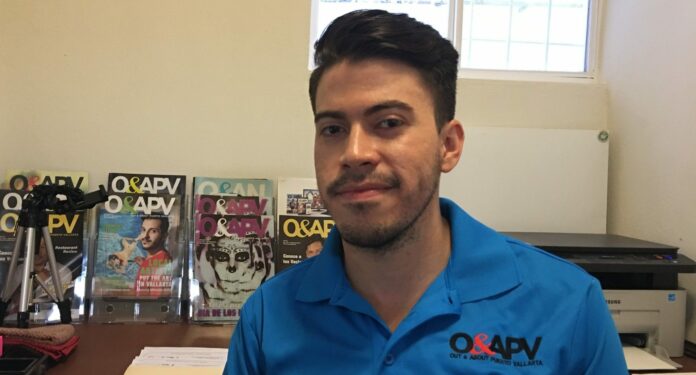 This post is also available in:

Español (Spanish)
Alejandro Chavez Toledo has been named editor and general manager for Out & About Puerto Vallarta (O&APV).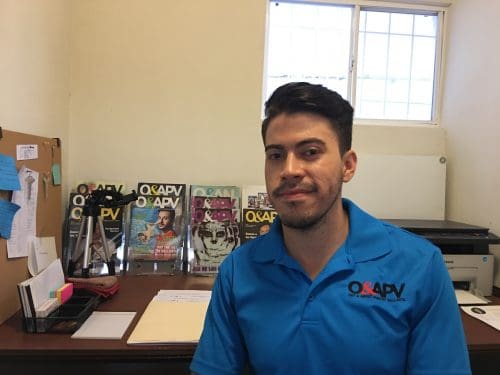 Alejandro, who was previously with TATA Consultancy Services in Guadalajara, will be responsible for the content and the overall look and feel of the digital and print properties.  While at TATA, he was responsible for managing more than 14 different associates and worked with clients on process improvements. He's also been working as a community manager with various social media platforms for several different clients. He has attended St. Louis Community College in St. Louis Missouri as part of an associate's degree in public relations, and in November, 2018, received a marketing degree from Universidad del Valle de Mexico in Guadalajara, Mexico.
He will also manage the O&APV social media and web page, posting articles, news, announcements and more. In less than a year the O&APV Facebook page has garnered more than 5,000 followers and a newly revamped website, www.outandaboutpv.com continues to draw thousands of visitors each month.
Alejandro is no stranger to Puerto Vallarta and he's looking forward to the move from Guadalajara as he settles into his new role and getting to know the local community.
"I love this city," he said. "I have wanted to be a part of the growing and vibrant LGBT community and I'm excited to be able to use my skills to help showcase all of the great things that go on here."
He will have regular office hours at the O&APV office, located at Lazaro Cardenas 421, Colonial Emiliano Zapata.
Along with his appointment, the magazine will be taking a new editorial and print direction. The print publication will move to quarterly (three times a year with a break in the summer), and more emphasis will be placed on digital content. But even though the magazine is moving to a quarterly print production, it will always be available, in print and online. Enough copies will be printed each quarter so that some are always available on stands throughout Puerto Vallarta.
A new lower pricing structure will be in place with the new printing and online schedule – but the magazine size and content to ad ratio, will remain the same. Prices run from $700 pesos to $6,000 pesos in the print issue, and some online ads as low as $250 pesos. Magazine copies will be distributed on a regular basis throughout the month, to make sure a supply is always ready.
"We will continue to have a good balance of editorial copy and ad," explained O&APV Publisher Jerry Jones. "Our larger glossy magazine format along with the great content that we provide, offers visitors and locals a beautiful and informative source of information. We will remain bilingual for print and online."
"We are going to create fun and exciting content that appeals to the tourist here for a week, as well as the locals that call this wonderful place home," Alejandro said. "How do I plan to do that? Well, connecting, listening to our community, like the title of our organization, I'll be out listening to our people, paying attention of what our concerns and desires are."
Print Schedule:
Winter (January, February, March)
On Stands Mid-February
Theme: LGBT Wedding Guide
Advertising deadline: January 31, 2018
Spring (April, May, June)
On Stands Early May
Theme: Pride Guide
Advertising deadline: April 15, 2019 
Summer (July, August, September)
No print issue but heavy content online
Fall (October, November, December)
On Stands Mid-October
Theme: TBD
Advertising deadline: Sept. 25, 2019