This post is also available in: Español
When you visit Puerto Vallarta you will discover that one of the most difficult decisions is choosing a restaurant to eat at … where to have breakfast or dinner, and that is that the gastronomic offerings of this beach destination is one of the widest and most varied in Mexico. Below you will find a representative list of how much you can taste here, provided by the Puerto Vallarta Tourism Bureau.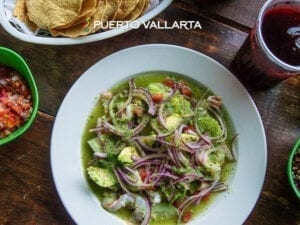 Since the gradual reopening of tourist activities, restaurants in the different areas of Puerto Vallarta are ready to serve diners, respecting the preventive indications of the health sector.
Among the measures established are the distance between diners with the installation of a smaller number of tables , the table linen and cloth napkins are no longer used, and the buffets have changed, since now the staff of the place will serve you whatever you want.
Puerto Vallarta is home to famous restaurants such as Icú, chosen as the Best New Mexico Restaurant in the Food Travel Award 2019 , a cozy establishment on the main avenue, where the creative menu will surprise you.
Other well-known places are: Café de los Artistas, by the Franco-Mexican chef Thierry Blouet, creator of memorable experiences. La Leche , in the north hotel zone, avant-garde in design and menu. Or River Café , nestled in one of the most beautiful landscapes of the port, the island of Cuale.
CENTER AND ROMANTIC AREA
If you decide to visit the downtown area you will find a variety of restaurants of all kinds such as Cervecería La Unión, with a variety of seafood; La Chata, Mexican cuisine -with mariachi- and Vitea Ocean Front Bistro on the Malecón -with sea view- or Barcelona Tapas , where you enjoy your food with a spectacular panorama of the bay.
On the beach, for lunch / dinner facing the sea you have the options of IK Mixology Bar & Cuisine , the most recent in front of the Los Muertos beach pier; The Barracuda, in the central Camarones beach ; La Palapa, of great tradition or El Dorado, with a relaxed atmosphere.
In other parts of the Center are Trío, Mediterranean cuisine in an elegant place. El Azafrán with avant-garde European fusions, or Coexist Bistro , a warm café and bar with a relaxed atmosphere.
In the Romantic Zone, near the traditional Los Muertos beach, the options are numerous, you can visit the traditional Kaiser Maximiliam restaurant , an Austrian-German fusion; Go ahead , with succulent Mexican snacks or Archie's Wok , Asian cuisine.
Basilio Badillo Street requires a special mention because it has become a great gastronomic , cultural and commercial corridor . Here you have options like Fajita Republic, De Cántaro, Di Vino Dante , among others.
OTHER AREAS WITH FLAVOR
Marina Vallarta is a beautiful area of ​​Puerto Vallarta, where you can find a very cosmopolitan culinary offer , as well as hotels and shops. On the Malecón de Marina promenade you will have to choose between Mexican and international food, in places like Sonora Grill Prime, Benitto's Paninoteca Bar, Las Palomas Doradas or Los Alcatraces.
From a few years to date, the Fluvial Vallarta subdivision offers more and more gastronomic options, along its main avenue you will find the Altamar square where options such as Asador La Vaca Argentina are found; La Dolce Vita, Italian cuisine and Seafood 8 Tostadas.
Fish and seafood deserve a special mention, as it is one of the most sought after dishes at sea level. In the wide list of options, the following stand out: Lamara , succulent toasts with exotic flavors. 8 Tostadas , with several branches and other more popular ones like La Langosta feliz , El Coleguita or Rey Tiburón.
And if during your stay you decide to explore the food offerings on the beaches, the markets, the diners and the stalls in the streets, you will find a great variety of very Mexican flavors: the traditional roasted-rod fish and roast-rod shrimp. , tacos of roasted and marinated meats, fish and seafood as well as all kinds of Mexican snacks such as birria Jalisco, drowned cakes, pozole …
GASTRONOMIC EVENTS
Also, if you are a real foodie, include Restaurant Week on your agenda, from September 15 to October 10, a select group of restaurants in this region offer three categories of menus with special discounts.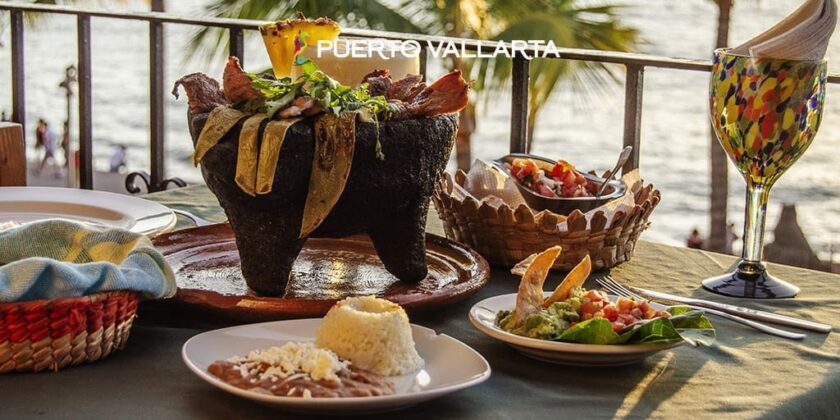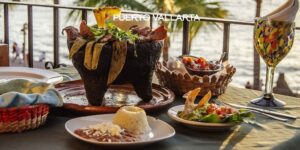 Vallarta Nayarit Gastronomy, has 11 editions, in this event the most renowned chefs in the world share their experiences with Gastronomy students, in talks that are authentic master classes.
The International Gourmet Festival that will celebrate its 26th edition, in which the best restaurants have guest chefs, special menus and many parallel activities.
The above is just a little of how much you can find in this port in terms of food.
We are waiting for you in Puerto Vallarta where your trip will be filled with flavors.
More information at www.visitapuertovallarta.com.mx