This post is also available in: Español
Uber Eats is closing 2018 by adding 30 new cities as part of its service area, including Puerto Vallarta, Jalisco, Mexico.
Uber Eats is an app that allows you to request food, and have a driver delivery it to you. Cities to be added by the end of the year are Puerto Vallarta, Guanajuato, Irapuato, Celaya, Morelia, Los Mochis and Ciudad Obregón.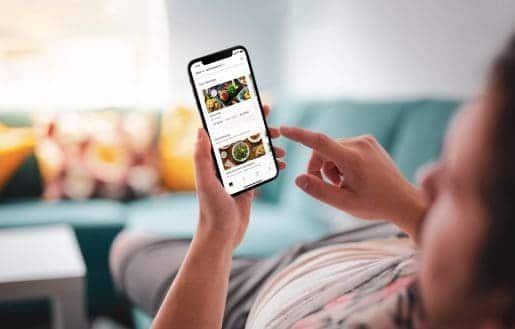 Uber Eats has already started to activate the future distribution partners that will use the application and the restaurants that will be available on the platform.
Through the Uber Eats app, an independent and different application from Uber, the restaurants will be connected to a new network of potential diners, who can, in turn, order their favorite dish no matter where they are. The distribution partners, meanwhile, will use the application to make their own deliveries, picking up the food in the restaurant and delivering it to the user, whether walking, cycling, motorcycling or driving.
For diners, Uber Eats means to make the most of their time and enjoy their favorite dishes wherever they are: at home, in the park, in the office or even at a concert.
For distribution partners, Uber Eats opens new self-employment opportunities with autonomy and flexibility that allows them to generate greater profits. Thanks to the flexibility of the platform, within the distribution partners that use the   Uber Eats application in Mexico, we find hundreds of students, single mothers, people in unemployment, seniors or simply professionals who want to have complementary profits in their free time. .
For restaurants, Uber Eats means boosting your business by reaching a new network of potential diners through greater visibility and reach. This is how restaurants can make better use of their kitchens by selling to users who do not intend to go to an establishment.
"At Uber Eats we are happy to prepare our next arrival in seven new cities: Puerto Vallarta, Guanajuato, Irapuato, Celaya, Morelia, Los Mochis and Ciudad Obregon, to satisfy all kinds of palates and budgets at the time and place that users decide" , said Cristina Villarreal Communication Director of Uber Eats in Latin America.
"We are already in the process of activating restaurant partners and distribution partners, so we welcome all those establishments and people who want to increase their profits, taking advantage of Uber Eats technology," Villarreal added.
To activate as a restaurant partner: t.uber.com/mxrestaurante To activate as a delivery partner: t.uber.com/arepartir
ABOUT UBER EATS:
Uber Eats is an application and website that allows millions of people around the world to request the food they want for home delivery at the touch of a button. By partnering with more than 160,000 restaurants in more than 350 cities around the world, Uber Eats offers food for all tastes and occasions. From favorite local specialties to the big chains, Uber Eats allows millions of dishes to be offered, delivered reliably and quickly. Uber Eats arrived in Mexico City in October 2016 and is now available in 23 cities in the Mexican Republic.
UBER EATS IN THE WORLD:
Uber Eats is in more than 350 cities worldwide in 36 countries. In Latin America, Uber Eats is in more than 65 cities in 11 countries. Uber Eats is the number 1 food and beverage app on the App Store. – Source: data from the US application store.
ABOUT UBER EATS IN MEXICO :
As of June 2018 Uber Eats launched operations in Mexico in October 2016 in Mexico City, this being the first city in Latin America where the application began
The application operates in 23 cities and soon in 30: Mexico City, Guadalajara, Monterrey, Hermosillo, Tijuana, Puebla, Querétaro, Mérida, San Luis Potosí, León, Veracruz, Chihuahua, Toluca, Ciudad Juárez, Culiacán, Mexicali, Aguascalientes, Cancun, Cuernavaca, Mazatlan, Villahermosa, Saltillo, Torreón and soon: Puerto Vallarta, Guanajuato, Irapuato, Celaya, Morelia, Los Mochis and Ciudad Obregón
Thanks to the flexibility of the application, Uber Eats has among the distributing partners a large community of students, single mothers, seniors and people who lost their jobs
The time of the week when most orders are placed is at 6:00 pm on Sunday
During weekends nights, what is most requested are hamburgers, tacos and sushi.