Esta publicación también está disponible en:

Español
This third season of "Best of Broadway" opening at Act2PV showcases favorite songs from the most popular musicals in Broadway's history, chunk full of memorable tunes still hummed to this day.
This presentation has developed, evolved and grown in its three years since inception. The design alone is to be complimented for what better idea than to gather well-known tunes from years of Broadway musicals, most of which are well-known by audience members.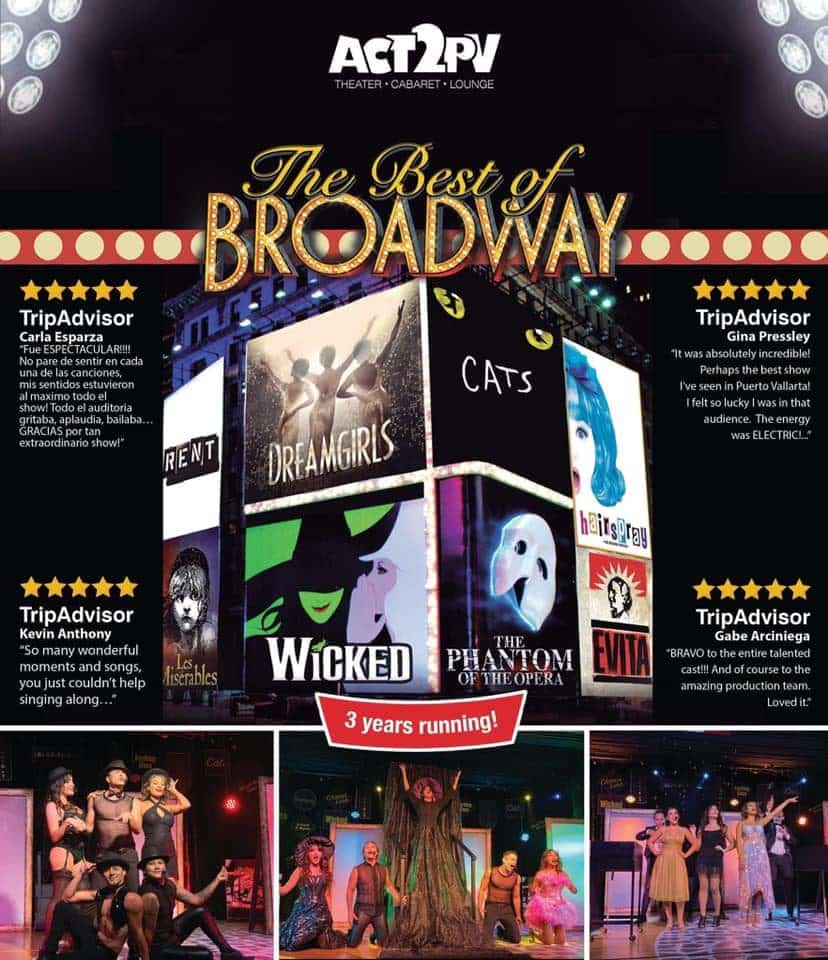 The troupe worked and moved set pieces visible through a lit sheer curtain. The energetic "State of My Heart" helped them work until the curtain rose and fittingly the full cast sang "Willkommen"…to the "Cabaret" greeting everyone to this show soon to be viewed and enjoyed.
They started this evening with one of the world's classics from "The Wizard of Oz", "Somewhere Over The Rainbow". "A Chorus Line" brought out toe-tappers clad in gold and black outfits dancing and high step kicking, singing "One", at times tipping their gold hats to the audience. They were in a line as seen often on Broadway, facing each other and then toward the attendees.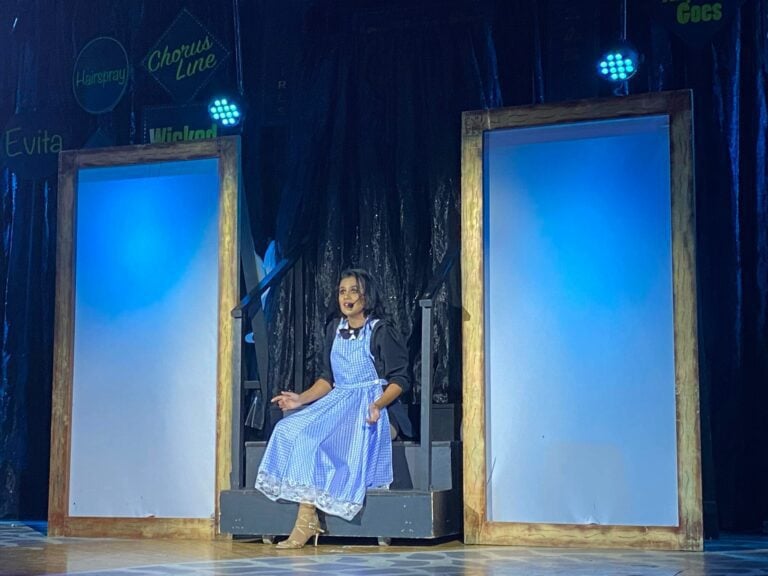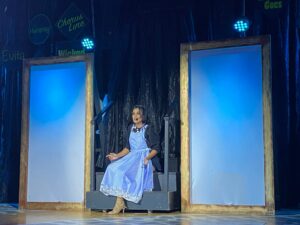 A section of the show was marked by huge posters on boxes with the "Best of Broadway" poster as a salute to many Broadway successes, each sung in snippets bringing back fond long-harbored memories. Songs included "Sound of Music", "I'm Gonna Wash That Man Right Out Of My Hair" and "Do-Re-Mi".
The cowboy ensemble danced to "Oklahoma" while riding colorful stick horses and snapping toy pistols. "Wicked" brought the terrific "Defying Gravity" and the cast performed it softly as dynamos.
Once again the song choices for this production are the best and most memorable ones taken from successful stage shows. Particularly noteworthy were the various combinations of synchronized choreographed dance steps and movements. Solo, then a deuce, a trio, the gang's all here.
Each member exuded joy of what they were doing on stage and of the responses received were uproarious applause. "Phantom of the Opera" tonight highlighted the emotional "All I Ask of You" which remains one of the most beautiful songs ever written.
The duo sang to each other as lovers."Dreamgirls" provided its top creation and was sung with such full force range. The emphatic "And I'm Telling You I'm Not Going" soared from Daniela, especially as she held the uppermost notes seemingly for an eternity. Hers was a stunning performance resulting with many attendees standing as she ended, after she had pulled the head mic off and displayed her awesome vocals without enhancement.
Brenda appeared as lovely as ever plucking from "Funny Girl" the stern composition renown by Barbra Streisand "Don't Rain on my Parade". Her small body strongly demanded to be allowed to go her own way and when she hit those high notes and then went upwards, everyone within earshot knew there was a star before our eyes. Many times she sang solo throughout the evening, being joined with others in background harmony, then all singing as an entity. Her beautiful strong voice was a thrill in every tune. "Memory" from "Cats" was equally done well by her but as a sweet soft love ballad.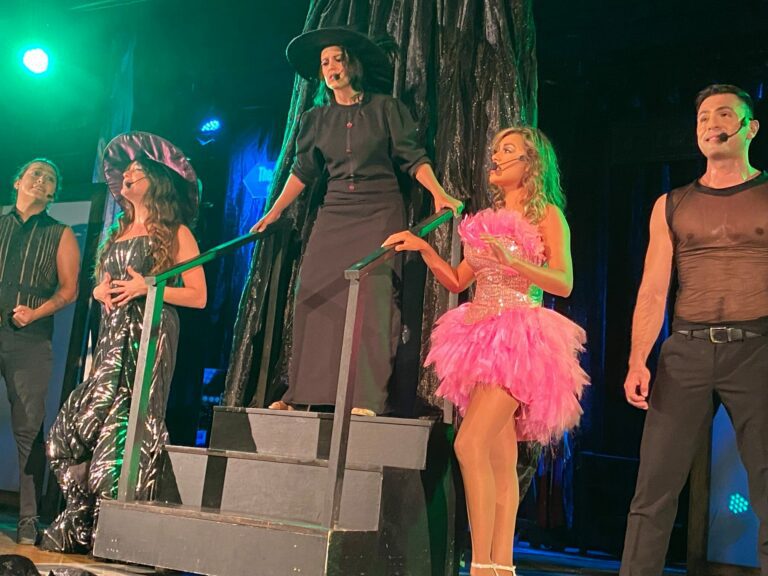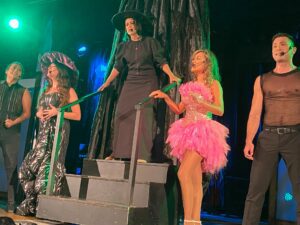 The set designs, fine locally-made costumes and choral harmonies in duets and solos are recognized for their brilliance and professional display making the show climb up the ladder of even greater success.
"West Side Story" brought out the girls being flirted with by gang members. It was a mini-synopsis of the story's plot, going from "Maria" to "I Feel Pretty" which featured two ladies singing about their beautiful looks.
Then the troupe merged in a swirling dancing pairs to "America". It was romantic and waltz-like. The title track of "Grease" made the cast jump and swing around with effervescent energy. It too took the plot with the tunes like "Summer Nights" and "Greased Lightnin'". A favorite "Hopelessly Devoted to You" was sung beautifully. One man sang to his adored "Sandy", the object of his love.
Another top tune from a show is "I Believe" from "The Book of Mormons". Marc embodies the lyrics deeply and stirred everyone present with his fantastic voice, depth and range.A strong performance by Victor, dressed in a white robe embodying Jesus asked "What If I Die" from "Jesus Christ Superstar". His best number was vocally bold and his voice seemed to quiver with the thought of his upcoming death.
An all-time favorite musical and movie, "Les Misérables" with its stirring French Revolution anthem, brought out the spectacular "One Day More". The cast showed the intense fervor which was essential in this scene. They moved as a crowd, complete with unfurled French flags colored blue, white and red. Bravos were heard everywhere."Rent" was represented with "Seasons of Love" with their flowing harmonies remarkably worthy of any city's top stages. "It's time now to sing out though the story never ends. Let's celebrate remember a year in a life of friends. Remember the love."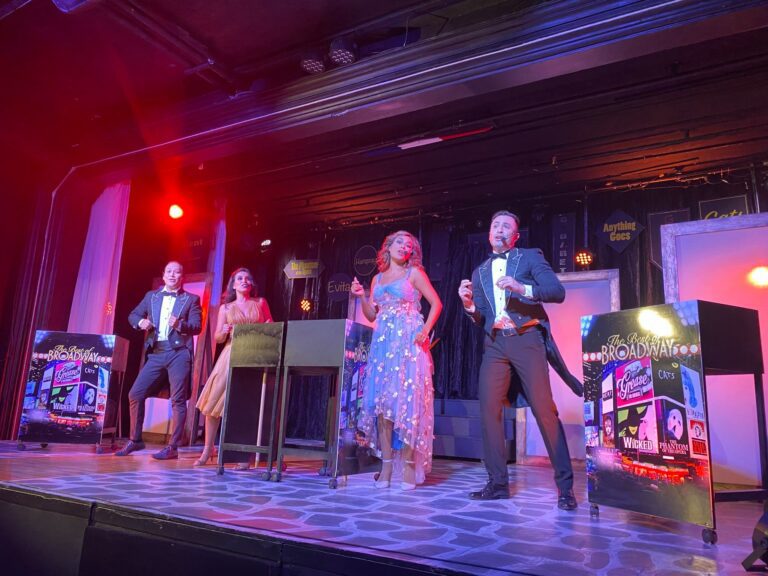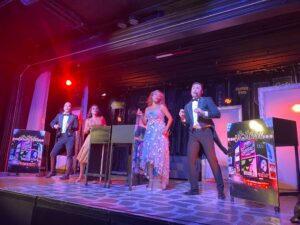 A final number of this Broadway musicals collection was "You Can't Stop the Beat" from "Hairspray": "But you cannot stop the rhythm of two hearts in love to stay." Then, the talented sextet came forth and one by one moved forward to their applause.
Before sending the attendees on their way, Marc Lopez and Daniela previewed each of their current shows, "Jersey Boys" and "Mamma Mia". Both of their shows will see a spike in attendance due to their and everyone else's dynamic performances here tonight in this must-see show.
Produced by Act2PV. Director Danny Mininni. Musical Director Marsha Ward Ross.Musical Producer Alfonso López.
Act2PV has implemented extra safety measures in its Main Stage theater including reduced seating capacity, ozone purifiers, ozone disinfectors, air purifiers and heppa filters. Social distancing is practiced.
Act II Entertainment – Act2PV – Stages
Ninth Season 2021-2022
Insurgentes 300 (corner of Basilio Badillo and Insurgentes]),
second floor Romantic Zone/SouthSide
Puerto Vallarta, Jalisco.322-222-1512
Show information: www.act2pv.com
E-mail: act2entertainmentproductions@gmail.com
The box office is open from 10 am – 10 pm.

Gary R Beck is an entertainment writer based in Puerto Vallarta , and manages several Facebook groups dedicated to covering PV entertainment including OldTown/SouthSide: Puerto Vallarta OldTown/SouthSide
More of Beck's Best: Theater, Cabaret and More!: Puerto Vallarta Shows: More of Beck's Best: Theater, Cabaret and More!
Related: