Esta publicación también está disponible en:

Español
Tamale Ringwald is a multi-platform artist and business owner in Puerto Vallarta, Mexico where he lives with his husband Sugarbaker and his rescued beagle named Frida, above one of the best fruit and veg markets in Zona Romantica. A painter, a drag queen, a muralist, a musician, a dancer, a designer, and a yacht tour owner…he's so on fire you could say Tamale is hot.
Seeking Mexican Culture
San Francisco was a nice place to grow up, as Tamale Ringwald recalls, and Tamale's father's side of the family were Mexican, but they didn't speak a lot of Spanish. It's pretty common for immigrants to not teach their kids Spanish because they want you to acclimate into America. The result was Tamale didn't really grow up with a lot of Mexican culture, so he has always been seeking it out.
Although Tamale went to school to become a professional dancer for ballet and modern dance, every time he choreographed a dance he would create a painting to go along with it. Always visually expressing himself Tamale began taking painting seriously in 1999 when he had his first art show in Los Angeles under his art handle Danyol.com. The success of the show gave him the inspiration and belief that he could excel at his art.
A multifaceted performer Tamale does a drag show once a month and has a punk band called Muñecas in San Francisco. In the summer months he goes to San Francisco and plays with them at queer festivals. They also get together and write new music in the summer, Muñecas has four albums on Bandcamp.com.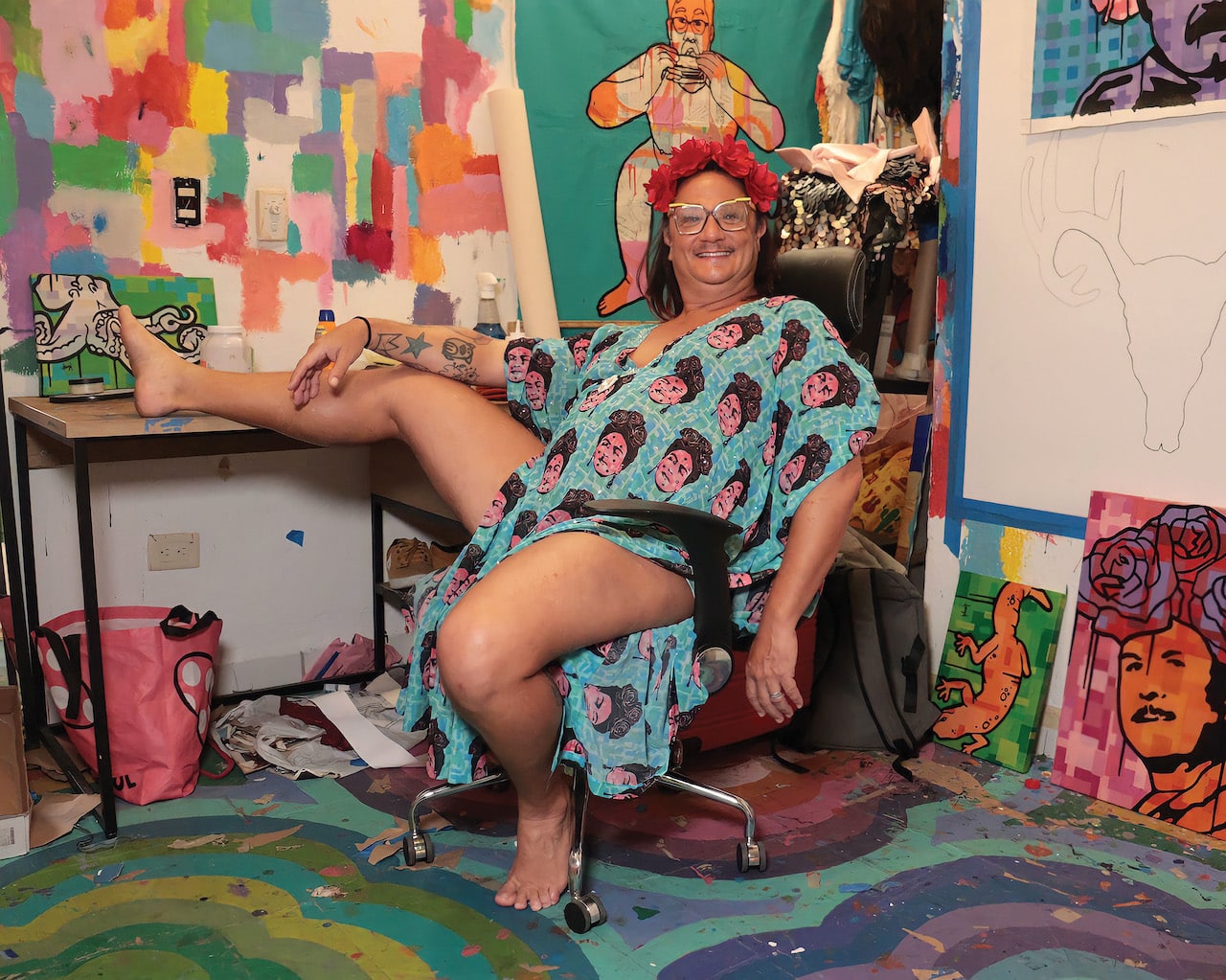 Never Look Back
Although they had been traveling to Puerto Vallarta on holidays for the past 15 years, Tamale and his husband moved here officially three years ago. They fell in love with Puerto Vallarta as many do, so they packed up their suitcases and dog and moved to PV, and never looked back.
Inspired by large pop art like Warhol, Lichtenstein, and Jasper Johns, Tamale wanted to paint large enough to cover an entire wall. So he called well-known Vallarta singer Effie Passero and asked her if he could paint her a mural, of course she said yes. So, Tamale went over with a bunch of paint and did a massive Frida Kahlo mural which got a lot of attention and a lot of traction on Instagram.
So it began that Tamale started striking out doing murals, and people now bring him out to Seattle, San Francisco, or Palm Springs to do their murals. This is a chance to paint big and travel.
Come Out & Dance
Growing up, Tamale's church had a performing arts group where they performed The Sound Of Music and went on tour. At the same time Tamale was working at Disneyland, and joined the Teenage Mutant Ninja Turtles on their national tour.
Tamale confesses that he probably did try to pray himself straight but it was weird, his church was half gay, but nobody talked about it. One night after a Tori Amos concert, Tamale just walked across the street into a gay bar and announce that he was gay. "Somehow Tori Amos just brought the gay out of me which I think happens to a lot of people."
Kaftans & Jockstraps
Tamale wanted to see how his art would translate to fabric.
"Because the style of art that I do is very squares on squares, it almost looks like pixels and I thought it would lend itself nicely to a step and repeat thing like a pattern so I started playing around with that, so I hooked up with my great friend José Luis in Puerto Vallarta under his brand Joselo.shop," he said.
Tamale provided the art for the fabric and just started playing with it and so now he has a line of clothing including speedos, shorts, jockstraps, tank tops, and kaftans all done under the Joselo brand.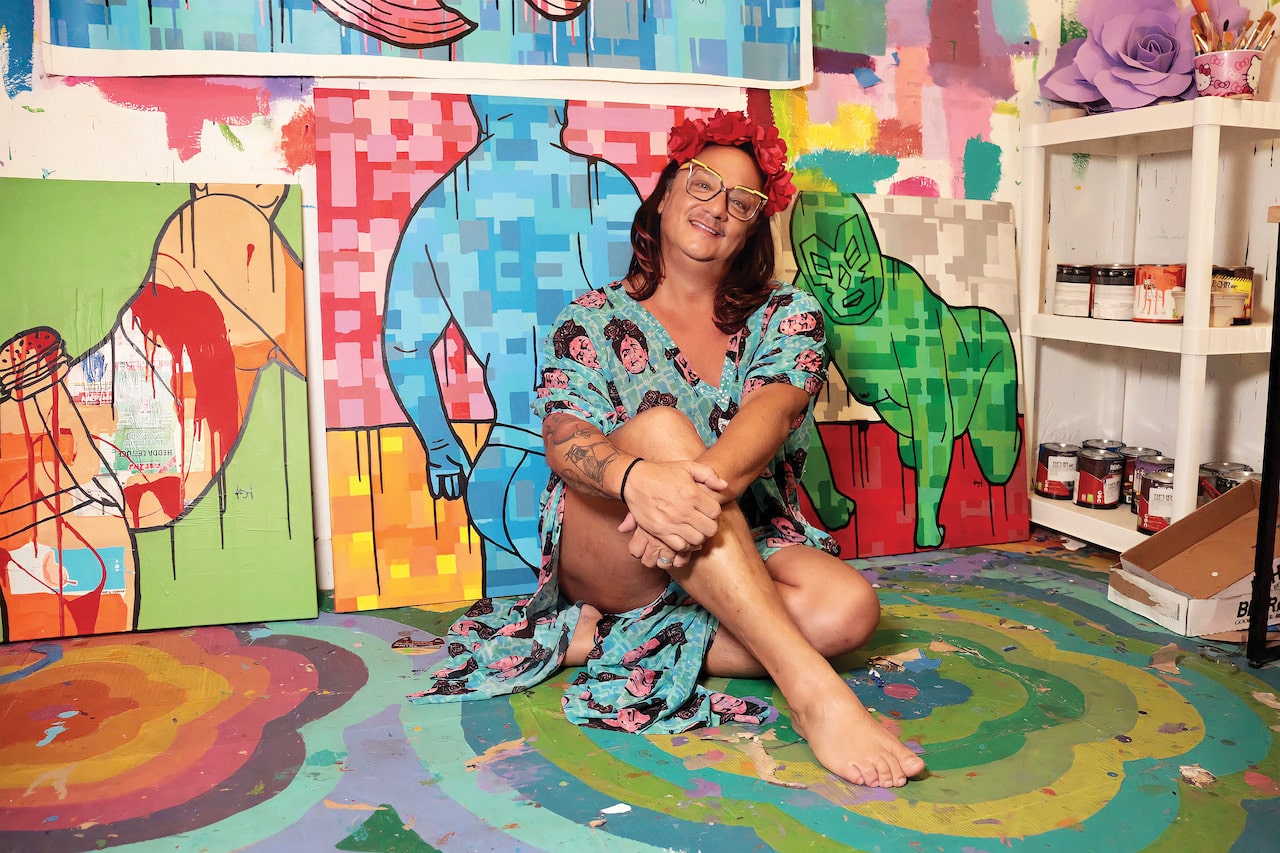 Gay Phone "Chatline"
Meeting his husband Sugarbaker through a gay phone chatline 28 years ago, Tamale's romance pre-dates the internet. Gay hotlines where a big part of queer culture in the early 90s. "That's how, if you weren't comfortable going to the bars or if you were in the closet, that's how you met people."
'Every Body' Cruise Now
Coming to Vallarta and just being yourself and being genuine goes a long way, is Tamale's experience. He and Sugarbaker always loved going on cruises and whale watching. So, they thought, why don't they do something but put their stank on it so to speak.
"Give it a weird San Francisco feel. I didn't see any companies that were marketing to fringe communities like elder gays or the trans community or lesbians or people of color, or women, so I purposely wanted to start a cruise company that was for everybody and every body," Ringwald said.
Tamale and Sugarbaker were very fortunate to have a number of local bar owners and business owners put their support behind them because they genuinely liked them and they liked their product. Tamale's Tours' first season was in 2021 and they only ran once a month. They were really successful their first year, so the next year they did it once a week and they continue to run it once a week, every Friday, from Thanksgiving till Pride. And they just completed their first ever New Year's Eve cruise which Tamale was so excited about.
"We had a blast with live performers and a DJ, go-go dancers, magicians, it's was something different," he exclaimed.
Rock The Boat
"I'm gonna be 53 and my husband's gonna be 75 and we have a lot of experience in what we're doing with travel, event planning, and working in bars, and restaurants and working with the public, and Disneyland," he said. "…and all of that lines up into what we do now. I mean, if I could paint on a boat while wearing a kaftan with my art on it, while playing guitar…now that would be perfect."
Related: