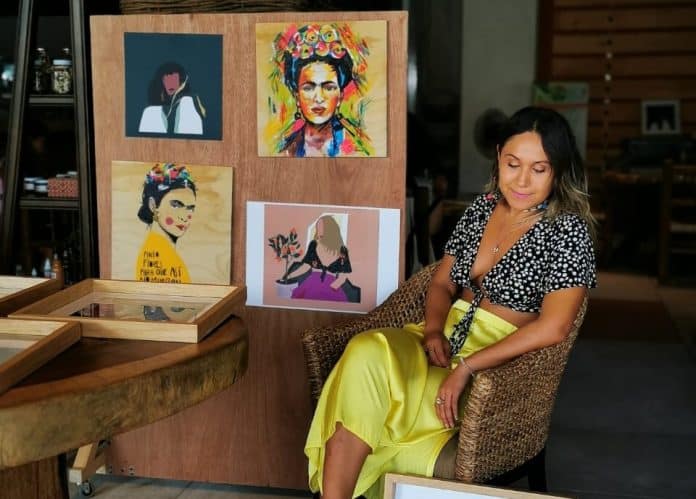 Esta publicación también está disponible en:

Español
Sharo's art has touched many areas of romantic zone but she has also touched many hearts. She is one of the local artists who makes art on the streets of Vallarta not only to make herself known but also to promote mutual respect and empathy for others.
She became better known among the LGBT+ community for creating the Vallarta Pride 2020's official image. Sharo also gained a place in the hearts of people living with disabilities thanks to her contribution on the streets of the Romantic Zone where she gave life to a ramp that serves to enable people with disabilities to get on the sidewalk.
Sharo, tells us in her own words how she has gradually entered the hearts of people in Puerto Vallarta.
How did you start making your way in the art world in Puerto Vallarta?
I started studying interior design, it is a career that I consider opens you up many paths and offers too much, for me, carpentry, electricity, fabrics, painting, photography and art; However, I have considered myself a person who is in constant search of development and in my case, the art pulled me further. There has always been that passion for painting, it is something that I really enjoy.
After working in a clothing store here in Puerto Vallarta for approximately three years doing commercial interior design and learning a lot about store layout and colors I started to see the other side of learning color compositions. For one thing or another I finished that project but art was always present.
When I left the clothing store I began to ask myself what to do and where to move, I had no idea where to start but I had the dream and the goal of getting people to know my art and my essence. So I opened a store that, although it made my name even more popular, at some point it showed me what I suspected, that I was not born to be trapped by my own in a studio so I decided to go ahead and look for more opportunities.
With a voracious hunger to continue creating and filling my being with what I am most passionate about, thanks to Nico, owner at Pal'Mar, the restaurant-bar in Ignacio L. Vallarta #268, the opportunity arose, it was about painting a mural in Romantic Zone, aimed to promoting respect for pedestrians living with disabilities and who need to use the ramps in order to get on the sidewalk.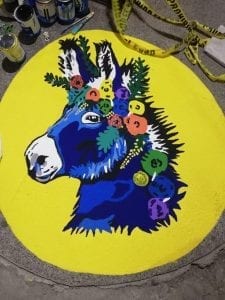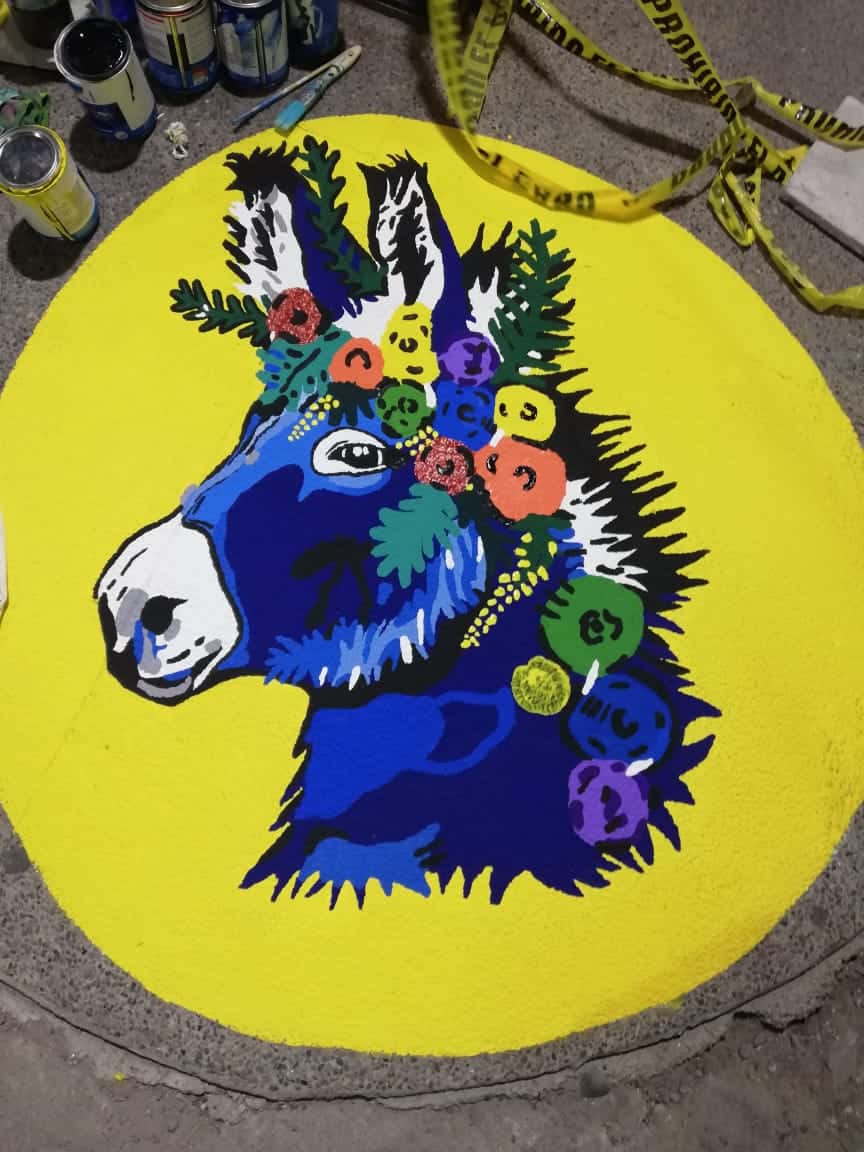 What makes you different from other local artists?
I've always done what I'm most passionate about, I started the urban art because it has always caught my attention, I have a lot of experience doing it indoors but doing it outdoors is completely different and it is very beautiful because you learn everything about what you should do and what you shouldn't do since you are exposed to a lot of people.
Romantic Zone has a special charm, it feels very cool to be recognized here. My work in this area had a great boost thanks to the message of my work.
To give life to empty spaces is one of the things that people will always be grateful for, even to this day, the people see me and congratulate me and my team for that action and that has been my greatest satisfaction.
This year, Puerto Vallarta alludes to the pride of being Mexican, how does it feel to be the one who made the official image of this international event and what was your biggest inspiration to to achieve consolidate this image?
When I was contacted for this project, I felt very proud and excited that they have chosen a local person who works with color the way I do.
I have moments etched in my memory during my charcoal drawing classes, when the teacher used to play cetacean sounds so we can focus and get inspired.
Whales are something very representative in Puerto Vallarta, we have all witnessed that when the whales arrive there is a radical change in the Puerto Vallarta movement, I want people to continue to marvel at this beauty that reproduces on our coasts.
For this work, inspired in the imposing beauty of the whales, I handled several sketches and presented things that I liked and transmitted positive things to me, in order to transmit those same emotions to the people.
All of us artists work under a perception of things, I try to transmit union, but also love: love towards the sea, love towards nature, love towards sound, I am deeply grateful that they have chosen me and that they have trusted my perception.
To finish, could you tell us what is next in your career as an artist?
My next step is to have my own co-working space with more creative people and artists. Above all, I would like to
be able to bring opportunities to the talented people who live in Puerto Vallarta and do not have the tools to get ahead. I was very lucky to have people that extended their hand to me and there is nothing I would like more than to give someone else that luck.