This post is also available in: Español
With the official Puerto Vallarta Pride Festival canceled due to the pandemic, a group of volunteers have joined together to bring a week full of virtual pride events.
Taking place June 8 to June 14, the Virtual Pride Festival will be held via FaceBook Live from this FaceBook page.
Here is the daily schedule. Make sure to tune in and support all of these great businesses and performances. All times listed are Central Time Zone.
Monday, June 8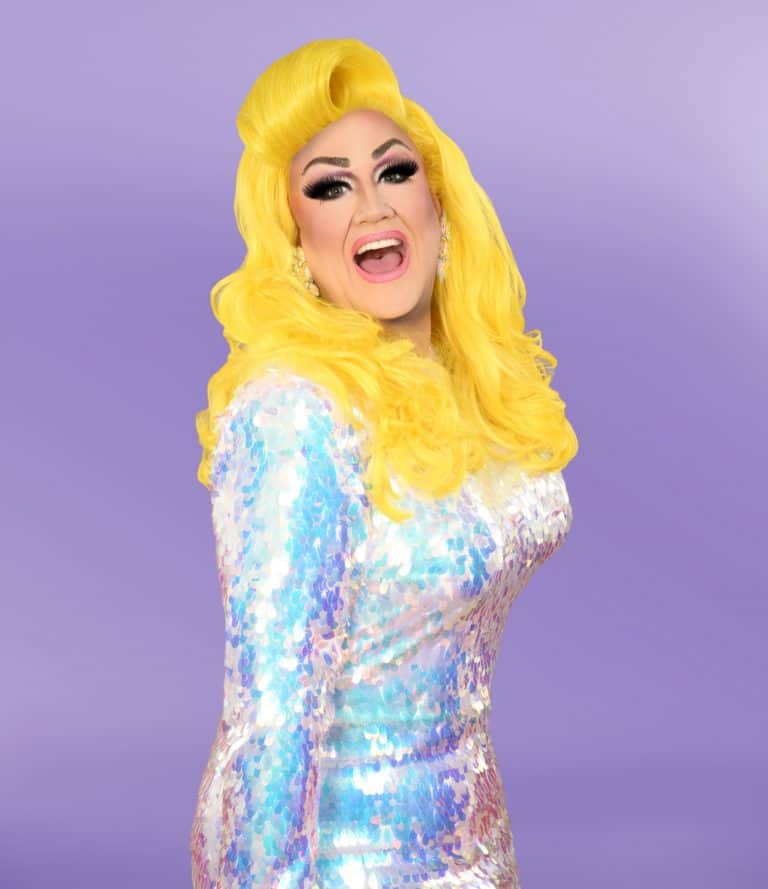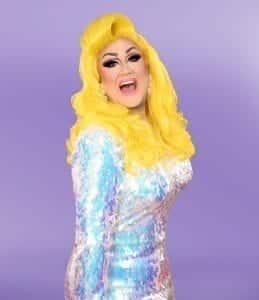 6:30 p.m – Opening Ceremony
7:00 p.m. – Miss Conception
8:00 p.m. – Dixie Leonard
---
Tuesday, June 9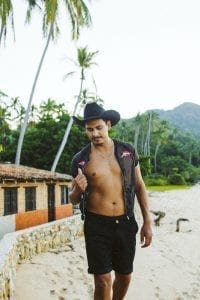 10 a.m. – Traveling Yogi Retreats
11 a.m. – PVRPV Virtual Tour Virtual
11:30 a.m. – Paco Ojeda: La Vida Gay
Noon – Jet's Boat Tours
1:30 p.m. – S.E.T.A.C. Wellness Center Chat
2:30 p.m. – Cassandra Shaw Jewelry
3:00 p.m. – Baking With Edy
4:30 p.m. – Javier Figueroa Cantante
5:00 p.m. – Rodrigo Flores, Mental and Emotional Health
6:00 p.m. – Michel Giglia – songs from Paris
7:00 p.m. – Jon Buitron Clases de Español
8:00 p.m.  – Mercurio Hotel, Variety Show
---
Wednesday June 10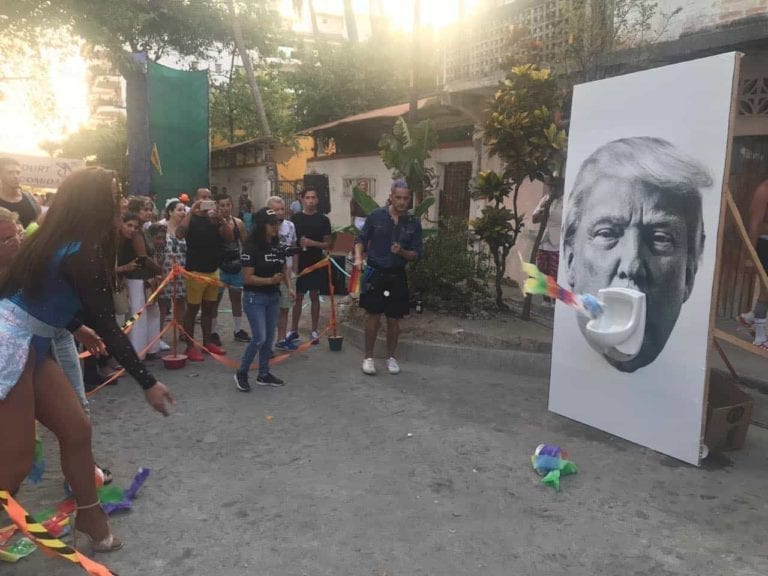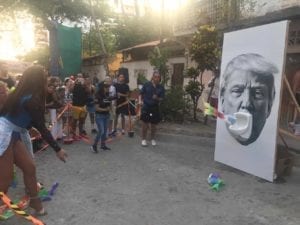 10 a.m. – Queer Yoga With Wilis Johnston
11: a.m. – PVRPV Tour Virtual #2
11:30 a.m. – Paco Ojeda: La Vida Gay
Noon – Ryan Donner & Associates Buying property in Mexico
1 p.m. – Codicen Y Revista PrismaQueer
2 p.m. – Cockrings and Cocktails by Hector Belloc
3 p.m. – The Cookie Lady
4 p.m. – Reinas: Tea with the Queen
5 p.m. Dance Class with Rodo
6 p.m. – Lady Zen
7 p.m. –  Drag Derby 2020, Compliments of BC LIVE Productions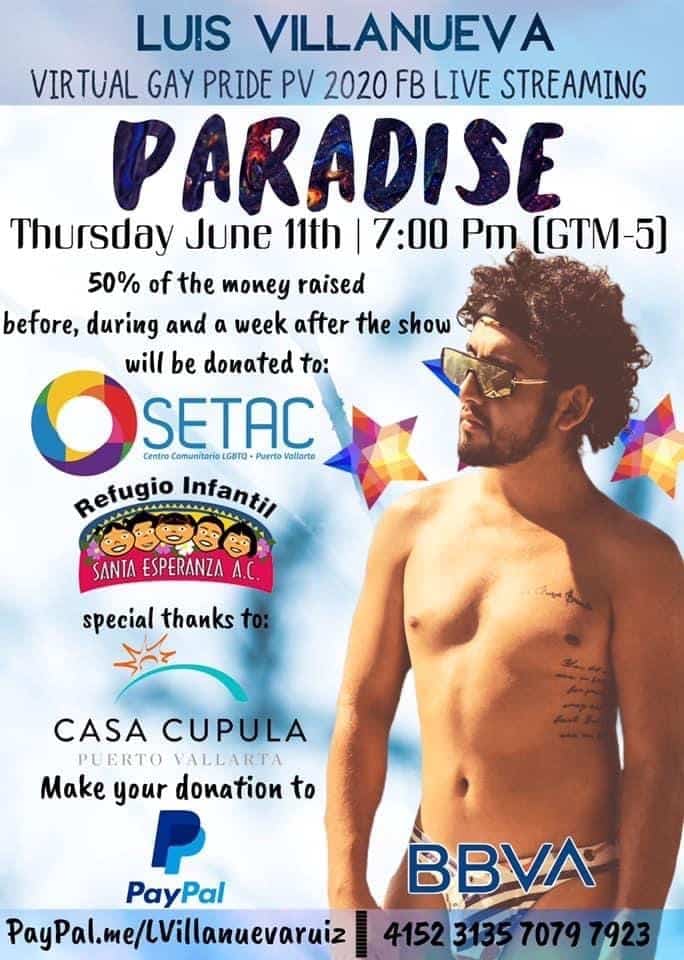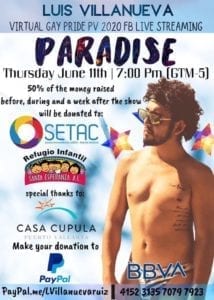 11:30 – Paco Ojeda: La Vida Gay
Noon – Myskova Beach
12:30 p.m. – Salud Super Foods, Smoothie Arcoiris
1:45 p.m – Abraham Solares Photography: Live Call Tutorial de Iluminación
2 p.m. – S.E.T.A.C. Fuerte y claro: Indictectable=Intransmisible
2:30 p.m. – Grupo Las Olas: Top 5 Issues Affecting LGTBQ Tourist & Immigrants in PV
4 p.m. Angel's Store: Fashion Show
5 p.m. – Brush Babes Sip and Paint
7 p.m. – Luis Villanueva in Paradise
8 p.m. – Kooky's Karaoke and Drag Show
9 p.m. – Teatro Perro Bravo: Princesas Desesperadas
10 p.m. – Angiestar PV: Live Show Cumpleaños
---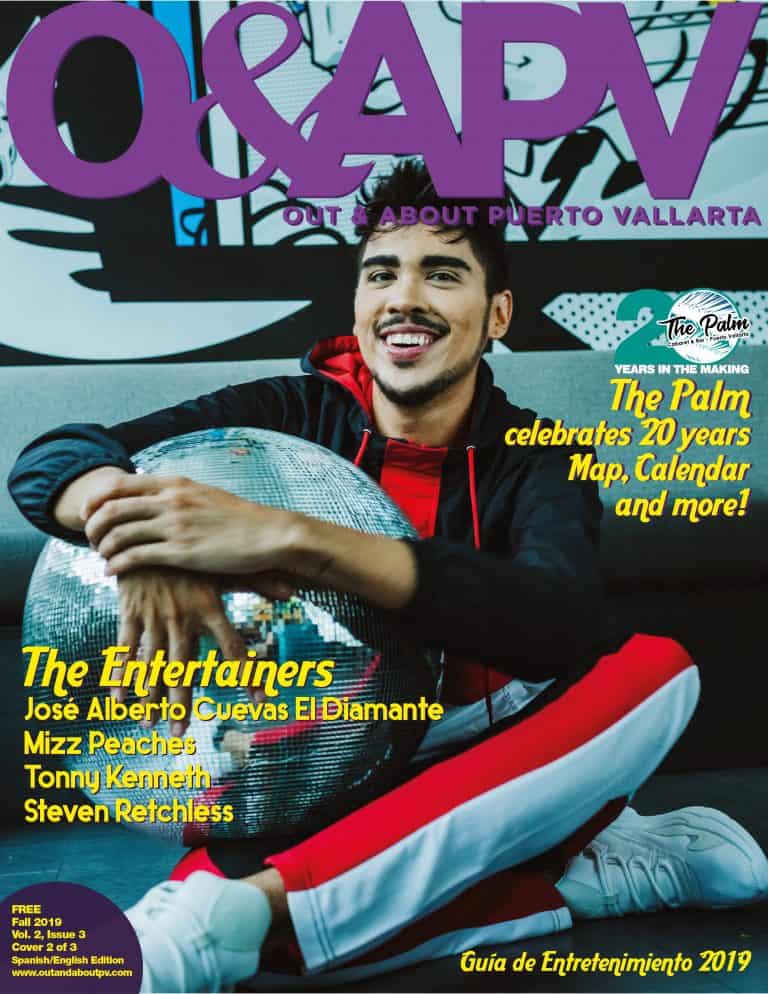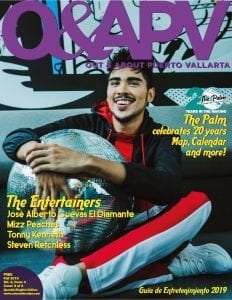 10 a.m. – Queer Yoga with Willis Johnston
11 a.m. – PVRPV Tour Virtual
11:30 a.m. – Paco Ojeda: La Vida Gay
Noon – Sesiones: Jean Mendieta
1 p.m. – Zumba with Hola Fitness
3 p.m – Chef Tony Cooks and Follies La Rouge perform atop Andales on the Bay
3:30 p.m. – Puerto Vallarta Street Art Tour
5 p.m. – Diva Divine Drag
6 p.m. – Chachalaca Bar featuring Tonny Kenneth
7 p.m. – Mama Tits and the Underwires: Beyond the Rainbow
8 p.m. – Happy Hour at Apaches
9 p.m. – Pink and Proud: Live with DJ Void
10 p.m. – La Noche Bar Show
---
Saturday June 13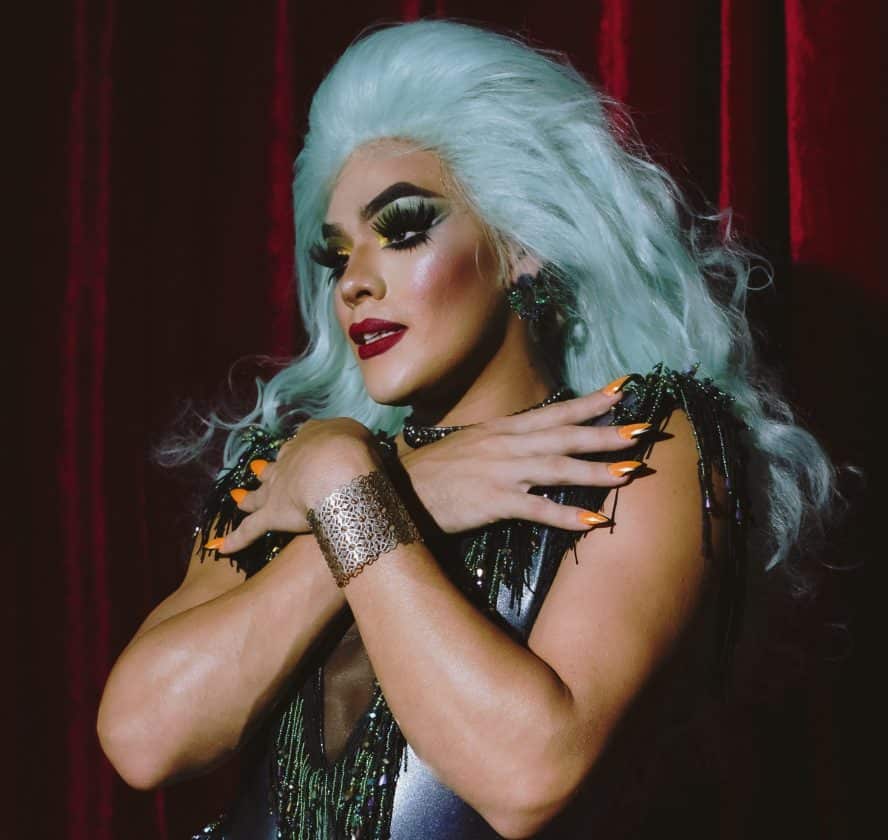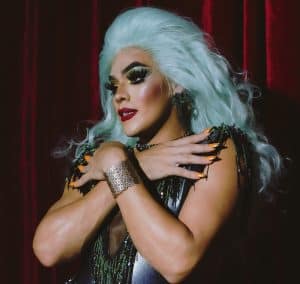 10 a.m. -Traveling Yogi Retreats: Pay it forward
11:30 a.m.  – Paco Ojeda: La Vida Gay
Noon – Ryan Donner & Associates Virtual Property Tour
1 p.m. – Pride with Us Amsterdam Featuring Mizz Peaches
2 p.m. – KY Moda Independiente
2:30 p.m. – PVRPV – Cooking with Pride
3 p.m. – Mexico Event Design: Same Sex Destination Weddings
4 p.m. – Bingo with Aunt Pearl and Guests Cellar
6 p.m. – Teatro Perro Bravo: Buyer & Cellar
6:30 p.m. – Cocktail Making Masterclass with Mario
7 p.m. – Blue Chairs Resort: The Dirty Bitches Show
8 p.m. – Divas de Rancho
9 p.m. – A Night at Anonimo
10:15 p.m. – Antropology: Pole dance
---
Sunday, June 14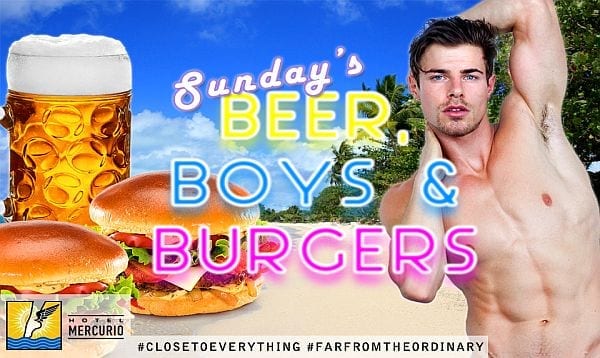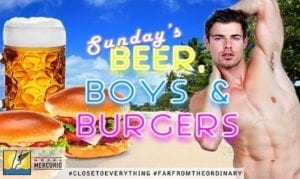 10:30 – Doctor Puerto Vallarta
11:15 – Ayúdanos a Ayudar
11:30 – Paco Ojeda: La Vida Gay
Noon – Ocean Friendly Tours with Oscar
2:30 – Redd Gate Gallery: Pottery
4 p.m. – Jon Buitron: Learning Mexican Slang
5 p.m. – Hotel Mercurio Beers, Boys & Burgers
6 p.m. – Closing Ceremony
---