This post is also available in: Español
Henry is a native of Los Angeles who moved to Puerto Vallarta in the fall of 2016.  He works remotely doing marketing consulting and graphic design for his clients in the U.S.  When he's not working, he can usually be found relaxing on the beach or having a fun night out on the town.  He's a foodie and is always on the search for the next great restaurant to obsess over.  He's a fun person and always looking to meet more people, so don't be afraid to say hello if you see him walking around town!
What is on your bucket list?
Being afraid of heights, one of my bucket list items is to go parasailing on Los Muertos Beach.  Maybe one day I'll get over my fear and actually do it!
What is your signature cocktail?
Oh, I love mojitos, and restaurants here in Puerto Vallarta seem to have that perfected.  But my favorite has got to be the "Cosmojito" at La Leche.  Just like it sounds, it is a mix between a cosmopolitan and a mojito, and it is fantastic.
Do you have any guilty pleasures?
The nacho-flavored Doritos here are different from the ones in the States.  I've been known to go through a whole bag while watching Netflix on a rainy summer night.
What would your autobiography be called?
I think I would call it "How Henry Got His Life Back."  Growing up in Los Angeles, I had a fairly carefree childhood, but as I grew older, there were a lot of pressures to do well, find a high-paying job, be able to afford a house, find someone to marry… there was a checklist of things society expected from me to have and achieve.  Life there was all about accumulation of things.
And of course, being in L.A. with the high cost of living, I spent most of my time working and constantly stressed about money.  One day, while on vacation here in Puerto Vallarta, I wondered what it would be like to live here, and decided I was going to take a chance and do it.  That was the best decision of my life.  My life is so much simpler.  I'm so much more relaxed.  I don't stress about things like I used to.  Now I truly feel like I am living my life.
What movie title best describes your life?
The Breakfast Club. Not only did I grow up loving that movie, I think it teaches us to look past our own prejudices and learn to relate to people who are different from ourselves.  I strive for diversity in my life and love learning from others.  It's fascinating for me to learn about other peoples' lives, their childhood, where they came from, and comparing them to my own life.
What always cheers you up when you think about it?
I live in paradise! Every day I come across tourists who are having a fantastic time here in Puerto Vallarta and they're sad to have to leave, but I get to stay!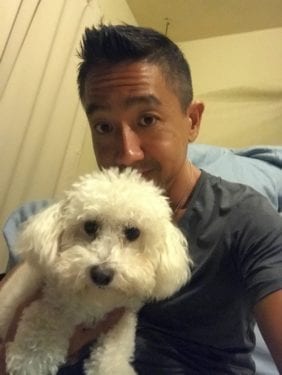 Photo at top: with Ross Mathews