This post is also available in: Español
Puerto Vallarta will not be short on activities for participants or spectators as the Festival de Dia de los Muertos takes over the city with entertainment for all ages.
Some revelers will dress up as Art Vallarta joins the Amapas Neighborhood Association to throw a big block party on Halloween night, October 31. Options abound that day, including exhibits at the Cultural Center on Rio Cuale Island and at City Hall. (Be aware that November 1st is a National Holiday so banks and government offices will be closed). Or join the parade from the cemetery in the 5 de Diciembre neighborhood, down the cobblestoned streets to the Malecon and into town.
A growing local custom on the first Saturday of November is the "Fiesta en la Calle" located at the cross streets by Los Muertos Brewing (Lazaro Cardenas 302). With this event increasing in popularity, Out & About PV decided to find out what the impetus was for the musical extravaganza. I sat down with owner Conner Watts at the brewpub in early September to ask about the festival, his beer, and of course, his pizza.
More than just an affable beer geek, Watts is admired for his dedication to the community and has been praised by other local businesses for the research he did prior to opening his establishment. Like many of us, Conner and his wife Stephanie were looking for a warmer climate to hang their hats. Moving from the United States, they spent a year settling in to Vallarta before they developed the plan to open a restaurant—and another year of construction passed before it opened.
Watts owned a restaurant in Park City that was more of a bar that happened to feature New York-style pizza. His challenge in Vallarta was to figure out how to make a pizza that was as good—if not better—than what he had made before, with local ingredients. Flour, water and yeast may seem like a simple combination but, for a pizza aficionado, finding the right combination presented a challenge, especially in a climate where the humidity can affect the dough-making process. For many locals, Watts has seemingly perfected the recipe, as his pies are consistently considered to be among the town's best.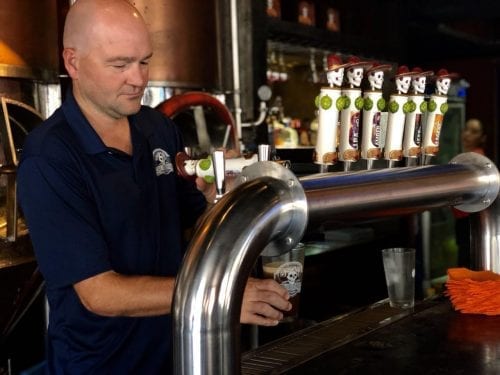 The hole in the market they were trying to fill also involved craft beer. Watts began home brewing as a hobby when he was eighteen years old at the University of Colorado. With a lack of artisanal beer here, and the universal appeal of the beer/pizza combination, he and his wife hoped to literally thirst the quench of those looking for something beyond the local cervezas.
Opening up their brewery was not without its challenges. Watts confides "when we first started, we had some growing pains in our brew house. It was a little bit hard to control our fermentation temperatures, which is extremely critical to making good beer." Adding to his frustrations were issues with CFE (the local electric company) that took time to resolve, though by the end of their first high season, Los Muertos had already begun to develop a loyal following.
Expecting the tourist market to try a "local" brew, as is the custom with many beer enthusiasts from Canada and the United States, Watts was surprised that many of their first fans came from the Mexican clientele. Interesting still was the popularity of Latin American tourists that began to patronize the bar. Argentinians, Watts admits, seem to be an especially notable group to imbibe his creations.
This unique mix of clientele affected their product mix, as the brewery shifted its focus to its stout beer, among others. He clarifies the misconceptions that some "North of the Border" people have: "A lot of people may think they're going to drink a stout when they're huddled up next to the fire, eating a shepherd's pie or something like that. And in a tropical, super hot, humid climate, it doesn't even cross their radar as something that they want to try. Mexicans in particular haven't been trained that way. They taste us out. And they're like, oh, it tastes like coffee. It tastes like chocolate. It's got a different texture. They gravitate away from the bitter beers and focus on the super dark beers, which I never imagined would be the case. Many of my Mexican customers now drink bitter beers, but they generally don't start out that way."
His popularity with the locals may have as much to do with his involvement in the community as his beer. Beyond sponsoring a softball team, Watts has been instrumental in adding to the festivities of Dia de los Muertos with his annual "Fiesta en la Calle." This popular street party evolved from what was originally a celebration of making it through their (challenging) first year.
As Watts reveals, "Our first anniversary was how this all started. It was November 2nd. That year it was a Saturday. So we closed down the street in front of our place and invited some bands. And it was a really great street party. And it was so successful that we continued the next year when the 2nd of November was on a Sunday. And the following year, when the 2nd fell on a Monday, we decided that we should keep it on the weekend, so now we celebrate our anniversary and our portion of Dia de los Muertos celebrations on the first Saturday of November every year, which would make this year's on November 3rd." This actually works out better for some people who have prior commitments to celebrate on the Friday night, when the majority of events will take place.
When asked what we can look forward to, Watts excitedly shares how they will be closing the streets by their downtown location (Constitucion and Lazaro Cardenas), with a DJ and live bands playing from early afternoon until the Mariachis finish around 11 p.m. The event is free to all, with the day's proceeds going to a local charity. As an official city event, the "Fiesta en la Calle" is included in all of the promotion for Dia de los Muertos events and municipal workers provide assistance to close the street and patrol the area.
I ask what his favorite part of the event is and I am treated to the history of how it all began. "I met my wife because I booked the bands in a bar," Watts confides. "And she was a singer in a band called Funk Schwa. And her band was local to Salt Lake City and my bar was in Park City, Utah, and so they played at least once a month (for us) and had great gigs. I really enjoyed their music. And when we moved to Mexico, they lost their vocalist. And concurrently with our move, their trombone player also moved away to Oregon. So the band ceased to exist. And when I had the idea of getting the band back together to play for the first "Fiesta en la Calle", it worked! And we got six of the seven former band members down here. And I had so much fun—and they had so much fun—that this will be their sixth year coming down."
Other local musicians from Vallarta add to the community spirit of the event—including Roxy's House Band and Nacho Daddy's Texas Embassy Blues Band and several other Canadian and American musician and vocalists. And the aforementioned Mariachi band to close the festivities. I commend him on his inclusivity and he divulges that it was a cornerstone for starting their business down here. "We opened with the idea of inclusiveness towards everybody, whether that's religion, skin color, sexual orientation—we are here for everybody."
By the time they've recovered from their anniversary, high season will be upon us. When asked what we can expect from Los Muertos in the near future, Watts divulges that due to having reached capacity at their current brew house, a new project is in the works down the street from their current location to enable more brewing, cold storage and distribution capacity. It will eventually serve food that pairs well with beer, but not pizza obviously, due to its geographical proximity. It will not be up and running until later next summer, but when it does, their current brew house will be able to offer even more seasonal, experimental beers, fulfilling Watts' curiosity and diverse palate.
His enthusiasm for beer is evident throughout our conversation and I ask if his brewmaster talents ever feel overshadowed by the popularity of his pizza. "I had an expectation to be known for my beer but we're much better known as a pizza place than a beer place. They're both my creations so I take pride in them both."
Illustration by Michael Noel Wallace