Esta publicación también está disponible en:

Español
Mrs. Kasha Davis was bouncing from chair to chair, from the blues to the greens, down Playa Los Muertos when we met. Wearing no makeup and dressed in a elaborately crafted caftan that only Mrs. Roper would envy, she was handing out little flyers, not much bigger than business cards, promoting her show at Act II the following evening, a first-time shared production with her hometown colleague Darienne Lake.
I said, "Let's get together in a couple days and chat."
"Yeah yeah yeah," she said, promising to look me up on Instagram later.
And so it turned out that Christmas Day was the perfect time to escape from our daily responsibilities and sit on the porch at Sapphire Ocean Club to talk all things drag and RuPaul's Drag Race.
But first: about those little hand-out promotional cards…
"They definitely are popular in P-town," said Darienne, "and I really feel like Puerto Vallarta is becoming a P-town South. You have to promote, especially to the visitors who are heterosexual who have no idea what's going on in town."
"When I went to see Miss Richfield in Provincetown," said Kasha, "she just made fun of my husband's hair because it looks like, it was like a pompadour and she was like hang on to that! it's coming back! you know? And we just found it so frickin' funny, we were like we've gotta go see what else she says."
"She drives around on that scooter in P-town and…"
"It's like the show before the show."
Both hail from Rochester, New York, a small city that like many in the region was once a manufacturing powerhouse but faced economic collapse beginning nearly 30 years ago at the dawn of the original NAFTA agreement. Both had auditioned nearly every year since the very beginning of Drag Race and enthusiastically so after another Rochester native, Pandora Boxx, earned a spot in season two.
Darienne Lake finished fourth in season six (the winner that season was Bianca Del Rio) and Mrs. Kasha Davis arrived just one season later (winner: Violet Chachki) where she placed 11th.
"Right around that time that they were auditioning for season three is when our good friend Naomi had passed away," said Darienne, "and also another close friend of mine who I worked with at the hair salon for ten years, he passed away, all within a year. I was just not in a place to audition, so I didn't do anything those times. I auditioned for season four. That tape will never see the light of day because it's depressing, really. Because there was so much darkness around me at that time."
She felt a likelihood that she'd soon be selected, though, and by season six producers came calling—sooner than she'd anticipated, in fact.
"She was submitting the video at my house," said Kasha, "and of course at that time I was drinking heavy and I was like drink this box of wine and so she sent the video in and we were like ok, that's it for the night. And I think within ten minutes, they call her!"
"My video was ten minutes long," Darienne said.
"They were like, we love you!" Kasha said. "And then they wanted some other things, and we were like…"
"We were already drunk. So she [Kasha] was like let's get a camera ready! and you know how they say 'stop trying to give the judges what you think they want? Give them who you authentically are? And how they say that drunk people and babies tell the truth?' I think that really helped. So I'd say to anyone who wants to audition to get drunk. Or don't."
"Yeah yeah yeah," said Kasha.
Every drag queen has an origin story. Though the two aren't very far apart in age out here in the real world, the career of Darienne Lake is nearly 15 years ahead of Mrs. Kasha Davis.
"I started in 1990," Darienne said. "I graduated high school in 89 and then I went out to the gay bars and stuff right at January 1990 and I didn't really feel like I fit in in that community. It was weird. I'd grown up a chubby kid, and then you go there and you're like, "I don't fit with these people either. I don't know what I am, you know, what my deal is." And then in August of that year I tried drag and I was hooked. I thought it was so much fun and it just took off from there. Then I felt like I found my tribe, you know?"
And the name, Darienne Lake? Locals in the Upstate New York area will recognize the name, phonetically anyway, thanks to the popular theme park in the region.
"When I was first painted up I looked like Ricki Lake from Hairspray so my friends were like "You can be 'Tracy Turnblad!'" and I hadn't seen Hairspray yet so I didn't want to have this horrible name. I was gonna be an eyeshadow color like Mauve Sunset or Dusty Rose or Heather Sky and I was deciding on Heather Sky and they were like "well, be Ricki Lake" and I'm like "well, I don't wanna take somebody's name." They said, "well, be Ricki Lake's little sister, Darienne Lake!" because of the amusement park. They were like "you could be 'two tons of fun.' I was like "okay? I guess?" so it just sorta stuck. And I changed the spelling a little bit so that I wouldn't get a cease and desist order! I wish, if I could go back in time, I would've chosen something really easy to spell."
"I started as someone who'd go to see Darienne perform in Rochester around 2000," said Kasha.
"Because you were new to town…"
"I was new to town, yeah," said Kasha. "I went to school for theater but I wasn't performing and I'd go out to the clubs and get hammered and see the shows and I saw Darienne, I saw Pandora Boxx, and I was like 'Oh my god, they're so pretty. I don't relate. I could never do that.' At any rate, I saw Miss Richfield 1981 in Provincetown and she was doing a cabaret style show much like what we're doing now and I said, 'THAT'S what I can relate to. That's what I want to do.' I came back and started in 2004."
"I really took my characterisations of my mom and grandmother and [regarding the name Kasha Davis] I literally did first pet-first street, so Kasha was an angry white poodle, Davis St is a boring street in Scranton, Pennsylvania. The owner of the club said, "You're such a prude, you have to be Mrs. Kasha Davis." And I wasn't a prude! I was just new to the whole scene. I didn't know what the hell… these strippers coming back stage and slapping their dick out on the table and I was like "AAAGH!" You know, that just wasn't my scene. So then I was a Mrs. and that's where it began for me."
When RuPaul's Drag Race debuted in 2009, the season one winner Bebe Zahara Benet—who appears on the current All Stars season—won just 1/5th of the prize money season nine winner Sasha Velour took home last year. Too, the first season was on the American cable channel Logo, which was still a fledgling network hidden deep in the MTV family. In many ways, RuPaul's Drag Race and the generation of young people who embraced it have brought drag into the mainstream. And nearly everyone involved has benefited.
"I definitely put in my dues since 1990," said Darienne, "doing shows for free, for nothing, for exposure, for, you know, seven dollars, and then I started to get better and bigger in the community, doing more things and then you start to have more confidence. I think since Drag Race really exploded, a lot more people are getting paid the booking fees that a lot of other reality stars get."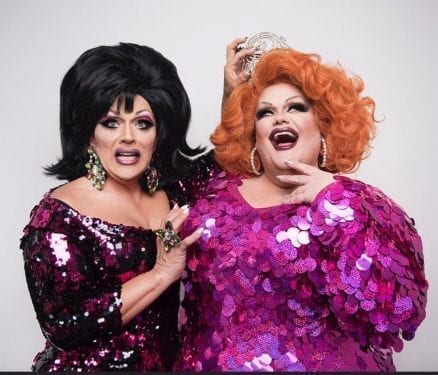 "I've noticed a lot of other girls who are becoming sort of YouTube famous or Instagram famous," she added, "they're also getting booking fees that are really high. It's a dream. And in some ways you can't help but feel a little envy toward these younger people. It's like if you had to take the trash out every week for a year for 50cents and then your sister gets to take it out and gets a hundred bucks. You feel kinda cheated. but you know what? In the end it doesn't matter because eventually it will bring everybody's rate up."
"A lot of gay bars," Darienne said, "they just felt like drag queens were like…"
"A joke, in some ways," said Kasha. "An attraction."
"A lot of the gays were no longer going out to the bars, because you don't have to go out to see a really good DJ when you can listen to their set on SoundCloud. You don't have to go out to meet gay guys because you can meet them anywhere, Tinder, Grindr, or just in public and not feel like you're gonna get beaten up by winking at some boy at the grocery store. So they needed that entertainment to bring people back out again."
"What I love about the next level is that it is becoming more mainstream," said Kasha. "When I was young there was no one that was different. You had to try to fit into everybody else's mold. So we're just encouraging kids to be themselves. And then that transitions over to frustrations where people say oh, we don't want all the straight people coming into our bars and it's OUR gay bar or whatever. We're encouraging that community to not only celebrate their uniqueness but be kind to someone else who is different."
Bonds like this one are what brought the two to Puerto Vallarta. The two had worked together before but not in a performance as intentional as this one. Their schedules will overlap the next few months, as they each travel the world, where the Bosom Buddies show—one that was both workshopped and effectively debuted here in December—will develop into something with legs, something that will stretch out over a longer term.
"This is our first season here," said Darienne. "Our first season of… who knows? Maybe many more?"
"It's been going well," added Kasha. "This is the kick-off of our tour for Bosom Buddies. Both of us being on Drag Race is one thing but we've both known each other for years."
"It all just went so smoothly right from day one but that's us, you know?" Darienne said. "Even though we're so different, she's so optimistic and everything and I'm kinda like snarky. I like dark humor, and good humor ice cream!"
"It's a good thing," Kasha said. "In every friendship there's this give and take. We encourage each other in ways that we were maybe deficient. She gets me to calm down. We push each other and that's what friendships are about, right? Two exact people don't always attract, and so we're able to balance that out, talk about some of the stories and things we've gone through and the longevity of the friendship. I like to say it's the "general bitchery" that people enjoy. Just really having some fun, is what it comes down to."
"My original dream for drag was not necessarily to be on TV," she said. "It was to do what Miss Richfield was doing in P-Town and that's essentially, that's coming true with this trip. I've had a one-woman show that I've done before and, because I can be so intense I think they went okay, they went well, but this is just freer and more fun, and I think that's due to the teamwork.
"There's definitely more jokes!" said Darienne.
"Yeah. I can be sometimes a little too serious."
"And as a viewer you can't have a constant stream of here's another happy moment! so I like to really give people—"
"—that rollercoaster."
"Yeah, exactly! A rollercoaster of laughter and tears. And I'm her designated driver, too."
"That is a true statement. Because there's always time for a cocktail—until there isn't."