This post is also available in: Español
Two of the world's most talented and famous lady singers are joined tonight in a showcase of a portion of their multitude of famous top songs. Barbra Streisand and Bette Midler jumped onto the airwaves in the 1960s and 1970s with their careers extending to the present day. That is a lifelong legend.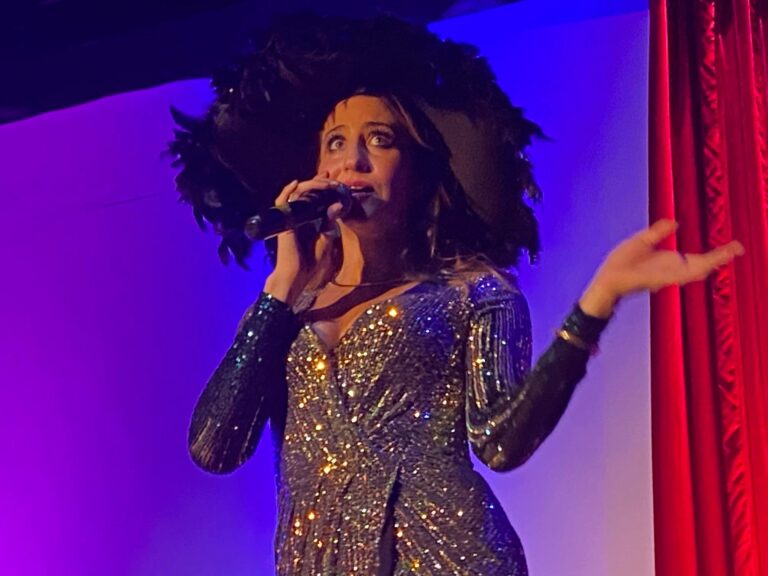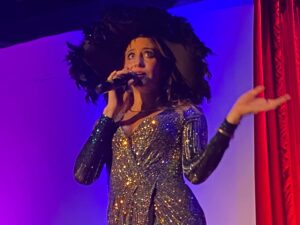 Faride stars in this show featuring some of the favorite songs of both divas, too many to perform in one sitting. The show was house-designed as their tribute under the stars. An overture flowed from the three-piece band with a medley of Barbra/Bette gems, then Faride appeared in a bright red shiny glamorous dress singing "Hello Dolly". Her band, well-arranged with constantly strong rhythm, consists of Michael Fortuna on drums and backing vocals, Dany López on bass and Gilberto Peña mastering the keyboards producing many instrumental sounds.
"It's wonderful to sing in front of a live audience" she admitted, after so many months isolated from people. She delved into "Sunset Boulevard" for the astounding "As If We Never Said Goodbye" serving a rich ballad twirling her voice from one melody to another. Barbra is possibly most famous for her role as Fanny Brice in "Funny Girl" and she gave everyone "I'd Rather Be Blue". But, the piece d' resistance is "My Man" and Faride enveloped herself into the entire song, lyrics and melody.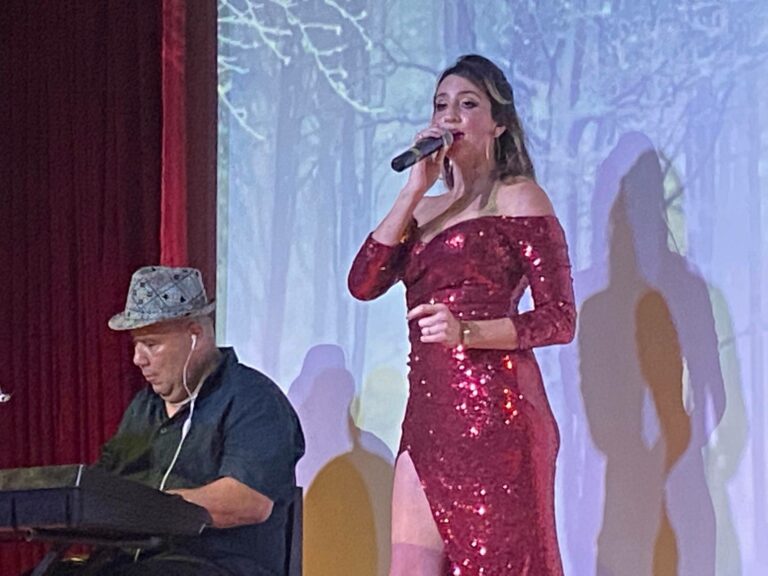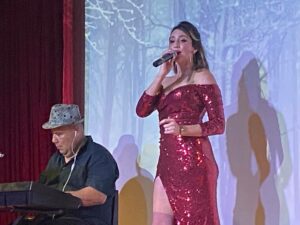 Bette belted her "Otto Titsling", a hilarious cut from "Beaches" about a man who designed a brassiere with enough support for the largest breasts. Faride even pulled out a fashion of this invention, briefly displaying it over her front.
"The Rose" from the stellar movie of the same name loosely based on the life of Janis Joplin displayed Faride at her tops. This composition has placed it in the upper echelon of all-time tunes. Amanda McBroom's timeless lyrics end: "Just remember in the winter Far beneath the bitter snows Lies the seed that with the sun's love In the spring becomes the rose." There is hope for everyone, including a woman named Rose who was forever in second place: "Second Hand Rose". She even lived on Second Avenue. Faride strutted across the stage parading herself to all in the audience. She continued her theme of 'roses' with "Everything's Coming Up Roses".
Upon hearing "People", all minds float to Ms. Streisand who made this song famous in the movie "Funny Girl" and has been covered by most likely a million singers worldwide. Faride revealed that the next song was very dear to her heart and coping with the emotions is difficult on stage: "Papa, Can You Hear Me" from "Yentl". "Don't Rain on my Parade" garnered images of Barbra directing at the front of a ferryboat. Faride sang this one with defiance of anyone standing in her way. Arms in the air, she defied anyone to stop her on life's journey.
She slowed the mood with two sensational easy-on-the-ears tunes, "Glory of Love" and "From a Distance", the latter drove deep and emotionally. "Send in the Clowns"…don't bother they're here. This classic Bette Midler release from "Beaches" which catapulted into musical history is "Wind Beneath My Wings" The smooth delicate song was delivered superbly by Faride. She wrapped her vocals around the melody, soaring upward only to return to earth, all with sound clarity. She is blessed with one fine stellar voice.
The venue is quite proud of this songstress and she is perched in their top echelon of local Latin artists who will be seen, heard and enjoyed for many months to come.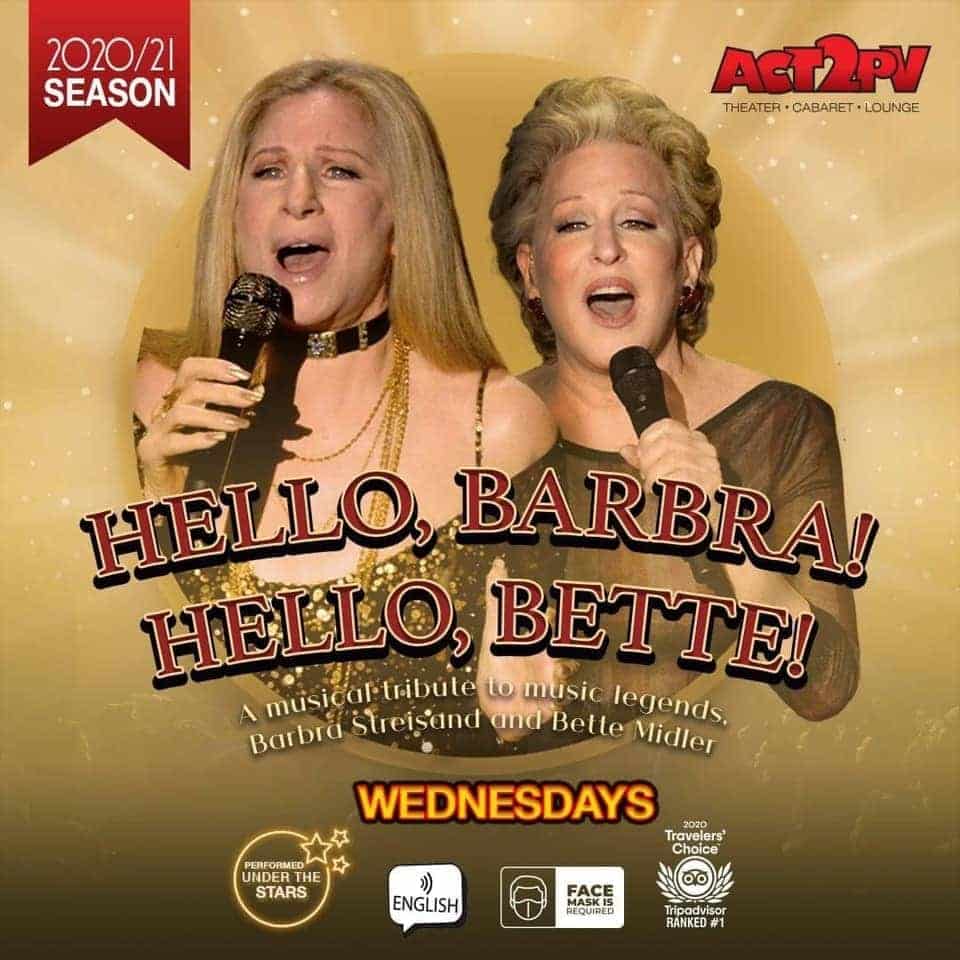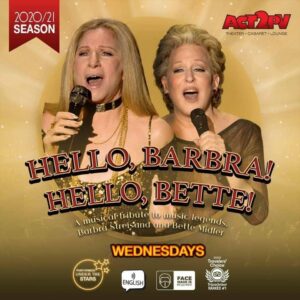 Director: Danny Mininni.
Musical Director and Producer: Alfonso López.
Starlight Cabaret
Act2PV
Insurgentes 330, Colonia Emiliano Zapata, Zona Romántica, SouthSide, Puerto Vallarta.
322-222-1512
Gary R. Beck
Puerto Vallarta, JAL.
https://www.facebook.com/groups/PuertoVallartaShows
A Note from the management of Act2PV: THE ONLY OUTDOOR THEATER IN PUERTO VALLARTA.
Have you heard the news? Live entertainment is back and better than ever in PV, with an all new space created just for you, an open air and socially distanced venue following every protocol to ensure your safety.As the world navigates its way through the changes that have occurred recently, Act2PV is very serious about protecting our clients, our staff and our entertainers!In addition to observing all governmental requirements (masks required, hand sanitizers, feet sanitizers, temperatures taken, etc.), Act2PV has implemented extra safety measures in our Main Stage theater, including ozone purifiers, ozone disinfectors, air purifiers and heppa filters. We will also be operating at 25% capacity, with some seats blocked off in order to follow governmental social distancing requirements. Your well-being is our #1 priority!
Come, and enjoy our wonderful shows UNDER THE STARS.
Danny Mininni, managing partner.