This post is also available in:

Español (Spanish)
You haven't seen bougainvillea until you've visited the Vallarta Botanical Gardens. And that's just the welcome center area.
There are rose gardens. Hiking trails. A cactus garden. Plants Indigenous and unique to the region.
As a horticulture hobbyist, Bob Price fell in love with the exuberant nature of Puerto Vallarta from the moment he arrived in 2004.
The gardens opened the following year, which makes 2018 its 13th anniversary.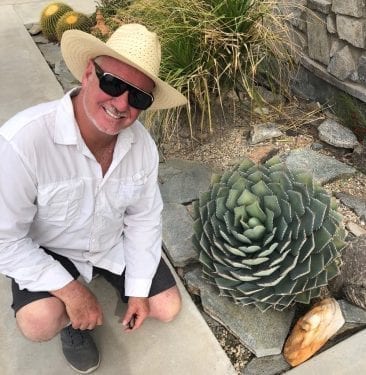 "I've always been interested in nature and gardens and plants," he said, "so I found it very odd that no one had made a botanical garden here. Originally my idea was to do something much more low key and much smaller than what actually occurred but it was an idea that snowballed once we got it started."
Price owned a restaurant in Florida prior to his relocation to Vallarta, an experience that undoubtedly has influenced the superlative service and authentically Mexican flavors at La Hacienda de Oro, the on-site restaurant.
Recently deemed an official International Peace Garden, the designation acknowledges the welcoming and inviting communities of Puerto Vallarta and Cabo Corrientes as models for Mexico and the world.
Delta Airlines selected the botanical garden as the first on its recommended "to do" list in 2018 for travelers to the city. According to Bob, the location for the gardens found him.
"I looked all around, north of Vallarta in the Nuevo Vallarta area and even inside the city limits of Vallarta," he said. "But I found this place eventually. It was not as close as I wanted it to be to town, but it was the more magical location with the river going through it and the mountains in view. It's up a little bit higher so the air is cooler. I was led to this location after searching for it!"
Related stories:
The best things to do in Puerto Vallarta