This post is also available in: Español
This is a marvelous collection of memorable songs showcasing various Broadway shows. A pairing of two men and two women show their immense talent which Act2PV had auditioned then enlisted. Now they are stars. Their four-part harmony is spectacular and always on the musical target. Each singer has many moments in the spotlight soloing exhibiting strong voices.
Behind sheer curtains, cast members arranged the set with huge posters of th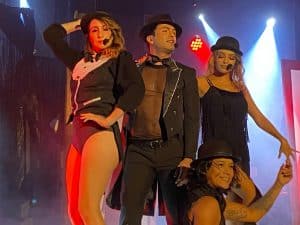 e show listing all the musicals on the agenda. "Willkommen" from "Cabaret" greeted everyone to the show they will soon be viewing. For the title cut from the glorious Alpine "Sound of Music", the group swayed to the lilting melody proclaiming the importance of music in our lives: 'the hills are alive'.
The four artists who are the ones to keep an eye on are: Victor Do Esperito, Marc López, Farida Talamas and Daniela Trevińo. All of them have their own shows playing currently at Act2PV. This enables the guests to return and hear the artist which they like and hear a new set of tunes with a theme. Reflections, Crooners and Hello Barbra! Hello Bette! are three such offerings.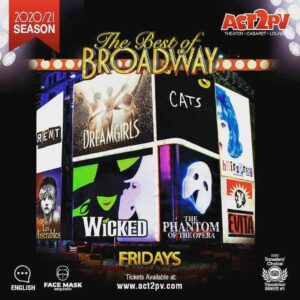 What is striking is that with the artistic direction and selections, each show was highlighted with several of the top, memorable songs, not a average song in the mix. When "West Side Story" was the show subject, "Maria" and "I Feel Pretty" were the well-known choices, beloved to all. The latter featured the two ladies singing about their beautiful looks [quite true of the two ladies on stage], then joined by the men in a swirling dancing in pairs. It was almost waltz-like. "Wicked" brought the stunner "Defying Gravity" and the cast performed it stirringly.
"Phantom of the Opera" was a must-entry tonight and the emotional "All I Ask of You" remains one of the most beautiful songs ever written. "Grease"'s title track made the four jump and swing around with effervescent energy. The lovely "Hopelessly Devoted to You" sent chills throughout the room. A major facet of this show is the synchronized choreography. Other cuts from the movie were "Summer Nights", "Greased Lightnin'" and "Sandy". Guns pulled, cowboy hats on, the ensemble devoted a medley to "Oklahoma". A lighthearted and fun medley with hoedown dancing. Did Jesus wish to die or should he back down? A strong performance of gutsy material arose from "Jesus Christ Superstar".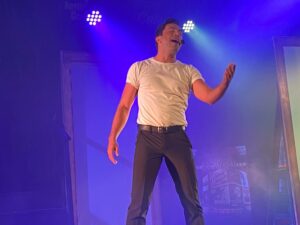 The classic composition "Impossible Dream" was selected from "Man of La Mancha". It was presented exquisitely, with wide soars into the upper ranges. The crowd went ecstatic with applause. An all-time favorite musical and movie, "One Day More" from "Les Misérables" was a stirring French Revolution anthem, complete with unfurled flags.
During a brief intermission, Steven Retchless appeared and encouraged everyone to come see his remarkable world-championship pole dancing. This is unique entertainment complete with singing, as he did here with Sonny and Cher's "Bang Bang". The "A Chorus Line" of four with top hats and bedazzled outfits danced as they were at Radio City Music Hall. Complementing each other, they swung from one to another singing "One". Not to be outdone, the emphatic "And I'm Telling You I'm Not Going" from "Dreamgirls" filled the rafters with soaring vocals held seemingly for an eternity. "Rent" was represented with the flowing "Seasons of Love". Their harmonies are so distinctly remarkable.
Before ending the evening's stunning Broadway pageant, Crooners was sneak-previewed by Marc with Frankie Valli's "Can't Take My Eyes Off You". Then, Victor and Daniela revved the crowd with Stevie Nick's "Stop Draggin' My Heart Around".
Director Danny Mininni.
Musical Director Alfonso Lopez.
Stages
Act2PV
Insurgentes 330, Colonia Emiliano Zapata, Zona Romántica, SouthSide, Puerto Vallarta.
322-222-1512
ACT II ENTERTAINMENT STAGE – VALLARTA ENTERTAINMENT
Presenting high quality theater productions, internationally-known cabaret acts, concerts, dance and children's …
Gary R. Beck
Puerto Vallarta, JAL.
https://www.facebook.com/groups/PuertoVallartaShows
A Note from Act2PV management:
As the world navigates its way through the changes that have occurred recently, Act2PV is very serious about protecting our clients, our staff and our entertainers!
In addition to observing all governmental requirements (masks required, hand sanitizers, feet sanitizers, temperatures taken, etc.), Act2PV has implemented extra safety measures in our Main Stage theater, including ozone purifiers, ozone disinfectors, air purifiers and heppa filters. We will also be operating at 25% capacity, with some seats blocked off in order to follow governmental social distancing requirements.
Your well-being is our #1 priority!
Danny Mininni, managing partner.