This post is also available in:

Español
Full disclosure, I am a lifelong beach bum. To me, there is no better way to while away the hours of an idle afternoon than being at one with a long stretch of beach. When the sun hits my face, when the sand is underfoot, when I feel the mist from the Pacific, I know I am home. Please come join me, and let's have some fun in the Mexican Sun!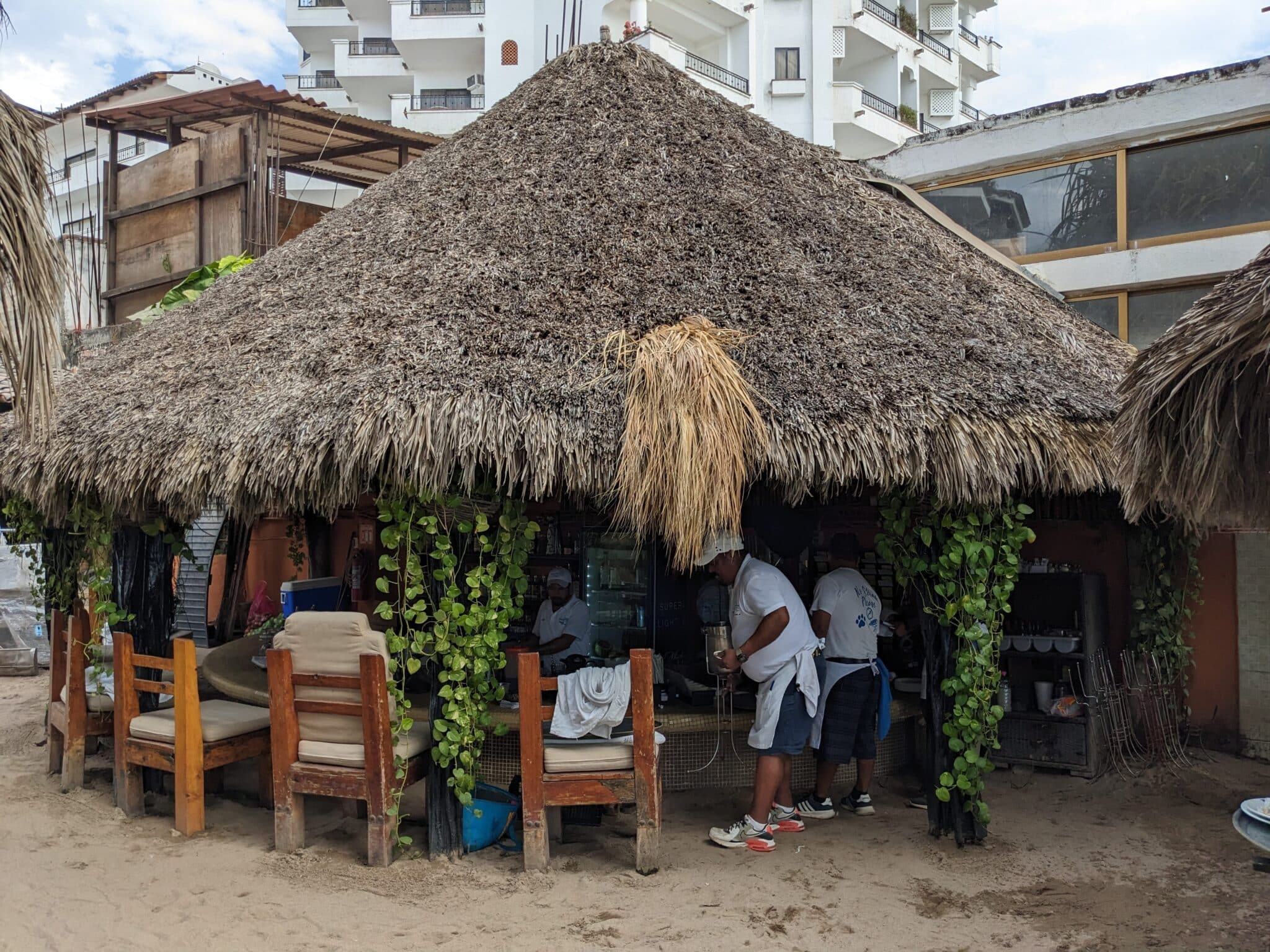 Swell Beach Bar
Amapas 182, Zona Romantica 48380
Telephone 52 322 223 0497
Hours 9:00am – 6:30pm Daily
"Hola my friend" was the warm welcome I received from the cordial waiter upon my arrival at Swell. I was shown to a comfortable chaise lounge chair, covered by a thick cushion, with a white towel placed on top. Adjusting to my surroundings, an immediate feeling of refined elegance enveloped me. Earthen toned umbrellas with a smattering of yellow interposed amongst them provided a pleasant almost Mediterranean feel. Sturdy ebony wood tables are at just the right height to enjoy the many delicious dining options that are available from the full menu. Standing silver wine buckets are placed throughout, and I noticed many quests enjoying a shared bottle of their favorite vino. Well behaved, smartly groomed dogs enjoy the pet friendly atmosphere. Waiters in white shirts move gracefully amongst the crowd. Brightly colored pom poms hang in suspension from varied palapas, swaying slowly with the breeze. I later learned guests bring the adornments themselves and waiters then assist with decorating the space. Wow, that is customer service, I thought to myself. Two waiters, whose shirts read "no straws please" walked by. Straws are actually available upon request, though they are natural and biodegradable. This is just one of Swells many ways of doing their part to respect our planet.
Deciding to explore the "other side" of Swell, I proceeded to cross over the wooden walkway that runs north toward the Los Muertos Pier. Here, tables abound under swaying palm trees. Friendly card games were in progress, while other guests chatted and enjoyed the tranquil setting. As I approached the palapa covered circular bar, I spotted a familiar face. The owner of Swell, Marco Antonio Pena Gonzalez was standing, working alongside his staff. Popularly known as LIC, (pronounced Leek) he is a lawyer by trade. I pointed to the large Carlos O' Brian's sign hanging to his left, and we briefly reminisced about this legendary, now defunct Vallarta bar, formerly located on the Malecon. LIC worked there for 19 years, and he fondly described Carlos O' Brians's as his school, his university, where he learned the business end of bartending that would culminate many years later in the creation of the Swell Beach Bar in 2010. As songs of the early 90's played on the radio, I asked him why Swell is so unique, and what makes it so successful? LIC responded thoughtfully, "it's the service, the quality of our drinks and food" adding to this, he shared with me that the popcorn shrimp is his favorite menu option! He continued, "The waiters are amazing, we have a really good time together, and we have a great team." Summing it up he stated "the quality is the difference here, the quality." Come any day, and you will experience this difference for yourself.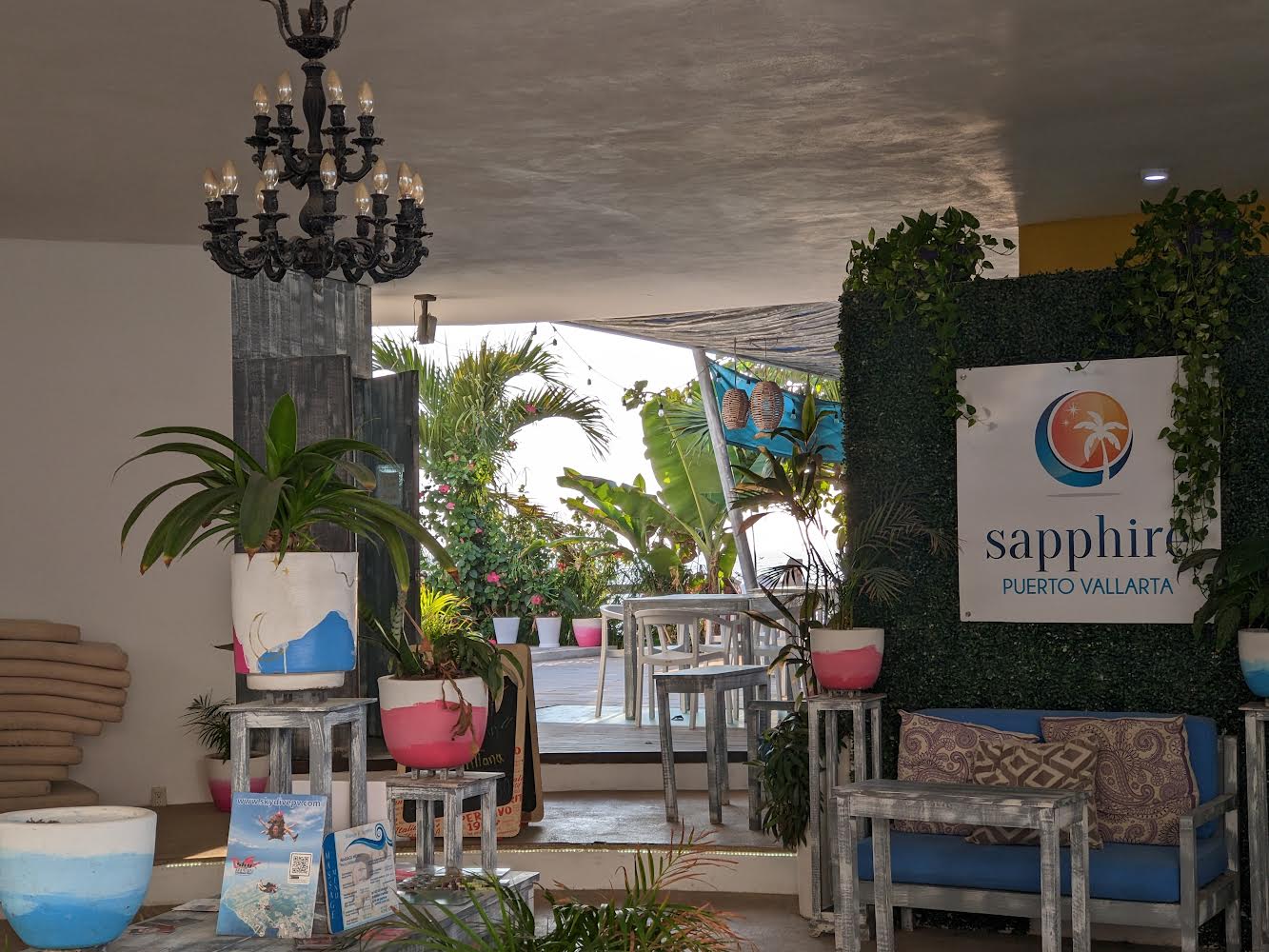 Sapphire Ocean Club
Malecon #1, Playa Los Muertos Col. Amapas 48399
Telephone 52 322 223 3264
Hours 9:00 am – 6:00 pm Daily
The ever elegantly dressed hostess Luz Maria provided my initial welcome to the Sapphire Beach Club. Luz Marie explained in detail that Sapphire provides an array of options, dependent on the level of luxury that the guest prefers. A day pass is available for $300 pesos, which includes access to the pool, deck area, a chaise lounge and towel. Beachside cabanas are available for a (maximum) of four guests. This includes the same access as the day pass, as well as the luxuriously padded cabana accompanied by a bottle of sparkling champagne and an amenity. Suites can also be reserved, the rooms vary in price, and require a two night minimum stay. A professional massage service is available for an additional cost, facilitated by Carlos, aka Charlie, and his experienced team. The unique circular entrance gives way to the aforementioned freshwater pool and open air deck area. The dynamic bar has an expansive view of the sea of umbrellas on the beach below. Beyond, the Pacific Ocean shimmers in the springtime sun. The sophisticated crowd provides a trendy LA vibe. Gazing out at the Bay of Banderes, the Sierra Madre Mountains jut out, at a seemingly equal distance on both sides, providing a wonderfully centered feeling.
As the sun began its descent, I had the pleasure of sitting down with Fernanda Ruiz and Victor Gutierrez, General Manager and Operations Manager of Sapphire Ocean Club, respectively. We touched on the wide array of dining and drink options available. Fernanda's favorite dish is the French toast. The bread is homemade and toasted with Almond crust, then covered with berries, it is served daily during the breakfast hours of 9:00am to 1:00pm. Victor is a huge fan of the Sapphire Ciabatta, a light sandwich made with fresh mozzarella, and Serrano ham with basil. Delicious vegan options are also offered. Moving away from dining, Victor shared details of his unique creation, the "Victor Special." It is a refreshing elixir for guests who may have had a little too much to drink the night before. Fernanda then described the mantra that makes Sapphire unique. "We are like a small family; we have employees who have been with Sapphire for years." She continued, "We are friendly to everyone, all are welcome here, we don't want to exclude, we want to include." Fernanda smiled, and concluded "Sapphire is an amazing place to relax and chill, we eat well, we drink well, and we have a great time." As I departed, I felt as if I had discovered a precious gemstone on the Pacific, named Sapphire.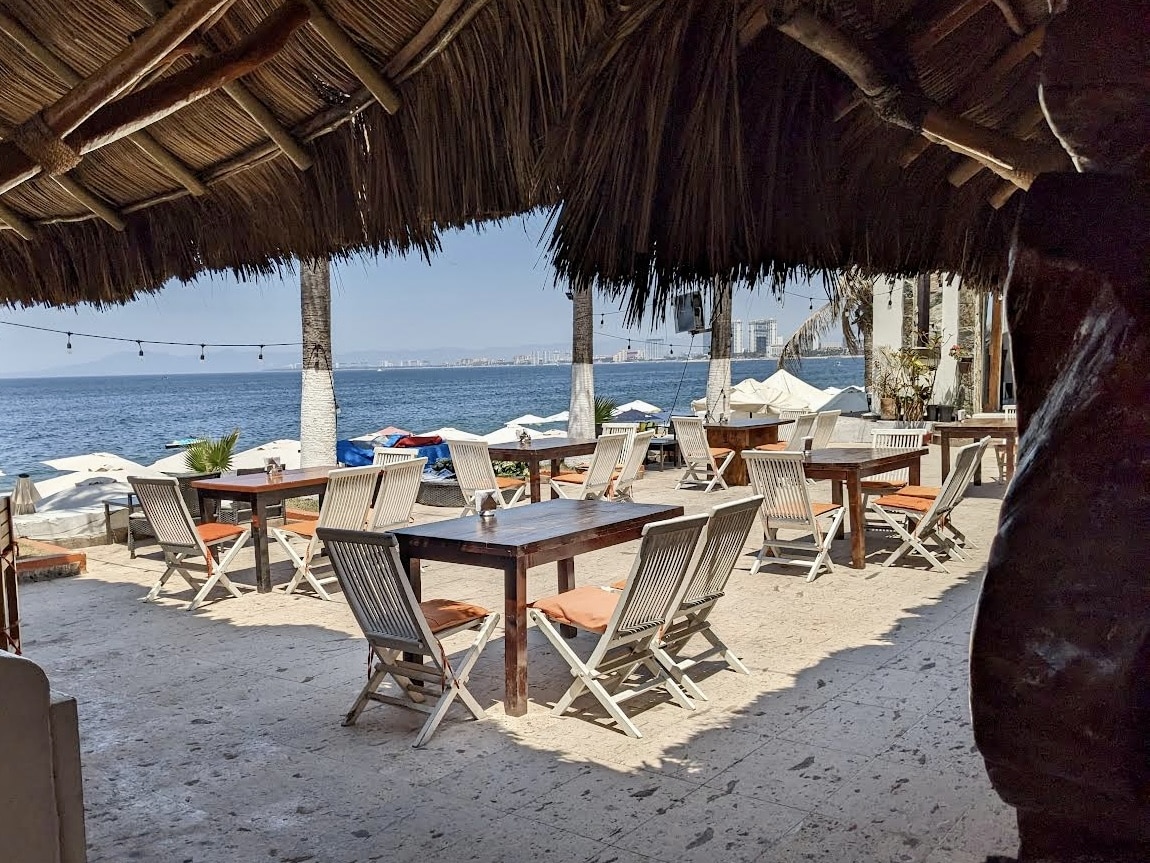 Mango's Beach Club
Uruguay 109, 5 de Diciembre 48350
Telephone 52 322 222 0796
Hours 11:00 am – 8:00 pm Daily (Beach closes at 7:00pm)
A short taxi ride away from Playa Los Muertos is the iconic Mango's Beach Club. Located in the up and coming zone of 5 de Diciembre, this locally owned landmark shines with a relaxed, laid back atmosphere all of its own. Upon entering Mango's I was greeted by a smiling hostess who escorted me through the large palapa covered dining area, through the stone terraced lounge area, past the bustling bar and then down a small number of steps to the expansive beach below. Unlike the other beach clubs we have visited, Mango's is located on Playa Camarones . The beach here is much more level, and has an incredibly wide open feel to it. Soaking up the sun, enjoying the great music, I gazed far up the Pacific coast. For some reason, I felt as if it was high noon here the wholel day.
After enjoying some beach time, I had the pleasure of visiting with Adriana del Toro and Hector Neyra, General Manager, and Supervisor of Service of Mangos, respectively. Hector proudly pointed out that every weekend a DJ rocks the beach with lively house beats. He added that the DJ can take personal requests, and beside house music will play anything from hard rock to 80's alternative. One of my own, now favorite songs "Blind" by Hercules and Love Affair, I originally heard at Mangos on a windy winter afternoon in early 2022. Before we moved onto the great dining options that are available, Hector smilingly mentioned his favorite drink option, the Mango Margarita, an absolute refreshingly delicious choice. Adriana then highlighted the ever popular Mexican Buffet that is served every Sunday from 9:00am to 1:00pm. It is reasonably priced at 247 pesos per person. For children under 11 years of age, the buffet is half the price of the adult portion. The kitchen is now open until 8:00pm every day, which allows guests to enjoy a bite on the open terrace at sunset. A super fun option that Mango's offers is kayak and paddle boat rental. They are available for 500 pesos per hour. Looking out toward Playa Camarones, Adriana summarized the mantra that makes Mangos special, "we are family friendly, pet friendly, and people friendly." She continued, "We want everyone to feel at home, we want every guest to feel special, to be happy and come back often." As I departed, I too was very happy to have spent time at this great beach club. It is well worth the short drive to experience the Mango's difference.
Mantamar Beach Club
Malecon #169 Zona Romantica 48380
Amapas #380 Col. Emiliano Zapata 48380
Telephone 52 322 222 6260
Hours 10:30 am – 8:00 pm
Opened in 2014, Mantamar is the premier LGBTQ beach club in Puerto Vallarta. If you are searching for a total vacation, fun, party vibe feel, this is the spot! Perfectly nestled at the southern tip of Playa Los Muertos, this club truly shines. As I arrived on a recent Saturday afternoon, my first step was checking in at the entrance of the grand, palapa covered lobby. Norma, the friendly hostess, informed me of the 900 peso cover charge which includes a chaise lounge chair, towel, access to the massive infinity pool, and bustling terrace. Pausing before heading down to the beach, I suddenly felt alive with the energy that was flowing everywhere. Before my eyes were an array of beautiful bodies, clad in snugly fitting, brightly colored swimwear. They moved gracefully; drink in hand, in every direction. Powerful techno music was booming overhead, which then gave way to the lyrics of "all I ever wanted, all I ever needed is here in my arms." The sand and shimmering Pacific were then mere steps away.
After settling into my comfy chaise lounge, I was introduced to the friendly waitress, who took care of me during my entire time on the beach. A band was placed on my wrist, signifying the zone where I was seated. The drink menu boasts a large selection of Mexican beer, among the many other options offered. I basked in the intensity of the early April sun. Looking up toward the terrace, a sign proclaims Mantamar Sushi Bar, I thought back to the hostess Norma, who had informed me "the Sushi is absolutely incredible, you have to try it!" Noticing staff wearing shirts titled Expressions; I discovered Mantamar's massage team. They offer a professional massage for an additional cost.
Overwhelmingly sexy cool is the only way to describe the sparkling infinity pool. It is surrounded by a thriving bar, happening hot tubs, and a row of flowing cabanas. To the west, the water seemingly stretches to the horizon, becoming one with the Mexican Pacific.
Vidal Meza CMO, Almar Resort and Mantamar Beach Club, spoke about what makes Mantamar so amazingly popular, and unique. "Mantamar is LGBTQ. We are open every day, 365 days a year; we care about the community, tourists and nationals, and everyone is celebrated." He concluded, "We are the castle of the gay community." Come soon, and feel the passion of this amazing club.
It was such a pleasure to enjoy the wonderful and unique service that the beach clubs we visited provide. Though not covered here specifically, there are other wonderful beach clubs that are also located on Playa Los Muertos. Among them are: Blue Chairs Resort by the Sea, Ritmos Beach Cafe, and La Carreta. Located between Sapphire and Blue Chiars, is the friendly spot known as Christina's Corner. Each of these long standing clubs offer their own unique level of service and contribute to the dynamism that makes our beach, Playa Los Muertos, truly sparkle. So, here's to you all enjoying the sun, sand and surf of the amazing beaches of Puerto Vallarta, Mexico, they truly are, heaven on earth😊