This post is also available in: Español
It was a classic, gorgeous day, a Wednesday when I met Freda Thompson at Signature Lounge.
That Texas accent stopped me in my tracks.
"If there's anything I miss about the South," I told her, "it's the accent." While there is no universally accepted Nashville accent, there are plenty of distinctive people there. I had an algebra and calculus professor in college who had the thickest Kentucky accent that I'd ever heard. Such a sweet nature about her, the drawling, melody of it all, she made the technical language of those courses that seemed so cold and formal in high school—sine and cosine, hyperbolic angles and the like—suddenly feel welcoming and inviting: it shook every assumption I'd brought to town and proved that I had a lot more to learn than I'd originally thought.
So Freda and I bonded over our shared Southern-ness. And also our shared Native American heritage. (That's us on the far left, photobomber notwithstanding)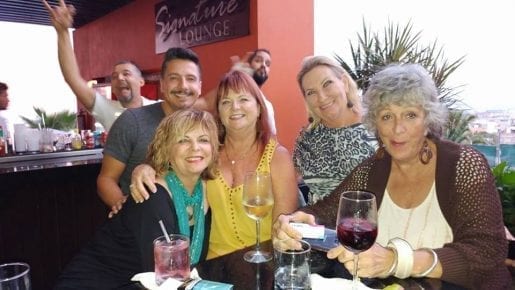 She told me that 'What A Drag' — the signature fundraiser for the Banderas Bay Shelter — for which she is an organizer, has been a success since the very first event four years ago. Traditionally held at Act II in Emiliano Zapata, it has easily filled the donated performance hall in increasingly shorter amounts of time. The rumor from last year is that the event sold out within a half hour. For 2018, organizers have made room for everybody.
What A Drag will take place this year at Teatro Vallarta. Ticket sales are brisk, she said and added that, as in previous years, the venue has been donated (this time by Mayor Arturo Dávalos Peña himself). Teatro Vallarta is located at Uruguay 184 in 5 de Diciembre.
Entry options include a donation of $1000 pesos for VIP, $600 general admission, and $300 gallery.
For more information, see the Facebook Page, the Facebook Event Page, and this press release. If you can't make it to the show, consider a donation at www.compassionforthefamilymx.org
Check out this video from the inaugural event in 2015:
What a Drag Charity Event 2015 from Juan Alvarado on Vimeo.