This post is also available in: Español
The following shows are opening soon at ACT2PV.
Wapayasos y Horripicosos
A "BACHELOR PARTY-type" show with music, comedy and dancing, featuring super-ripped, sexy and talented young men!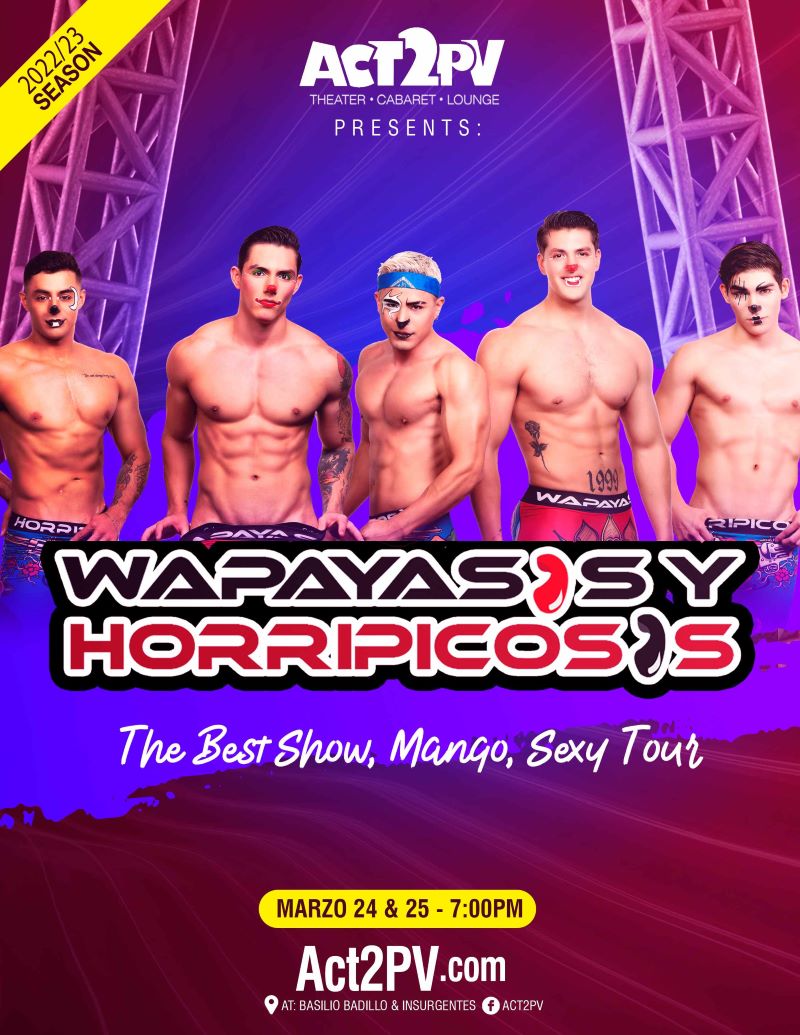 *OPENING NIGHT – Friday, March 24- 7:00 pm (*Party 6:00 / Show 7:00)TWO NIGHTS ONLY! Wapayasos Y Horripicosos is a group of hot and sexy young men (clowns) from Guadalajara that are singers, comedians, and dancers, and play interactive games with the audience. The group originally started out as clowns in a children's show, but they found that adults loved the clowns even more than kids, so this show became a bachelor-party type show several years ago. The Wapayasos have a huge following around Mexico and they are excited to be presenting this show for the first time in Puerto Vallarta! In this hilarious, fun production, where a good time is had by all, both men and women are welcome! This will be a fun evening you will never forget!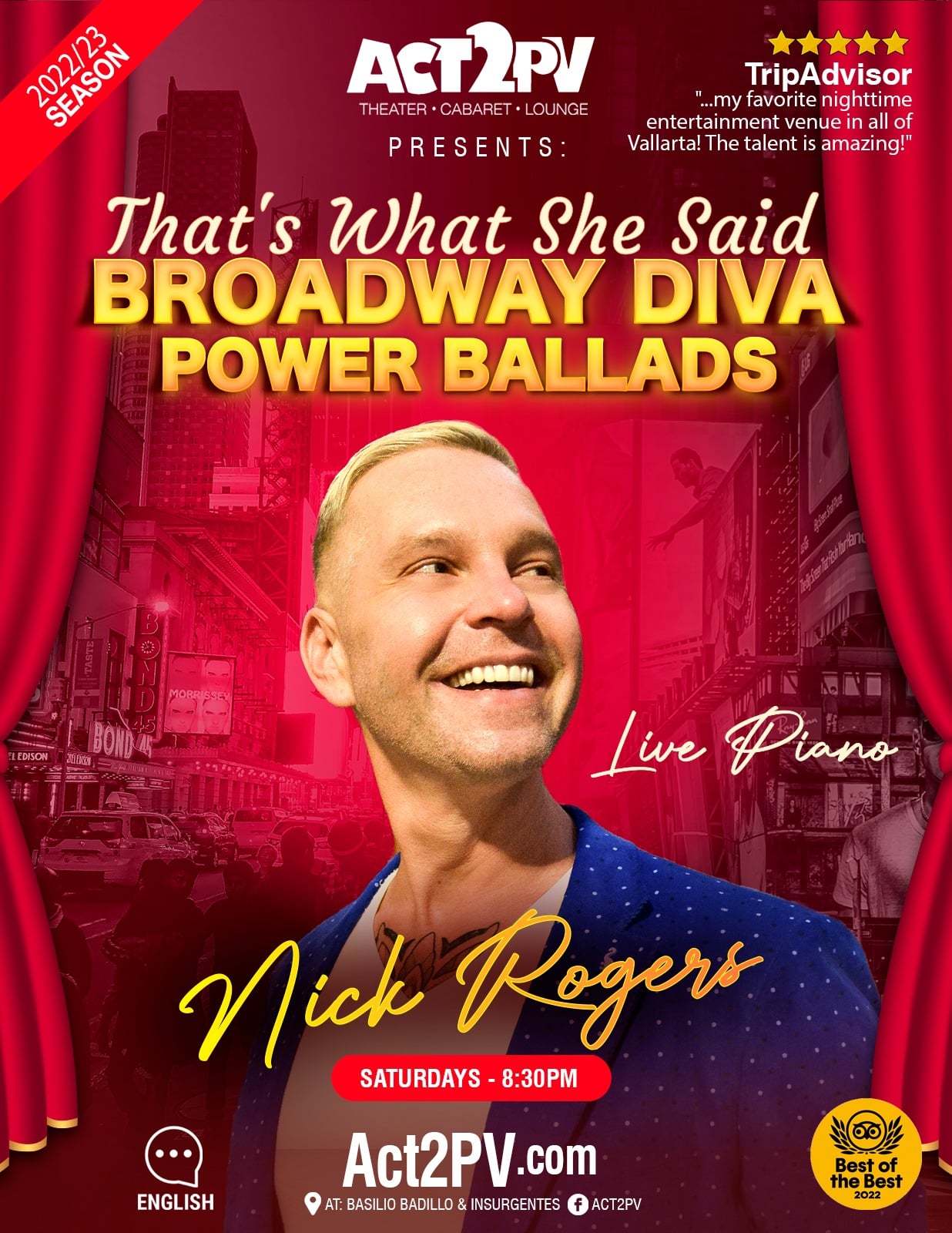 That's What She Said
A powerhouse cabaret celebrating Broadway divas and diva moments from some of your favorite Broadway shows*OPENING NIGHT – Saturday, April 1
*Party – 7:30 / Show 8:30 pm
Act2PV welcomes Vocalist, Nick (Nicholas) Rogers, to the Red Room stage with his new show, THAT'S WHAT SHE SAID, complete with LIVE piano accompaniment! This incredible artist flips the script as he belts power ballads originally sung by women from some of your favorite Broadway divas and shows!
Get ready to enjoy a night of classic and modern show tunes, engaging stories, charming humor and a singer with a voice as smooth-as-silk!
"Great stories, song selection, and of course an incredible voice. He's a rising star in PV!"
– Richard Carnegie
Evita Loca
A drag show featuring Broadway star, John Michael Dias

OPENING NIGHT – Sunday, April 2
Party – 8:30 / Show 9:30 pm

Direct from Broadway, John Michael Dias stars as "Miss Evita Loca," a sassy, brassy "matchy matchy" drag queen who is a cross between Patti Lupone and Ricky Martin. She will take you on an ALL-LIVE SINGING musical journey and provide you with an inside peek at Evita's HERstory, hopes, and dreams.
John Michael Dias ("Miss Evita Loca") is a professional Broadway singer/actor with a BFA in Musical Theater from the Boston Conservatory. Some of his Broadway credits include playing the role of Neil Sedaka in the Tony and Grammy Award-winning production of "Beautiful: The Carole King Musical," as well as the First National Tour. He also played Frankie Valli in the smash hit, "Jersey Boys," on Broadway, as well as in the First National Tour, Vegas, and Chicago companies. He has performed with vocal group, The Doo-Wop Project, and produced a solo album, "Write This Way," which features intimate takes on Broadway and pop favorites like "Can't Take My Eyes off of You" and "New York State of Mind." His album is currently available on ITunes.

Act2PV is excited to present this show and invites you to see this incredible entertainer where you'll be able to experience some of the best music available, as well as a top-quality drag performance! Get your tickets today at www.act2pv.com.


A NIGHT OF JAZZ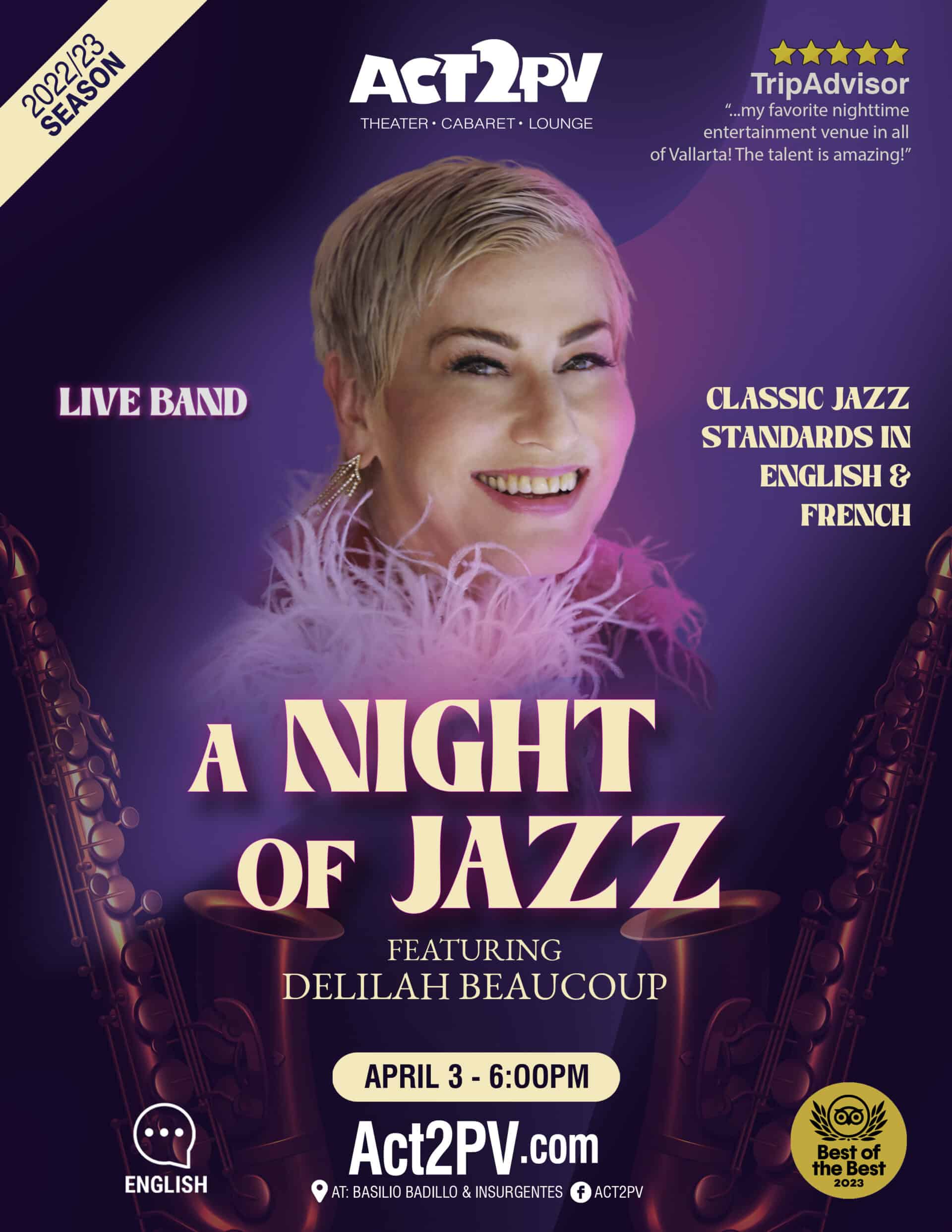 Monday, April 3 – 6:00 (One night only)
Party 5:00 / Show 6:00

Delilah Beaucoup's "Night of Jazz" show promises to be a glamorous and exciting evening for jazz music lovers! Delilah's experience as an actress and jazz singer brings a touch of elegance and charisma to the stage, creating a captivating atmosphere for the audience.

Her selection of songs by some of the greatest jazz vocalists of all time, including Ella Fitzgerald, Sarah Vaughan, Samara Joy, Edith Piaf, Melody Gardot, Diana Krall and more, is a testament to the quality of music that will be performed. These iconic vocalists have left an indelible mark on the genre, and Delilah's interpretation of their songs is a true tribute to their greatness.

Having a live band of jazz musicians is an essential element of any great jazz performance, and Delilah's show promises to be no exception. So, if you're a fan of jazz music or just appreciate great live performances, "Night of Jazz" is not to be missed.


Act2PV's ENCORE LOUNGE features Live Entertainment (NO COVER) Every Night!

Act2PV invites you to stop by the beautiful, fully-stocked, Act2PV Encore Bar to enjoy a drink and listen to some wonderful live music every night of the week! It's a great place to relax or meet friends, both old and new, in a safe, comfortable setting!

Featured Entertainers include:

▪️Monday: Angel Oléa (Violinist)
▪️Tuesday: Ana Adame (Singer)
▪️Wednesday: Angel Hervey (Cellist)
▪️Thursday: Alonso (Saxophonist)
▪️Friday: Gerry Barreto (Singer)
▪️Saturday: Ana Adame (Singer)
▪️Sunday: Gerry Barreto (Singer)


If you have questions, please send an email to info@act2pv.com. For more information about shows, or to buy tickets, check out the website at www.act2pv.com or go to the box office, now open 10:00 am to 10:00 pm daily.