This post is also available in: Español
As the gay community here debates the veracity of the accusation—as well as the definition of what constitutes a hate crime—the gay media in the United States has opted to simply run with a completely unsubstantiated claim.
Carl Blea and Marc Lange were visiting from Palm Springs, California this past weekend (Monday was Marc's birthday) when they were accosted by an individual in the early morning of Saturday March 24th as they returned to the condo where they were staying after visiting a number of bars in the area. They claim the individual said only a single-syllable word to them and it was indecipherable to Blea, who speaks both English and Spanish. They say they continued on their way and, according to Blea, he turned back toward the stranger and watched as he raised a gun toward them. They ran and Blea was shot.
There were no witnesses. Lange called for help repeatedly until a security officer from a local establishment arrived. The police arrived in 15 minutes and an ambulance in 45 minutes.
I don't know about you, but between Facebook comments, a TripAdvisor thread, and personal conversations it seems as though I've heard everything over the past two days:
"Why would a gay couple think it's okay to stroll through a park in a foreign city holding hands at 2:30 in the morning?"
"I heard that they're party guys and if they were high on drugs, if they were trying to buy drugs, who knows what they remember?"
"We can't pretend anymore that [crime] isn't happening in the area because if we do it will get worse."
"Maybe they were looking for sex, and mistook [the shooter] for someone they could pick up."
When I went to meet the couple, Carl and Marc, two days ago, they were pleasant, hospitable. It wasn't their condo, they were quick to correct me when I inquired, contrary to some news reports. They told me they've visited here for many years, well over a decade, though just once or twice per year, it amounted to anywhere from 4 to 7 days at a time. You can watch the video of my conversation with Carl here:
They shared with me information from an individual who reached out to them with a similar experience. Unsolicited, someone named Zach Landwehr forwarded this Facebook post from February of this year. And let's be honest: it supports their assertion that crimes take place here and many of us know nothing about them. Landwehr attached a private message with his link: "I just saw your story. I wanted to share mine with you and I understand your pain."
The headlines from U.S. gay media are their own special form of horror, each one of them makes no reference to the time of day regarding the attack and leaves the reader assuming gay guys will be shot at any time in Puerto Vallarta if they hold hands:
Calif. real estate agent who was shot in Mexico says he's a hate crime victim because he and husband held hands
Gay Man Shot While Holding Hands with Husband in Puerto Vallarta 'Hate Crime'
Man shot while holding husband's hand in gay resort destination Puerto Vallarta
A Facebook post from The Advocate links to a story and asks: "Would you plan a trip to Puerto Vallarta?"
Also from The Advocate: "A robbery? No, this was a hate crime, says the gay couple."
To identify this a hate crime seems a little histrionic. In the defense of Blea and Lange, though, the original report of the incident made it appear there was a conversation between the two and their attacker. You can see it here. They told me there was no conversation. They recalled that they felt urged by police to identify the encounter as a robbery.
Because an injustice was dealt upon them—regardless to the underlying reason, one of them was shot—they felt it necessary to speak out. The original Facebook post that Lange created announcing the attack has been shared 846 times since it was posted early Sunday morning.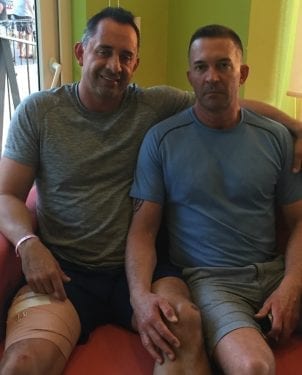 An important element of hate crime law is that the intention of the perpetrator is a necessary factor. He or she has to be motivated by a bias toward a group or race of people and, without proper witness evidence and with the assailant still at large, in this case we have no idea what the shooter thought about his victims. By definition, then, what happened early Saturday morning in Lázaro Cárdenas Park is not a hate crime.
Not yet, anyway.
When I spoke with Blea and Lange at their condo shortly after Blea was discharged from the hospital, they pointed out the beautiful fruit basket and flowers they'd received from the president and director of the tourism office in the city. The chief of police met with them while they were in hospital and the mayor himself was scheduled to meet with them that very day, though a timing conflict kept that from happening. Over the past two days, the tourism board and the LGBT business association have released statements regarding the attack.
The great shame about this situation now is that the concern shown by officials here is being drown out internationally by headlines in the gay media that make it appear as though walking around here, holding hands with your gay spouse, is mortally dangerous.
And despite their claims to me that they received adequate outreach from officials here, the couple appears to be exacerbating the confusion. As of this writing (mid-afternoon Wednesday March 28th) the following stories were all posted within the past 24 hours:
Gay couple shot in Mexico for holding hands, couple slams authorities for covering up incident
Gay Man Shot in Puerto Vallarta with Husband Says Police, Mayor, Media Still Not Listening
After Being Shot in Mexico, Palm Springs Couple Want the Truth Known
The only article of any genuine substance, the one that takes great pains to stress that we truly don't know if a hate crime took place, is this lengthy ruminative piece from a new online publication called them. which sets aside the specific details only to suggest that events like this—we can't deny there was a man with a gun, and a gay guy was shot—actually do make you feel a little more cognizant of the ways we are perceived by the people around us; that we can be received or acknowledged publicly by people who have completely polarized perspectives.
We lose a little innocence when crimes like this one happen, whether they prove true or not.